by Jas Faulkner 
The lockout is not going to happen.  Don't ask me how I know.  I just do.
There are a few other things I'm pretty sure about:
Crosby is going to skate again.
We are at least three years away from a season where  the playoffs will feel like a foregone conclusion.
Somewhere a designer has taken a look at a chart mapping out the ugliest jerseys ever used by NHL teams, filled his cheeks with spray cheese, and mumbled, "Challenge accepted."
If you think your enjoyment of hockey begins and ends with the NHL, you need to read on…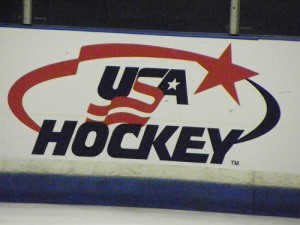 Somewhere in Colorado Springs, Colorado,  the office that serves as nerve central for the administrative body that determines the fates of young hopefuls all over the country has been busy.  While other hockey entities may lay claim to down time and an off-season, USA Hockey (originally known as AHAUS until 1989) has been in a state of perpetual motion since 1936.
To youngsters whose dreams involve ice and pucks and glove funk, USA Hockey Magazine is a well-thumbed presence in equipment bags and hidden between the pages of textbooks.  It is the first and last word for many who live for shifts on the ice years before they can expect to get handed the keys to Dad's Toyota.
Even casual fans have some awareness of USAH as the governing body for a large swath of what goes on with rec league hockey in the United States.  Anyone who has visited a rink that offers league play has more than likely seen some variation of the USAH logo and knows about the extensive training opportunities the orgainsation  provides to people who want to help grow the sport by officiating, coaching, and simply being better hockey parents.
For those who know hockey a little less intimately, the USAH brand is most often associated with the Olympics.   Team USA's heroic up and down history is tightly twined with USA Hockey's. The U.S.  Hockey Hall of Fame in Eveleth, Minnesota owes much of the narrative that graces its walls in the form of photographic documentation, legends pulled from oral histories, and artifacts to USAH.  Their absence would have meant no Miracles with a capital M in 1980.  Without USAH, the excitement of the US-Canada matchup that had everyone on the edge of their seats  in Vancouver might not ever have taken place.  At the very least, the shape of the sequence of events in  ice hockey in 2010 would have been very different.
USA Hockey is also the organisation that enables young people in America to participate in IIHF World Competitions.   In fact, while many of you have been chanting "Sign it, already!" and the ever popular "Summer sucks!  Drop the puck!",  here is what most of you have been missing this summer:
U.S. Inline National Team Defeats Germany, 5-4, at 2012 IIHF InLine Hockey World Championship
U.S. Inline National Team Beats Slovenia, 5-4, at 2012 IIHF InLine Hockey World Championship
USA Squads Post a Split Against Finland and Sweden at the 2012 USA Hockey National Junior Evaluation Camp
USA Blue Tops Finland; USA White Loses to Sweden
U.S. Under-17 Select Team Tops Germany, 6-2, in Five Nations Tournament Opener
USA Bests Finland, 5-2, at 2012 USA Hockey National Junior Evaluation Camp
U.S. Under-17 Select Team Shuts Out Switzerland, 5-0, at 2012 Under-17 Five Nations Tournament
USA Overpowers Sweden, 10-2, at 2012 USA Hockey National Junior Evaluation Camp
U.S. Under-17 Select Team Defeats Czech Republic, 5-2, Clinches First Place in 2012 Under-17 Five Nations Tournament
U.S. Under-17 Select Team Defeats Slovakia, 4-2, Captures First Place at 2012 Under-17 Five Nations Tournament
USA Falls to Finland in Overtime, 3-2, to Conclude 2012 USA Hockey National Junior Evaluation Camp
U.S. Under-18 Select Team Falls to Russia, 2-1, In Opening Game at 2012 Ivan Hlinka Memorial Tournament
U.S. Under-18 Select Team Drops 5-2 Decision to Czech Republic at Ivan Hlinka Memorial Tournament
Correct me if I'm wrong, but that sounds like a heck of a lot of good hockey.   Americans who love this sport should be raising nine different kinds of cane (Cain. Whatever…) because it's not getting the coverage it deserves.
Hockey deprivation?  Child, please.  If we were smart, if we were anything like the countries that offer hot and cold running hockey year 'round, we would chuckle ruefully at the thought of an NHL lockout and turn our attention to the people who are still playing.  We would already know who the next Suters and Weilands and Parises and Vetters are.  Who are Weiland and Vetter?  You have to start paying attention.
Here's where and how to learn more: (so don't say I never did anything for you, ya chooches.)
International Ice HockeyFederation
Jas Faulkner is a minimally socialised writer and artist who lives and works in Nashville, Tennessee. She hearts her attitude problem.