Danton Heinen (born July 5, 1995) is a Canadian professional ice hockey forward who currently plays for the Pittsburgh Penguins of the National Hockey League (NHL). He was selected by the Boston Bruins in the fourth round, 116th overall, of the 2014 NHL Entry Draft.
Growing up in Langley, British Columbia, Heinen played with the Richmond Sockeyes in the Pacific Junior Hockey League and junior ice hockey in the British Columbia Hockey League (BCHL) for the Merritt Centennials and Surrey Eagles. After graduating from high school, Heinen earned a scholarship to play for the Denver Pioneers men's ice hockey team. During his short collegiate career, Heinen earned NCHC Rookie of the Year in 2014–15 season and NCHC Forward of the Year in 2015–16 season. He concluded his amateur career in 2016 by signing an entry-level contract with the Bruins.
Following college, Heinen joined the Boston Bruins' American Hockey League (AHL) affiliate, the Providence Bruins. He spent his first three seasons moving between the AHL and NHL levels before becoming a mainstay on the Bruins' lineup during the 2018–19 season. On February 24, 2020, while in his fourth season with the Bruins, Heinen was dealt to the Anaheim Ducks in exchange for Nick Ritchie. After playing one season with the Ducks, Heinen signed a one-year contract with the Pittsburgh Penguins.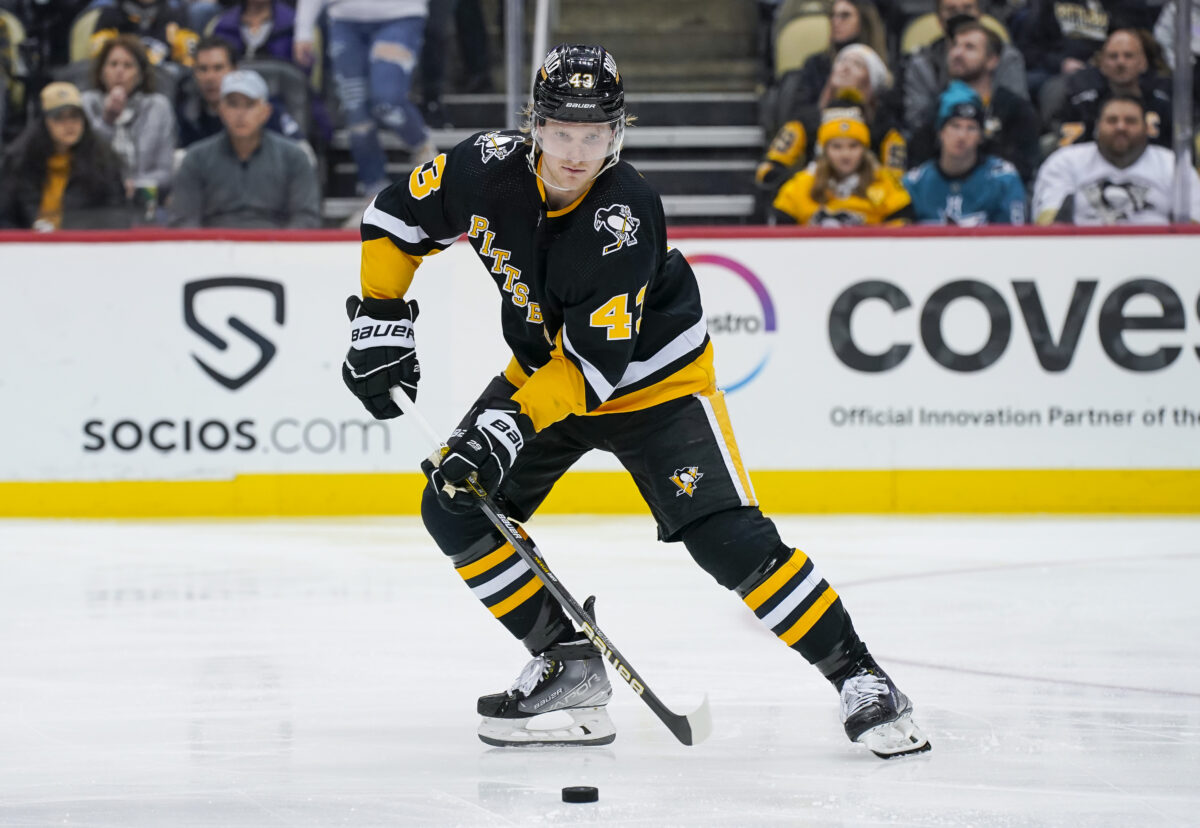 Danton Heinen Statistics
Trade Tracker
Deeper Dive
Achievements
AHL All-Star Game (2017)
AHL Playoffs Most Assists by Rookie (2017)
AHL Playoffs Most Goals by Rookie (2017)
AHL Playoffs Most Points by Rookie (2017)
NCAA (NCHC) First All-Star Team (2016)
NCAA (NCHC) Forward of the Year (2016)
NCAA (NCHC) All-Rookie Team (2015)
NCAA (NCHC) Rookie of the Year (2015)
NCAA (NCHC) Second All-Star Team (2015)
BCHL All-Rookie Team (2014)
BCHL Most Sportsmanlike Player (Bob Fenton Trophy) (2014)
BCHL Rookie of the Year (Bruce Allison Memorial Trophy) (2014)
Cyclone Taylor Cup Champion (2013)
Keystone Cup Champion (2013)
PIJHL Champion (2013)
Sources