With the NHL still in full lockout mode everything is pretty quiet. That is unless your name is Don Cherry!
Cherry, who has managed to stay in the headlines throughout the lockout, appeared on Toronto radio station The Fan 590 today. Cherry offered up his opinion on the recent rumors that a deal for Roberto Luongo between the Vancouver Canucks and the Toronto Maple Leafs would be finalized once a new CBA was consummated.
"Why would he (Luongo) want to come here and step into the same thing as Vancouver?" Said Cherry on The Fan 590 on Monday. "Every time they (Vancouver Canucks) lose, it's his fault. He only took them to the seventh game (of the Stanley Cup final in 2011). How many goaltenders have taken them to the seventh game?"
Of course, Cherry was talking about the unfair amount of criticism that has been thrust upon Luongo since the Vancouver Canucks lost the 2011 Stanley Cup Final in a seven game battle with the Boston Bruins.
Luongo went 15-10 that playoff, giving up a total of 61 goals, while posting a very respectable 2.50 goals against average and a 0.917 save percentage. Luongo also posted four shutouts that spring, yet NHL fans have the audacity to call Luongo "soft" and a "choker".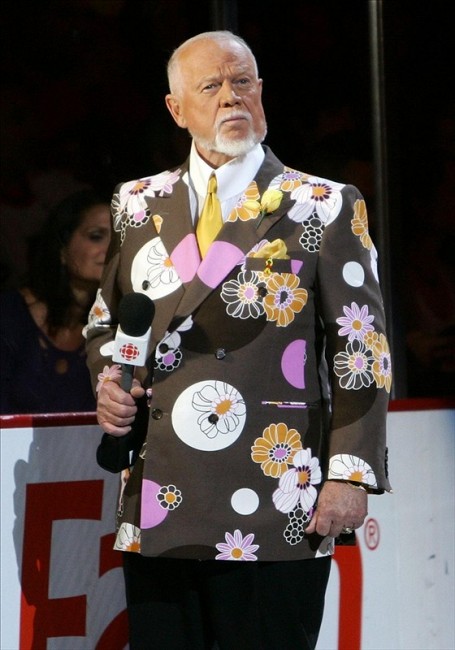 The Canucks scored a grand total of eight goals throughout that seven game series, not exactly a strong offensive performance! The Canucks were also shutout twice in the Stanley Cup Final, including a 4-0 loss in the seventh and deciding game.
The Canucks beat Boston Bruins goaltender Tim Thomas for two or more goals on two occasions— game two, a 3-2 win and game six, a 5-2 loss. Thomas gave up 51 goals through 25 games that spring, just ten less than Luongo gave up. The Bruins outscored the Canucks 23-8 in the Stanley Cup Final.
For the record, Luongo's career regular season numbers equate to a 2.52 goals against average and a 0.919 save percentage— pretty close to his numbers in the 2011 Stanley Cup Playoffs.
I know, I know, you can make numbers look however you want them to. Luongo was horrible in the Stanley Cup Final. Even if that is true, is there no way Luongo can climb back? Or  has he simply played his best hockey and now is garbage?
The truth is probably somewhere in the middle, but there are those that feel Luongo is still a top-notch NHL goaltender.
Luongo has more than his fair share of critics. His game is neither as bad as the critics say or as good as it once was but does Luongo have 3-4 good seasons left? You betcha!
With all this in mind, rather than pass on Toronto, why not embrace the opportunity?
God knows there is no bigger stage to prove your critics wrong. Can you imagine if Luongo were to put together a great season with the Maple Leafs, earning the Blue and White a playoff spot in the process? How would Canucks general manager Mike Gillis feel? What would all the so-called "experts" say then?
Luongo, who has ten years at a cap hit of $5.33 million left in his contract, said he would be willing to waive his no-trade clause this summer. With Luongo and his wife currently residing in Florida a return to the Florida Panthers organization would seem like the perfect fit for Luongo, a point Cherry agrees with.
"I don't think he wants to step into a real hot-spot like here (Toronto). Cherry told The Fan 590 on Monday. I think he wants to go to Florida because his wife comes from Florida."
If Luongo truly wants an opportunity to prove his critics wrong, Luongo could take the challenge that goaltending greats such as Ed Belfour and Curtis Joseph took before him and join the Maple Leafs.
While Toronto has the reputation for being tough on their players the Leafs Nation fully embraced Ed Belfour, who, despite all but being kicked out of the Dallas Stars' organization, etched out a successful three-season career with the Leafs.
Belfour took the Maple Leafs to the playoffs in two of the three seasons he was wearing the Blue and White, and the fans have never forgotten him.
Joseph, arguably in the prime of his career when he joined the Maple Leafs, was one of the most popular players ever. He too had his share of playoff struggles, but he gave it his all every game, and in Toronto that is often good enough to endear you to the fans.
Sure, Luongo could take the easy way out, hit the Florida beaches and disappear into the sunset, never to be heard from again. The question is, what does Luongo have left in him?
If Luongo still has a measure of fight in him it says here that Toronto would be the perfect place to exercise the demons created by those that doubted him.
Let's face it, despite a horrific record since the last time the Maple Leafs won the Stanley Cup in 1967, Toronto is the centre of the hockey universe. What better place to make your "comeback"???
Mr. Luongo— forget about what Don Cherry says, Toronto would be the perfect stage for your resurrection…Forget about Florida, come to Toronto, you'll never regret it!