For previous installments in the Draft Schmaft series, please visit here.
Between 1963 and 1983, the Maple Leafs had seen varying degrees of success with players they'd drafted in the first rounds. Through the late 1970s and early 1980s, the team had selected a number of players who either never met their potential, were mishandled by Leaf management, or ran into injury troubles. But general manager Gerry McNamara, who'd taken over from Punch Imlach in late 1981, was beginning to draft well using the high draft position afforded by the team's poor finishes. Unfortunately, in 1984 the team selected a player who was characterized as having the tools to be an elite player, but no toolbox.
1984 – #4 Al Iafrate D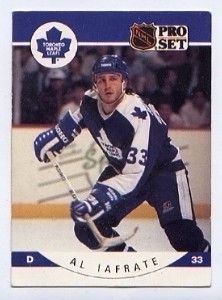 Having missed the playoffs, the Leafs drafted 4th overall. Mario Lemieux and future Leafs Kirk Muller and Ed Olczyk had gone 1-2-3. Toronto opted for Al Iafrate out of Dearborn, MI, who had played for the US National and Olympic teams and with the OHL's Belleville Bulls. The big defenceman went ahead of other notable future NHLers Shayne Corson, Doug Bodger, Sylvain Cote, JJ Daignault, Gary Roberts, Terry Carkner and Kevin Hatcher. If not for numerous injuries and a reputation for being an eccentric, Iafrate may well have been among the very best the draft had to offer.
Having already adding size to their defense corps (previously drafting Bob McGill, Jim Benning and Gary Nylund), Iafrate fit right in – he'd play at 6'3″ and 235 pounds. He possessed good offensive abilities, though as with many young defensemen, he needed work on his defense. Despite the need to season him, the 18 year-old was dropped into the lineup and played 68 games his rookie season.
The Maple Leafs were becoming known for rushing their draftees, especially defencemen, to the NHL. In fact, Iafrate's 68 games that year were joined by Benning and Nylund, both veterans at 21, who played 80 and 76 games respectively, and the 22-year-old McGill's 72 games. It was a case of history repeating – young defencemen pressed into service, with little veteran support and little way to learn and improve their defensive skills. In many respects, learning on the job simply prevented these talented players from gaining confidence, and allowed their bad habits to continue. As a result, the Leafs suffered through 10 consecutive sub-.500 seasons from 1979-89, and much of it blamed on a 'too young and inexperienced' defense corps.
Still, Iafrate seemed to find a way to make an impact. In 1987-88 he broke through with 22 goals (tying Ian Turnbull's total in 1976-77, still a franchise record), and 52 points. He scored 21 and 63 points two seasons later. His offensive abilities were evident and possessed a renowned shot – he won 3 of the first 5 Hardest Shot competitions at the NHL SuperSkills beginning in 1990, eventually holding the NHL record 105.2 mph (after having been moved from Toronto to the Capitals). But, in his 6+ seasons with the Leafs, admittedly a poor defensive team, Iafrate managed a plus rating (+3) only once, in 1988-89. Worse, Al chafed at the very idea of playing a defensive game, clashing with then head coach Tom Watt.
"They wanted me to get the puck and flip it out to the forwards," (said) Iafrate, (in a 1993 Sports Illustrated interview). "I'm like, Man, you want somebody to flip it out, get some guy who's happy just to be in the league. I've got too much to offer! I want to excite people. I want to excite myself!"
Off the ice, Al was known for his peculiarities.
"Al was so self-conscious about his baldness that when he took off his helmet for the anthem, he bent down and hid behind Allan Bester, who was a few feet shorter than him." – former Leaf coach John Brophy

"From the second he showed up, you could tell that he was a different dude." – former Leaf teammate Jeff Jackson

"He had all the skills," says former Leaf assistant coach Garry Lariviere, searching for a tactful way to frame his next thought, "but the mental game didn't fall into place."
Whether it was his preference for motorcycles, music blaring from his stereo or his attempts to hide his receding hairline, Al was seen as a character – a guy who had some different ways about him. But, he also had a bit of a bad reputation. Following his draft, he was involved in a couple of incidents involving a careless driving charge and some fighting at a bar. He reported to the 1985 training camp 30 pounds overweight and left the team for a day due to personal reasons. He also took a leave in 1988-89 due to personal and marital issues. This was in addition to a number of injuries that piled up including a bruised kidney, back and neck issues and ACL problems. His ability to play hockey at a high level was evident, but could he overcome the rest of it… the injuries, the inconsistency, the issues that seemed to swirl around him?
There's a number stories around hockey concerning Iafrate clashing with a teammate. Gary Leeman began dating Iafrate's ex-wife, attending team functions with her. In various versions, an affair began soon after Iafrate and his wife divorced. In another version, Al had friend and teammate John Kordic punch Leeman's lights out when he found out Leeman had been sneaking around while the marriage existed.
But whether it had to do with personal issues with a teammate, recurring injuries, or Al's idiosyncrasies, the defenseman was sent to Washington. McNamara traded the former first-round pick in what turned out to be an excellent deal for Toronto.
Verdict: After 472 games (81 goals and 250 points), Iafrate was traded for defensive defenseman Bob Rouse and centre Peter Zezel. Al went on to a 25 goal season, but his career was slowed by injuries. He actually missed two consecutive seasons and eventually played for Boston and San Jose. He retired in 1998 at age 32, after signing with (but not playing for) Carolina. Rouse and Zezel became two of key parts of the Leaf team that reached consecutive Conference finals in the early 1990s. Rouse was a stalwart, a real stay-at-home guy and part of Pat Burns' solid corps that included Sylvain Lefebvre, Jamie Macoun, Todd Gill, Dave Ellett and Dmitri Mironov. Rouse played just over 3 seasons in Toronto, and left via free agency for Detroit. Zezel centered Mark Osborne and Bill Berg to form a memorable third line – solid defensively and able to chip in some key goals. Zezel was an important player, known for his face-off abilities and strong defensive play, he scored 50 goals and 128 points in 207 Leaf games. His rights were lost (along with Grant Marshall) to Dallas as compensation for signing Mike Craig. Zezel played in 5 more NHL seasons, while Marshall went on to play 700 NHL games. Craig was a bust, playing only 162 games with the Leafs, scoring 20 goals and 50 points.
Iafrate's son Max is eligible for the 2013 NHL Entry Draft.