Anaheim Ducks fans will always remember 2003 – the year of the organization's first Stanley Cup Final appearance. Whether you were just happy the team exceeded expectations, or heartbroken that they fell in seven games to the New Jersey Devils, it was a story worth remembering for many reasons.
One of those reasons was Adam Oates, the Hall-of-Famer who joined Paul Kariya in Anaheim as a free agent in the summer of 2002, and the role he played on the road to Game 7. He may have been a one-hit wonder with the Mighty Ducks, but he was a crucial signing that pushed them forward all season. While we anxiously await the start of training camp in a few weeks, let's rewind to Oates' season in the purple and jade, in another edition of successful free agent signings by the franchise.
Accomplished Hall-of-Fame Career Before Anaheim
Oates' fate as a hockey Hall-of-Famer was sealed before arriving in Anaheim. Lauded for his playmaking ability going back to his days at RPI, where he had a remarkable, stat-sheet-filled three-year career, Oates began his pro journey with the Detroit Red Wings. He found his game at the pro level pretty early, becoming a point-per-game player by his third season in Detroit. He made a three-season stop in St. Louis, where he paired up with Brett Hull. Oates and Hull proved the ultimate complements to one another, as playmaker and goal-scorer, respectively. The two of them put forth prolific offensive seasons. This was all before his time with the Boston Bruins and Washington Capitals, where he did his best work. This includes, among many other impressive feats, one of the best statistical seasons of all time (45 goals, 97 assists, 142 points), and a four-season run where he averaged 114 points a season, ranking only behind Wayne Gretzky, who averaged 124, during the same stretch.
Oates Joins Mighty Ducks on a One-Year Deal
Following those runs with the Bruins and Capitals, and a 14-game stint with the Philadelphia Flyers, Oates found himself as an unrestricted free agent in 2002. He signed a one-year deal, with an option for a second year, to join Paul Kariya, who he credited as a primary season for choosing the Mighty Ducks (from 'Ducks Sow Their Oates,' Los Angeles Times, July 2, 2002). It was one of many changes that summer in an attempt to create a playoff contender in Orange County. Then-general manager (GM) Brian Murray acquired Petr Sykora in a trade with the New Jersey Devils (ironic), and signed veterans Jason Krog and Frederik Olausson. Three rookies – Kurt Sauer, Alexei Smirnov, and Stanislav Chistov – were lineup regulars. They also signed Martin Gerber, a successful longtime starter on the Swedish professional circuit, to back up Jean-Sébastien Giguère.
Oates Helps Deliver Best Regular Season in Ducks History To Date
The 2002-03 season was the 10th in Ducks history. They had qualified for the playoffs only twice, winning one series. They were coming off a string of three straight fifth-place finishes in the Pacific Division. But, with a new-look top line and a different overall look to the lineup, things were looking up.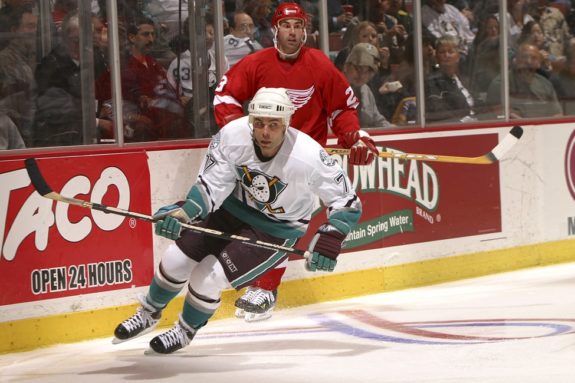 Proving that age was just a number, Oates and company turned the fortunes of the franchise around that season. He played 67 games, assisting an impressive 36 times, and scoring nine goals, fourth on the team in scoring behind Kariya (81), Sykora (59), and Steve Rucchin (58). At 40 years old, he showed that he was still that adept passer with unparalleled vision that made him so dynamic earlier in his career. And he used those gifts to propel Kariya and the Ducks to their best regular season to date, going 40-27-9-6 for 95 points. That was good for second in the Pacific Division and seventh place in the Western Conference. Their prize for qualifying for the playoffs? The mighty, dynastic, Hall-of-Fame-littered Detroit Red Wings. But…we all know how that turned out.
Clutch Play Continued Into Stanley Cup Playoffs
Oates suited up in every playoff game for the underdog Mighty Ducks, who went on a remarkable run to Game 7 of the Stanley Cup Final against the (also) dynastic Devils. They dispatched the Red Wings, Dallas Stars, and Minnesota Wild in 14 games. Those were the second, first, and sixth seeds in the Western Conference, and the Mighty Ducks made it look easy.
Related: Ducks History: Kariya Goes Off the Floor, On the Board
---
Latest News & Highlights
---
Oates, individually, had an impactful playoffs. Skating with Kariya and Sykora, he had 13 points during the postseason run (four goals and nine assists). In Game 4 of the West Final, he scored both goals in the 2-1 victory to secure the sweep over the Wild. In Game 3 of the Cup Final, he assisted on Ruslan Salei's overtime game winner. It would be Oates' ninth career playoff overtime point, which at the time was tied for the all-time lead with Joe Sakic and Doug Gilmour (it is now tied for second all-time, behind Sakic).
Oates Played Vital Part in Magical Season
Oates didn't suit up for the Ducks again after that Game 7 loss, as the team denied his second-year option. Kariya didn't, either, as he begrudgingly left the team amid a contract negotiation impasse to sign with the Colorado Avalanche. But there's no denying the magic that was the 2002-03 campaign. The Ducks probably don't reach those heights without Oates and all that he brought – elite playmaking, big-game playoff experience, and captain-level leadership – to the organization. So, did the Ducks make the right call bringing him in? I think yes.