Part of the thrill of junior hockey is watching a young talent break through the barriers and show what he's fully capable of. As we head towards the 2023-24 Ontario Hockey League (OHL) season, the Windsor Spitfires have several players who are ready to take the next step in their development.
Finding that next stride in junior hockey is tough. You're playing against some of the best in the country and, despite all of the hard work, not every player goes from good to great. However, each season, a few players tend to figure it all out and break through. This season, the Spitfires have a handful of players who are eager to show the world what they've got. Here are five in particular.
Liam Greentree
The club's second-round pick in the 2022 OHL Draft, the 6-foot-2, 200-pound forward Liam Greentree is a hockey team's dream. He stepped onto the junior scene last season and showed he's not going to back down from anything. Whether it's a timely goal or standing up for a teammate, the Oshawa, ON native proved he was fantastic value in the second round.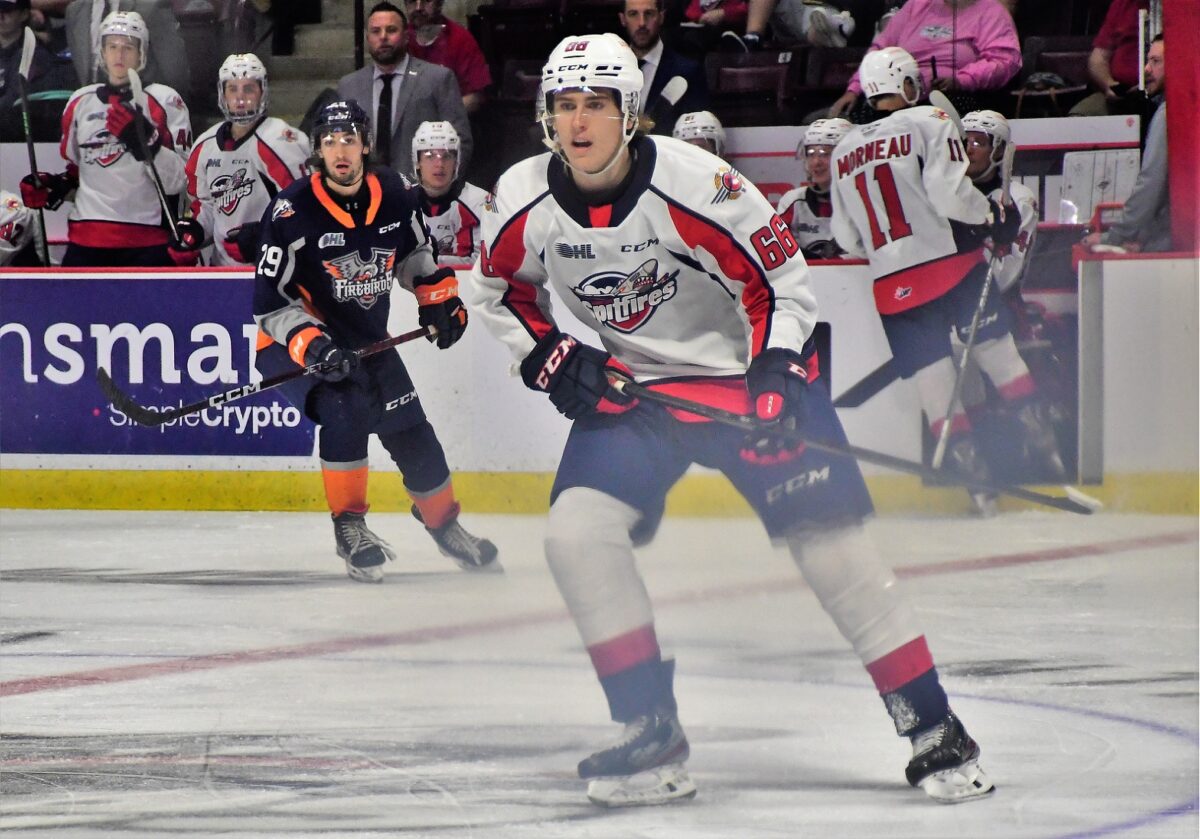 Coming into 2023-24, Greentree is primed for a breakout season. He had 25 goals and 45 points in 61 games last season, seeing time on all four lines. This is what happens when you work hard; then-head coach Marc Savard rewarded him with ice time, including the top line with captain Matthew Maggio. The rookie found his stride, his confidence, and the back of the net.
While he's already being talked about as a potential first-rounder for the 2024 NHL Draft, that's a long way away. With a full season of adjustment under his belt, he has a chance to take control of his own fate. He'll get every opportunity to play on the top two lines and show his creativity. With increased ice time, this could be a monster season for the sophomore.
Anthony Cristoforo
There's nothing easy about being a 16-year-old defenceman in the OHL. Even a first-rounder like Anthony Cristoforo went through some growing pains. However, he came out unscathed and now he's ready to show the league what he has.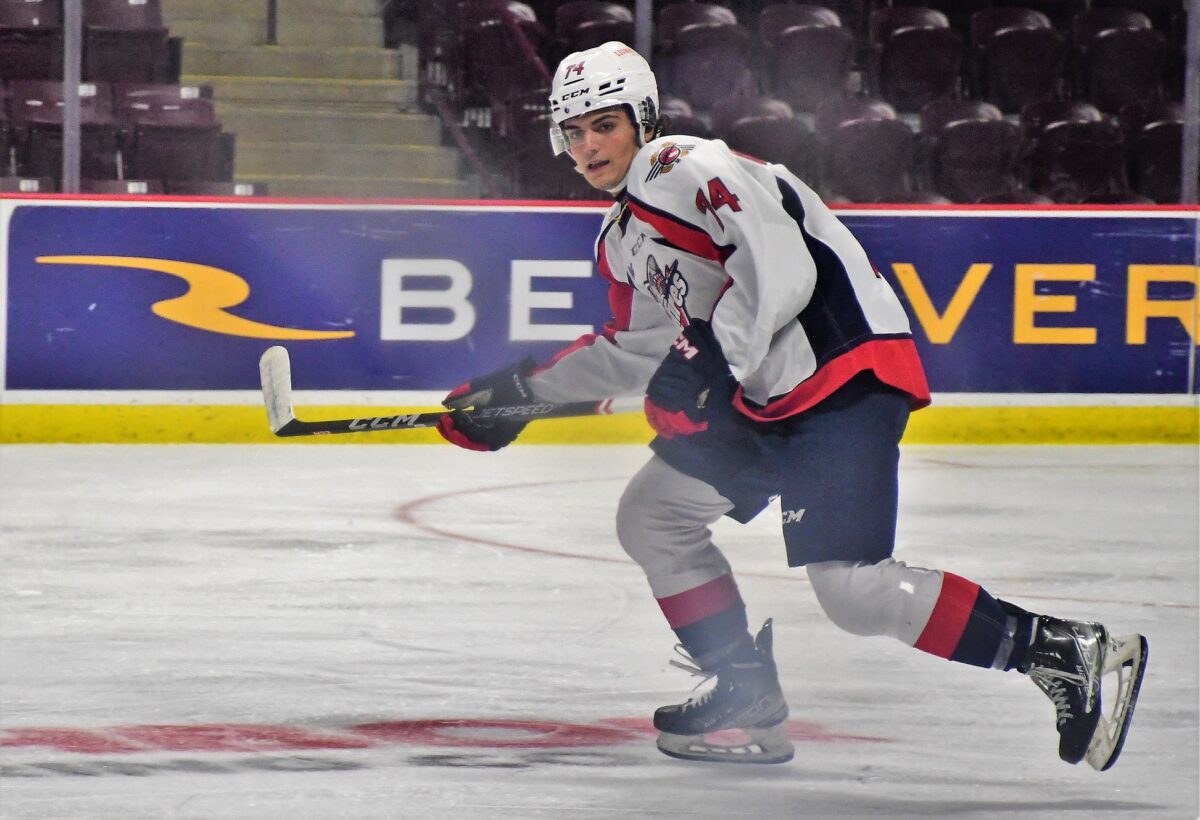 The 5-foot-11, 185-pound Vaughan, ON native was the 22nd overall pick in 2022 and, by the end of 2022-23, he proved he could have been a top-10 pick. He finished the season with six goals and 41 points in 63 games, only missing time for the 2022 World Under-17 Hockey Challenge. This summer, he represented Canada at the Hlinka-Gretzky Cup, winning gold with Team Canada. All signs are pointing to a big 2023-24 with the Spitfires.
Related: Windsor Spitfires Looked to Reload at 2022 OHL Draft
The club saw significant turnover on the blue line over the summer with veterans Jacob Holmes, Daniil Sobolev, and Michael Renwick either traded or graduated. While Cristoforo played top-four minutes at times last season, he now has a chance to get onto the top pairing and be a regular contributor at both ends of the ice. Like Greentree, he's been talked about as a potential first-round pick at the 2024 NHL Draft and now he has an amazing chance to showcase his game.
A.J. Spellacy
Another sophomore who's looking to show he can take that next step is 2022 third-rounder forward A.J. Spellacy. The Westlake, Ohio native was a multi-sport athlete when the Spitfires drafted him, but they convinced him that the OHL was the best route. It's worked out well for everyone.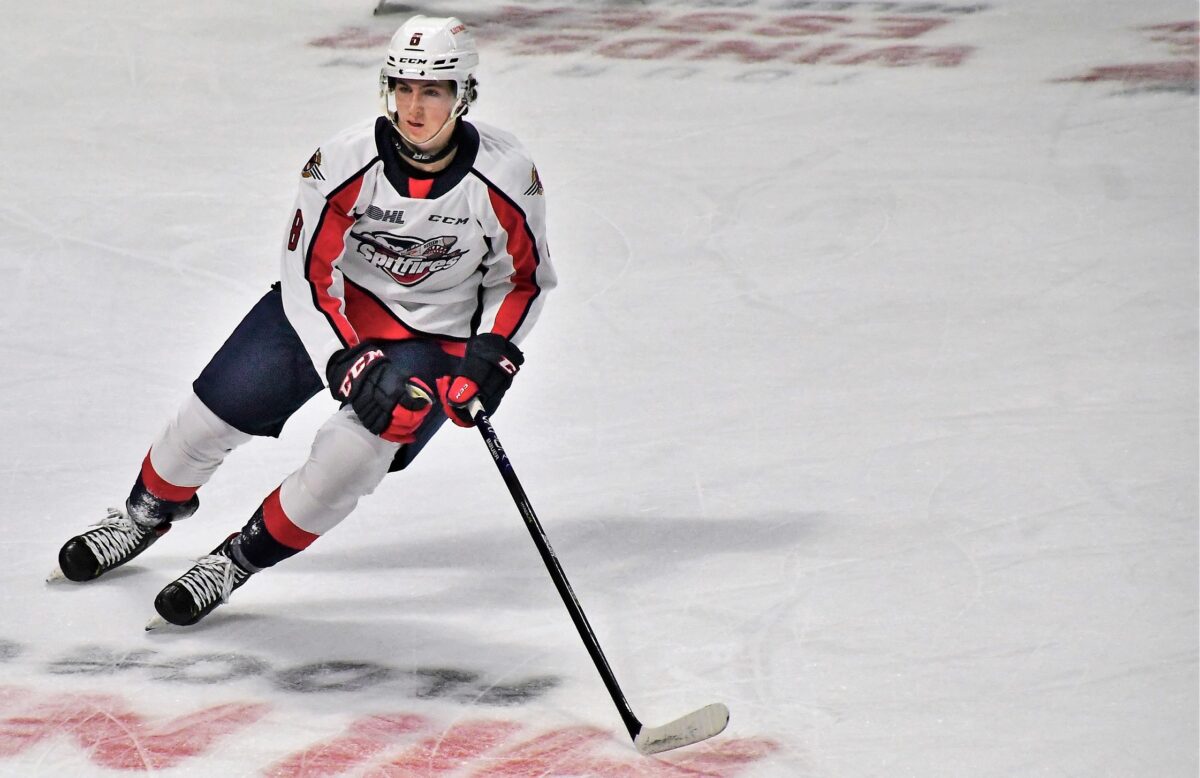 Spellacy is a rare combination of speed and size, especially for his age. While he's 6-foot-3, 190 pounds, he reaches top speed easily and has the intelligence to create around the goal, leading to a respectable 17 points in 47 games in 2022-23. Unfortunately, he was injured during a second-half game and missed the rest of the season. That might just be used as motivation, though.
---
Latest News & Highlights
---
Coming into this season, he's going to be chomping at the bit to show he's the real deal. With NHL scouts already talking about Greentree and Cristoforo, a full, healthy season could do wonders for Spellacy's draft stock. He has all of the tools he needs to become a productive OHL player and, with plenty of graduation on the forward units, there's little doubt he'll see top-six ice at some point. He's a player that could bring fans out of their seats and 2023-24 may just be his coming out party.
Ryan Abraham
Entering his third season, 19-year-old forward Ryan Abraham is itching to show last season wasn't a fluke. After 46 points in 64 games as a rookie in 2021-22, he cranked it up last season with 35 points in 29 games but was held up by an injury that wouldn't heal without surgery. However, now he's healed and ready to go.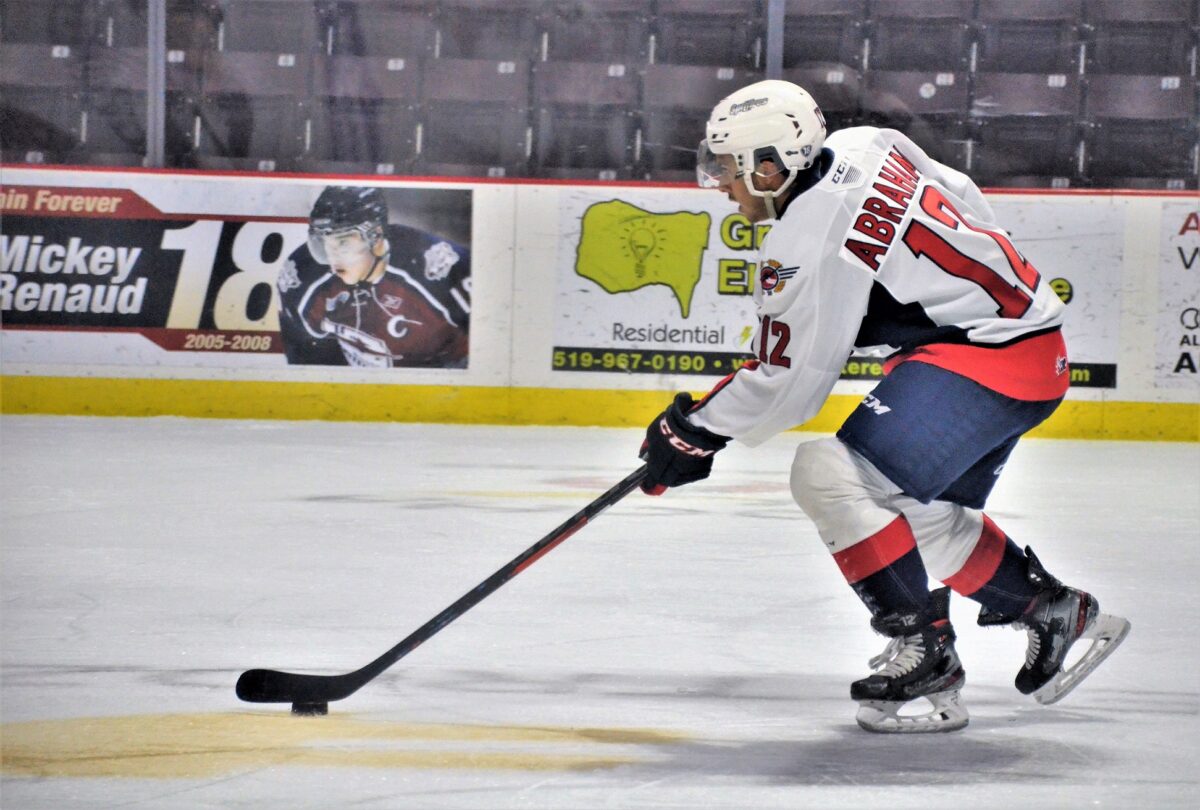 At just 5-foot-8, 165 pounds, he plays a similar game to Boston Bruins' forward Brad Marchand; that offensive, agitating player who opponents just can't stand. He'll get in your face, draw a penalty, and then score on the ensuing power play. Now, he just needs a full season to show why he was the club's first-round pick in 2020.
Coming into 2023-24, a healthy Abraham could be a monster addition to the Spitfires. This is his chance to play a full season, rack up the points, and show the pros that size doesn't matter. If anyone deserves a breakout season, it's him.
Joey Costanzo
Coming into last season, the Spitfires had a bit of a logjam in goal with veteran Matt Onuska, backup Kyle Downey, and newly acquired rookie Joey Costanzo. Downey was traded to the Erie Otters to get playing time and the club ran with the veteran and rookie, instead.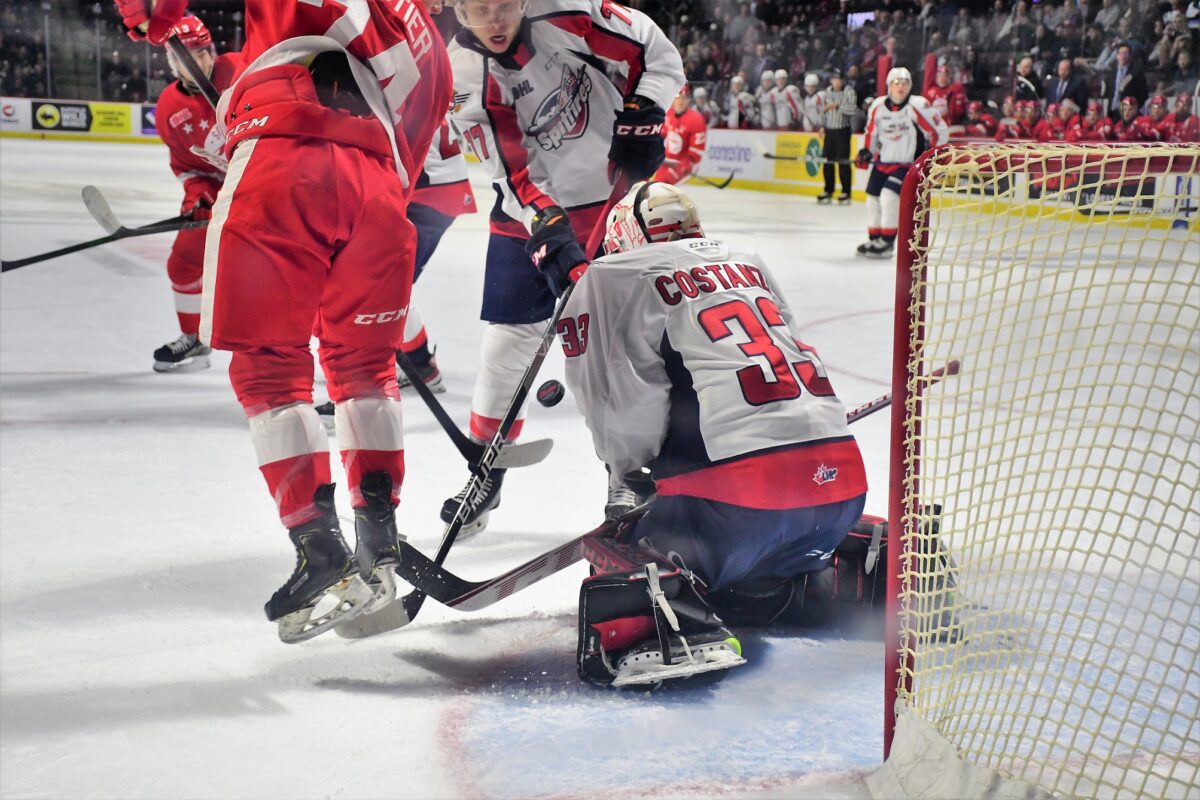 Fast forward through the season and the veteran/protege roles quickly disappeared. Onuska struggled to find his 2021-22 form, where he led the club to the OHL Championship (losing to the Hamilton Bulldogs in Game 7), while Costanzo refused to back down. Not only did he force a tandem by Christmas but he won the starter's role by the end of the season. Now, he comes into 2023-24 ready to show what he has.
The last time the club had a goaltender with this much potential was 2015-18 when Michael DiPietro stole the show. While Costanzo isn't at his level yet, the team knows they have something special with him and the possibility of a breakout season is certainly there. He was passed up at the 2023 NHL Draft, adding some fuel to this already burning fire. This could be the season for him to show the Spitfires what he has and show the NHL what they're missing.
Breakout seasons are tough in any sport but these five players have a huge chance to show the Spitfires that they can take their games to a new level. Nothing will come easy but the ice time and opportunities will be there.
Sign up for our NHL Prospects & Draft Substack newsletter