The "12 Days of Christmas" is a classic holiday song first published in its current form in 1908. In a nod to the classic carol, join The Hockey Writers as we count down the 12 Days of Hockeymas. Each day we will provide you with a piece of hockey history as we eagerly await the start of the 2020-21 NHL season.
Over the course of the Anaheim Ducks' 27-year history, success and pride have run deep in the organization. These three jersey retirements have exemplified Anaheim's culture.
3 Jerseys Retired
Jersey retirements are the sports fans' way of saying good-bye to an era of greatness, whatever that may be. On the third day of Hockeymas, the Ducks gave to fans everywhere three jersey retirements.
The likes of Teemu Selanne, Paul Kariya, and Scott Niedermayer have had their jersey numbers hoisted into the rafters on Katella for all to see and revel in. While prior to 2015 the Ducks had no retired jersey numbers, it is important to note that jersey retirements mean far more than simply paying tribute to one specific player, it is paying tribute to what they did for the team as a whole.

Selanne's Retirement
The 10th overall pick in 1988, Teemu Selanne tallied 76 goals in his rookie year with the Winnipeg Jets and his remarkable career was just beginning. The "Finnish Flash" was one of the key components for the Jets' 1993 playoff run.
Leaguewide, Selanne is seen as more than just a great Ducks player. "Selanne fans were so excited for a chance to see his number hoisted into the rafters and retired, (even) Jets fans headed south to witness the historical event."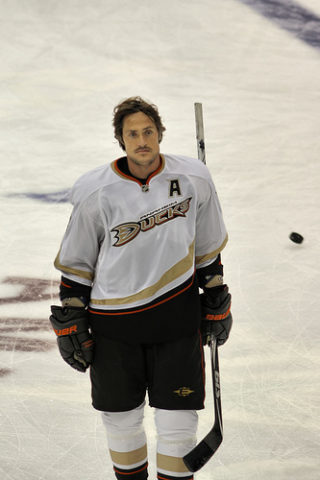 Selanne had a following that not only made him a successful goalscorer, but an excellent captain.
The Ducks have come a long way from their humble beginnings and have led a humble fan base to victory while staying true to their roots.
"(The) first number goes up and a lot of history there," Selanne said about his jersey retirement ceremony. "It was so special for my family, and a lot of other people too. It was a proud moment.
Paul Kariya Jersey
"There can't be an No. 8 without a No. 9 and there can't be a No. 9 without a No. 8," former Ducks goaltender Guy Hebert had said. "They went into the Hall of Fame together. It will finally feel balanced with both of their jerseys retired."
Nearly three years later, Kariya's jersey was hoisted into the rafters to accompany Selanne's lone jersey in Anaheim's rafters. The 1993 fourth overall draft pick could be described as a skilled offensive player but also reserved and more of a quiet hockey legend. While his career was cut short due to concussions, he scored 300 of his 402 career goals with Anaheim where he was the captain for seven seasons and led the young team to their first Stanley Cup Final in 2003.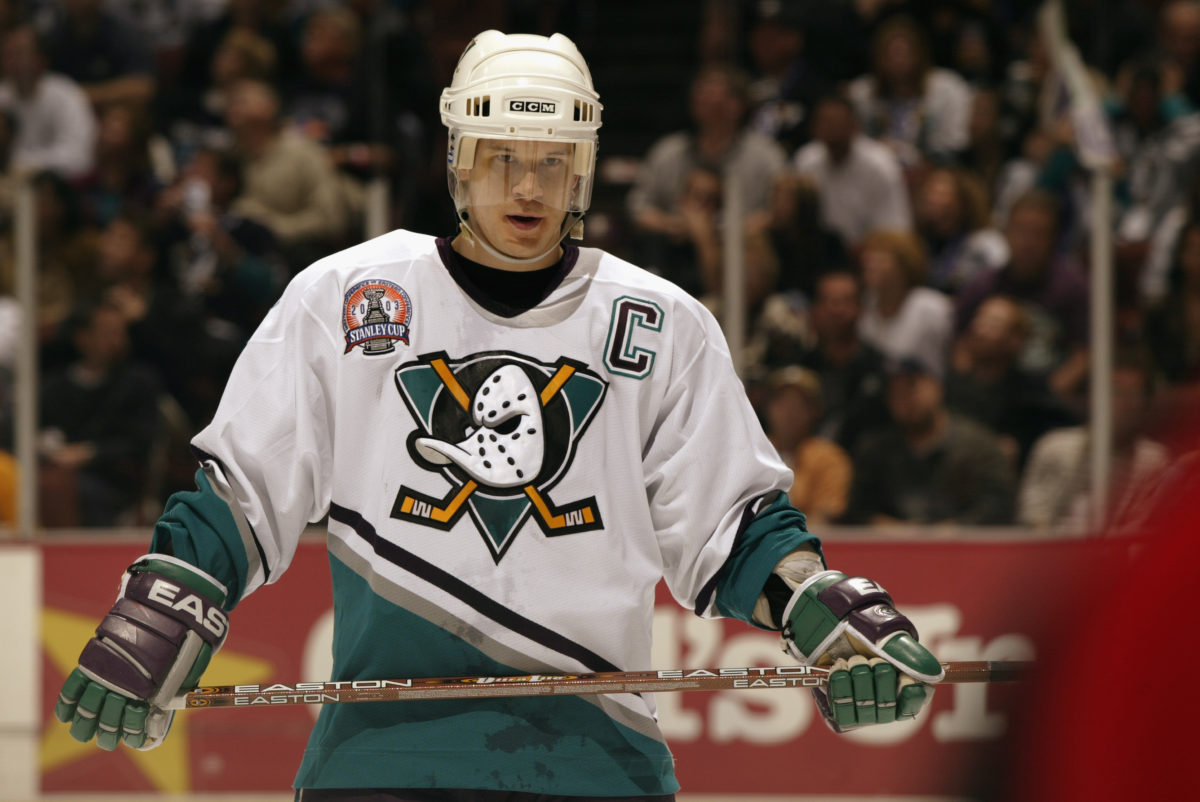 Kariya, on this third day of Hockeymas, is the second of three Hockey Hall of Famers to be remembered in the Honda Center's rafters. Kariya was a "solid, all-around player and a statesman for the sport."
Niedermayer Becomes 3
In 2019 the former captain of the 2007 Stanley Cup Champions became the third Duck to have his jersey number retired. No. 27 joined No. 9 and No. 8 and became the third ever to be remembered in the rafters on Katella.
The former captain's five seasons in Anaheim helped to create a history of winning for the Ducks. Niedermayer led the Ducks to their first Stanley Cup championship in 2007 when he also won the Conn Smythe Trophy and the most valuable player in the playoffs.
Scott Niedermayer had 264 points, 60 goals and 204 assists in Southern California and took home a career-high 69 points in 2006-07.
"Playing hockey is much more enjoyable with Scott Niedermayer than playing against him," Kariya said according to the OC Register. "The bigger the game, the more significant the moment, the better he played. He is the definition of grace under pressure. He is unquestionably the greatest champion of our generation." (from 'Ducks honor Hall of Famer Scott Niedermayer by retiring his jersey,' OC Register, 02/17/2019)
T'was The Night Before…
On the third day of Hockeymas, the Ducks gave to us three greats hoisted into the rafters for all to remember and cherish.
---
---