The Anaheim Ducks faced off against the Columbus Blue Jackets in a battle between the only two clubs in the NHL that entered last night's league action with less than 30 points in the standings. With both teams mired in losing streaks to start the second half of the season, each club remains firmly in the mix for a lottery pick in the 2023 NHL Entry Draft, which has both franchise-altering players at the top and a generally strong pool of talent. After an absolutely dreadful first period of play, the Ducks roared back with five unanswered goals in the final forty minutes of action to beat the Blue Jackets. Let's look at some takeaways from the game.
Horrible Start Almost Dooms Ducks
A game against the NHL's worst team presented the Ducks with an opportunity to acquire some sorely needed confidence. They did not get off to a good start, surrendering two goals, on two shots, in the first six minutes, and three in the first period overall. To make matters worse, it wasn't Columbus' offensive weapons that beat them. Their three goal scorers on the night had seven goals between them entering the game. Seven. Surely, the game plan was to slow down elite offensive threats such as Patrik Laine and Johnny Gaudreau and force other players to beat you. Right away, that's exactly what happened.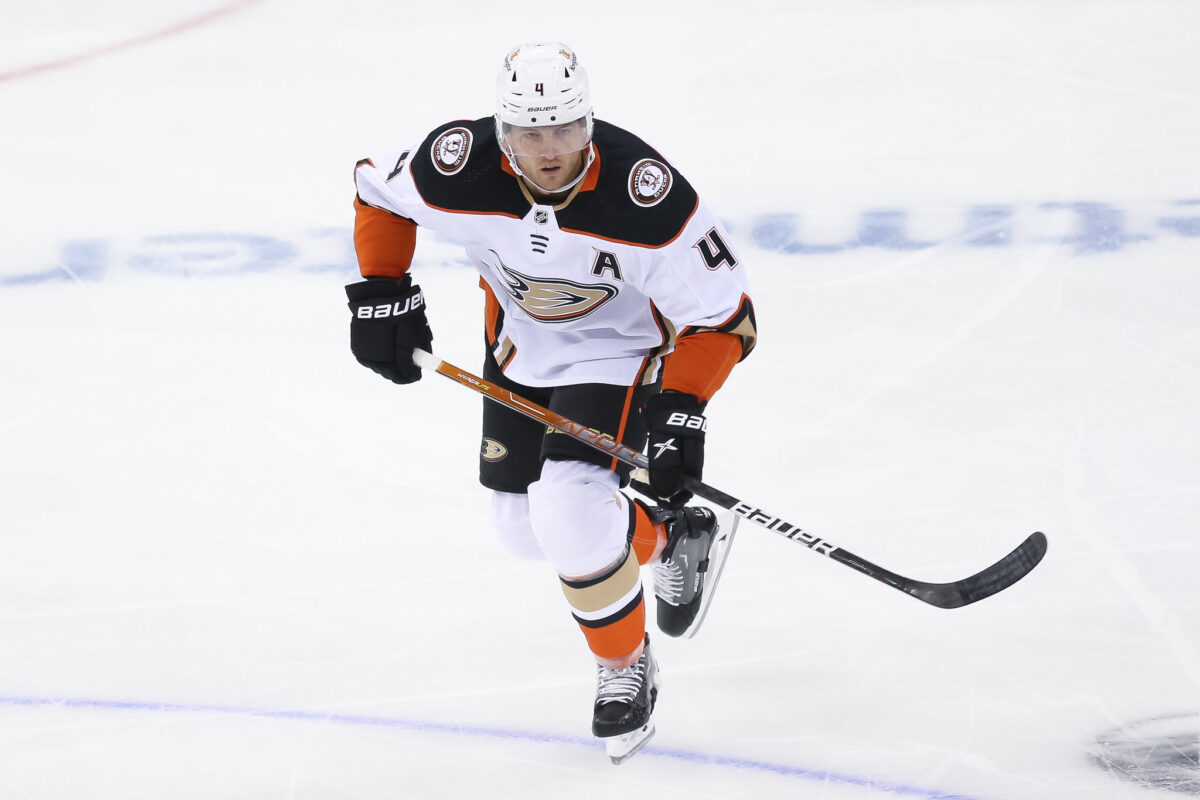 Anthony Stolarz, who got the start, was beaten high on each goal, but tough to blame him entirely. Columbus came out strong and forechecked hard, and the Ducks turned the puck over, gave up odd-man rushes, and couldn't clear the defensive zone at key times in that period. This led to an early exit for Stolarz in place of John Gibson for the final forty minutes of action.
Ducks Blitz Columbus to Halt Momentum
This game easily might've gotten out of hand if not for the quick goal by Adam Henrique to begin the second period. It was the best possible start for Anaheim and one they needed if they were going to have any chance to slow any carryover momentum for Columbus after the intermission. A good forecheck and good stick by Cam Fowler led to a turnover that created an odd-man opportunity for the goal. Immediately, they were right back in the game and laid the foundation for a three-goal period of their own in response.
Ducks Don't Lose the Shots Battle
For the first time in a while, the Ducks were not badly outshot. They equaled the Blue Jackets in shots on goal at 33 apiece. While it's not a huge accomplishment to tie your opponent in shots on goal, the fact that they are able to put forth that level of offensive output is noteworthy for this team. The result was their fourth 5-goal game of the campaign and second in the last couple weeks, the last being their victory over the San Jose Sharks in early January.
Related: Ducks' Henrique Is Their Most Dependable Player
---
Latest News & Highlights
---
We might not know when with this group, but we know that they can produce offense in bunches. It helps when they get contributions from the entire lineup.
The Whole Lineup Contributed Offensively
The Ducks got contributions from their entire lineup in the victory. Guys like Trevor Zegras, Adam Henrique, and Troy Terry are relied upon to provide offense, and they did. However, it was contributions from guys that don't often show up on the stat sheet that played a big part in getting the Ducks out of the hole they fell in early. Cam Fowler recorded two points, scoring on a perfectly executed middle lane drive and finishing a slick backhanded saucer pass by Max Comtois. Simon Benoit tied the game late in the second. Max Jones, who recently returned from injury, scored the insurance marker late in the third period off a rebound created by a strong drive to the net by Jayson Megna.
What Did We Learn?
It may have come against one of the league's worst teams, but a win is a win. After a dreadful opening 20 minutes, Anaheim came out firing and scored five unanswered goals to secure their first victory in seven games. It is not a sustainable way to win, and unlikely to happen again if they fall behind three goals to a better team than Columbus, but we did learn a few things last night. Here's what they were:
We saw what can happen when their depth and role players get involved. For the first time in a long time, players not in the top-six forward group landed on the score sheet. That usually bodes well for a team's chances to win. There's less pressure on Zegras, Terry, Mason McTavish, and Henrique to carry the load offensively every single game.
We saw what can happen when the Ducks don't spend a majority of the game defending. Again, take it with a grain of salt here given the opponent, but if the Ducks can get shots on goal and play in the offensive zone, then they can score.
All things considered, the storyline for these two clubs will continue to be both their ongoing status as front runners for a lottery pick and their potential trade deadline activity. Game in, game out, though, there are things we can learn about this team and its potential.
Anaheim draws the Buffalo Sabres next in a Sunday matinee, 12:30 PM EST.
---
---
Jordan is an Orange County native who has lived 30 minutes from Honda Center (or Arrowhead Pond of Anaheim as he used to know it) for his whole life. Growing up around the Ducks facilitated his love and passion for hockey. You are just as likely to find playing shinny at a local rink as you are at an arena watching NHL games. Otherwise, he is spending with his family, traveling with his fiance, or on the road training for a marathon.