The Edmonton Oilers season is now five games old. It doesn't sound like much, but that will be more than six percent of the season gone in an instant and early enough to judge who's behind the eight ball and who's not. It's also not too soon to make some observations on players and how they're starting to contribute to the season. How did Edmonton wind up in first place after five games? Who has been a pleasant surprise? Who has underperformed? Who might be a problem and who might be a solution?
Kris Russell
To me, Russell has been the pleasant surprise of the season. He was signed extremely late into the summer when it appeared he might be without an NHL contract. The Oilers offered him $3.1 million for one year to play on their second pair blue line and to date, he hasn't had a bad game.
Related: Oilers Signing Russell May Work Under 2 Conditions
Most of the analytics crowd responded negatively to the Oilers decision to sign Russell. While he's been a perennial leader in blocked shots in the NHL, a majority of the stats crowd determined that it was only because he was playing constant catch-up, unable to get the puck out of his own zone. Over the first few games, the stats guys couldn't be more wrong and he's making many of them eat their words.
Kris Russell dons Taylor Hall's (and Kevin Lowe's) old No. 4 https://t.co/3W9nSe8l6P @NHLbyMatty #Oilers #NHL pic.twitter.com/vFxhw6pp87

— Edmonton Journal (@EJ_Oilers) October 9, 2016
Oilers general manager Peter Chiarelli has stated that the Oilers own in-house statistic results showed that Russell was amongst the best defenders in the entire NHL at clean offensive zone entries. That's an area in which the Oilers have underachieved. Furthermore, it's been Russell who has proven to be one of the most effective defensemen for the Oilers. He's at or near the top of every major category including time on the ice per game, shots from the blue line, accurately hitting his targets, takeaways, moving safely away from trouble, make a crisp first pass, penalty kill and stopping the cycle with timely defensive awareness.
Of course, it's hard not to notice that Russell is still leading the Oilers in blocked shots (he has 19 over five games). That's good enough to lead the league and over time, if Russell continues to play bigger minutes and contribute, he'll have no issues getting his next NHL contract.
Jesse Puljujarvi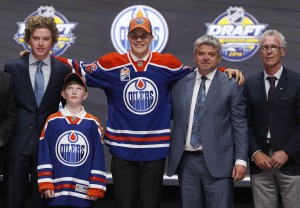 It isn't Jesse Puljujarvi's fault that all of a sudden he's the second best right winger on the Oilers. He may be classified as an NHL ready prospect, but contributing regularly in the NHL as a rookie is a different beast. With the sudden exits of Nail Yakupov and Kris Versteeg, Puljujarvi became the prospect Edmonton needed to play well; the ability to slow play the Finnish rookie virtually disappeared.
Puljujavri hasn't been bad, but he hasn't been good either. His results have been average and while that's ok for a rookie, it's troubling if you need your rookie to be your go-to second-line winger.
Puljujarvi is admittedly having trouble adapting to the NHL rink size. He's finding chemistry with his line mates tricky and unlike his international play and his results in preseason, he's having issues making a dynamic difference in the game.
He sat for the second time in a row on Thursday and watched as the Oilers beat the Blues to move into first place in the NHL. Being in first is great for Edmonton, but this is probably not the vision the Oilers had set out for Puljujarvi to start the year.
McLellan talks keeping Puljujarvi with the Oilers as opposed to sending him to the AHL: https://t.co/vWDJiCqifL

— Reid Wilkins (@ReidWilkins) October 18, 2016
The Oilers still have a bit of time. It's not as if Puljujarvi needs to play every game or that he can't learn something by watching from the press box every now and then. That said, now it looks as though the Oilers will need to make a tough decision. Do they keep Puljujarvi past his nine-game entry-level showcase? Or, do they send him down to the AHL and run with less skill, potentially needing to find a replacement?
So far, the Oilers are in first place with only two proven NHL right-wingers on their roster. This doesn't seem like a big deal while they're winning, but if and when they lose a couple in a row, people will likely look to blame a lack of right wing depth before anything else.
Cam Talbot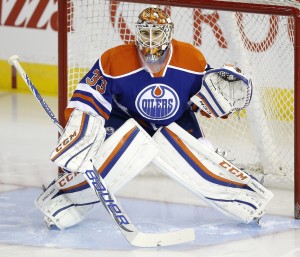 Talbot had his second strong performance in a row on Thursday. Hopefully for Edmonton, that it took this long for Talbot to show his talented side is just a sign of someone taking a bit of time to get going. Edmonton is clearly relying on him to be a bonafide starter and now that Jonas Gustavsson is down with an injury, Talbot's success has never been more critical.
His first three performances have to be considered a surprise to many. He was poor to downright awful in those games, but the Oilers managed to squeak out two wins. Now, he's got a 3.32 GAA average and a .904 save percentage.
Talbot ended the 2015-16 season having clearly won the starting job and it looked as though the Oilers netminding worries were behind them.  That assumption may have been premature, but his last two performances have shown Talbot has a ton of potential to string together three or four strong games and bring his numbers back up to an acceptable and respectable level.
Talbot's play thus far has been a surprise; he's like Jekyll and Hyde. It's not something the Oilers should be terribly concerned about, but it would be nice to see which goaltender (Jekyll or Hyde) the Oilers are going to get for the remainder of the season.
Related: Cam Talbot: A Tale of Twos
Related: Don't Panic Over Talbot, Yet.
Todd McLellan's Candid Nature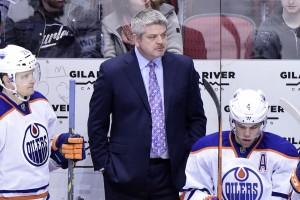 Everyone knew the time for excuses were over. This was the season the Oilers needed to start winning hockey games and failure was not an option. What's surprising is how straight to the point and candid McLellan has been about the team, it's results and in particular certain players.
McLellan has pulled absolutely no punches. In a recent press conference, he called the Oilers efforts against the Buffalo Sabres unacceptable. He went on to add:
We have some foundation and fabric things that we have to continue to fix. Stupidity is one of them." "We took tonight off so we'll practice tomorrow.
That led to the Oilers moving a mandated day off to two days later and caught the attention of the NHLPA. The Oilers may still yet get in trouble with a small fine or a slap on the wrist, but McLellan's point was simple: at no time in this season, will the Edmonton Oilers accept any players or this team taking the night off from giving their full effort. Those days are gone and if getting in trouble with the NHLPA is the consequence of teaching a lesson, so be it.
Related: Did Todd McLellan Overreact?
Tyler Pitlick
In labeling Kris Russell the top surprise of the season, Tyler Pitlick first got some serious consideration for that honor. In five games Pitlick has three goals. This is coming from a kid who was on his last legs with the Oilers organization, wasn't likely in the starting lineup for Edmonton until a couple injuries opened the door and doesn't have a guaranteed spot when players like Drake Caggiula heal.
Pitlick is making the case that he's irreplaceable on the fourth line for the Oilers and if he stays healthy — which in his NHL career he's had trouble doing — he's going to be exactly the type of player Edmonton needs.
In his 6th pro season, Pitlick one of the best surprise stories of the early season. Three goals in five games. Good for him. #Oilers

— Jason Gregor (@JasonGregor) October 21, 2016
More Surprises
There are other surprises that are worthy of some consideration. The play of Anton Lander, the lack of production by Ryan Nugent-Hopkins and the fact that Edmonton is first in the NHL after five games. That said, the five surprises described above have shaken the fabric of the Oilers to its core.
Strong defense, a lack of right wing depth (when it was considered a strength in training camp), the appearance of solid goaltending and an attitude that a lapse in effort won't be tolerated may be why the Oilers are looking at their best start to an NHL season in a decade.