Trying not to put the carriage in front of the horse, but the Edmonton Oilers are heating up just at the right time and might be the team you don't want to face in the playoffs. The Oilers are also 6-3-1 in their last 10 games (.650 win percentage) and are tied for second place in the Pacific Division with 89 points. During a recent four-game winning streak Edmonton outscored their opponents 18-5.
The Oilers are the definition of a dark horse come playoff time. Everything is starting to come together at the right time for this squad whether it's goaltender, secondary scoring or even their special teams. All of those have been questioned as the year's progressed, but head coach Todd McLellan continues to put in a Jack Adams-worthy season and doing his part to silence those critics.
Since February the Oilers are 14-8-1, picking up 29 of 44 possible points. Edmonton's remaining schedule sees them play five of their remaining eight games against teams that are not in a playoff position.
EDMONTON'S REMAINING SCHEDULE

DATE
TEAM
RECORD
SERIES
LAST 10

March 25

Colorado (7th CEN)

20-50-3 (43 PTS)

2-0-0

3-7-0

March 28

Los Angeles (5th PAC)

35-31-7 (77 PTS)

2-1-0

5-4-1

March 30

San Jose (1st PAC)

42-24-7 (91 PTS)

1-1-1

4-6-0

April 1

Anaheim (2nd PAC)

39-23-11 (89 PTS)

2-2-0

7-2-1

April 4

@  Los Angeles (5th PAC)

35-31-7 (77 PTS)

2-1-0

5-4-1

April 6

@ San Jose (1st PAC)

42-24-9 (91 PTS)

1-1-1

4-6-0

April 8

@ Vancouver (6th PAC)

29-35-9 (67 PTS)

2-0-1

3-5-2

April 9

Vancouver (6th PAC)

29-35-9 (67 PTS)

2-0-1

3-5-2
The Oilers' schedule is one of the easier ones in the league to close the season, so there's hope they could even become a 100-point club for the first time since 1986-87. Their record against the teams they'll play in their final eight games is an impressive 9-4-2. Right now the Oilers are projected to finish second in the Pacific Division if they keep pace.
So do the Oilers truly have the makings of a playoff dark horse?
Talbot Will Bounce Back After Shaky Starts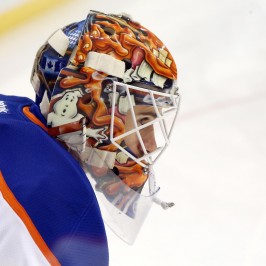 Before getting pulled in back-to-back games, Cam Talbot was one of the hottest goaltenders in the NHL. Talbot had back-to-back shutouts and hadn't allowed a goal in nearly 149 minutes. He's currently three wins away from tying the franchise record for most wins in a season set by Grant Fuhr (40 wins) in 1988.
There has been plenty of conversation about the heavy workload Talbot has faced this season. He currently leads all goaltenders with 67 games played, that equals to 90.5% of the Oilers schedule.
CAM TALBOT STATISTICS THIS SEASON

G
Min
W
L
OTL
GA
GAA
SA
SV
SV%
SO
67
3932
37
21
8
149
2.40
1952
1795
.920
7
In comparison to his counterparts, Fredrik Andersen is the next busiest goaltender with 83.1% of his team's starts, followed by Dubnyk (81.9%), and Rask and Jones at 79.5%.
In Talbot's last five games he's stopped 159 of 166 shots and is 4-1-0 with 1.40 goals-against average (GAA) and a .957 SV%. The fact that Talbot has now suddenly found another gear is nothing short of incredible. Every year come playoff time there's a goaltender that has a breakout performance. There was J-S Giguere in 2003, Miikka Kiprusoff in 2004, Cam Ward in 2006, Marc-Andre Fleury in 2008 and to keep the list short there was Matt Murray last year.
Offense Doesn't Start & End with McDavid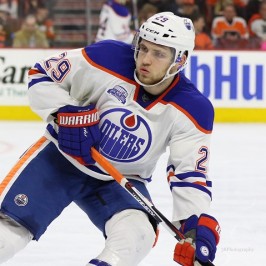 Connor McDavid is currently leading the NHL in scoring with 87 points in 74 games, and the team has three 20-goal scorers (McDavid, Patrick Maroon, and Leon Draisaitl).
Milan Lucic is hot right now as well with four goals and eight points in his last 10 games. Draisaitl, who has 15 points in his last 10 games, sits 10th in league scoring.
The Oilers could have two players finish in the top 10 of league scoring for the first time in a long time. McDavid is projected for 97 points, while Draisaitl is on pace for 77 points. Together the duo is one of seven that could give their team two 70-plus point forwards. There are only seven other teams that will be able to make that claim.
That's some pretty elite company, supported by Maroon and Lucic who are both on pace for 28 and 20 goals respectively. Benoit Pouliot has had a resurgence since coming back from injury and has three points in his last six games. Jordan Eberle and Ryan Nugent-Hopkins have had their fair share of struggles this season, but if the duo can get their game on track just in time for the playoffs, Edmonton's offense could be hard to tame.
Edmonton's also been finding a way to get it done with their special teams as well. A lot has been made of their penalty kill (PK) woes, which has been worst in the league since January. The Oilers have become much more disciplined as a result and limited their penalty minutes to counteract that. Since the start of March, the Oilers have improved their PK to 86.4% (fifth). It hasn't been anything fancy, just get control of the puck, get it out of the defensive zone and don't get caught in transition.
The power play (PP) is currently fifth best in the league at 22.2%. Adding to that since the start of March, they've improved that number to 26.7%, still fifth in the league. What makes it even more impressive is that, compared to the rest of the league, the Oilers are in the bottom-third of the league regarding PP opportunities. The Oilers are making their limited opportunities count.
Closing Thoughts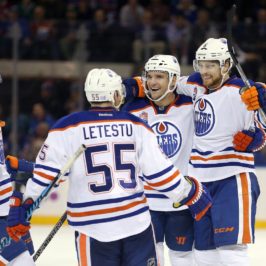 There's a strange feeling amongst Oiler fans, and it's a good one. Fans in Edmonton feel the Oilers can pretty much go toe-to-toe with the anyone and have a fighting chance to win. The head-to-head stats back it up too.
Against the three other likely Pacific Division playoff hopefuls, the Oilers are a combined 7-3-1. They've swept the Calgary Flames (4-0-0), have the upper hand against the Anaheim Ducks (2-2-0) and are even with the San Jose Sharks (1-1-1). The Sharks, however, have been sliding as they enter the playoffs going 4-6-0 in their last 10. First place in the Pacific isn't out of reach when you consider the Oilers have gone, as mentioned, 9-4-2 against their remaining competition this season.
Against the four likely Central Division playoff hopefuls, the Oilers are a combined 5-4-3. That translates to 13 of 24 points and a 0.542 winning percentage. Edmonton's gotten the better of both Chicago (2-1-0) and St. Louis (3-0-0), but they've had a tough time against both Minnesota and Nashville (combined record of 0-3-3).
The Oilers have shown in the regular season that they can go toe-to-toe with most of the Western Conference. For them to have some success this spring, they'll need Talbot to continue being a puck-stopping machine that's earned some Vezina Trophy praise in some circles.
They'll also need the offense to keep spreading itself out beyond that group of McDavid, Draisaitl, Maroon and Lucic. David Desharnais picked up at the trade deadline, has done his part picking up four points in ten games since coming from Montreal. The eyes now turn to Eberle and Nugent-Hopkins who combined for five points in Edmonton's 7-4 win over Colorado on Thursday.
PROJECTED PACIFIC DIVISION STANDINGS

OVR
TEAM
POINTS
1
San Jose
102
2
Anaheim
100
3
Edmonton
99
4
Calgary
95
5
Los Angeles
86
6
Vancouver
75
7
Arizona
70
Oscar Klefbom continues a breakout year and is emerging as a true top-pairing defenseman in the league. The committee around him with Adam Larsson, Andrej Sekera and Kris Russell aren't the best defense on paper, but statistically, they're a big reason the Oilers are 10th in fewest goals against per game (2.55) and 11th in fewest shots against per game (29.8). Sekera (33 points) and Klefbom (30 points) have been providing much of the offense from the blueline.
With the projected standings the Oilers would play the Ducks in the first round, a team they are 2-2-0 against this season. It'd be a compelling series and one the Oilers have a shot at winning. When it comes to the playoffs, anything can happen, but the Oilers have a legitimate shot at making some noise this spring.
Edmonton Oilers regular contributor providing insight on all things Oilers including club history, prospect profiles, trade breakdowns, and everything else in between. Check back regularly for new and exciting content. Follow on Twitter @SanderTHW.