The Edmonton Oilers are about to reach the quarter pole in their 2018-19 schedule and netminder Cam Talbot may be on the verge of losing his spot as the team's No. 1 goalie. With the 31-year-old still struggling with consistency, the improved play of Mikko Koskinen and the NHL standings being as tight as they are, the time for patience is something this organization does not have.
WATCH: Will the #Oilers make a permanent change in net? Cam Talbot has lost seven of his 13 starts, including the last four. https://t.co/uXTbcMflXs #yeg

— CTV Edmonton (@ctvedmonton) November 17, 2018
After taking a seat on the bench for each of the Oilers past two games, Talbot will return to the crease against the Vegas Golden Knights later today and the pressure will be on. With last night's disappointing third-period collapse against the Calgary Flames still fresh, this group is unlikely to be in any condition to deal with another sub-par performance in between the pipes. In other words, a lot is riding on this start.
Do the Oilers Have a No. 1 Goalie?
Contrary to popular belief, Talbot hasn't played poorly all season long but he hasn't been of much use of late. It has been exactly three weeks since he last won a game and not surprisingly, that was the last time we saw the guy capable of stealing his team two points. The argument could be made he did exactly that against the Chicago Blackhawks but things haven't been quite so pretty since.
Outside of solid showing against the Florida Panthers ten days ago, Talbot has had three poor outings since the aforementioned tilt with the Hawks. The argument could be made he received little to no help in at least two of those four games but that only goes so far. At some point, a team needs their goalie to make a crucial stop and they have been few and far between when it comes to No. 33.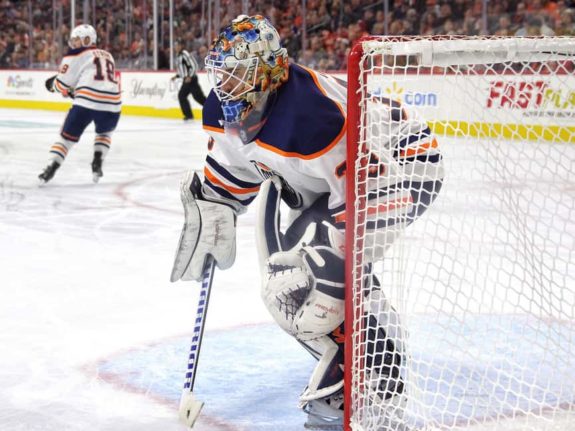 Far from an ideal situation but harping on what has already happened doesn't do anyone any good. What's done is done and what comes next is all that matters. Up until this point, what's come next hasn't been good enough and that trend needs to stop. Be it the early goals against in games, shotty rebound control or poor positioning, all of it has to improve and in hurry.
Related: Oilers' Koskinen Making Most of Opportunity
After getting off to a surprisingly strong start, Edmonton finds itself on the outside of the playoff cut line and are just now starting to play teams within the Pacific Division.  While where they currently sit in the standings is of no real consequence, ensuring they don't bury themselves with an extended run of poor play is a must.
Important Portion of Oilers Schedule
This is what makes the start against the Golden Knights so important. If the guy who shows up resembles the Talbot who, outside of one start against the Pittsburgh Penguins, was pretty darn good to start the season, the Oilers should be in good shape. However, if he delivers more of what we have seen over the last few weeks, this team could be in a world of hurt. Let's not forget, Plan B isn't a sure thing by any means.
As good as Koskinen has looked this month, we are talking about a goalie that has played half his team's games in the KHL over the past two years. Sorry but that doesn't sound like a guy a club can ride over the course of the final three-quarters of an NHL campaign. Could he take on the lion's share of work if called upon? Possibly but this team is going to need both guys playing well in order to stay in the mix.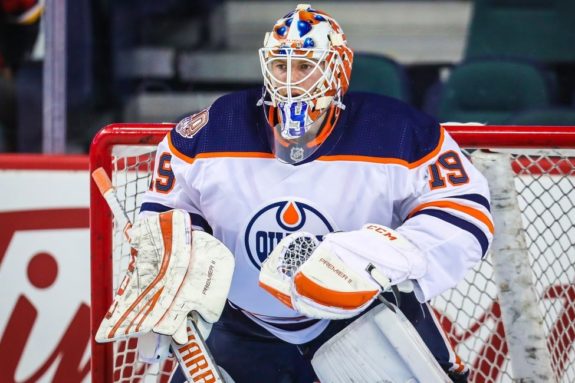 In my mind, the longer Talbot's struggles continue, the less likely he will be to find his game and that won't work. The fact he could potentially lose his starting job, in a contract year, has to be weighing on him, as it would almost anyone. But to lose that spot and then be expected to come back and still be a contributor, not so sure about that being a realistic option. The days of 70-plus starts may be a thing of the past but could there be a Plan C?
Related: Oilers: The Puljujarvi, Yamamoto Conundrum
Could this turn into a potential 1A/1B scenario where both goalies play a fair bit? Possibly but don't expect Talbot to relinquish his spot without a fight. Over the course of the next four weeks, the Oilers will be playing every other day and take them to their Christmas Break. By the end of that run of games, my guess is we will have our answer as to what direction this goaltending situation is headed and it could ultimately determine how this season plays out.