It's been well over a decade since the Edmonton Oilers possessed an elite top-pairing defender.
Following the Oilers' appearance in the 2005-06 Stanley Cup Final, Chris Pronger was traded to the Anaheim Ducks in exchange for a bounty of players and draft picks. And, in the ten seasons which followed, Edmonton toiled with mediocrity en route to a decade-long playoff drought.
The major cause of this disastrous Oilers run was, primarily, their lacklustre blue line, which not only lacked a wealth of skill but also depth and confidence. Turning over at an unimaginable rate, Edmonton's weak blue line and inability to prevent scoring chances became well-known league-wide, yet for all of the wrong reasons.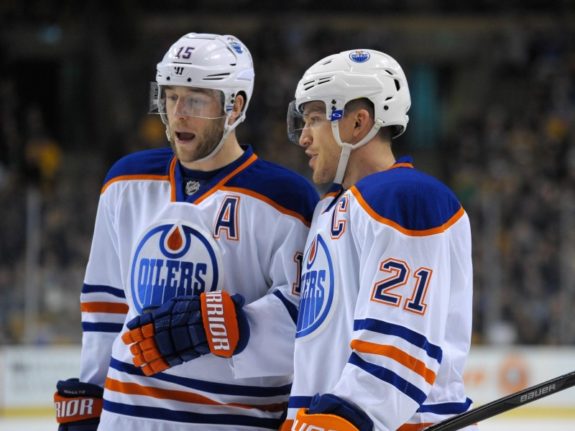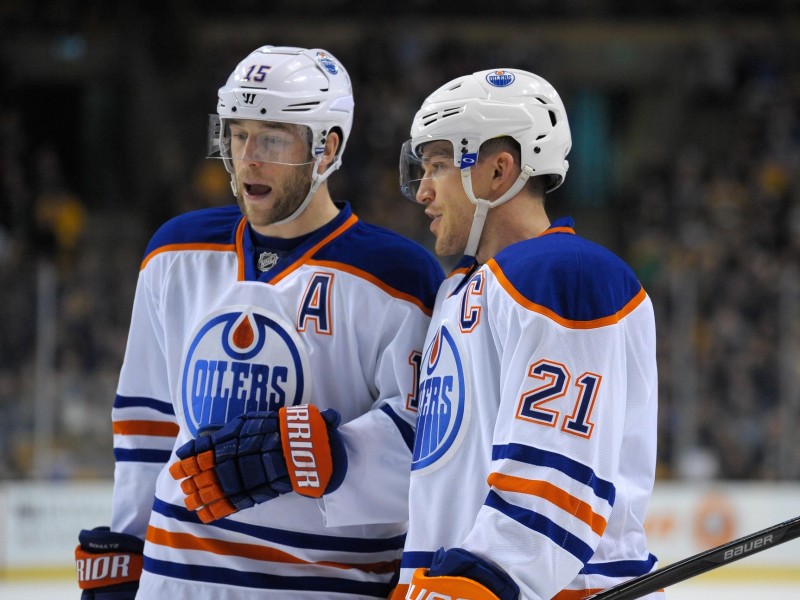 However, there was a silver lining hidden behind the despair long-suffered by the Oilers' passionate fanbase.
Although the team had been nothing short of a disaster for years, Edmonton's futility had, in turn, allowed the organization to stockpile high-quality draft picks and a breadth of elite young talent. Yes, the majority of which were forwards, however, Craig MacTavish made a tremendous decision in his short time as team General Manager, and one which stands poised to pay dividends long into the future.
The Dawning of a New Oilers Leader
When MacTavish stepped to the Prudential Centre's draft stage on Jun. 30, 2013, many were expecting the Oilers to select yet another tantalizing offensive talent. However, outcry regarding Edmonton's blue line had long been building, as the team and especially its fans were well aware of the organization's crippling deficiencies on the back end.
So, despite a draft class beaming with high-end forward talent, MacTavish made an astute choice, opting to improve his defence-corps through the addition of a talented young defender named Darnell Nurse. At seventh-overall, Nurse became the second defender chosen in the event, following only Seth Jones who was nabbed by the Nashville Predators.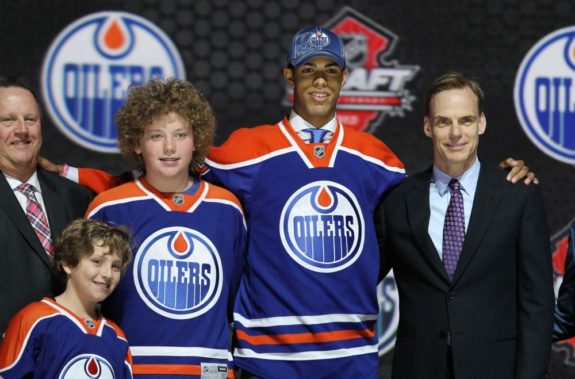 In Nurse, the Oilers added an extremely intriguing prospect.
Of incredible size, Nurse was a smooth-skating defender with the Ontario Hockey League's Sault Ste. Marie Greyhounds. An energetic player, Nurse had come to be regarded for his terrific two-way game, as his size, speed and skill allowed him to find consistent success at both ends of the ice. As such, Nurse immediately projected to become a top-pairing NHL defender, as his ability to generate offence while prioritizing his own zone made him an asset of immense value.
Further, Nurse was a natural leader whose determination to find success regardless of the means spoke wonders about his maturity at a young age. An assistant captain of the Greyhounds at the time of his selection, Nurse would return to Sault Ste. Marie and be named as the team's captain for the next two seasons.
Developing A Defensive-Dynamo
Unlike most, yet similar to the Oilers' long-time developmental style, Nurse only played a handful of games in the American Hockey League before establishing himself as a full-time player at the NHL-level.
However, in 2015-16, Edmonton had little choice, as the team's barren blue line was desperate for an upgrade of any sort. In the previous season of 2014-15, the Oilers allowed a whopping 276 goals against over the course of the campaign, a total which was by and far the worst of any franchise in the NHL.
So, when the idea of inserting a highly energetic and promising young defender into the team's lineup was considered, the outcome was anything but surprising.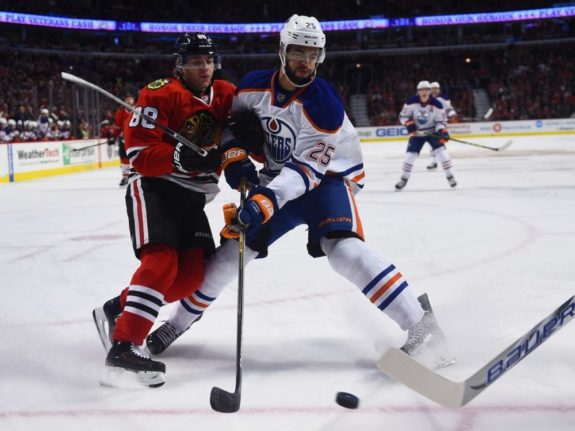 Since his NHL arrival during the 2015-16 season, Nurse has continued to grow and progress, both on and off of the ice. Perhaps too conservative upon his initial taste of NHL action, Nurse has steadily developed his wide-range of tools and is slowly yet surely becoming a confident and elite defender.
Now, in 2017-18, Nurse is without a doubt playing the greatest hockey of his young career.
And, perhaps the most frightening reality of all is the fact that Nurse remains just 22 years-of-age.
Currently in his third full season of play in Edmonton, Nurse has become a reliable workhorse on an Oilers blue line which has been ravaged by injuries. Called upon to play a greater amount of ice time in a variety of situations, Nurse has answered the calls of Head Coach Todd McLellan without fail and, as a result, is deserving of a wealth of praise.
Nurse's Incredible Season: By the Numbers
The ascension and importance of Nurse during the Oilers' current campaign cannot be understated – he has been nothing short of sensational.
Throughout the season thus far, Edmonton has been without the likes of Oscar Klefbom, Adam Larsson, and Andrej Sekera for considerable periods of time. These injuries have forced greater playing time and responsibility upon others, namely Nurse, who has been expected to pick up considerable slack for his teammates.
To say Nurse has met these expectations would be an understatement.
A Growing Role
Entering the 2017-18 season, Nurse had averaged a smidge under 19:00 of ice time per game throughout his career and had collected eight goals and 21 points throughout his previous 113 NHL games played. This level of offensive production amounted to a goal per game rate of 0.07, and a point per game mark of 0.18 – two totals in no way reflective of the incredible production which he displayed in the OHL or of his true capabilities.
Did Nurse have more to provide the Oilers as he entered his third campaign with the team? Absolutely, however, given his young age and thin experience, it was completely understandable that the Hamilton, Ontario native had yet to reach his immense potential.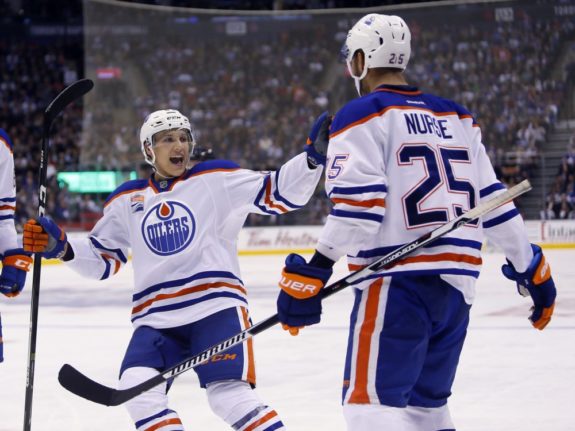 So, when unfortunate injuries felled a number of Edmonton's premier defenders, as previously mentioned, Nurse took the challenge head-on and has failed to disappoint.
Through his 47th game played in 2017-18, Nurse had quite clearly taken a significant step in his personal development. Averaging a massive 21:25 of ice time per game, Nurse had proven his ability to succeed when counted upon most and, perhaps more importantly, his capability to do so for the Oilers long into the future.
Edmonton's reliance on Nurse and his fantastic play when called upon stands as even more impressive when you consider that the youngster's average ice time has risen by nearly five minutes in comparison to 2016-17 when he logged 17:01 per contest. Further, Nurse's offensive production has risen alongside his growing presence, as the blueliner finds himself on pace to record 11 goals and 31 points this year – output which has already smashed his pre-existing career-highs.
A Defensive Stalwart
In addition to his growing ice time, an important role in key situations, and improving offensive play, Nurse has never been more reliable in his defensive end.
Although the Oilers have been disastrous within their own zone in the last decade, Nurse is determined to shatter this unfortunate trend. In fact, through his 47th game played, Nurse had played to an impressive plus-17 rating, a mark which stood as Edmonton's best and by a large margin.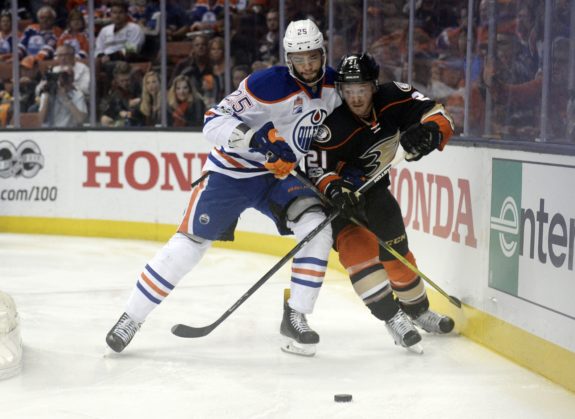 However, if you aren't convinced that the plus/minus system accurately reflects the overall play of a given skater, let's look to Nurse's Corsi For (CF%) rating, which reflects the shots attempts generated both for and against while a given player is on the ice. To no surprise, Nurse owns a 54.1 CF% through 47 games played, illustrating that Nurse and the Oilers generate more shot attempts for than against while he is on the ice.
Perhaps more impressive is the fact that Nurse's CF% has risen dramatically in each of his three NHL seasons to date. Although his rookie season drew a CF% mark of 45.5%, Nurse rebounded to 50.7% in his sophomore campaign before adding another five points to the statistic in 2017-18. This total is even more impressive when one considers the massive increase in Nurse's playing time and the fact that he has played against considerably stiffer competition throughout the current campaign.
The Start of Something Special
For Nurse, his impressive play could lead the Oilers into rarified air.
As mentioned off the top, it has been well over a decade since Edmonton has owned an elite NHL defenceman. Sure, you could argue that Adam Larsson is exactly such, however, by no means does he boast the flair or a two-way game similar to that of the NHL's premier defenders.
On the other hand, we now see Nurse in a new light.
Capable and continuing to improve within his own end and a growing offensive force in his opponents', Nurse's energetic and competitive style of play has him trending towards superstardom. And, given his size, raw skill, and proven talent, it would appear as though Nurse's game will only continue to strengthen as the youngster gains greater experience at the NHL-level.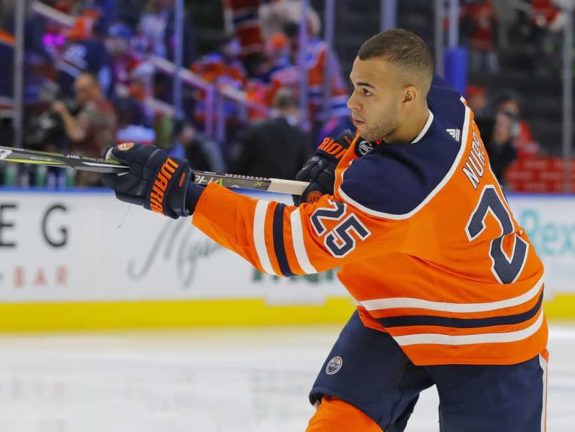 Soon to be 23 years-of-age, Nurse is, like many current Oilers, heading towards the prime of his career, where he will undoubtedly become more dominating and consistent than ever before. In need of a new contract come the conclusion of the current campaign, Edmonton would do well to ink Nurse to a long-term extension, and one similar to that of Klefbom's.
As a potentially elite defenceman in the making, Nurse has provided the Oilers with everything they could have asked for and more during his short career to date.
Steadily improving on a yearly basis, Nurse's continued presence on Edmonton's blue line will not only strengthen the team as a whole but provide the organization with the one asset which they have long lacked – a legitimate top-pairing defender.
Brett Slawson is a four-year veteran of The Hockey Writers who covers the Toronto Maple Leafs, NHL prospects, and the OHL's Mississauga Steelheads.
Contact Brett on Twitter @brettslawson92, or by email at brett_slawson@hotmail.com.