From time to time, THW translates Russian materials where the focus is less on great hockey players, but is rather on their family. We already published stories about Alexander Radulov and Artemi Panarin, and also a talk with Kirill Kaprizov's first coach. This time, Nikita Kucherov's mother, Svetlana, and first coach, Gennadi Kurdin, shed some lights on the Tampa Bay Lightning superstar.
* You can enjoy the original article by Igor Rabiner and pictures of very young Nikita Kucherov and Nikita Gusev on the Russian website Sport-Express.ru *
Nikita Kucherov Gifted his First Coach a Car
"I remember that I was driving around in an old Zhiguli," Nikita Kucherov's first coach, Gennadi Kurdin, recalls. "I talk about cars, we were stuck in a traffic jam, and he, still a very young kid, listens to me. So at once I tell him – Once you'll play in the NHL, will you buy me a car? – Probably I was just worn out by the traffic jam when I told him so. And he even remembered about that! I did not. And of course, he just replied – I will!"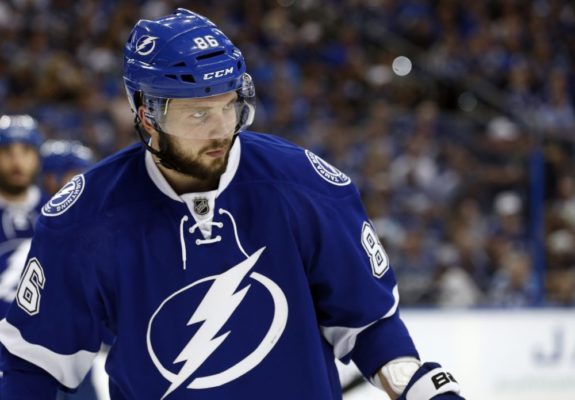 "After the World Cup, Nikita came visiting our team [Note: Gennadi Kurdin now coaches kids at KHL team Vityaz Podolsk's junior team], he practiced for five days with our kids. Then he got back to America and signed his contract. Close to Christmas Svetlana [Kucherov's mother] calls me and says 'Choose your machine.' It looks like he remembered about his old promise and transferred her the necessary money. 'What?' I tell her. 'Your new machine.' I choose a Land Cruiser…"
Gennadi Kurdin, who also mentored other Russian players as Nikita Gusev and Igor Ozhiganov, is in close touch with Kucherov's mother Svetlana, as all had a very important role in Nikita's childhood. "Kurdin says that phrase only as a joke," Svetlana said. "How could he know that he was going to play in the NHL? He was very young. And after his first serious contract, he told me 'I'm gonna buy Kurdin a car. Ask him which one he wants.'"
Hard Times in Kucherov's Childhood
"Kucherov's father serves in the army, and we had to take care of him for a good couple of years when he was sent to Uruguay," Kurdin explains. "You know, a wife should join her husband. And the very young Nikita already start showing good things on ice. So Svetlana asked me what to do. And I explained her: you have your mother in Maykop [Note: Kucherov's home town], call her here [to Moscow]. I will drive him around myself. Thankfully, he lived just on the other side of the street. So, Svetlana got her mother here, she also had a sister, who got to Moscow too, and they were making shifts. Nikita missed his parents? Well, he talked very little at time, and that later too. Only recently he started to talk more."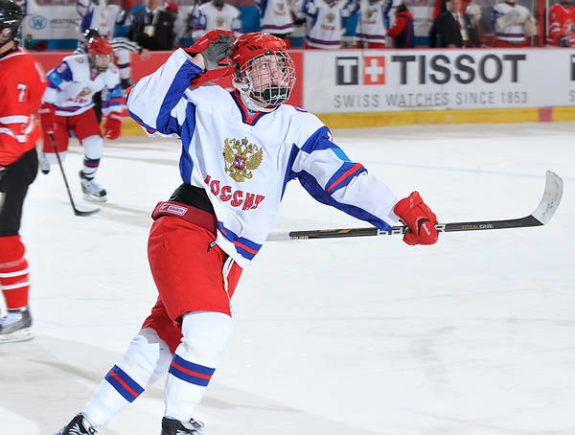 "Nikita was only seven," Svetlana recalls. "It was a hard situation. Kurdin helped us with the decision, without pressing on us. Of course, we wanted to do everything we could so that later he would not blame us and say that he could become something if just we let him do it. So he had his grandmama and aunt from Maykop. We would get back to Russia once per year on vacations. Nikita didn't cry. I did. Of course he was sad without his mama, but I was always trying to be positive and explained him that if he kept on playing then he could make a career out of it and move wherever he wanted."
"Once a week he had a practice at six AM, and he needed to get up at five. He always loved sleeping, but he also knew how to get up early when needed. Even when he was much younger, if we told him that he needed to practice, then he would get up even with his eyes still closed. He was very responsible," Svetlana recalled.
Probably this discipline is coming from his military roots. Both his grandfather and father served in the Russian army. Svetlana's parents still live in Maykop. Kucherov's grandmother is 75 and still works at the city's football team Druzhba [Friendship] and doesn't really intend to retire. By the way, this summer Kucherov visited Maykop again after an 11-year pause. When he was younger, he would spend every summer there, as it was where his family originates from.
Military Family on the Move
Kucherov's father, Igor, is a colonel in the Russian army. After the collapse of the USSR, he and Svetlana were living in Ashgabat, Turkmenistan, where Igor was serving in the army. The situation wasn't easy: if the family would live another year there, then their citizenship would be Turkmeni, and not Russian. So Igor moved to the Frunze Academy in Moscow in 1994, when Nikita was just one. Igor was so busy with his job that he could pretty much only spend time with Nikita at his games on Sundays.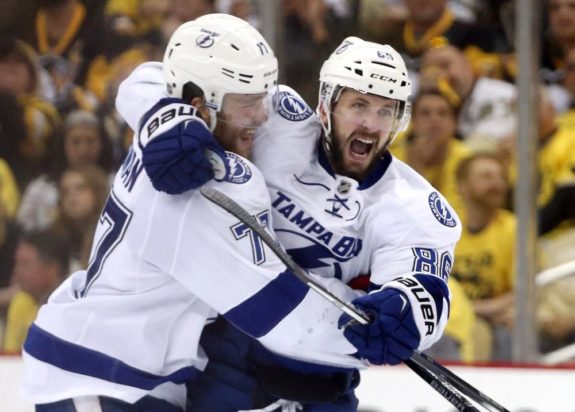 "Nikita was so agile when he was young," Svetlana recalls. "He was really always playing with something. I kind of knew that he would get where he is now. When he was one, we had a kick scooter. It was used by [his brother] Denis, who's three years older. He waited until he was two. You can't imagine how that kick scooter was, what kind of noise it made when it was moving. But then he started playing with it, and I didn't stop him. He already had great coordination."
He gets it honestly as Svetlana was a very promising gymnastic, but had to quit due to an injury. She later worked as a coach, but Kucherov didn't want to work under her direction, he considered his coach being only Kurdin. One beautiful day, Igor saw that close to their place a new ice rink was undergoing construction. Both Kucherovs kids were playing football, but their father, who was a footballer himself, decided to get them to hockey. Their mother was also against them playing football, for some reasons.
Kucherov Starting Playing
"I remember the way he started playing," Svetlana explains. "We gave him a pair of roller skates of his brother, that is they were much bigger than his feet, but he didn't care. He was skating that well that a woman seen him and said 'One day he'll be a professional athlete.' Me and my husband just replied that we knew already."
"I had no doubt that he'd become a great athlete. He always wanted to be the best, in everything he did. At anything he'd play, he wouldn't leave the field until he didn't defeat anyone. He's great even in playing chess, having learned from his grandfather. He was also always playing football. He was so good at it that our friend once said, '[In Russia] we have enough good hockey players, but not many good footballers, get him quitting with hockey.' But it was too late already."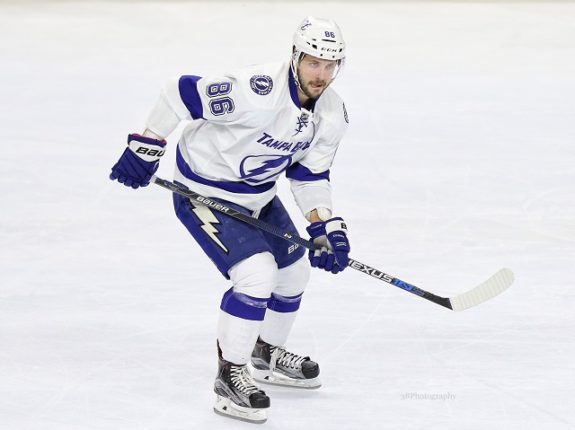 It was 1998 when Kucherov started playing hockey, a hard period because Russia's economy has just defaulted. Many Russian people were left without a salary and the Kucherovs were among them. The young Nikita had no skates, nor a place in the team, so his mama had to step up.
"I asked them if they had a workplace for me," Svetlana went on. "They needed a cleaner, and I accepted. I was hoping that this way we could get a pair of skates, but we did not. So I bought a pair of skates on a debt. To speak the truth, the skates were three sizes bigger than his feet, but it was good for Nikita anyways. He skated in them for three years. Thankfully we had a lot of people who supported us."
"When Svetlana started working at the hockey club, she got both his kids there," Kurdin explains. "They didn't have a lot of money. What we had we gave them. Nikita was the smallest, his hockey pants were well over his knees. And he was wearing an old Soviet helmet made by Salvo. It was even laughable! And now he's the top NHL goalscorer."
"I took a camera with me for his first practices," Svetlana recalls. "He was skating well since the start. I wanted to immortalize his first steps in his new sport. I thought that he was going to fall, but no, he didn't, he was just going on! Coordination! Nikita could have been playing any sport and become a top-level athlete. Just because of his nature."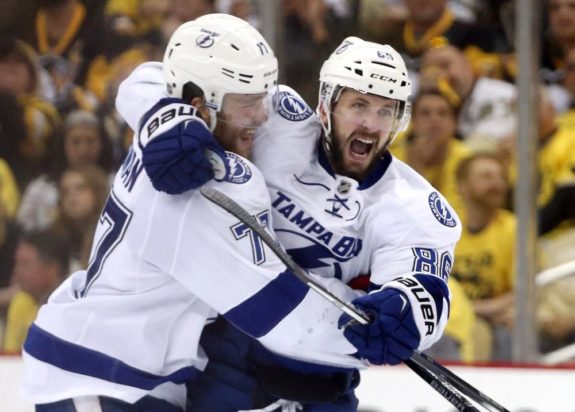 Nikita and his brother were sharing the same pair of skates, just changing them after each practice. After a bit, Denis quit playing, dedicated himself to other sports and activities and now is working as sales director for an e-commerce business.
When she was asked if she often needed to raise her voice on Nikita, Svetlana replied: "No, not really. He was always an intelligent kid. He would realize why we were scolding his bigger brother and will not repeat such a behavior. There was no need to strictly control him. If he wasn't at school or at a practice he would be just close to our place to play with some of his friends. We always knew where he was.
With his first team, Silver Sharks, he didn't get the equipment, but he finally got it once he moved to the White Bears. According to his mother, Kucherov fell in love with his brand new gloves to the point that he wanted to sleep only if he was wearing them.
In his free time, he was trying to be a goalkeeper, asking his father to shoot at him. At one point, the Kucherovs were thinking if he didn't prefer to play in goal, but he lost the interest before they could ask him. Once he moved to the White Bears, Kucherov went on playing with the 1992 team as Kurdin was training that team. Playing for his new team, Kucherov got to know another Nikita who is another amazing player: Nikita Gusev.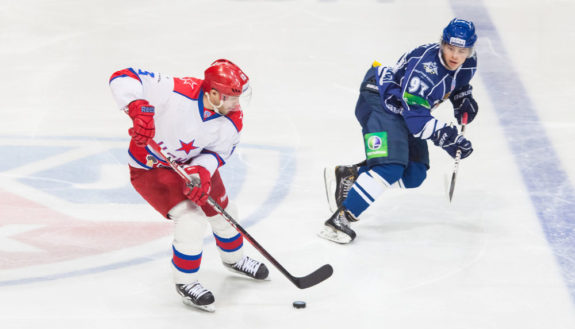 "Kucherov didn't have direct speed back then," Kurdin recalls. "Until they were 15 or so they were so small that other players would reach them anyways. Gusev and he would just beat all the opponents with their passing game. At their last year of school hockey, we even had fans who attended our game just to see them. They would come even at away games, just to watch their hockey. At that time, Kucherov didn't have a strong shot, but I didn't force him on it. He realized himself that shooting is the prolongation of the passing game. If a player is concentrated only on his shot, he won't see where the shot will end up. But Nikita was always seeing where he was aiming. But Nikita was always seeing his shot's direction. That's why we gave a lot of stress on the passing precision. It was evident: once fully grown, he would start shooting harder."
After playing for the White Bears, Kucherov and Gusev moved to CSKA and started playing for the Krasnaya Armiya in the MHL. The team won the title, Gusev was the playoffs MVP and Kucherov ended the season with the top +/- in the league. "It's incredible to think that he's got the same in the NHL now," Kurdin admits. After it, the move to North America. It wasn't easy for Kucherov, just as for most of the other Russian players.
"Initially, he didn't want to move to North America," Svetlana says. "If CSKA gave him a chance, then he would be playing there. But after thinking about it, he decided to move to Canada. We agreed and so he dissolved his contract with CSKA to move to Quebec."
Move to North America
When asked if he was sure that Kucherov would play well in Canada too, Kurdin admitted he was not. "Of course, I wasn't sure that everything could go well for him. You know, a lot is up to the circumstances. Frankly speaking, I think that he was lucky to get to [Steve] Yzerman's team, he's a person who really values and respects Russian hockey."
"Those three months in Quebec had one big advantage: Nikita learned English," Svetlana recognizes. "He didn't know a word, but he learned fast. He studied with a teacher, a Russian woman called Lena, it shows that he did a tremendous job. He was playing with Grigorenko, but then he was traded [to Rouyn-Noranda] where there were no other Russian players, so he was forced to talk in English. Now he even reads books in English, I see him reading Chris Chelios' biography. [Patrick] Roy wanted him a lot for the Remparts, but for some reasons, he wasn't playing. Nikita wasn't happy. He was traded in a very small town, but he was interested in hockey, not in other stuff. By the way, during the playoffs, they defeated the Remparts 4-1."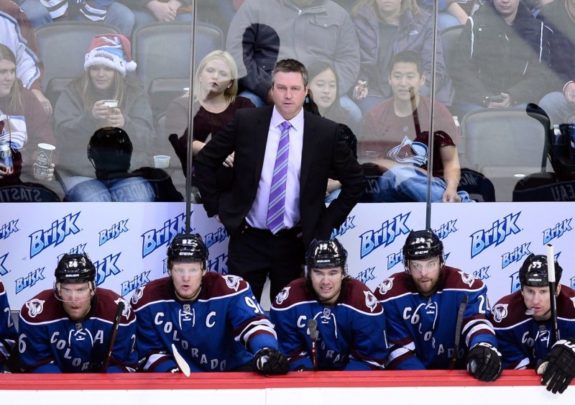 Kurdin also shared a last anecdote: "When my boys were playing for Krasnaya Armiya, they were given 10-15 seconds shifts, and they were constantly moaning about it. So I explained to Kucherov himself 'Just go and score. Next time they'll give you more [ice time].' Then, to all three of them, I said, 'Don't worry. Time will come that you all will moan because your coaches won't get you to stop playing.' So it happened. And the laughs we have when I remember them…"
A professional hockey writer and translator. Loves Russian culture, language, and hockey. Reachable on twitter @AlexSerenRosso