In the six years that have passed since the New York Islanders used the fifth overall pick in the 2011 NHL Entry Draft to select Ryan Strome, the Mississauga native has yet to live up to expectation.  However, after being sent to the Edmonton Oilers in exchange for veteran forward Jordan Eberle, the soon-to-be 24-year old could not have dreamed of a better landing spot.
Having said that, couldn't be more excited to be part of the Oilers. Looking forward to the season already!

— Ryan Strome (@strome18) June 22, 2017
Now it's just a matter of making the most of the opportunity. It is no secret that in the right situation, many a player would benefit from a change of scenery in order to help get their career back on track. The difference with Strome is he is joining a team that currently employees the league's most potent one-two punch, in Leon Draisaitl and Connor McDavid. The latter of which who just cleaned house at the 2016-17 NHL Awards.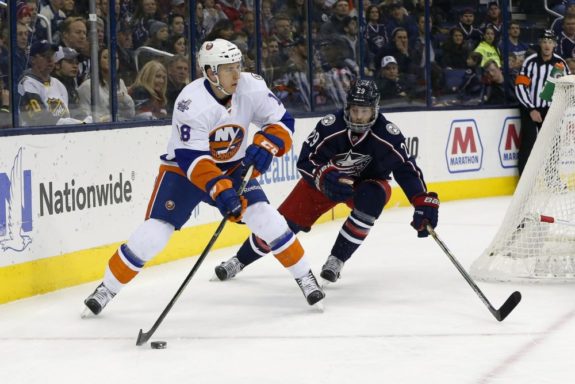 Strome Controls Destiny
Though seeing regular duty with either one is no guarantee in 2017-18, you can bet Todd McLellan would love nothing more than to use his two best players on different lines whenever possible. With Eberle no longer part of the equation, this lineup has a gaping hole on right-wing. Drake Caggiula, Jesse Puljujarvi and Anton Slepyshev have shown signs of being able to fill the role but none have cemented spot inside the top six.
Be it playing alongside Ryan Nugent-Hopkins or either one of the aforementioned Draisaitl and McDavid, the chance of cracking one of the top two lines is there for the taking. Problem being, through the first 258 games of his NHL career, Strome has shown nothing to suggest he would flourish in such a spot. Outside of his 17 goal and 50-point effort in 2014-15, we are talking about a kid who has 18, 28 and 30 point campaigns on his resume.
A far cry from the kind of production the player who he was traded for delivered during his seven seasons in Orange and Blue. Despite falling out of favour with chunks of this fan base and higher-ups inside the organization, Eberle put up points with great regularity. There is no question he is a flawed player but scoring goals is something most teams continue to struggle with in today's tight-checking style of game.
Moving Eberle for Russell?
Yet, the decision to move the Regina native was made in order to free-up enough cap space to sign depth defenceman Kris Russell to a four-year extension. Confused? Well, in my mind, you should be but that is a story for another day. As far as Strome goes, why Peter Chiarelli decided to make the move he did is of little consequence.  Again, all that matters is what he accomplishes going forward.
The fact he is three years younger and makes $3.5 million less in salary is all well and good, Edmonton is going to need actual production to help fill the void Eberle's departure will bring. A healthy McDavid, great years from Draisaitl and Patrick Maroon, coupled with a blue line that finally managed to chip in on the offence, all played big parts in helping offset the loss of Taylor Hall from a season ago.
Trading Eberle to free up $$$ to sign Kris Russell and bring in Ryan Strome would be an epic fail. 👎🏻#Oilers

— NateInVegas (@NateInVegas) June 22, 2017
In order for this club to enjoy similar success in 2017-18, a repeat performance will be needed and another player or two are going to have to leave their marks.  It appears as though the Edmonton Oilers feel Ryan Strome has the ability to do exactly that but if it were a sure thing, the Islanders would not have moved him in a deal for an older player with a much bigger cap hit. As per always, expectations are great but they also need to be kept in check.
Rob Soria is the Author of Connor McDavid: Hockey's Next Great One. He has chronicled the Orange and Blue since creating his Oil Drop blog in 2011 and has also had his writings featured over at HometownHockey.ca and Vavel USA, where he has covered the NHL, MLB and ATP Tour. Rob was born, raised and still resides in Edmonton, Alberta and can be reached via twitter @Oil_Drop.