In an Edmonton Oilers news and rumors update, the team has inked one of their later-round draft picks with the hopes he can outvalue his selection number in a major way. Connor McDavid has an interesting new workout partner while he skates in Arizona, and Mike Smith has hired a new goaltending consultant to work with this offseason. Finally, the Oilers are looking for a place to hold their training camp with so many things going on in Alberta and more specifically, while Rogers Place is being used for the WJC.
Oilers Sign Defenseman Philip Kemp
The Edmonton Oilers have inked one of their later-round 2017 draft picks, signing Philip Kemp to a three-year entry-level contract on Wednesday. Kemp may not be a hugely familiar name to a lot of Oilers fans as he was drafted in the seventh round and has played the last three seasons at Yale University.
But, because Ivy League schools have suspended their hockey programs for the year, Kemp has decided to go pro early, forego his senior season and try to make the jump a little sooner than expected. Still just 21 years old, if the AHL season begins, that's likely where Kemp will start to his road to the NHL.
McDavid Workouts With Matthews Getting Some Attention
Connor McDavid has headed over to Arizona to get some skating, practice time and workouts in and he's competing alongside Auston Matthews of the Toronto Maple Leafs. Sportsnet's Elliotte Friedman picked up the story and wrote a fun piece about the players really learning from one another but not wanting to give away too many details in terms of their workouts.
Friedman writes that both players said it has been extremely fun competing with one another and Matthews is in awe of Connor's hockey IQ and speed, saying "it's the whole package with him." McDavid was complimentary of Matthews as well, saying, "his shot is the first thing you notice."
Their workouts have garnered attention as other NHL players like Jonathan Toews and Anthony Duclair have made their way to Arizona to join them. The one former player who has talked the most about these sessions is goaltender Peter Budaj who was asked to come play and is trying to make stops whenver possible.
Related: Oilers' Depth at Centre is Among NHL Best
Mike Smith Working With New Goalie Specialist
Jason Gregor of OilersNation.com writes that Mike Smith is working with one of the most in-demand goalie consultants in an effort to get himself ready for this coming season. Smith is in Kelowna and has hired Adam Francilia, a goalie consultant for Connor Hellebuyck and a current consultant with the San Jose Sharks.
** Authors note: Gregor reached out to us to let us know that Francilia still works with Hellebuyck and many others. From an Oilers perspective, that's even better.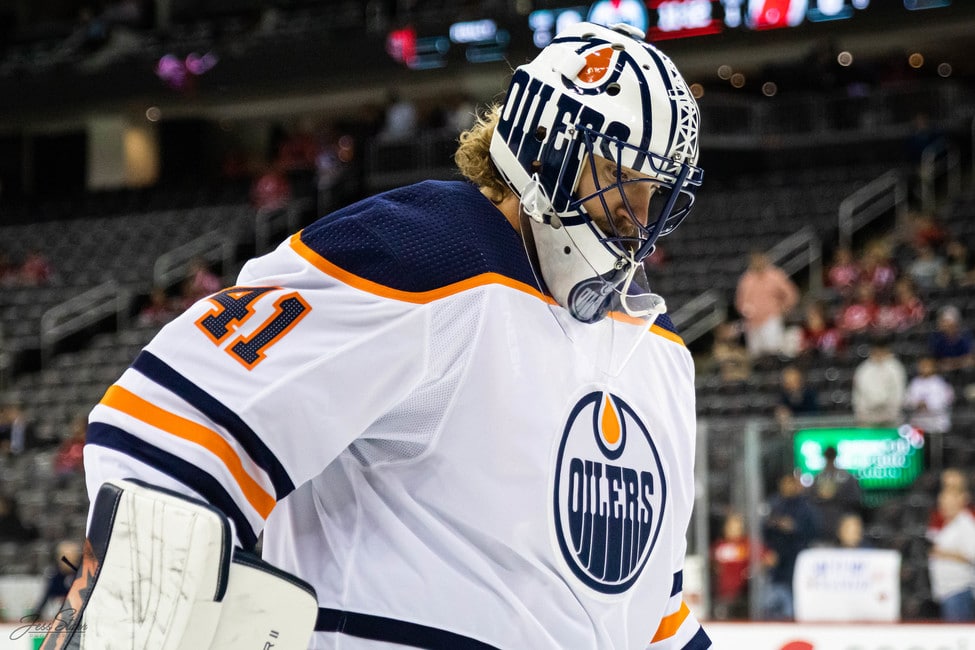 Kevin Woodley of In-Goal Magazine was asked about this new relationship and Woodley said, "I don't think it will be to the point where they ask Mike Smith to re-invent himself, but the positive is that at this stage of his career Smith is open, and seeking change, to try and get better." He added, "There are many goalies younger than him, and less established, who have stopped doing that." Smith is now 38 years old.
Woodley wasn't certain what the focus of their working together was but he believes they'll likely target Smith's balance as a main point of improvement.
Oilers Need a Location for Training Camp
With recent news of upcoming shut downs in Alberta and with the World Junior Tournament also taking place in Edmonton, it might be a bit challenging for the Oilers to hold their NHL training camp after Christmas. As such, Mark Spector notes the Edmonton Oilers will need to find – and are already looking – for sites to hold their camp.
The World Junior Championships are basically taking over Rogers Place assuming the recent COVID-19 cases and new regulations don't have an affect on the tournament as a whole.
Next: NHL Rumors: Canadiens, Blues, Avalanche, Wild, More
---
---