The key to the Edmonton Oilers 2016-17 campaign was the month of October. They used a pillow soft schedule to go 7-2 and used it to help propel them to a great season. Fast forward to the present day and while their schedule isn't quite as cushy as a year ago, there was every reason to believe this year's edition of the Orange and Blue would get off to another strong start in 2017-18.
#Oilers Today w/ @TheChrisWescott: Oil pepper Hellebuyck with 39 shots but quality of chances given up prove their undoing vs. Jets. pic.twitter.com/RFsGcM1iFL

— Edmonton Oilers (@EdmontonOilers) October 10, 2017
Unfortunately, playing the games is still a necessity and after back-to-back losses to the Vancouver Canucks and Winnipeg Jets, the Oilers suddenly find themselves in a bit of a pickle. With four consecutive days off in their immediate future and the easiest part of their October schedule about to come to an end, this group will need to right the ship quick or it could be a rough start to the year.
Oilers Limp Out of the Gate
Three of four on home-ice against the Calgary Flames, Jets and Ottawa Senators, with a trip to Vancouver mixed into the equation. That is what the Oilers had on their schedule over the first 11 days of 2017-18 and at the absolute best, they are looking at a 2-2 record. That certainly wasn't what anyone had in mind and is nowhere near good enough when you consider what the rest of October looks like.
After facing the Sens on Saturday night, Edmonton will host an underrated and upcoming Carolina Hurricanes side on October 17th and follow it up with a three-game road trip that will see them make stops in Chicago, Philadelphia and Pittsburgh. Upon their return home, the Oilers will then have the good fortune of closing out the month against the Dallas Stars and Washington Capitals.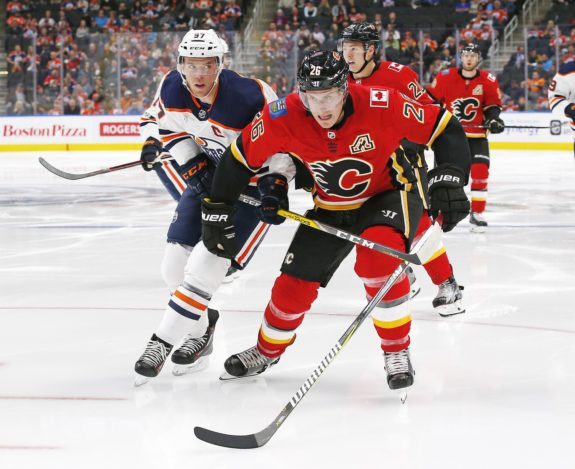 By no means an easy road but with no back-to-back's to speak of, the first four games on their schedule being what they were and a plethora of days off to boot, it was a favourable schedule to be sure. However, the less than ideal start has put them behind the eight-ball and in a situation where a loss to Ottawa could prove rather costly and open the door just enough to have some seeds doubt to make their way into the mix.
Oilers Missing an Opportunity
Not a good look to be sure but one that can still be rectified with a strong finish to the month but in order for that occur, some simplicity is on order. Outside of their performance in the opener against the Flames, this team has been an utter disaster defensively. No question their backend has been poor but the lack of urgency shown from the forwards has been disturbing and is starting to become a trend.
As bad as the likes of Matt Benning, Kris Russell and even Oscar Klefbom have looked, the only forward who has even been noticeable wears No. 97 on his back and even Connor McDavid hasn't been up to snuff over the last couple of games. Yes, it is still early but there are far too many players on this team who appear rather comfortable with their current lot in life…especially with Cam Talbot still searching for his game in between the pipes.
Jets deserved this one!
Hellebuyck key saves early.
WPG took game over and outchanced Oilers in 2nd and 3rd.
Lots of areas to improve

— Bob Stauffer (@Bob_Stauffer) October 10, 2017
Not surprisingly, Todd McLellan decided to pull out the blender during the third period against the Jets and used the opportunity to make a point. In case you weren't paying close attention, Leon Draisiatl was being used down the middle on a makeshift fourth line during the aforementioned final frame. Though the 21-year old had a tough night and hasn't been good to start the year, he has had plenty of company.
With that said, it was obvious what the head coach was trying to do and was as direct as one could be during his post-game press conference. Though he had much to say, it was the following quote that stood out above all the rest:
"Your stars have to be superstars every night on both sides of the puck." Coach McLellan speaks following Monday's #Oilers loss to Winnipeg pic.twitter.com/F2Ra8SeKEO

— Edmonton Oilers (@EdmontonOilers) October 10, 2017
My guess is those words and everything else their head coach shared during his presser won't fall on deaf ears and the necessary adjustments will be made in short order. However, expecting a flip of the switch solution is likely not a realistic one. The trick now becomes to find a way to bank some points until they hit their stride and not completely waste a portion of their schedule that should be taken advantage of.
Also available from Rob Soria: 
Connor McDavid: Hockey's Next Great One
Rob Soria is the Author of Connor McDavid: Hockey's Next Great One. He has chronicled the Orange and Blue since creating his Oil Drop blog in 2011 and has also had his writings featured over at HometownHockey.ca and Vavel USA, where he has covered the NHL, MLB and ATP Tour. Rob was born, raised and still resides in Edmonton, Alberta and can be reached via twitter @Oil_Drop.