With the Edmonton Oilers cap situation being far from ideal, the hope heading into the off-season was Peter Chiarelli would find a way to secure a handful of value contracts via the unrestricted free agent market to help round out his roster. In a perfect world, signing a bona fide top-six winger would have been ideal but adding a pair of depth forwards in Kyle Brodziak and Tobias Rieder were solid acquisitions.
#Oilers GM Chiarelli discussed being "happy with the upgrade in skill level & speed" amongst other things following today's free agent signings. https://t.co/naFWq9p1hn

— Edmonton Oilers (@EdmontonOilers) July 1, 2018
While the role of fourth line centre and first unit penalty killer appear earmarked for the 34-year old veteran pivot, the ask from the 25-year old German winger is not so clear. Though part of his responsibility will certainly include joining Brodziak as part of a revamped penalty kill, where he will fit into the equation at even strength is the far more interesting question.
From a skill-set standpoint, Rieder has many of the qualities the 2017-18 edition of the Oilers lacked: speed, versatility, hockey sense and a nose for the net with an excellent pair of hands. A nice fit but where things could get a tad murky is setting realistic expectations. Are we talking about a player with the ability to be used in a top-six role or one who can be a solid bottom-six contributor and occasionally see time higher in the lineup?
Solid Get for Peter Chiarelli
It sounds as if the organization may be hoping for the former but the play of Jesse Puljujarvi, Ty Rattie, and Kailer Yamamoto will have a lot to do with how this plays out. The toolkit may suggest there could be more for Rieder to give but his resume tells us something different.  After all, we are talking about a player who already has 312 games in the NHL and has never scored more than 16 goals or eclipsed the 37-point mark in his career.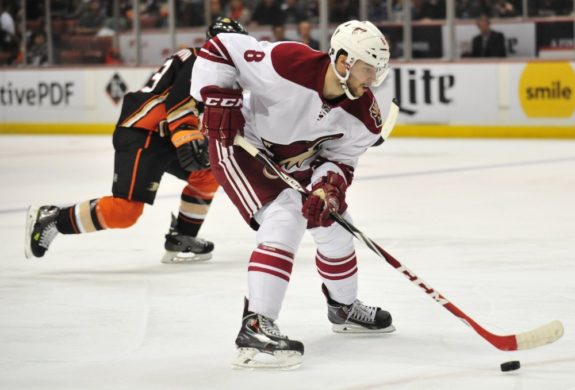 Fantastic numbers for a third line winger who receives spot duty in the top-six but certainly not enough production to be considered a lock on a first or second line. With that said, one can easily make the argument if he were to receive regular duty at even-strength with either Connor McDavid or fellow countryman Leon Draisaitl, chances are those numbers spike and he potentially pushes the 50-point plateau.
He is going to have to earn that shot but let's not be naive. There was a reason why Rieder chose to sign with Edmonton at a team-friendly cap number of $2 million on a one-year deal. The offers on a multi-year pact were not in the neighbourhood either he or his agent had hoped and it left him one of two options. Accept an offer at a lower number but with term or find an opportunity to increase your value and re-enter the market next summer.
McDavid, Draisaitl Equals Opportunity
Of all the potential landing spots in the league, the argument could be made there was none better for a player looking to rebound from a so-so campaign. In order to make it happen, taking less money was going to have to be part of the equation but the chance for long-term gain was as good as one would find. In other words, Rieder is betting on himself to deliver and was most likely given certain assurances before signing on the dotted line.
For @TheAthleticEDM The Oilers sign Tobias Rieder, adding speed, penalty killing and a player young enough to contribute for years. It has real potential https://t.co/WxyTwb23DM #Oilers

— Lowetide (@Lowetide) July 2, 2018
My guess, the Oilers guaranteed the two-time 30-point man a spot inside their top nine with a legit shot at earning top-six minutes and the potential to be a key figure on both special teams.  That would certainly check every box for the Rieder camp and if he performs at the level he hopes, it would also be fantastic value for the club on a $2 million deal. In essence, it was a perfect match.
Potential Win-Win for Oilers and Rieder
Now it will be up to Rieder to show last season was just an off year and not the start of a decline. During the vast majority of his time with the Arizona Coyotes, the talented winger averaged roughly 17-minutes of ice a night and was used on both special teams. However, that changed in 2017-18 as he slipped to just a hair over 15-minutes with zero time on the power play and a reduced role on the penalty kill.
After being moved to Los Angeles at the deadline, the hope was Rieder would inject some much-needed speed and versatility to the Kings lineup. Unfortunately, it was a poor fit for both parties and it unquestionably cost the pending unrestricted free agent when he hit the open market. A tough stretch to be sure but reading too much into such a small sample size isn't fair to the player who has a body of work to fall back on.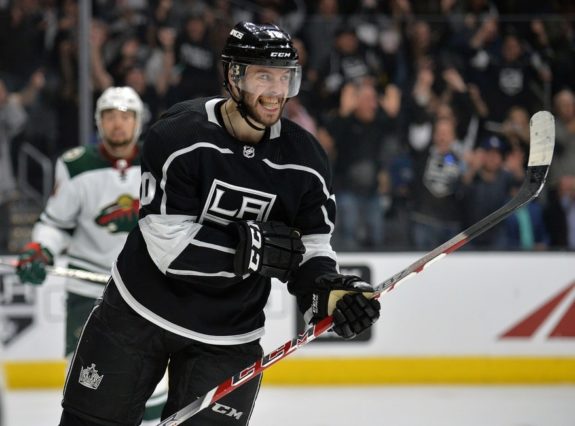 In my mind, expecting Rieder to deliver his typical performance with the Coyotes isn't an unreasonable ask. Again, the biggest difference could be who he has the chance to do it with. If we are talking about a spot on the third line with Ryan Strome, another 14-goal, 30-point campaign is likely in the cards but we cannot lose sight as to why he decided to return to the organization that used their fourth-round pick to grab in the 2011 Entry Draft.
To think Tobias Rieder won't do everything in his power to get a regular look on one of the Edmonton Oilers top two lines seems rather hard to believe. His well-rounded game suggests he will instantly be a guy who is leaned on heavily by head coach Todd McLellan and that sort of responsibility tends to come with a ton of opportunity, which is exactly what he was after. Let the competition begin.