The start to Nail Yakupov's NHL career is one that is difficult to put a positive spin on.
A No.1 overall pick in 2012, he was expected to be a dynamic offensive player with his biggest asset being the ability to put the puck in the net.
He has shown flashes of that prowess, however they have been few and far between and the numbers don't lie.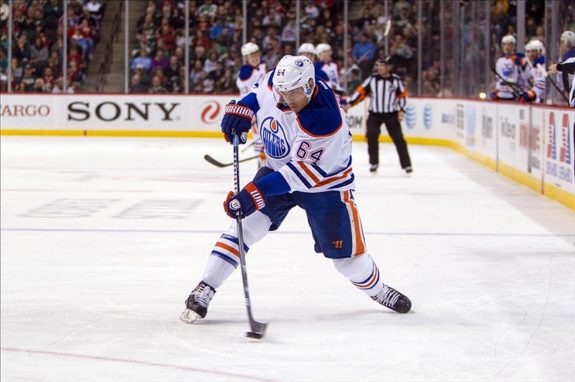 His rookie season started off promising with 17 goals in a lockout shortened season to lead all NHL freshmen, and a -4 rating, which on a basement dwelling team did not look too bad.
The issue is that not only did he fail to follow it up but has regressed.
He managed just 11 goals in his second full season and his -33 was among the league's worst.
This season, he has shown more flashes of improvement and there have been more positive nights, however not to the point where one could consider much progression being made.
He has just 5 goals in 50 games and once again has a team worst rating at -25.
Too Soon To Consider Him a Bust?
With most players that are 21 years old, it would be considered growing pains, and while there would be some cause for concern, the panic button would not be pushed.
In Yakupov's case it's a little different in the sense of the amount of scrutiny on him. Being a first overall pick carries certain expectations, and they haven't been met.
To make matters worse, he will always be compared to other #1's around him. Especially when two of them are on his team.
It's true that neither of them have brought success to the Oilers either, but both Taylor Hall and Ryan Nugent-Hopkins have established themselves as budding NHL stars and are trending up.
It also didn't help that the two top picks after him, Nathan MacKinnon and Aaron Ekblad proceeded to set the league on fire with their rookie performances.
All that being said, the fact is that he is just 21 years old and has only 161 games of experience, which is barely two full seasons.
No doubt everyone has wished his progress would be miles ahead, but unfortunately it just isn't. The hope is that with a new coach in Todd Nelson, or whoever comes in next season will be able to get more out of him.
There was just something between Yakupov and Dallas Eakins that did not mesh and they never really saw eye to eye.
Yakupov still has the explosive ability that scouts raved over, that hasn't gone away, it just hasn't translated yet.
After next season if there is still no progress forward, the bust conversation may have some merit.
Trade Bait?
Not giving up on the 21 year old Yakupov's talent is one thing, but like every member of the Oilers roster at this point, it doesn't mean he can escape the trade block.
The Edmonton Oilers are not in a position to consider anyone an untouchable asset at this point.
Those that come close would be Taylor Hall and Ryan Nugent-Hopkins, as it would take a monumental offer to move them as franchise cornerstones.
The consensus of many is that GM Craig MacTavish has to budge on his stance and look to move some pieces from his young core to improve in certain areas.
If you take Hall and Nugent-Hopkins out of the equation, that leaves him with names like Jordan Eberle, Justin Schultz and Yakupov.
Eberle would certainly fetch the most in return, but he's another player MacTavish has been very reluctant to consider parting with.
Yakupov and Schultz are premier talents, but have stalled in their development, so trading them now would be trading them at a low point in their value. Not ideal for any GM, but all options need to be considered in Edmonton.
Nail Yakupov might be one of those intriguing players though that an offensively starved team could think that their particular situation or environment would be the change needed to turn him around.
There will no doubt be interest, it will just be a question of the value of the return.
A Month to Make a Statement
Many of the questions around Yakupov's future in Edmonton will be answered in a month's time with the trade deadline of March 3.
That gives Yakupov a month to make a statement with his play whether it be good or bad.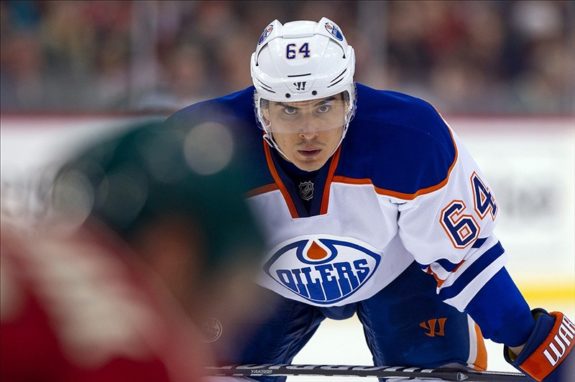 Under Todd Nelson, and more importantly following the trade of David Perron, Yakupov has been getting consistent top six minutes. Most recently he has been playing on a line with Derek Roy and Teddy Purcell.
The numbers haven't shown signs of improvement yet as he had just 3 points in the entire month of January. However, in watching him game to game, he has created more chances and looked much more dangerous on the ice.
The problem is that he is dangerous at both ends.
He has created more on the offensive end, but continues to be a defensive liability and still turns the puck over at an alarming rate.
With the Edmonton Oilers going nowhere fast in the standings, Yakupov still has opportunity to prove there was value in his pick at the top of the draft. Many Oilers fans are growing more and more impatient with both the team and Yakupov in general, especially those who look at the forward taken after him, Alex Galchenyuk, who is evolving into a star for the Montreal Canadiens.
The fact is that all players progress at different rates especially those that are so young. Yakupov can still turn into the sniper everyone wants, and wouldn't be the first player to come into his own in his mid-20's. It appears as though he will be put with offensive players under Nelson, so the opportunities should be there.
Unfortunately for him it's a what-have-you-done-for-me-lately business, and he has not had much recent success.
However like anything, most people only remember recent history, and in short time he could turn all the talk of being a bust, into that – just talk.
The problem is he needs to do it sooner rather than later.
______________________________________
Follow Carl on twitter @CarlTHW or Google+ for more articles