More often than not, the Arizona Coyotes are on the losing end of games. In regards to the postseason, they've been on the outside looking in the last two seasons and the streak will likely continue.
Losing isn't easy for any player, but Connor Murphy enjoys the fact he's actually playing after battling the injury bug early in his career. Murphy joined the Sarnia Sting (OHL) in 2011 when they had the dynamic duo of Alex Galchenyuk and Nail Yakupov, but didn't start the season due to a torn meniscus. The following year he played the first half of the season, but sustained another meniscus tear and required season-ending surgery.
After being juggled back and forth between Arizona and Portland (AHL), Murphy got a full-time spot with the Coyotes this season and has appeared in 45 of Arizona's 50 games. For the time being it seems like the injury issues have subsided.
"We'll have to knock on wood for that one," Murphy said. "Injuries are never fun. I went through that growing up and it's something that'll happen in a game and you have to make sure you work even harder to come back and gain back development that you're missing from that. It sucks for anyone, but it's a mental challenge to have [injuries] in your career. I've been fortunate to be able to play some games here."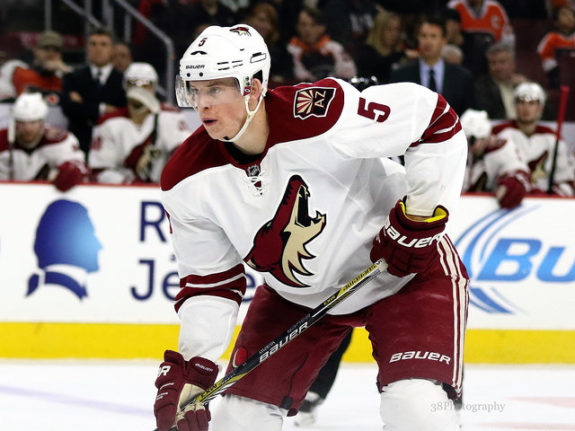 As a rangy 6'4″ defenseman, getting the playing time has helped developed him into a reliable defensive blueliner. Coach Tippett has given him ample opportunities this season to succeed and Murphy has taken full advantage of them.
"Experience is definitely the biggest thing in trying to be an NHL player. I've had a lot of good guidance and teammates to play with and learn along the way," mentioned Murphy.
And what better players to learn from than Keith Yandle and Oliver Ekman-Larsson – two of the best in the NHL today.
Murphy said of the two top-pairing defensemen, "Those are the guys you watch in practice and in games…Those are the guys that set the pace. They make plays when we need them and they get big goals for us. It's really fun to watch them and it's really cool being a part of the d-core playing alongside them."
While the Coyotes are in a rebuild situation, Murphy is carving his future with Arizona. He's a winner of two gold medals and already has the determination to fight through setbacks to achieve his goal of playing in the NHL. Not only does he get to play with some of the most talented guys on the backend, he's being taught by Dave Tippett, a defensive-minded coach who suits Murphy's game to a 'T'.
"I think he's going to be a good NHL player for a long time," said Tippett of the Ohio-native.
Murphy can put up points here and there, but his bread and butter is being defensively responsible. With his height, he has a long reach advantage over the opposition and he plays a smart positional game. He doesn't take many risks, moves the puck out of the zone, and steps up along the boards when he needs to.
"I think it's really important for us, and especially for me, whoever I'm playing with to be really good defensively and be able to play against any players….I take pride being really good defensively."
With more games under his belt, Murphy will further ease into his role as a talented young defenseman in the NHL. This is just the tip of the iceberg.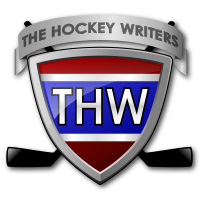 The archives of THW contain over 40,000 posts on all things hockey. We aim to share with you some of the gems we've published over the years.