Alex Galchenyuk was drafted 3rd overall in the 2012 NHL Entry Draft. Coming out of Sarnia of the Ontario Hockey League he was ranked to go anywhere in the top three of the Draft until he suffered a knee injury which held him out most of his final season.
During that season his teammate Nail Yakupov took over the OHL, which eventually lead him to be selected first overall by Edmonton. Second overall was awarded to Columbus, who took defenseman Ryan Murray due to their needs on the backend. This left the Canadiens with the third pick and many options still on the board. Needing a scoring and potential number one center, the Canadiens grabbed Galchenyuk despite the injury questions.
Canadiens fans left that draft with some hope that they may have finally found their number one center of the future in Galchenuyk. That hope, for most, started to fade fast when Galchenyuk spent most of his first four seasons in the league playing wing while the Canadiens tried and failed to fill the number one center void with other options (David Desharnais). In the Canadiens defense, Galchenyuk did play both wing and center at the junior level. However, many fans were left wondering why the Canadiens took Galchenyuk at third overall just to throw him on the wing when the team needed to groom a centerman.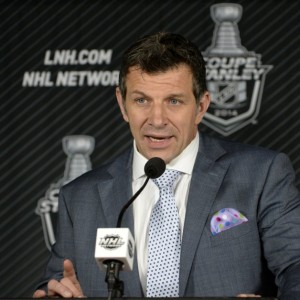 "At the end of the day, Galchenyuk may never be a centreman. Right now it doesn't look like he ever will be. He might be, he could be, but I don't want to just focus on him. … Playing centre in the NHL is not that easy, when he was playing (junior in) Sarnia, they put him on the wing. So maybe they saw something that we saw" (Bergevin, May 2015 via Hockey Inside/Out).
"Our goal is to win hockey games every night and if Michel Therrien says that the best place for Galchenyuk to help the team win as at wing, then that's where he's going to play" (Bergevin, May 2015 via Hockey Inside/Out).
It's because of comments like these that trying to understand the logic behind the Canadiens' decisions was next to impossible. So, as you could imagine, it was frustrating for fans when they weren't getting answers. Why couldn't the Canadiens see what the fans and even the media did? Constantly, game in and game out, this question kept coming back to me as it did for many others who follow the Canadiens. It took a while, but finally a lightbulb went on and Canadiens brass is finally figuring out the importance and the ability of Alex Galchenyuk.
2015-16 NHL Season
Alex Galchenyuk started the 2015-16 on the wing, as he did the previous three seasons. In 65 games on the wing he tallied 19 goals and 39 total points. Not bad for a fourth year player at age 22 who was essentially being misused. It was well documented the both external and internal debacles that occurred with the Canadiens during this past season. From the injuries, to player-to-player and player-to-coach issues, the Canadiens couldn't catch a break, and everyone involved desperately wanted the last 17 games to go by so they could run for the hills until 2016-17.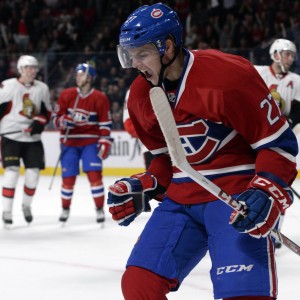 During the disastrous season, Coach Michel Therrien decided there was no better time to start experimenting with players to begin evaluations for the offseason. Call-ups were made from St. John's of the AHL and players were moved around. Obviously, none more notable than Alex Galchenyuk.
Game 66, as they call it, comes around in Winnipeg. Alex Galchenyuk and Coach Michel Therrien informed the media that Chucky would finish the season as the Canadiens' number one center. Fans rejoiced and pondered the question: why did this take so long? No one knows and I don't think we will ever know — most likely because there is no good enough answer to give. Game 66 signaled a 17 game "audition" for Galchenyuk to be the Canadiens number one center. Given the way things were going for the organization last season, it was easy to say the experiment was going to fail. Fortunately for the entire Canadeins organization, it was a massive success.
The Audition
When game 66 came around in Winnipeg, Galchenyuk was about to take to the ice in between Max Pacioretty and Brenden Gallagher. The entire Canadiens organization and fan base were holding their breath as the team took the ice that night, but what could go wrong, why be nervous? Of course, in the first period Brenden Gallagher fell into the boards and was hurt. So immediately fans thought Galchenyuk wasn't going to get a fair shake and Therrien was going to go to the old blender and mix everything up. Thankfully, that never happened.
Over the next 17 games, Galchenyuk netted 11 goals and 17 points which was good for an average of a point per game. With a depleted lineup, Galchenyuk stood out and put the entire team on his shoulders. He was finally placed where he was always supposed to be and he was proving the coaching staff and upper management wrong when they insisted that they did not see him as a center.
Galchenyuk finished the season with 30 goals and 56 total points, both career highs. It's safe to say that by the end of the 2015-16 season, Alex Galchenyuk had finally established himself as the number one center for the Canadiens. If there isn't anything else the Canadiens can take from the 2015-16 season, it will be that they finally (hopefully) figured out how to properly use their young star.
The Future
The importance of having a young, scoring, responsible center can't be overstated. Now with a new potentially elite scoring winger in Alex Radulov (never say never), we can only dream what new heights Galchenyuk can reach come 2016-17. Not only Radulov but with an overall improved, and hopefully continually improving forward group, the whole team can be elevated to the next level. If 11 goals in 17 games on an underachieving team is the base for Galchenyuk, could you imagine what an entire season would look like?
We're going to find out Habs fans, and it promises to be exciting.