The Erie Otters have gone from bottom to top of the heap in short order.
Languishing in the OHL's cellar the last few seasons, that is no longer the case, as they are currently the league's best team with 41 points through their first 25 games.
The Connor McDavid Factor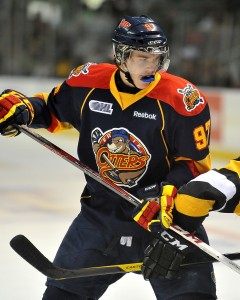 Arguably the most recognizable name across the league, McDavid is being hailed as not only the next Sidney Crosby but the next Wayne Gretzky. High praise indeed, and the bar can't be set much higher.
He has lived up to the billing so far and at just 16 years old, he's not even draft eligible until 2015, he's doing unprecedented things for someone so young.
The skillset, vision, maturity and poise he plays with his like that of a veteran and very rarely is there a game where he doesn't stand out as doing something exceptional. Even someone like Otters owner and GM Sherry Bassin, who's been around the game a long time, is still amazed by the things he can do;
"I don't know that I have [seen a player like him]. I mean, without the comparisons — how do you talk about Wayne Gretzky or Bobby Orr, or those guys," Bassin said. "What I do know is that there isn't a game that goes by where he doesn't bring you out of your seat. "One of the top scouts that I know — and he is regarded as a very, very top young scout — said that he does things you don't think are possible. He literally does things you don't think are possible."
McDavid alone gives the Otters exposure and will fill the seats in many visiting arenas. He makes his teammates better and has the ability to take over a game on his own.
Veterans Leading the Way
Most people would not guess that Erie's leading scorer is someone other than Connor McDavid. He is undoubtedly the team's most talented player, but there a couple teammates that have outshone him on the stats sheet so far.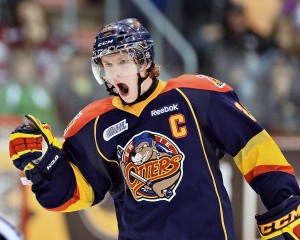 Captain Connor Brown, 19 and Dane Fox, 20 are not only first and second in Otters scoring but they are one and two in the league. 
Brown is last year's team leading scorer, but has set a pace to far surpass last year's totals. 
Fox is the big surprise as he has exploded with 25 goals in 25 games to lead the OHL.
Adam Pelech, the fourth year defenseman and New York Islanders draft pick, is the unquestioned leader of the Erie defense. He's been solid in all three zones and provided stability on the backend. Has been considered the Otters best defenseman for a couple of years but starting to be recognized as one of the best league wide.
Import Impact
The Otters have two key European imports that are paying big dividends so far this year. Swedish goaltender Oscar Dansk has been good, especially early on when he went 8-0 for the month of October. He has been a steady presence on a team that hasn't given up many chances, which is exactly what they need him to be.
Another Swedish import, forward Andre Burakovsky, is fourth in team scoring with 29 points in 23 games. The Washington Capitals first round pick is offensively gifted with speed to burn and has been a good fit with the Otters.
The Rich Get Richer
If they weren't loaded with talent already, they just added a huge piece to their lineup. They have recently traded for Belleville Bulls captain and Vancouver Canucks first rounder Brendan Gaunce. They gave up some talent in Stephen Harper as well as a handful of draft picks, but in Gaunce they get a big bodied centre that is one of the OHL's best two way players.
He is the type of player Erie will need if they want to go head to head with the other top teams in the OHL's Western Conference like the London Knights and Guelph Storm.
Big trade in OHL tonight. Former Canucks 1st round pick Brendan Gaunce and a draft pick to the Erie Otters for Stephen Harper and 4 picks.

— steve simmons (@simmonssteve) November 27, 2013
Erie has a lot of work to do to surpass some of the perennial powers in the OHL if they want to play for a championship and ultimately the Memorial Cup. If there's any year they stand a better chance it might be 2013-14. With the London Knights hosting in 2014, that means an additional OHL berth.
The good news is that there is a team other than the Knights going to the Memorial Cup, bad news is that Erie will still need to win the OHL Championship to get there as both the Otters and the Knights are in the OHL's Western Conference.
The Otters certainly have the talent and star power to compete with anyone and it will be entertaining to watch them try and figure it out.
______________________________________________________________________________
Follow Carl on twitter @maloney3383 and Google+ for more articles
Carl covers the Edmonton Oilers for THW as well as providing additional prospect coverage. Follow him on twitter @carlTHW, connect on Facebook or contact at carl.maloney@hotmail.com for questions, comments or if you're interested in him writing for you.