In a wild turn of events, Zach Parise's foot injury that he suffered in the club's recent game against St. Louis may not cause him to miss significant time. Many thought the injury would sideline the star forward for quite a few games.
However, he was able to skate at yesterday's practice so his current status is day-to-day rather than the initial week-to-week prognosis. Wild fans can exhale and share in a collective sigh of relief since Parise's injury looks to be less serious than it first appeared.
Yeo "stunned" to see Parise. It's very encouraging. It's a great example to everybody just how bad he wants to compete and help the #mnwild"

— Michael Russo (@RussoHockey) November 27, 2013
Singing the Blues
Just thirty seconds into the game against St. Louis, Parise was involved in a play that resulted in a no goal call on the ice by the official. Parise deflected a shot that beat St. Louis goaltender Jaroslav Halak.
The ruling on the ice was that the shot had been deflected by Parise's stick that was above the crossbar. After video review didn't provide conclusive evidence to overturn the ruling on the ice, the goal was disallowed by the official.
Forward Vladimir Sobotka scored for the Blues about a minute after this no goal ruling and this shifted the momentum to St. Louis where it stayed for the rest of the game. The game went from bad to worse when Zach Parise took a slap shot to his left foot from Blues forward Alexander Steen. Parise skated a little after the injury but ultimately would leave the game.
Parise was seen limping in the visitors' locker room so the initial speculation was that the star forward would miss some time. He has been a crucial piece to the Wild's recent success so fans and players alike were obviously very concerned.
One day after the injury, it was reported that Parise would miss two or three weeks of games. The club will be playing some key games during the next few weeks. Losing a leader like Parise during this stretch will make winning these key games much more difficult for the squad.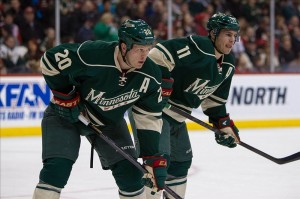 Tough As Nails
Almost as quickly as the Wild lost their mojo in St. Louis, Parise returned to practice and briefly skated with his team mates. He didn't skate very long because the pain got too intense. However, the fact that he skated shows great character. While he did not play in tonight's match against the Phoenix Coyotes, Parise is determined to get back on the ice as soon as possible.
Parise currently leads the Wild in points. He has eleven goals which puts him second on the team behind forward Jason Pominville who has thirteen goals. The star forward also has tallied eleven assists which is good for third place on the Wild behind defenseman Ryan Suter and the captain, forward Mikko Koivu. Parise has twenty points in just twenty-five total games which totals 0.88 points per game on the season.
The Wild power play has been much improved this season and a lot of that success falls on Parise. The forward has scored six of the Wild's nineteen goals on the power play. He has also scored a short handed goal and he has two game winning goals to his credit.
Mikko Koivu on the message Parise sends returning to the ice so quickly:
"It's leadership. When you see that, it sets the bar pretty high."

— Chad Graff (@ChadGraff) November 27, 2013
Perhaps his most important contribution to the squad this season has been his leadership. Parise has been a proven leader throughout his NHL career and this has been especially true since he first put on a Wild uniform. He leads by example through his hard work in practice and his ability to battle through adversity. He is also very vocal on the ice and is pegged to be a leader on Team USA at the Olympics in February.
[See Also – Zach Parise: Leading Identity Change for Minnesota Wild]
Final Thoughts
While Parise was sidelined for last night's game against Phoenix, it was encouraging to see him skate at yesterday's practice. The bad news is, it may still take a little time before we see Parise back in game action. However, the good news is he may return faster than the original two or three week prognosis. Parise has been a a solid contributor and a key to the club's recent success.
The Wild have won seven of their last ten games. The club is entering an important stretch of games where they will face divisional and conference opponents. Many were concerned by the news that Parise would miss a few weeks. Upon further review, it seems Parise's injury is more of a day-to-day situation. While the club isn't out of the woods just yet, it appears that Parise will return soon and resume his important leadership role with the Wild as they look to secure a playoff spot at the end of the season.
Check out our partners at TiqIQ for the best deals on Minnesota Wild tickets for all 2013-14 games.