We know the top of the Columbus Blue Jackets' goaltending depth chart is solid. But what about the rest of the organization?
Welcome to part seven of Pressure Points, our summer review of the Columbus Blue Jackets. If the team wants to continue the success of last season, their goaltending must continue to shine.
We will evaluate all goaltenders in the organization and tell you what we expect this upcoming season. The first noticeable thing we see is a different looking depth chart than the one that ended last season.
Calder Cup winning goalie Anton Forsberg is now in Chicago.
Had something happened to either Sergei Bobrovsky or Joonas Korpisalo, Forsberg was just two hours away in Cleveland. That's not the case anymore.
If there's one word to describe this situation, it's opportunity. Each goaltender we discuss has a unique opportunity to make an impact in some way. We'll start at the top and work our way down the depth chart.
Evaluating Blue Jackets' Goaltending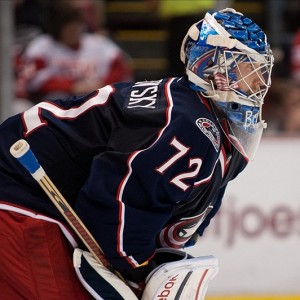 Sergei Bobrovsky
2016-17 season: 41-17-5, 2.06 goals-against, .931 save percentage, won second-career Vezina trophy. He has two seasons left on his contract at $7.425 million per season. He is an unrestricted free agent after that.
2017-18 outlook: Bobrovsky has proven it in the regular season. Now it's time for him to shine where it matters most. The playoffs have not treated Bobrovsky well to this point. He's just 3-10-0 with a 3.63 goals-against and .887 save percentage. Most of his work has come against the powerhouse Pittsburgh Penguins.
Bobrovsky has really opened up this summer, especially on social media. He seems much more relaxed now than when he started here. It seems the focus is on his mental game. Remember when the Blue Jackets dominated the Penguins early in games, only to fall behind? Bobrovsky appeared shaken up at times and never had his normal swagger. It will be interesting to see if he can quickly recover when things don't go his way, especially in the playoffs.
I expect Bobrovsky to play somewhere between 50-55 games this season. He played in a career-high 63 games last season. Coach John Tortorella has said he doesn't want to overplay Bobrovsky like he did last season. If he starts winning though, then we'll see if that statement holds true.
Health was always a concern for Bobrovsky in earlier seasons. He overcame that last season thanks in large part to a change in his workout routine. Can he stay healthy for a second consecutive season?
Prediction: 55 games, 34-17-4, 2.10 goals-against, .925 save percentage. Bobrovsky should shine again, but do expect a small decline in numbers because of how great they were last season. If this is what the Blue Jackets get, fans would sign up for this in a heartbeat.
https://twitter.com/SergeiBobrovsky/status/896784265987465216
Joonas Korpisalo
2016-17 season: 7-5-1, 2.88 goals-against, .905 save percentage. He has two seasons left on his contract at $900,000 per season. He becomes a restricted free agent after that.
2017-18 outlook: This is a big year for Korpisalo, especially if my Bobrovsky prediction of 55 games comes true. Assuming health, Korpisalo would play somewhere between 25-30 games when he appeared in just 14 games last season.
Tortorella doesn't want to overplay Bobrovsky. For this to effectively happen, Korpisalo must give the Blue Jackets a chance to win every night. If something were to happen to Bobrovsky, Korpisalo becomes your starter. Is he ready to take the next step?
Korpisalo played in some high-scoring games last season which inflated his goals-against average. He came out victorious in those games. Remember when he gave up four goals in the third period against the Rangers and still made many key saves? He has the knack to collect himself mentally when things don't go right. He now needs to show the team that they can put him out there on a more consistent basis.
With Forsberg gone, Korpisalo has the backup job to himself. He could decide the Blue Jackets' playoff chances, especially if it's a close race at the end for precious few points.
Prediction: 27 games, 11-11-5, 2.50 goals-against, .908 save percentage. I think Korpisalo does just enough to get the team enough points to squeak into the playoffs.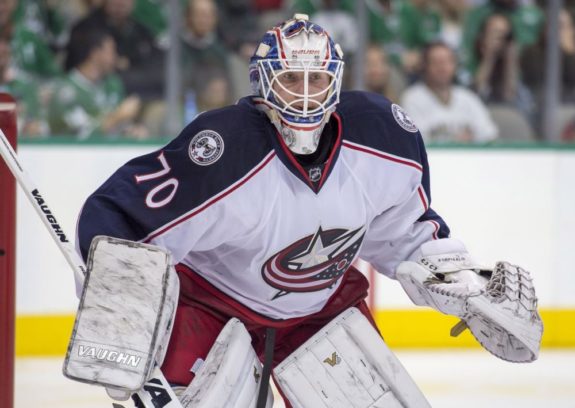 Brad Thiessen
2016-17 season: 5-6, 2.34 goals-against, .924 save percentage. He is signed to an AHL-only contract with the Cleveland Monsters.
2017-18 outlook: With Forsberg gone, it seems Thiessen assumes the starter role with the Monsters. In limited action last season, he played well despite his record. In the championship season of 2015-16, Thiessen went 12-4-2 with three shutouts. We'll see if he can handle a heavier workload. We'll also see if he can put up similar numbers with a much younger team in Cleveland.
Matiss Kivlenieks
2016-17 season: 36-7-4-2, 1.85 goals-against and .932 save percentage for USHL Sioux City. He was both goaltender and player of the year in the USHL.
2017-18 outlook: Kivlenieks steps right into a role with the Monsters splitting time with Thiessen. Even more interesting, unless the Blue Jackets sign someone else, if either Bobrovsky or Korpisalo go down for any reason, Kivlenieks is under NHL contract and could get a call-up. He's posted great numbers everywhere he's been to this point. But this is his first taste of the pros. He's still raw but has some good upside. How quickly can he adapt to the AHL game? How will the Monsters split the time between him and Thiessen. Monsters GM Bill Zito recently said of this duo "We are going to balance winning and development in the goaltending position in the same way that we've done it in past years. We're not going to put a label on anybody today. We're very confident that we have two very capable goaltenders." Let's see now who grabs the opportunity.
Elvis Merzlikins
2016-17 season: 2.89 goals-against and .916 save percentage for Lugano in Swiss-A. Starred at the World Cup for Team Latvia in 2016-17 going 3-2-1 with a 1.98 goals-against and .934 save percentage. He has played in the Spengler Cup posting a .940 save percentage in four games.
2017-18 outlook: Keep a close eye on Merzlikins. He will play this season in the Swiss League again, but after that could come to North America to join the Blue Jackets. His play at the World Cup opened the eyes of many. Could he be the incumbent to Bobrovsky if the team doesn't choose to sign him to a big contract? There at least exists a possibility that Merzlikins is your Blue Jackets opening day starter in 2019-20. File this one away for future use.
Ivan Kublakov
2016-17 season: 30-16-1, 1.93 goals-against, .919 save percentage for USHL Youngstown. Finished second in the USHL in save percentage only behind Kivlenieks. He is signed to an AHL-ECHL deal with the Monsters.
2017-18 outlook: He will be in the mix for significant playing time with the Monsters. Should something happen to Thiessen or Kivlenieks then Kublakov will have an extended look. He posted good numbers in Youngstown but like Kivlenieks this is his first taste of the pros. Normally players like this go from the USHL to college to the pros. Both Kublakov and Kivlenieks went from the USHL to the pros. It's a bit of a risk to take but according to Zito, "Kublakov is really good." He might surprise some folks.
Expect him to get into some action while his development within the organization begins.
Peter Thome
2016-17 season: 21-8-1 combined with Omaha, Chicago and Waterloo of the USHL, .891 save percentage.
2017-18 outlook: Thome will play hockey at the University of North Dakota this season. He's still a few years away from making any potential impact. Keep an eye on his development in the NCAA's.
Danill Tarasov
2016-17 season: Missed the season due to a leg injury.
2017-18 outlook: The Blue Jackets drafted him with the 86th pick at the 2017 NHL Draft. Tarasov was thought of as one of the better goaltending prospects out there until his leg injury. He's ready to play this season. In fact, GM Jarmo Kekalainen just saw Tarasov play in Finland and the early reviews look promising. Tarasov will play for Tolpar UFA in the Russian Junior Hockey League this season.
Pierre-Luc Dubois, Vitaly Abramov, Sonny Milano make the list.

Daniil Tarasov in top 20 goaltenders#CBJ https://t.co/tIBfcgVUIi

— Alison (@AlisonL) August 16, 2017
Overall Thoughts?
The next two seasons belong to Bobrovsky and Korpisalo. Having the reigning Vezina-winner is as good as it gets. Having a young backup with upside is good too. Then things get interesting especially with contracts after that.
Overall the Blue Jackets are in good shape. They are taking some chances on guys with upside. It looks really good if they pan out. The one bit of concern I have is if Bobrovsky goes down. Korpisalo can start, but then what if something happens to him? Then you have to sign someone else or lean on inexperience. Staying healthy is the most ideal outcome for the Blue Jackets. If they do, this is the strength of their club and good things will await them.
Enjoy the next two seasons. What happens after that is anyone's guess. That's why they play the games.