After the most successful season in franchise history, the Columbus Blue Jackets find themselves shrouded in a bizarre haze surrounding the future of their goaltending heading into the offseason.
On the one hand, Sergei Bobrovsky is almost certainly going to win his 2nd Vezina Trophy as the league's top goaltender next month. They have a fair amount of quality depth in the pipeline, between Joonas Korpisalo and Anton Forsberg, to say nothing of the recently acquired Matiss Kivlanieks, or the international excellence of Elvis Merzlikins.
On the other, Bobrovsky was abjectly bad in these playoffs, Korpisalo could easily be poached by Vegas next month (and even if he isn't, wasn't spectacular this past season), Forsberg has never looked comfortable in his brief stints in the NHL, Kivlanieks is, at this moment, nowhere near ready for the NHL, and Merzlikins' contract situation is cloudy. So, please allow me to try to paint a clearer portrait of the Blue Jackets current state of goaltending.
Related: All Blue Jackets Goaltenders & Prospects Salary Cap Information
The Familiar Faces of Blue Jackets Goalies
1. Sergei Bobrovsky
Bobrovsky went from hero to zero in a matter of weeks. Definitively the top goalie in the league this regular season, Bob underwhelmed dramatically in the playoffs. The concern doesn't seem to be that he was bad, more so that this spell of poor playoff performance doesn't appear to be an anomaly; he's never quite looked like the same goalie in the Stanley Cup Playoffs, and hiss numbers bear that out. Still, he's unquestionably the Blue Jackets top goalie heading into next season, and, aside from the fact that he's got a No Movement-Clause (NMC) in his contract, the Jackets wouldn't dream of exposing him to Vegas. So, for the next two years at least, he'll undeniably be the Blue Jackets starting goaltender.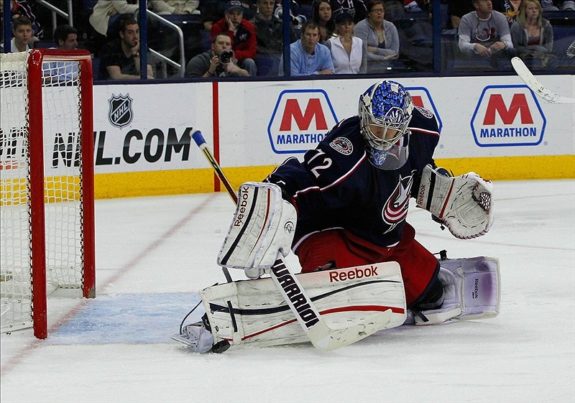 2. Joonas Korpisalo
The young Finn was underwhelming this past season when compared to his first stint with the club in 15-16. Still, he shows promise to be an everyday NHL goaltender. He has basically three different immediate fates: one is that he is the player poached next month by Vegas as their Columbus selection. Route two, perhaps the most likely of the three, is that he is resigned (he's an RFA) and retains his current position as backup goalie behind Bobrovsky. Option three is that the Blue Jackets, spooked by Bobrovsky's leaky playoff performance, look to upgrade the backup position. If that's the case, Korpisalo would re-join Cleveland in the AHL, assuming he's not picked by Vegas, or traded.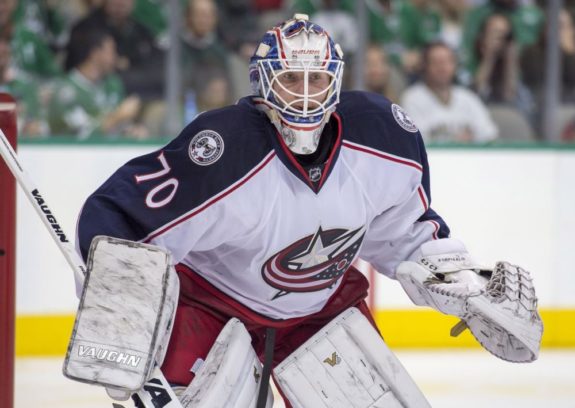 3. Anton Forsberg
The 24-year-old Swede played in 51 games this season for the AHL Monsters, and went 27-17-4-2 with a .926 sv% and a 2.28 GAA. Forsberg is a solid AHL player who has frankly underwhelmed in his three stints in the NHL. Still, he's seen as a valued player in the organization, and is clearly one of the better goalie prospects in the AHL. He's an RFA but I'd expect the Blue Jackets to keep him around next season, regardless of what happens in Vegas.
The Future of Columbus Goaltending
4. Elvis Merzlikins
The 23-year-old may be the wild card in this whole group. He's clearly ready for the next level after consistently putting up spectacular numbers in the top Swiss league with Lugano. The Latvian also has shown well, repeatedly, at the international stage. Look no further than this past month at the IIHF World Championships, where he played in six games and managed an impressive .937 sv%, including allowing just 2 goals to eventual World Champion Team Sweden. Or his play in the Spengler Cup earlier this season, where he took his team to the finals before losing to Team Canada. He was named to the tournament's all-star team for posting a 2.14 GAA and a .940 sv%.
Sounds great, right? There's a catch: He's got two more years on his deal with Lugano and, importantly, does not have an NHL out-clause in his contract. Therefore, it would be difficult, perhaps even unreasonable, to envision how he could come over before then. Of note: a certain Sergei Bobrovsky also has his contract set to expire in two years…
5. Matiss Kivlanieks
The Blue Jackets won the rare recruiting war for Kivlanieks. The USHL Player and Goaltender of the Year posted obscene numbers, going 36-7-4-2 with a 1.85 GAA, a .932 sv%, and 5 shutouts in 49 games for the Sioux City Musketeers. Without knowing the results of the Vegas expansion draft, it seems likely that the 20 year old will be in Cleveland (AHL) in some capacity next year, but there's a chance he'll play in the ECHL to get more games under his belt. It's fairly rare for a prospect to be signed to an NHL contract straight from the USHL, but the Latvian clearly has upside. He was previously committed to Minnesota State.
6. Peter Thome
Thome played on 3 different USHL teams this year, most recently backstopping the Waterloo Black Hawks. The 20-year-old will be going to the University of North Dakota and will compete as a freshman to back up senior Cam Johnson. UND's backup this year, Matej Tomek, will be leaving the NCAA to play in the USHL, coincidentally for Waterloo, in a de facto trade. Thome was drafted in the 6th round, 155th overall in 2016, out of Aberdeen of the NAHL. Though he is still seen as a long-term play, the Blue Jackets are hopeful to see what Thome can do at a powerhouse like North Dakota.
7. Oscar Dansk
Once seen as a potential starting NHL goaltender, Dansk may be at the end of his rope with the organization. He's been on loan the past two seasons to Rogle of the Sweden's top league, who finished 2nd to last in the league. He split time with former NHLer Anders Lindback, so there's no doubting his skill. Consistency is an issue for Dansk, and I get the sense that the Blue Jackets will not be in his future. He will be an RFA this summer.
Parting Shots
In less than a month, the NHL entry draft and expansion draft will be in the rear-view mirror, and this depth chart could need a complete overhaul. What changes, if any will occur? Do they look to draft a goalie? Does that decision hinge on if Korpisalo is taken by Vegas? If he is taken by Vegas, does Columbus look to upgrade their backup position externally? With so many teams jockeying to not lose prized assets in June for free, there should be backup options available. The question, then, becomes at what price, and who?
GM Jarmo Kekalainen will certainly be busy, and will undoubtedly look towards the future with a keen eye on Columbus' goaltending situation