Facing Off is a weekly column debating five of hockey's hottest topics each and every Monday. From current events like trades and hat tricks, to bigger-picture stuff like scandals and expansion — you name it, we're debating it. Albeit, not always with a serious tone. We're keeping this column light, so keep that in mind when reading, and feel free to join in on the fun by leaving a comment. Facing Off also has its own Twitter handle now (@FacingOff_THW), so follow us there and get in on the debate.

What in the world are the Anaheim Ducks doing?
Félix Sicard, one of our Facing Off regulars and THW's beat writer for the Ducks, is here to help make sense of a most peculiar offseason thus far.
Anaheim is in the midst of a do-little summer to date, and the moves that have been done are being met with skepticism from the fan base and criticism from around the league.
What does Félix make of it all? And where do the Ducks go from here? Find out in this week's edition of Facing Off.
Based on offseason roster turnover and Randy Carlyle returning as head coach, are your Ducks still a playoff team for next season? Or are they trending towards a rebuild?
SICARD: It's really tough for me to decide how I feel about the 2016-17 Ducks. There's a sense around the organization that they're not done making moves quite yet. They're still a playoff team, mostly because of their loaded blue-line.
Their forward group isn't nearly as intimidating as it was last year, as they let Brandon Pirri, David Perron, Jamie McGinn, and Chris Stewart walk as free agents. Ryan Kesler's line was strictly defensive last season, but it's looking like he'll have to carry a greater load offensively, which is a tough ask at this point in his career.
With a thinner forward group and a head coach who has yet to prove in this decade that he can actually coach, the Ducks don't seem to be on a collision course with the Cup anymore.
Ducks GM Murray Misses Mark with Carlyle Hiring – https://t.co/b6NVmjnFPv #hockey #THW pic.twitter.com/R8ffoy7vmJ

— The Hockey Writers (@TheHockeyWriter) June 14, 2016
FISHER: The Ducks better not be done making moves or their playoff streak will be done too. Without a substantial trade between now and the season opener — likely dealing from their position of strength, defence, to address their perceived weakness, scoring wingers — the Ducks are going to be hard-pressed to make the postseason again with their current roster. And I honestly see Carlyle as more hindrance than help — that hire didn't make a lot of sense, especially with a prime young candidate like Travis Green, a former Ducks forward, chomping at the bit for an NHL opportunity.
From the outside looking in, that window-to-win is closing in a hurry on Anaheim and being an internal budget team is going to complicate matters going forward, especially with Kesler's extension kicking in this coming season. He's on the books for six more years and has a no-move clause for five of them, so expect Kesler to become Anaheim's version of Dustin Brown before long. Ryan Getzlaf's hairline isn't making a comeback any time soon either, and Corey Perry's body has got some hard miles on it too. That core is locked up long-term, so the Ducks are going to live or die with that trio of forwards, and I don't like Anaheim's chances of survival.
Not unless John Gibson can become that franchise's saviour in backstopping a blue-line that should still get better before it gets worse. The Ducks are in good shape on the back end — both now and in the future — and that will be their saving grace in terms of staying competitive, but I just don't think Anaheim has the firepower to make another deep playoff run in 2016-17. I'd consider the Ducks a 'bubble' team as of today. Of course, that outlook could change between now and October if Bob Murray pulls the trigger on a blockbuster or two. Gabriel Landeskog would look awfully good in Anaheim if there was any way to make that a reality.
How do you rank the Pacific Division teams, as of today, in terms of next season's standings? How many of them make your playoff cut?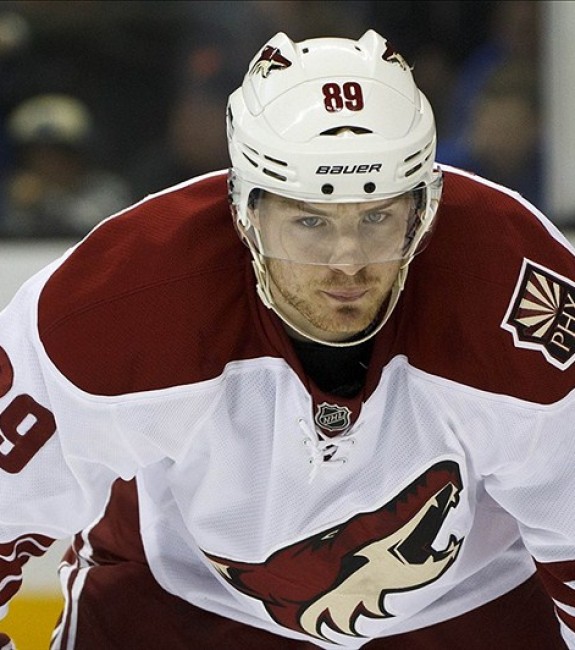 SICARD: San Jose and Los Angeles are still Nos. 1 and 2 in that division for me. The Sharks are bringing back essentially the same roster that got them to the Cup final, while L.A. will be trotting out another solid, if unspectacular team.
Things get really interesting after that. The Ducks, with all their questionable decisions since the season ended, are still a playoff-caliber team, but that doesn't feel like an absolute lock anymore.
If Glen Gulutzan can implement a solid system in Calgary, I don't see why that team couldn't sneak into the post-season given all the talent the Flames already have.
Your Edmonton Oilers are a head-scratcher for me, Larry. To get a second-pairing defenseman for one of the five best left-wingers in the National Hockey League is indefensible. That being said, Adam Larsson is at the very least serviceable, which is a lot more than what Edmonton is used to on the back end. I didn't mind the Milan Lucic signing, as he'll round out their top-six. Given a clean bill of health (especially a healthy Connor McDavid), it wouldn't shock me to see the Oilers on the playoff bubble. However, with a stacked Central Division hogging up the wild-card slots, a playoff berth just doesn't really seem in the cards for Edmonton.
I really liked some of the moves Arizona made this offseason, especially the acquisitions of Jamie McGinn and Alex Goligoski for relatively cheap price tags. The Coyotes' time will come, but they're still a couple of years away from challenging for a playoff spot.
Oh yeah, and then there's the Vancouver Canucks, who may very well be the worst team in the NHL now. Bravo, Jim Benning.
FISHER: I'm with you on the latter front, Benning has pretty much run that team into the ground, yet the Canucks still expect to compete for a playoff spot this coming season. That seems delusional looking at Vancouver's roster, but ownership's reluctance to embrace a full rebuild will keep the Canucks in a vicious cycle of mediocrity much like that of the Oilers through the first half of their now decade-long playoff drought. The writing was on the wall for Edmonton long before Kevin Lowe and Craig MacTavish clued in, and the same can be said for Vancouver in the present. The Canucks need to hit rock bottom before they can go up again, and I expect the coming season to be even more humbling than the last.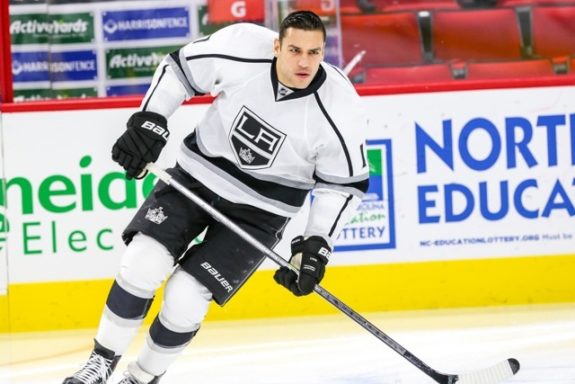 The Oilers, on the other hand, should finally be making some headway. A lot would have to go right for Edmonton to make the playoffs, but the potential is there for the first time in a long, long time. Comparing rosters, as of today, I think the Oilers have closed the gap on the Ducks, and I don't think Peter Chiarelli is done wheeling and dealing either. That Taylor Hall trade wasn't well received when it was first announced, but it has been growing on me.
From a financial perspective, it's pretty clear that the Oilers were budgeting $10 million for two players this offseason — a $6-million forward and a $4-million defenceman. That meant keeping Hall and signing a guy like Jason Demers, or swapping Hall for Larsson and bringing in Lucic as a bigger, stronger but slower replacement. I do prefer Larsson to Demers by a wide margin, and Lucic is going to give the Oilers a different dynamic up front and a different identity in general. Providing Cam Talbot can stay consistent for the course of the season, I like Edmonton's chances of playing meaningful hockey into March and maybe even April.
Calgary improved its goaltending with Brian Elliott, though Ben Bishop would have been a much bigger upgrade there. Marc-Andre Fleury was a better option too in my opinion. That was the Flames' scapegoat this past season, and although I'm not super high on the tandem of Elliott and Chad Johnson, they really can't be worse. Calgary's defence is stacked and its young forwards should take another step, especially Sam Bennett. The Flames also overhauled their coaching staff, bringing in Gulutzan and Dave Cameron to replace Bob Hartley, so we'll see if that changes their fate for better or worse. I see another bubble team, but the Battle of Alberta results could be a determining factor in the playoff picture.
I expect Arizona to be an also-ran again, but an exciting one with Dylan Strome joining that young forward group. Goligoski will certainly help and McGinn to a lesser degree, but I felt the Coyotes overachieved in 2015-16, so I don't expect them to finish any higher in 2016-17 despite those roster additions.
I see the Kings in the same boat as the Ducks, with holes in their roster that could have a sinking effect. L.A. is still a deep team up front, but Teddy Purcell is hardly going to offset the loss of Lucic, and that tweaked defence remains suspect. If something were ever to happen to Jonathan Quick, that would be catastrophic, but providing he stays healthy, the Kings should stay in the playoff mix.
That leaves the Sharks, who are now the class of this division and the only playoff lock as far as I'm concerned. The additions of Mikkel Boedker and underrated blue-liner David Schlemko will be beneficial, while Martin Jones and Logan Couture appear to be budding stars capable of carrying the torch for San Jose's aging core.
I'd be shocked if the Sharks weren't the top seed, but I wouldn't be surprised if one of the Alberta teams broke into the Pacific bracket to prevent another California sweep. I could see the other Alberta team battling for a wild-card spot as well, with the possibility of four Pacific clubs making the playoffs. To rank the division from No. 1 to 7, I'd go San Jose, Los Angeles, Edmonton, Calgary, Anaheim, Vancouver and Arizona, but Nos. 2 to 5 are debatable and arguably interchangeable.
Who will Anaheim miss more: Frederik Andersen in goal or those aforementioned wingers (Perron, McGinn and Stewart)?
SICARD: Definitely their wingers. Andersen was solid for Anaheim, but Gibson — with another year of experience under his belt (not to mention the World Cup) — should make people quickly forget about him.
Conversely, the Ducks are now extremely thin up front, which leaves one to wonder what exactly general manager Bob Murray was thinking when he let all those veteran wingers get away. Unless he's got an ace up his sleeve — a Cam Fowler trade, perhaps — Anaheim might have even more trouble scoring goals next year.
FISHER: To me, Andersen was the most underrated piece of Anaheim's puzzle. I know Gibson is supposed to be a rock-star in the making, but his playoff performances have left a lot to be desired thus far. I actually think a return to California could bode well for Jonathan Bernier and that he'll play a bigger role than most expect in transitioning from Andersen to Gibson. Still, there will be growing pains and days where Andersen will seem like the one that got away, especially if he's standing tall in Toronto.
Generally speaking, it's easier to replace wingers and there are still some decent filler options on the free-agent market, including Pirri, Jiri Hudler, Kris Versteeg, Radim Vrbata and Alex Tanguay. I'm not sure what the Ducks are waiting for on that front — and why not qualify Pirri in the first place? — but they should be able to alleviate those concerns by the start of training camp.
Do you expect the Ducks to trade Cam Fowler to help fill those forward holes? Would you deal him for a package from Edmonton of Nail Yakupov, Benoit Pouliot and a first-round pick in 2017 (top-five protected)?
SICARD: I'd make that trade in a heartbeat if I were Murray. Here's the dirty little secret about Fowler: he's not an elite defenseman. He's a very good top-four guy, but he's not nearly as good as others around the league perceive him to be. His defensive awareness can be severely lacking at times, and his fantastic skating doesn't seem to translate in his possession numbers.
That being said, I still think he can be valuable to a team that places him alongside a partner who's a bit more solid defensively. The Ducks have paired Fowler with the likes of Kevin Bieksa and Clayton Stoner, and he's just not capable of carrying them.
It seemed like a trade was bound to happen at the draft, but things have since cooled off. I expect his name to pop up again once training camp rolls around, especially if Anaheim doesn't manage to bolster its forward group.
Ducks Can't Hesitate To Trade Cam Fowler https://t.co/Gv2byvz5BT #THW

— The Hockey Writers (@TheHockeyWriter) June 23, 2016
FISHER: Shhh! Don't be sharing secrets like that here. The Oilers only make that trade with the intention of flipping Fowler for Colorado's Tyson Barrie, and now Félix may have spoiled that potential by tipping off Joe Sakic to Fowler's shortcomings. Personally, I like Fowler and don't think he's peaked yet as a player, but he's left-handed and Edmonton is in need of another righty like Barrie.
Assuming the Avs aren't keen on Landeskog for Fowler, along the lines of Hall for Larsson, perhaps the Oilers could entice the Ducks with this type of package. Edmonton's strength is still its depth on the wings, particularly the left side, so parting with Pouliot wouldn't be crippling by any means and Yakupov could use the change of scenery. Murray likes his reclamation projects, so Yakupov would presumably be of interest to Anaheim, and Pouliot provides good value at $4 million with three years left on his contract. There's still a strong chance that Edmonton's first-round pick in 2017 will be top 15, possibly top 10, which was apparently the asking price for Fowler at this year's draft.
In saying that, if Edmonton could then pull off Fowler for Barrie, that would give the Oilers their coveted power-play quarterback and thus increase their odds of making the playoffs. It would be worth the risk of parting with that 2017 first-rounder in favour of a win-now mentality, and all signs point to Fowler being expendable in Anaheim. Barrie's availability has become a bit sketchier, depending if you believe Sakic's refusal to trade him with arbitration pending, but Fowler might be more appealing than Edmonton's current offer. These teams have been talking and those conversations are believed to be ongoing, so time will tell whether that dialogue will result in any deals.
The Ducks recently signed Jared Boll, an enforcer type, for a bottom-six role. He got a two-year contract just before the AHL unveiled its stricter fighting rules for next season. Assuming the NHL follows suit, are Boll and his brethren soon to be out of jobs? Did you love or loathe that addition?
SICARD: Look, I can't blame Boll for getting his money. Enforcers are a dying breed, and they have to grab the cash whenever they can. But for Anaheim to seek out the services of a guy who hasn't scored more than one goal in a season since 2013 is absolutely ludicrous. Boll isn't even good enough to be a fourth-line skater. He's a black hole from both an offensive and defensive standpoint.
For the Ducks to not only sign him, but to a one-way contract which pays him more than Mason Raymond, just feels like a bad joke. Except it's not. The Ducks now have a player who doesn't bring any tangible value to their roster. Congratulations, Mr. Murray.
Ducks Take a Step Back with Boll Signing – https://t.co/eUVy76QJMJ #hockey #THW pic.twitter.com/sXZk48sqCj

— The Hockey Writers (@TheHockeyWriter) July 6, 2016
FISHER: Could this be the Lucic effect? Granted, Lucic was already in the division with L.A. this past season, but the Kings were a heavy team prior to his acquisition and he was able to play more to his offensive strengths. The Oilers need Lucic to score too, but he made it clear upon signing in Edmonton that he plans to be a physical presence above all else.
So, if that means fighting or taking runs at other teams' top players, then those regular opponents are going to need somebody to answer the bell. Boll has fought Lucic before and they will likely square off again in 2016-17.
By no means am I endorsing the Boll signing for Anaheim, I'm merely trying to rationalize it. If it wasn't meant to counter Lucic landing in Edmonton, then I don't see the purpose. Even if that was the case, I can't imagine Boll had any other offers beyond one-year, two-way contracts. The Ducks overreacted and overpaid in both term and salary. Maybe they missed out on Matt Martin and Boll was the consolation prize?
Murray has been a perennial GM of the year candidate. Are you starting to lose faith in him based on Anaheim's latest additions or are you giving Murray the benefit of doubt until the puck drops in October? If you're down on him, what does he have to do to redeem himself in your books?
SICARD: I don't think anyone can objectively assess Murray's body of work lately and say that he's made the Ducks a better team. He's made some shrewd moves in the past, but the bad contracts he handed to Bieksa, Stoner, and Kesler are placing the Ducks in an unnecessarily difficult cap situation.
So to answer your question: yes, I'm absolutely down on Murray. What really cements it for me is the fact that he fired one of the five best coaches in the league in Bruce Boudreau, only to replace him with Carlyle. I understand that he felt a need to shake things up behind the bench (though I don't agree with it), but Carlyle is a downgrade by any measure. Had he brought in a Guy Boucher or even promoted Paul MacLean, I think that there would have been some room for optimism.
Murray will have to get either Bieksa or Stoner's contracts off the books to start redeeming himself in my eyes. Getting value for Fowler would also go a long way. Unfortunately, after the Boll signing, I can't say I have any confidence that he'll do any of those things. They're too rational.
FISHER: If the Ducks were to miss the playoffs in 2016-17, it would certainly appear to be Murray's fault at this point. Bringing Carlyle back could blow up in his face, and he's not exactly giving the old-is-new-again coach a whole lot to work with so far.
The Ducks got off to a painfully slow start to last season before coming on strong to steal the division banner thanks in part to Murray's mid-season moves. He'll likely need to work some similar magic if this is Anaheim's lineup to start the season.
However, as quiet as it's been over the last week in terms of signings and trades, I do expect business to pick up again as we near those arbitration hearings. I can't imagine Murray has his feet kicked up in a hammock right now. He has to know there is still work to be done to restore that roster to respectability again. So until next week, stay tuned as I'm quite certain the Ducks will be making headlines sooner than later.
---
Who won this round of Facing Off? Feel free to weigh-in with your opinions in the comments below. We will be checking in periodically to both defend and expand on our initial answers. If you want to see us face-off over a topic, we're open to suggestions as well.