@FacingOff_THW) and get in on the debate there too.

On May 10, when the final buzzer sounded on Game 7 — with the Anaheim Ducks edging the Edmonton Oilers 2-1 to advance to the Western Conference final — it was time for Peter Chiarelli to turn the page to next season. To the offseason.
As much as he got to enjoy the fruits of his labour for a month of playoff hockey that began on April 12, the Oilers' GM knew there was still plenty of work to do in order to put this team over the top in the years to come.
Deservedly nominated for the NHL's GM of the Year award, Chiarelli has already started some internal housekeeping, such as inking Iiro Pakarinen to a one-year contract extension over the weekend.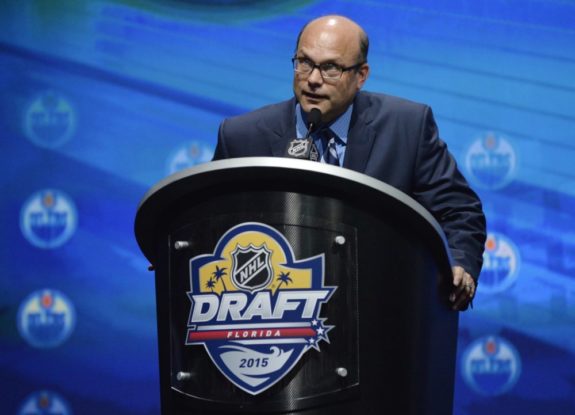 The next big date on the hockey calendar is June 17, when the protected lists need to be submitted to the Vegas Golden Knights ahead of the June 21 expansion draft.
Then there is the entry draft on the June 23-24 weekend, followed by free agency commencing on July 1.
That will keep Chiarelli — and THW's team of Oilers writers — busy for the better part of a month and perhaps most of the summer.
This is the fourth installment of the Oilers' roundtable edition of Facing Off, featuring Shane Sander, Rob Soria, Jim Parsons and yours truly. We've previously been talking Edmonton's playoff push and ending that decade-long postseason drought, the team MVP and other awards, as well as present and potential prospects in previewing this year's entry draft.
Today, we're talking the expansion draft and other key decisions that are looming this offseason.
What's your plan for the expansion draft? Put yourself in Chiarelli's shoes, who would you be protecting as of today? Who would you be expecting to lose to Vegas? What do you see as the best- and worst-case scenarios?
SANDER: Chiarelli came out and said Edmonton is likely going to go 7-3-1 for a protection strategy. I feel the final list will be something similar to what almost everyone else has — Cam Talbot (G), Oscar Klefbom (D), Adam Larsson (D), Andrej Sekera (D), Leon Draisaitl (F), Jordan Eberle (F), Zack Kassian (F), Mark Letestu (F), Milan Lucic (F), Patrick Maroon (F) and Ryan Nugent-Hopkins (F).
I'm not overly sold on Jujhar Khaira's upside; he's had limited offensive potential at the pro level and hasn't exactly given Todd McLellan and the coaching staff a reason to keep him up permanently. You also can't ignore how valuable Letestu has made himself, especially during their playoff run.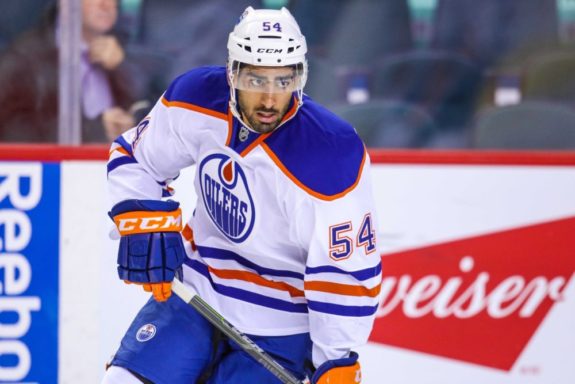 SORIA: When it comes to the expansion draft, if the Oilers do not acquire a defenceman prior to, the protection list is fairly straightforward. Talbot, Klefbom, Larsson, Sekera, Draisaitl, Eberle, Lucic, Maroon and Nugent-Hopkins are all locks, with two of Kassian, Khaira and Letestu rounding out the list. If it were up to me, Kassian would be the one left unprotected, but moving a forward for another blueliner would be ideal and allow them to go the 4-4-1 route.
My guess is we will see Vegas snag Griffin Reinhart, but that could all change come draft day — as we should see some interesting stuff develop around the league leading up to both the expansion and entry draft.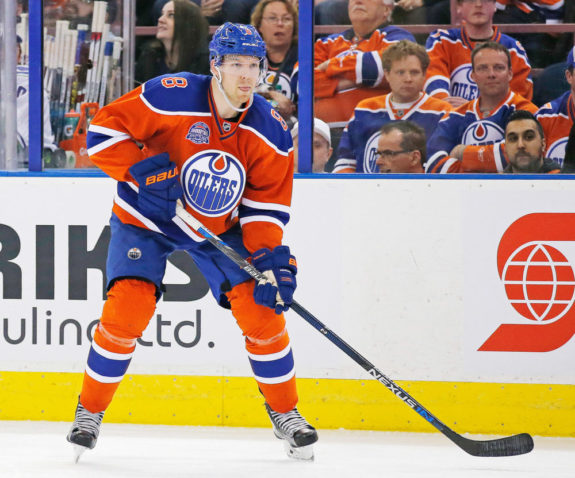 PARSONS: I think by trading Brandon Davidson, Chiarelli moved the obvious choice for the Golden Knights. Next in line might be a young prospect like Khaira or even a Reinhart. In both cases, I don't see the Oilers being drastically affected by those losses. I've written a series of articles looking at this exact question throughout the season and my latest one after 60 games is here.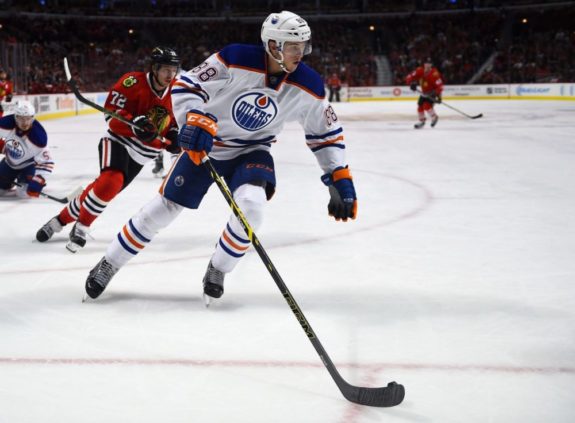 Edmonton should choose the seven forwards, three defensemen and a goaltender option, and I see the Oilers protecting Nugent-Hopkins, Eberle, Draisaitl, Maroon, Letestu, Kassian and Lucic. On defense, Larsson, Klefbom and Sekera, with Talbot as the goaltender.
The Oilers are fortunate in that a number of their players do not require protection. Best-case scenario is that the Vegas team has to take a hefty contract to reach the salary-cap floor, thus taking a player like Mark Fayne or Benoit Pouliot. Worst-case, they choose a budding prospect. I do think there is a better than 50/50 chance the Oilers do something crafty and make a trade with the new club in a way to offload a bad contract. Maybe by giving a draft pick to encourage the Golden Knights to take a player the Oilers no longer want on the books.
FISHER: That is definitely possible, essentially bribing Vegas to select Pouliot or perhaps even Fayne. Failing that, I'm convinced the Golden Knights will take their chances on Reinhart. Defencemen take longer to develop and Reinhart did show forward progress in the AHL this season, so he's by no means a bust — at least not yet. Reinhart would be a worthwhile gamble for Vegas. He wouldn't be a huge loss for Edmonton, since Reinhart has yet to secure an NHL roster spot, but considering the price the Oilers paid to acquire Reinhart — including the first-round pick the Islanders used to select Matt Barzal — it would pour a little salt in that wound.
I agree that Edmonton's protected list, at 7-3-1, is pretty much written in stone. My list matches that of Shane and Jim, with the only difference from Rob's list being Kassian over Khaira. I think Kassian's playoff performance solidified his spot on the protected list.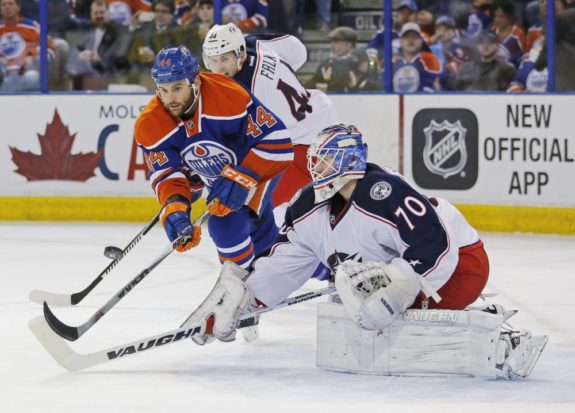 I can't see Edmonton trading for another defenceman even in light of Sekera's knee surgery, not unless Eberle can fetch somebody like Matt Dumba, Ryan Murray, Tyler Myers, Sami Vatanen or one of the other potentially available blueliners. Eberle's stock is low after failing to score a single goal in 13 playoff games, so I doubt that deal goes down. If it did, the Oilers would be protecting Draisaitl, Lucic, Nugent-Hopkins and Maroon as their four forwards, while exposing Letestu, Kassian and Khaira for Vegas. That wouldn't be a bad approach, it's just a matter of what Eberle is worth right now — and I'm betting his value is minimal. Maybe the Oilers could get a guy like Mark Pysyk, Nathan Beaulieu, Brayden McNabb, Marco Scandella or Thomas Hickey in return. A second-tier defender who wouldn't be protected by his current team as of today.
Are you expecting the Oilers to make any more moves ahead of the expansion draft? There could be a significant "redistribution of players" around the league in June — just before the protection lists are submitted — so will Edmonton be standing pat or wheeling and dealing? Could Chiarelli poach a player that may be exposed by another team? Any targets in mind?
PARSONS: What immediately comes to mind is the extension of Kassian. I think he's proven his worth this season and he's a Chiarelli-type player who would like to stay in Edmonton and will for about $2 million per season on a two-year deal. I don't think Edmonton does much internally beyond that, at least not until after the expansion draft.
It would be a mistake to sign any defensemen that then require protection. A player like Kris Russell (if he returns) should be handled after the expansion draft. I think he will if the dollars and term line up.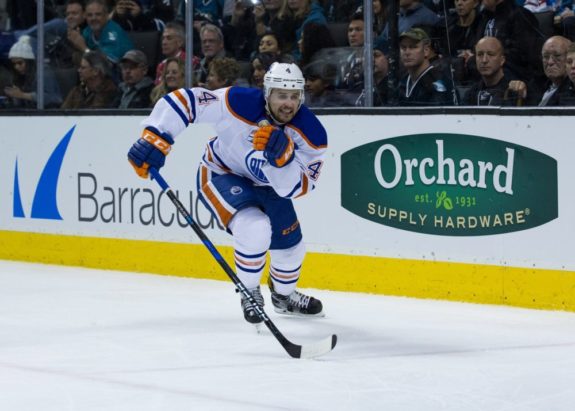 Externally, what might happen is Edmonton searching the league for a second-line right winger with one or two years left on their current deal — someone who is a proven producer and whose contract expires before Connor McDavid's new one would begin. One of the teams I see as under the gun is Anaheim because the Ducks have a variety of defensemen they need to make a decision on. If they choose to protect four defensemen, a player like Jakob Silfverberg could be available.
SANDER: I think the Oilers will stand pat for the most part, then again this "redistribution of players" is causing everyone to believe there will be a mini trade deadline sort of speak. If that's truly the case, you have to look at what Edmonton's needs are — a top-four right side defenseman, a top-six right winger, and a center that's strong on face-offs.
It looks like Chiarelli is keen on getting a deal done for Russell, but if an offensive defenseman pops free, would he strike a deal? One scenario that makes a lot of sense is the Oilers making a deal with the Dallas Stars. The Stars traded Patrick Eaves, and now Patrick Sharp, Jiri Hudler and Ales Hemsky are all headed towards free agency. This could potentially create a significant hole in the Stars' right side depth, and this makes them a prime landing spot for Eberle. From a needs perspective, the Oilers were the worst face-off team in the NHL in 2016-17. So one name that stands out is Cody Eakin, who finished 52 per cent on the dot this season and would've had the best face-off numbers in Edmonton. Then again, if you trade Eberle, you're trading a five-time 20-goal scorer, so you better be finding a way to replace that scoring output somehow.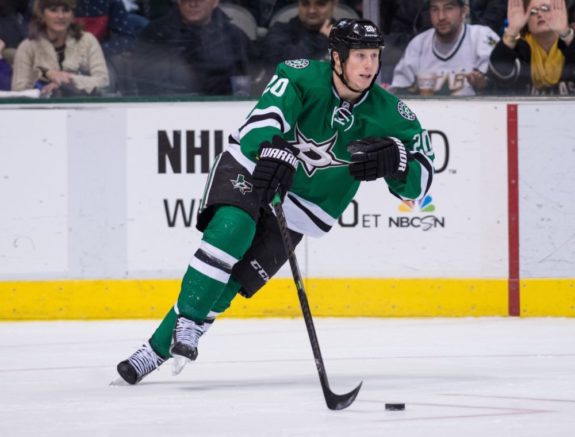 SORIA: With the Sekera injury knocking the veteran rearguard out of action for the up to nine months — possibly until February, best-case scenario being November — there is no question Chiarelli will be open for business. However, if a deal is going to be made prior to the expansion draft, it could end up costing the Oilers one of their young defensive prospects and/or a draft pick. Teams he could target include the Anaheim Ducks, Florida Panthers and possibly the New York Islanders, but the Oilers won't be the only team looking to improve their back end. Adding any one of Calvin de Haan, Travis Hamonic, Alex Petrovic, Pysyk or Vatanen would be swell, but at what cost?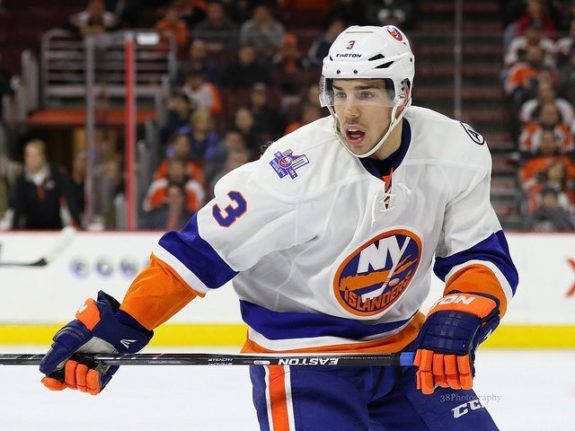 FISHER: That cost would likely be Eberle and possibly Eberle-plus. The plus could be a defence prospect like Ethan Bear, Caleb Jones or Markus Niemelainen. That seems steep, but as we saw with the Taylor Hall for Adam Larsson trade, undersized wingers won't fetch a big "sexy" name. That's not to say an Eberle and Bear for Hamonic trade wouldn't benefit the Oilers. Edmonton is in win-now mode for next season, the final cheap year of McDavid, and Hamonic would help in the win column much like Larsson did this season. Hamonic would also fill the void left by Sekera. I could get behind that move.
Eakin does make sense for Edmonton too, and his cheaper contract — $3.85 million for three more seasons versus Eberle's $6 million for two more seasons — might make that swap fair without either side adding assets. The potential is there for a deal with Dallas.
The Kassian extension should get done in due time as well. Jim's terms sound about right, but Silfverberg is probably a pipedream.
Does Chiarelli make any major trades or signings in the offseason? Or are you expecting much the same roster for next season? Would you be in favour of re-signing Kris Russell? How about the other pending UFAs: David Desharnais, Matt Hendricks, Eric Gryba and Tyler Pitlick, would you bring any of them back? And at what terms?
SORIA: The offseason will be an interesting one for Edmonton, as upgrading the defence is a must, but if the plan is to part ways with one or both of Eberle and Nugent-Hopkins, the forward ranks will need retooling.
As far as pending UFAs go, the only guy Chiarelli should bring back is Pitlick, but I wouldn't be surprised in the least to see Gryba find his way back to the Alberta capital. Though the fan base seems split on whether or not the organization should seriously consider inking Russell to a multi-year extension, I just can't see this general manager going down that road unless we are talking minimal dollars and that isn't going to happen. I said at the time of his signing last October that it was a perfect short-term fix and it was. No need to push their luck — thank him for his service and move on.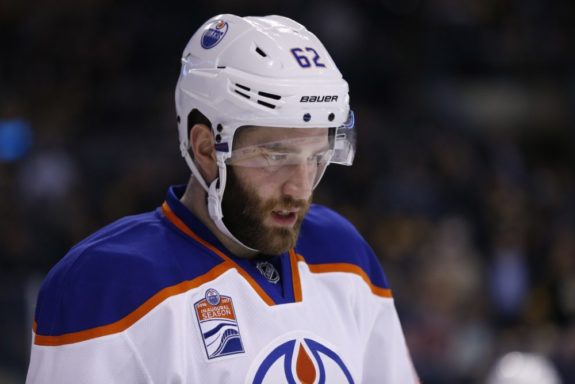 PARSONS: I think we can realistically say goodbye to Hendricks and Gryba, and possibly Pitlick too. Pitlick may get another opportunity because he's proven he can score at the NHL level, but his health and injury history is such a big concern. The good thing about his injury (if there is one) is that he's now going to cost less to retain and giving Pitlick one more shot provides depth for the Oilers when they need inexpensive options.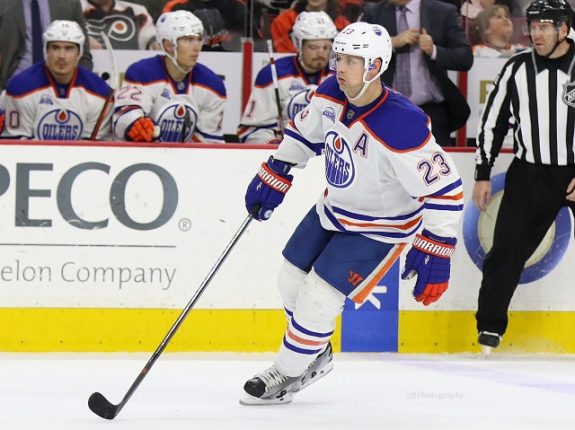 Desharnais, to me, is also probably gone and, at best, he has a 20 per cent of getting re-signed here. Edmonton needs a bona fide face-off guy with scoring touch and a bit of physicality.
I think the Oilers would like to keep Russell, and if they do, I have to assume Chiarelli is wise enough to do all of that work after the expansion draft.
SANDER: I'd entertain offers to Russell, Pitlick and Gryba. Russell has been a lightning rod for criticism — you either like him as a player or you don't. I like the shotblocking, the defensive skill and the composure he has with the puck at times. He could always be better at making his outlet passes, and not having the play die on his stick as some see it, but he's done what the Oilers needed in their top four. With Darnell Nurse and Matt Benning still developing, a one-year deal for Russell could be that bridging gap before the youngsters are moved into the top four. If Russell ends up costing anything more than $4 million, it would change things because that's getting a little too rich for Edmonton. Gryba was what you expected as a seventh defenseman, and added that toughness that is needed, despite some of his mobility issues.
I'd love to give Pitlick one more kick at the can here, but it's become a bit of a numbers game in the bottom-six and plenty of players may have surpassed him. Remember, Pitlick was one of the Oilers' best forwards prior to getting injured in December and would've been a much-needed boost in the playoffs when the goals were harder to come by. One-year deals for all three.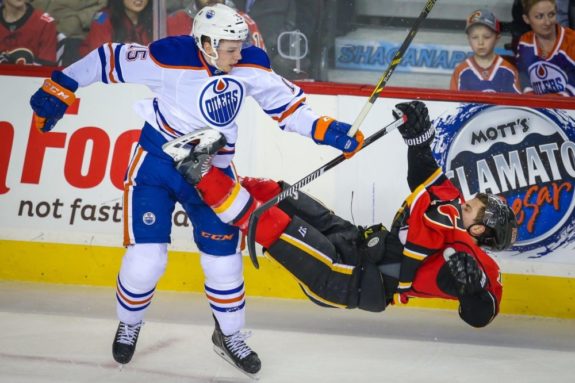 As far as the UFA market goes, I'd be interested in signing T.J. Oshie if the price is right. The 30-year-old is coming off a 30-goal season, and over the past two seasons has been one of Washington's best players. Only Nicklas Backstrom has more playoff points over the last two playoff runs than Oshie.
FISHER: Oshie would be ideal and I believe Ilya Kovalchuk could work well in Edmonton too, flanking McDavid or Draisaitl and serving as the power-play shooter. Either of those two would give the Oilers a nice offensive boost and make Edmonton that much more dangerous. Kovalchuk isn't technically a free agent, but New Jersey is entertaining sign-and-trade offers and Edmonton could very well be in on those sweepstakes. Oshie is the top free-agent right winger and seems like a perfect fit.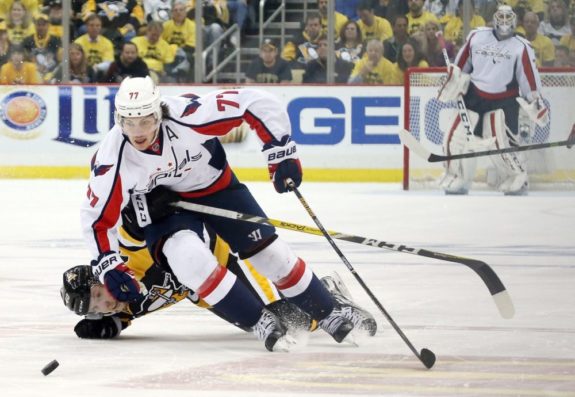 If Russell isn't re-signed — for the record, I expect he will be — the Oilers could look to ink a right-handed UFA defenceman. It is pretty slim pickings though, with Cody Franson, Dennis Wideman and Michael Stone among the most established options — assuming Kevin Shattenkirk isn't interested in Edmonton. Russell came from Calgary, so maybe Edmonton goes back to that well for Wideman or Stone. Franson has been linked to the Oilers for years.
There are also some less proven options like Paul Postma and Brenden Kichton from Winnipeg, or perhaps a Taylor Fedun reunion. The trade route is definitely worth exploring too, with some of those aforementioned names we've been kicking around.
Russell is more likely to be back than Gryba, in my opinion, and I think Pitlick will be back if he wants to be. Desharnais and Hendricks will probably need to move on and find employment elsewhere.
What are you anticipating for Draisaitl and McDavid's second contracts? Do they both get done this summer? What do those extensions look like in your mind? How many years and how much salary?
SANDER: I wrote about this last week and felt that the comparisons of Mark Scheifele, Filip Forsberg and Sean Monahan set a benchmark for where Draisaitl's number can be. That said, Draisaitl has yet to hit his prime and could end up being better than all of those forwards. I had him at a seven-year, $6.56 million per season deal but, with some of the more recent conversations, that number could go as high as $7 million per season. One negotiation that will be watched closely will be David Pastrnak's talks with the Boston Bruins.
When it comes to McDavid, Elliotte Friedman of Sportsnet had mentioned that he believes McDavid might opt for a five-year bridge deal. The purpose of this is to cash in on a rich contract but then get another hefty payday in the prime of his career. I have McDavid's next deal being around $9 million, with Friedman's suggestion of a five-year term. Then again, it'd be great to get that deal done and closed and go all the way to the eight-year max.
How much should Oilers pay for McDavid, Draisaitl contract extensions? https://t.co/1EtFpJrLcB 10 burning questions from @NHLbyMatty #NHL pic.twitter.com/30iAoqENN6

— Edmonton Journal (@EJ_Oilers) May 18, 2017
SORIA: Draisaitl's post-season performance guaranteed the youngster will be making north of $6 million per season on his next contract but for how long is anyone's guess. The Oilers would love nothing more than to tie him up for six to eight years, but that will push the back-half of said pact to some lofty numbers. Perhaps something in the neighbourhood of $49 million over seven years, with the first three years falling in the $4 to $5 million range would make sense for both sides.
Let's not forget, it's up to Chiarelli to put something together that will entice the talented German forward to even consider such a deal. As far as McDavid goes, ask the kid what he wants and give it to him. That simple.
PARSONS: I wrote about this topic in early March and, to me, McDavid is a $10-million dollar player on the low end and a $12-million per season player over eight years on the high end. I think Draisaitl could earn $6.5 to $7 million per season over six years, maybe seven.
Edmonton may explore the idea of a bridge contract with Draisaitl but, in the end, that would be a mistake. I think they go long-term and solidify the Oilers' one-two offense for years to come.
Draisaitl gets done this summer as his current contract is expiring. I don't think it will matter when McDavid gets done. He's going to get paid the big bucks and the team will be built around him. If McDavid decides he wants to ensure a winning group around him, he'll knock off a few bucks on a long-term deal. That's best-case scenario.
FISHER: True enough, but Rob is right that McDavid can name his price, set his terms and tell Chiarelli where to sign as opposed to vice versa. His salary will certainly be eight digits as opposed to seven, likely in that $10 to $12-million range. And if this season was any indication, considering McDavid isn't even in his prime yet, he'll be worth every penny.
Draisaitl's playoff heroics — above and beyond those of McDavid — proved his worth to the organization as well. Friedman recently speculated Draisaitl's extension could be similar to that of Vladimir Tarasenko since they share the same agent, Mike Liut. Tarasenko signed for the maximum eight years with St. Louis, with a total salary of $60 million. That is $7.5 million per season. Draisaitl might sign for slightly less, but I'm assuming the first number will be a seven as opposed to a six.
So, not next season but the year after, the Oilers will have upwards of $20 million tied up in their top-two forwards. Money well spent (and earned), but Chiarelli will be hoping the salary cap starts climbing again to afford a quality supporting cast.
Do those impending contracts price Nugent-Hopkins and/or Eberle out of town? Or do they both have a future in Edmonton next season and beyond?
PARSONS: I believe McDavid's contract opens the door for all sorts of movement on players who make big bucks but aren't providing the numbers to back up those bucks. Eberle and Nugent-Hopkins are both in that scenario. Both had disappointing seasons but both have the potential to turn things around and, overall, I think it would be a mistake to sell low.
That said, it wouldn't surprise me if the Oilers make it a priority to move one of those contracts — even doing something crazy like leaving Eberle exposed at the expansion draft and working out some sort of side deal with Vegas to allow the Golden Knights to take him.
Realistically, expect both to be back next season and given an opportunity to rebound offensively. It's next summer that becomes the real decision-making summer.
SANDER: I believe in two to three years' time neither of Nugent-Hopkins or Eberle will be in Edmonton. With their offensive inconsistencies throughout the season and the heavy price-tags that come with them, it just doesn't make any sense fiscally. Once you factor in the pending salary-cap crunch, it's going to be virtually impossible to keep everyone. We saw it happen in Chicago, Los Angeles, Boston and even Pittsburgh, and soon it will happen in Edmonton.
I believe both will bounce back next season. Nugent-Hopkins struggles in the face-off circle, hasn't been as offensively productive as projected, and he gets pushed around by some of the bigger centers in the division like Ryan Getzlaf, Anze Kopitar and Joe Thornton. If the Oilers can find a cheaper third-line center who scores around 35-40 points and is better in the face-off circle, I believe they'll make a deal, regardless of how much they covet some of the skill-set from RNH.
ICYMI – Latest Trade Buzz Surrounding #Oilers & Eberle https://t.co/h7kEBxBRUp #THW #NHL pic.twitter.com/2XbGuG3hQU

— The Hockey Writers (@TheHockeyWriter) May 21, 2017
SORIA: As previously mentioned, moving either one of Eberle or Nugent-Hopkins would be rather risky for the coming season, but the possibility is quite real. There is next to no chance that both will still be a part of the organization by the start of the 2018-19 campaign, and I wouldn't be the least bit surprised to see both gone.
With that said, unless the potential return greatly improves this roster in 2017-18, those are discussions for another day. No need to giveaway an asset for pennies on the dollar for the sake of doing so — especially when both players can still help this club in the here and now.
FISHER: Preach on, fellas. Well said all around. I wouldn't be selling low on Eberle and certainly not on Nugent-Hopkins, though I assume the latter still has decent value on the trade market. Jim is right that the summer of 2018 is when Chiarelli really has to fine-tune Edmonton's roster. McDavid's new contract will kick in that fall and money will be tight. Shane's comparison to Chicago's cap crunch is very real. Edmonton is going to be in the exact same boat soon enough.
Chiarelli is well aware of that reality and might try to be proactive this summer, perhaps moving Eberle while he still has two years left. That extra year may be more attractive to interested teams. If Chiarelli sits on his hands — which he rarely does — until next summer, Eberle would be entering the final year of his contract before becoming an unrestricted free agent. Even if he bounces back in Edmonton this season, Eberle wouldn't have much more value next summer given his contract situation and the fact other teams will know that the Oilers are desperate to shed salary when that time comes.
Nugent-Hopkins still has four years left on his contract, also at $6 million, but he has proven more versatile and serviceable — even if he's overpaid as a third-line centre. Nugent-Hopkins may not finish that contract in Edmonton, but I think he'll be sticking around for at least a couple more years. Unless Chiarelli trades him tomorrow.
---
Who won this round of Facing Off? Feel free to weigh-in with your opinions in the comments below. We will be checking in periodically to both defend and expand on our initial answers. If you want us to face-off over a topic, we're open to suggestions as well.