The NHL has 10 games on the schedule Thursday. A number of the matchups appear to be completely lopsided contests and it should affect the way you build your fantasy roster. For example, the Bruins — winners of three in a row — host the struggling Colorado Avalanche. Meanwhile, a red-hot Calgary squad who have won four straight, take on the NHL's worst in Arizona. Pittsburgh goes into Florida to face a Panthers team that has lost three in a row and the Flyers who have quietly been one of the NHL's best teams in the past couple weeks take on an Oilers group who has points in straight games, but losses too. All in all, it should make for some interesting options in fantasy play.
Yesterday's Games
Erik Karlsson took top honors on Wednesday with a number of players posting two-point performances behind him. Justin Faulk and Joe Pavelski led the way in shots with seven each and Karl Alzner led the way in blocked shots with seven. In net, Devan Dubnyk and Mike Condon tied for top spots for goaltenders.
Tonight's Games
Colorado Avalanche (9-14-1 L6) at Boston Bruins (15-10-1 W3)
Edmonton Oilers (14-10-4 L2) at Philadelphia Flyers (15-10-3 W6)
St. Louis Blues (15-7-4 W1) at New York Islanders (10-10-5 W1)
New Jersey Devils (12-7-6 W2) at Montreal Canadiens (17-6-3 L1)
Pittsburgh Penguins (16-7-3 W3) at Florida Panthers (12-11-4 L3)
Vancouver Canucks (11-13-2 L1) at Tampa Bay Lightning (14-11-2 L1)
New York Rangers (17-9-1 L1) at Winnipeg Jets (13-13-3 L1)
Nashville Predators (12-9-4 W1) at Dallas Stars (10-11-6 L1)
Calgary Flames (14-13-2 W4) at Arizona Coyotes (8-13-4 L5)
Carolina Hurricanes (10-10-5 W1) at Los Angeles Kings (13-10-2 L1)
Centers
Aleksander Barkov ($5700)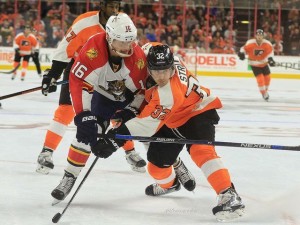 I wouldn't suggest taking Florida players in what looks to be a very tilted contest against the Penguins. That said, Barkov is extremely hot having scored in three of his past four games. He has nine points in his last ten games and 22 shots in his last four. Barkov is a player you take despite what the outcome for his team might be.
The Penguins are routinely a poor defensive team that allows a ton of shots on net. They rank 27th in goals against per game, 29th in shots against per game and 28th in powerplay goals against per game. Even if the Penguins offense wins this game for them, Barkov could have a strong night.
Sean Monahan ($5800)
Since the return of Gaudreau, Monahan has really picked up his game. He's got seven of his 15 points in the last five games and his price is still at a rate that he's a steal. Against the Coyotes he could have a big game.
Forwards
Johnny Gaudreau ($6700)
If it weren't for his injury, Gaudreau's fantasy price would be much higher than it is. The trick is to buy low and he fits into that category. Gaudreau has a goal in each of his last three games and a goal and an assist in his last two. He also tends to play well against Arizona with eight points in nine career games. That the Coyotes are playing so poorly only makes Gaudreau more attractive as a fantasy option.
Wayne Simmonds ($6700)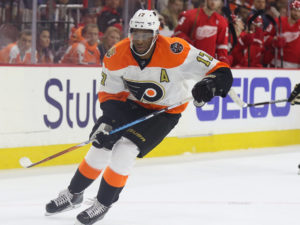 Simmonds might be the quietest weapon in the NHL. He's got 15 points on the season, has eight multi-point games and is a point per game player on home-ice.
The Oilers allow the most goals in the NHL to wingers and this could be a deadly combination. Look for Simmonds to continue his strong pace. Will he have another two-goal performance like he's done in his last two games?
Defense
Justin Schultz ($3700)
As an Oiler fan, it hurts me to add Schultz to my team, but in fantasy play, it's not about sides or being partial to your team. Fantasy hockey is about taking the best opportunities to make the strongest team and with Schultz scoring three times in his last four games, he's a great option at his price point.
Having watched Schultz closely for so long, it's wise to note that he's not bound to continue this strong pace and his three goals in the last four games are the only three goals he has on the season. That said, sometimes low risk, high reward options can put you over the hump as a fantasy owner.
Shayne Gostisbehere ($5100)
The Flyers are on a major role and Gostisbehere has been a big part of their success. He's got two assists in his last two games, three shots on goal and three blocked shots. This season he's on pace to have another strong showing. It looks as though his goal totals will be down, but he's on pace for 42 points.
Goaltender
Tuukka Rask ($8100)
There are a few options that make sense for goaltenders, but Tuukka Rask is a clear-cut option against a Colorado team who has lost six in a row. Rask is 14-4-1 on the season. He already has a shut out against the Avs this season and with the Avs being the lowest rank opponent for goaltenders in the NHL, there is a good chance he could shut them out again.