With the fantasy hockey season winding down – and most formats heading into the playoffs – managers are probably gearing up for the last few weeks of the regular season. While good forwards and defensemen are probably at a premium in most fantasy formats, reliable goaltenders are undoubtedly an even harder find at this point in the season.
Despite the fact that a number of starting – and back-up – goaltenders have already long been snagged in a variety of leagues, there are still some depth options that managers could look to in the next couple of weeks. Of course, a depth pick-up for one's fantasy team might not be the most desired roster addition, but at this point in time managers likely do not have much of a choice when it comes to picking up a fill-in goalie – especially for those in deeper formats.
Depth Dilemmas
Eddie Lack/Jacob Markstrom (Vancouver Canucks – G)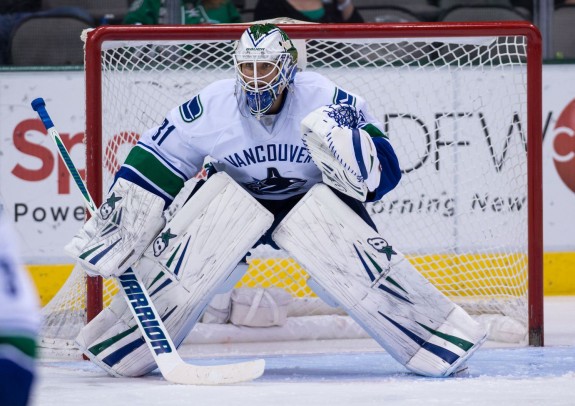 Less than 40% owned in Yahoo! leagues, Eddie Lack will likely shoulder a good portion of the work in the Canucks' crease until Ryan Miller returns from the IR. Miller – who will be out anywhere from 4-6 weeks with a lower-body injury – will be missed by Vancouver, but there is no time to cry over spilled milk as the Canucks are in the midst of maintaining their playoff positioning.
Although Lack had a sub-par showing in his most recent start against the Sabres (5 Goals Allowed), he has proven himself to be a reliable back-up (4-2 in six February starts) and fill-in option in the past. Fantasy managers should not hesitate to add Lack to their rosters, and those that added him after Miller went down against the Islanders should not drop him after his performance against Buffalo.
While Lack might be a tough find in deep leagues, Jacob Markstrom could be an option for those in extremely dire straits. Owned in only 3% of Yahoo! leagues, the Canucks acquired Markstrom in a trade for Roberto Luongo last season, so it's not out of the realm of possibility that the young goalie could receive some looks now that he is up with the big club. Fantasy managers should definitely keep a close eye on Markstrom, but shouldn't expect any immediate or remarkable results from the goalie as he has not had the best stat-line (1-2, 3.01 GAA, .868 Save Percentage) through four NHL games played this year.
Andrew Hammond (Ottawa Senators – G)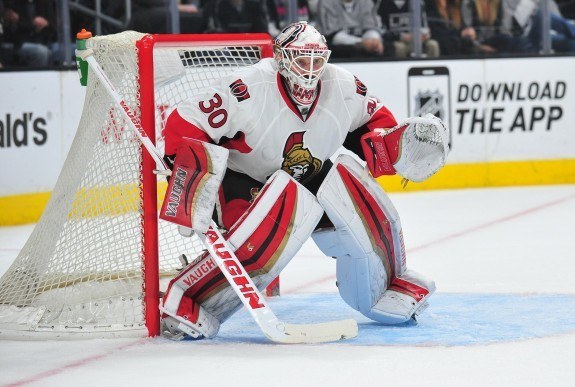 After appearing in only one game last season, Andrew Hammond has certainly made the most of his time with the Senators this season. Playing in five games – all in February – with Ottawa this year, Hammond has rung off five straight wins for the Senators and hasn't allowed more than two goals in each of those victories.
As a matter of fact, Hammond even posted back-to-back shutouts in two of those aforementioned starts, and it's not as though those showings have been against mediocre or poor opponents. Blanking the likes of the Los Angeles Kings and Anaheim Ducks – and hanging on against the Sharks so that his team could stage a come-from-behind win – Hammond has definitely gained a good amount of notoriety in fantasy circles, which has been perfectly captured by the goalies ownership rate, which has gone up to 26% in Yahoo! leagues.
Fantasy managers should either keep a very close eye on Hammond and see how he maintains his current level of play, or should add him to their rosters if they can as the Senators try to keep their playoff hopes alive. Even though Craig Anderson could step right back into the starter's role at any point, fantasy managers should absolutely consider adding Hammond to their rosters as it has been hard to ignore his efforts since starting his winning streak.
Karri Ramo (Calgary Flames – G)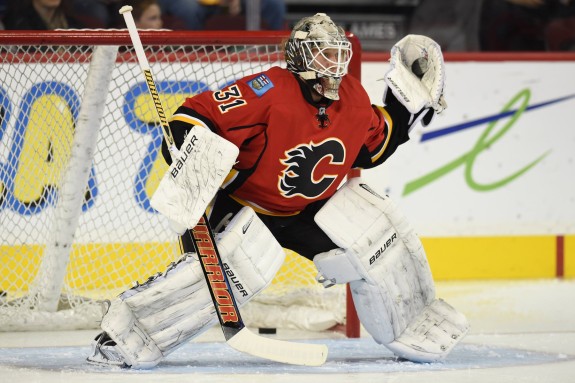 Capitalizing on Jonas Hiller's recent stretch of shaky play, Karri Ramo has started three straight games for the Calgary Flames – and he has played admirably in all three. Giving up no more than one goal in the three aforementioned starts, Ramo has been stellar in between the pipes (1-2, 6 GA, 1.82 GAA, .943 Save Percentage in the last two weeks) for Calgary even though he has gone 1-2 in his last three games.
Despite losing tough one-goal games to the Rangers and Islanders, Ramo illustrated great mental composure in those tight contests – and was a big reason why the final box score only had the Flames losing by a single tally. Ramo's ownership percentage currently sits at 18% in Yahoo! leagues, so if fantasy managers are looking to add a lesser-owned goalie for whatever reason, then Ramo should definitely be a front-runner for those managers. Seeing as how the Flames are going with the hot hand in goalie right now, fantasy managers might want to snag Ramo before he potentially puts forth a couple more noteworthy performances.
Michal Neuvirth (Buffalo Sabres – G)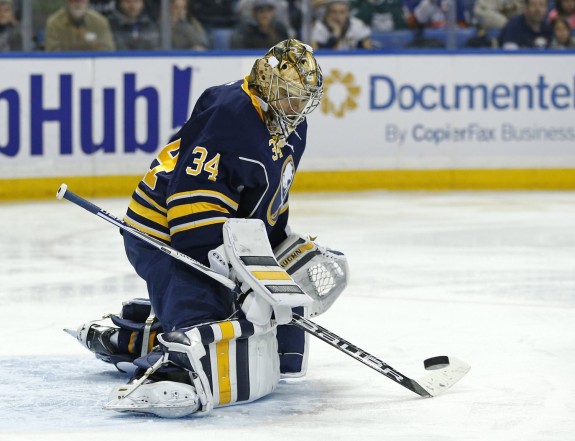 At 13% owned in Yahoo! leagues, Michal Neuvirth might be the least appealing option to fantasy managers since he is playing on a Sabres team that has not found much consistency during the '14-'15 NHL season. However, Neuvirth has been playing very well for the Sabres since Jhonas Enroth was traded to the Dallas Stars as he has compiled a 3-3-2 record for Buffalo in eight starts since February 15th.
What is even more impressive about Neuvirth's play is that he hasn't given up more than three goals in any of his last seven starts – which speaks to the goalie's level of play since he hasn't seen less than 30 shots against per game in any of his February starts. With a 2.19 GAA and .942 Save Percentage over the last two weeks, Neuvirth has seen his ownership rate rise in Yahoo! leagues, so fantasy managers might want to keep a close eye on the netminder over his next starts. Fantasy managers might not like the idea of picking up a goalie that is playing for the Sabres, but Neuvirth has proven himself since Buffalo shipped Enroth out of town.
Vying For More Starts?
Niklas Svedberg (Boston Bruins – G)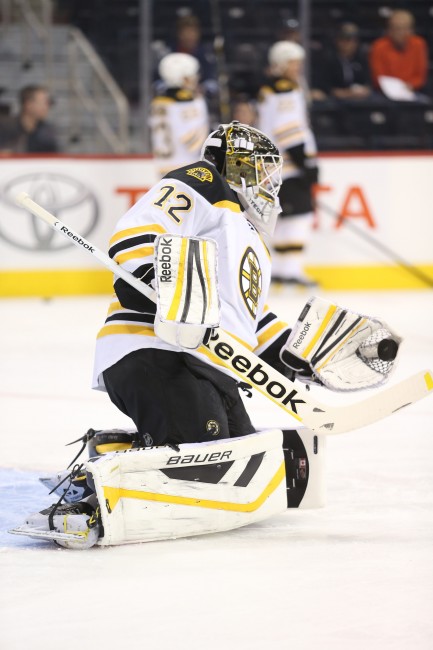 Niklas Svedberg has only had 14 games worth of action this season, but the Bruins will need to give Tuukka Rask some rest even though they are battling to stay in the Eastern Conference playoff bubble. Facing five more back-to-back game scenarios – four of which will be played in March on four consecutive weekends – one has to think that Svedberg could see some more time between the pipes for Boston if the Bruins put some space between themselves and the rest of the bubble teams.
Although Svedberg only played in two games during the month of February, the goalie has maintained some respectable peripheral statistics (2.39 GAA, .917 Save Percentage) this season and could be worthy of some consideration by those in extremely deep leagues. Fantasy managers should be in no hurry to add Svedberg as Tuukka Rask will have the lion's share of work as long as he is healthy, but a close eye should be kept on the goalie – especially for those that might need a spot start for the upcoming weekends.
Jonas Gustavsson (Detroit Red Wings – G)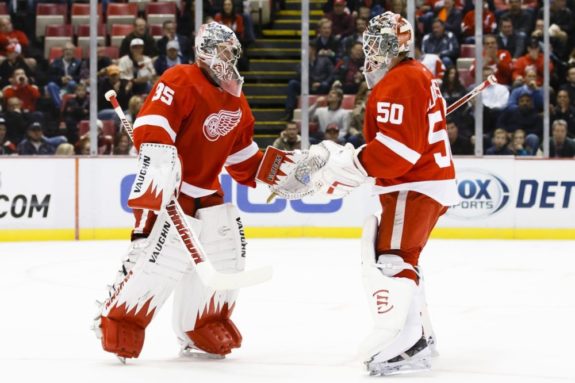 Jonas Gustavsson has been playing very well since returning from injury, and a 2% increase in ownership in Yahoo! leagues means that some managers might have taken note. The Red Wings are currently four points behind the Montreal Canadiens for the top spot in the Eastern Conference, and with five more back-to-back games (four of them being played in March) left on the schedule for Detroit a healthy Gustavsson could keep on receiving more playing time.
Appearing in only three games before his injury, The Monster has come back strong in late February as he has stopped 65 of 69 shots thrown his way and played to the tune of a 0.88 GAA and .966 Save Percentage. Now, fantasy managers shouldn't expect Gustavsson to maintain such spectacular numbers, but they shouldn't be surprised if the netminder sees a good amount of action over the next four weeks – and shouldn't be afraid to add him if he keeps up his current level of play.
In his third year with The Hockey Writers, Toli covers all things related to the New York Islanders. Focusing on the Islanders, the NHL Draft & draft-eligible prospect goalies, and hockey history, Toli can be contacted on Facebook by searching/messaging Toli Metter and on twitter by searching @ToliMetterTHW.