Deadline Day #TinyTrades Tracker
With the 2015 NHL trade deadline now a thing of the past, here's your complete list of all eleven #TinyTrades that went down on NHL trade deadline day 2015.
Almost 35 minutes after the 3pm deadline, we learned of the Phillips-for-Knight #TinyTrades deal, making it the eleventh & final #TinyTrades transaction of the 2015 NHL trade deadline.
In a minor league deal, the #MNWild have traded former first round pick F Zach Phillips to Boston for F Jared Knight, per source.

— Chad Graff (@ChadGraff) March 2, 2015
Helene Elliott is a pretty damn guud writer, so I'm not going to bust her chops about a typo when reporting the Sgarbossa-Clark #TinyTrades post-deadline deal between the Ducks and Avs.
Ducks also got C Muchael Sgarbossa from Colorado for Mat Clark

— Helene Elliott (@helenenothelen) March 2, 2015
A late breaking #TinyTrades involving the Maple Leafs and the Ducks. Hard do call it a #TinyTrades with Brewer putting up 226 career points in 991 NHL games played, but this is a case where the past-their-prime clause trumps the career points totals. Brewer is a UFA and has played in just 26 games this season. He's far from the player he once was.
Toronto gets D Eric Brewer and a 5th round pick for Korbinian Holzer.

— Gord Miller (@GMillerTSN) March 2, 2015
Olli gets his wish, Toronto deals Jokinen to St. Louis. UPDATE – Toronto also received Joakim Lindstrom in the deal. Lindstrom has a contract of $700,000 and is a UFA after this season.
TOR trades Olli Jokinen to STL for a late pick.

— Bob McKenzie (@TSNBobMcKenzie) March 2, 2015
Coyotes pick up AHL 'tendy David Leggio
Goalie David Leggio has been traded to the Coyotes.

— Brian Bartlett (@BBarts) March 2, 2015
Rule number 2: Backup goalies = THW #TinyTrades
Hearing Neuvirth to Isles for Johnson and a conditional pick.

— Darren Dreger (@DarrenDreger) March 2, 2015
Fringe roster guys and career minor leaguers qualify under #TinyTrades
OFFICIAL – #Canucks acquire @conhockey19 from Islanders. Release – http://t.co/oDLn4Zomfq pic.twitter.com/2gi54oRzQJ

— Vancouver #Canucks (@Canucks) March 2, 2015
With a combined total of 19 NHL games played between the two, Hamilton-for-Stollery becomes another registered #TinyTrades
The #Avs have acquired Freddie Hamilton from the San Jose Sharks in exchange for Karl Stollery.

— Colorado Avalanche (@Avalanche) March 2, 2015
You know what a 7th round pick means…#TinyTrades!
Blues trade Ian Cole to Penguins for Robert Bortuzzo. Blues also get a 7th-rounder in 2016

— Pierre LeBrun (@PierreVLeBrun) March 2, 2015
With a combined salary of $1.325-million, the Hawks and Sharks hooked up for a #TinyTrades deal exchanging Ben Smith and Andrew Desjardins
Ben Smith for Andrew Desjardins… Yippee #SJSharks #Blackhawks — DR

— The Hockey Writers (@TheHockeyWriter) March 2, 2015
Habs scoop up Flynn from Buffalo for a late round pick
Brian Flynn done deal to #Habs, 5th round pick in 2016.

— The Hockey Guys (@TheHockeyGuys) March 2, 2015
NHL Trade Deadline = THW #TinyTrades
The NHL trade deadline is rapidly approaching and with a number of transactions already going down, GMs around the league are in full fledged deal making mode.
While the recent David Clarkson-to-Columbus trade was one of the bigger deals leading up to the March 2nd – 3pm NHL trade deadline, fans should expect the majority of transactions to be relatively inconsequential and insignificant.
Future considerations, 6th and 7th round draft picks, AHL'ers and fringe roster players; these commodities will make up most of the moving pieces come deadline day.
That's when I had the idea of tracking these deals in a lighthearted manner with #TinyTrades on social media.
What is a #TinyTrades?
What constitutes a #TinyTrades you ask? There are a number of factors that could qualify a transaction as a #TinyTrades deal, but here's a quick guideline:
A player who has less than 75 GP in the NHL
Backup Goalies
6th and/or 7th round draft picks
Future considerations
Low end prospects
Fringe roster guys/career AHL'ers
Conditional draft picks
Just are there are some prerequisites that qualify a #TinyTrades trade, here are a few factors that will immediately void a deal from being in the #TinyTrades category:
A player in the trade has a cap hit of $4.5-million or more
1st round draft picks
Any player in the deal that, over their NHL career, has scored at least 50 goals or 100 points**
**Amendment to the career points rule is the past-their-prime clause. If a player (not named Jagr) is 35-or-older and unable to draw into an NHL lineup on a consistent basis. The current inability to play at the NHL level trumps the player's past achievements of surpassing 50 goals and/or 100 points in their career.
#TinyTrades at the 2015 NHL Trade Deadline
We've already had a few #TinyTrades take place in leading up to the 2015 NHL trade deadline.
The recent trade between the Toronto Maple Leafs and Chicago Blackhawks is a perfect example of a #TinyTrades deal.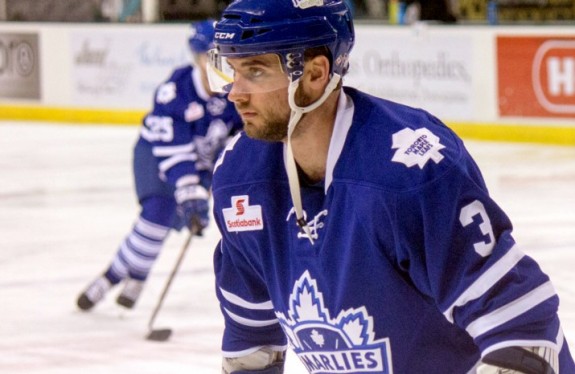 The Leafs reacquired defenceman T.J. Brennan from the Blackhawks for the right-handed shot of Spencer Abbott.
With a total of just 41 career NHL games played combined between the two, Abbott and Brennan will probably spend most of their careers in the minors. Neither Brennan or Abbott are likely to make any impact at the NHL level. Combined their cap hits total just $1,175,000.
Credit given where credit is due, at least these guys have made it this far, and that's more than I can say.
But with all due respect to both these guys (and every future #TinyTrades player), this an insignificant and inconsequential trade. It will not change the future for either of teams involved, and in this case it isn't likely to drastically change the career path of either player.
Recent Deadline Day #TinyTrades
There have been some absolute beauty #TinyTrades over recent deadlines.
Leading up to the NHL trade deadline in 2011, the now defunct Atlanta Thrashers had the rights to AHL goaltender Drew MacIntyre. D-Mac had won 20 games for the Thrashers AHL affiliate, but when the Montreal Canadiens came calling with an offer of Brett Festerling straight up for MacIntyre, Atlanta couldn't turn it down. Festerling played just five games with the Chicago Wolves. MacIntyre would lead the Hamilton Bulldogs to game seven of the Western Conference Finals in the Calder Cup playoffs. But don't be confused, this is a classic #TinyTrades deal. Since the swap, Festerling and MacIntyre have a played in a combined total nine NHL games.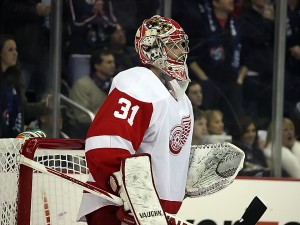 Do you remember where you were when the Toronto Maple Leafs and Anaheim Ducks hooked up for a textbook #TinyTrades deadline day deal? Joey MacDonald appeared in six games for the Maple Leafs during that 2009-10 season, but with a crowded crease featuring J.S. Giguere and Jonas Gustavsson, MacDonald became expendable. The Leafs shipped the journeyman goalie to the Ducks for a 7th round draft selection in 2011. The Leafs subsequently picked Max Everson, who at 22-years-old has yet to play in a single NHL game. Everson played this past season with the Harvard Crimson, posting a mere five points in 29 games played.
Back in 2007 the LA Kings pulled off an epic #TinyTrades that likely went unnoticed by most. Los Angles acquired Jamie Heward from the Washington Capitols for a conditional 5th round draft pick. The pick was conditional on Heward resigning with the Kings. To be fair to Heward, he already played over 300 career NHL games before being dealt to the Kings. What really qualifies this as a #TinyTrades trade, is the fact that Heward played just 19 games in LA before becoming a UFA. The conditional pick was never exercised. The Washington Capitals literally traded Jamie Heward to the LA Kings for no return.
Comment with your Favourite #TinyTrades!
With this being a more satirical piece, I'd definitely encourage readers comment below with their own suggestions for best #TinyTrades of all time!
I personally have to go with Aaron Voros, who has the distinction of being involved in a #TinyTrades deal that actually helped launch his NHL career.
Drafted in the 8th round of the 2001 draft, Voros was struggling to make a NHL roster. That's when the Minnesota Wild gave the Vancouver native the opportunity he needed. The Wild sent a 7th round pick in 2008 to New Jersey for Voros. The Devils used the pick on Jean-Sebastien Berube, who never played a single NHL game. Aaron Voros would suit up in 55 games the next season for the Wild, before totalling 37 points in 162 career games played.
Voros would also be the centrepiece of another #TinyTrades deal in 2011, when the Toronto Maple Leafs picked up Voros from the Anaheim Ducks. Anaheim received a conditional 7th round pick should Voros resign with Toronto prior to the 2011 NHL draft. Voros never did sign with the Leafs, and the conditional pick was not exercised. Another great chapter in NHL #TinyTrades history, as the Leafs acquired Aaron Voros from the Ducks for absolutely nothing.
Nicco Cardarelli writes about all things Toronto Maple Leafs for TheHockeyWriters.com. Nicco has PxP & Color commentary experience calling IIHF, Hockey Canada, OHL and CWHL games. Follow Nicco on Instagram and Twitter @BroBehindTheMic.