Fantasy Hockey Mailbag is a weekly column, answering your questions every Tuesday. No question is too big or too small, so if you want advice or feedback on any topic related to fantasy hockey, just ask away in the comments below.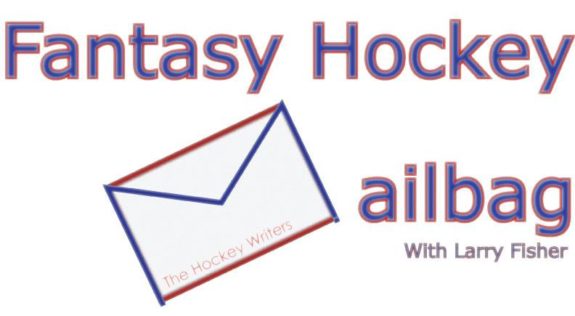 We're four weeks into the fantasy season — essentially a month into the NHL schedule — and, for many leagues, it's becoming clearer which teams are contenders and which are pretenders. The balance of power is starting to take shape.
As a result, the trade winds are really picking up. Fantasy GMs are ready and willing to wheel and deal. There has been next to no movement in real life as NHL GMs are still finding it difficult to bolster their rosters through acquisitions, but in the fantasy world, it seems nobody is standing pat anymore.
That's good news for the Mailbag, with trade-related questions pouring in almost on the daily — both asking for advice and requesting feedback after the fact. Many of them are coming from the usual suspects — Mike Hall and Luc Grenier — two guys that appear to trust (or at least appreciate) my fantasy insight despite not knowing me in real life. I'm in a keeper league with Luc, so there is some familiarity there, but Mike is a total stranger. I enjoy helping them with their teams or at least providing them with my two cents — some of it confidential and some of it fair game for the Mailbag.
Mike had a heck of a week, pulling off two trades that really blew me away and should prove beneficial for his team going forward. Mike landed Oliver Ekman-Larsson straight up for Patric Hornqvist, then packaged Marian Hossa and Alex Goligoski for Ryan Johansen and Jared Spurgeon. To me, he got the best player in both deals with Ekman-Larsson and Johansen. Well played, Mike.
Luc also wound up making a 2-for-2 trade with a win-now focus, acquiring Justin Williams and Dan Boyle for Trevor Daley and Steve Downie. This is a dynasty league, so getting older isn't necessarily a good thing, but in this case, Luc is taking aim at prize money for this season and the addition of Williams will help his chances. It's a pretty fair deal, in my opinion, from an overall value perspective.
If the first four weeks are any indication, you'll be seeing more questions from both Mike and Luc as the season progresses. The more, the merrier for me. If you've got questions, I'll do my best to answer them. You can leave a comment below or fire me an email at larry.fisher31@gmail.com. I'm also active on Twitter and Facebook if you prefer to track me down there.
THW reader Kris Noble asked: Just wondering what your thoughts would be on a trade of Taylor Hall and Erik Karlsson for P.K. Subban and Steven Stamkos?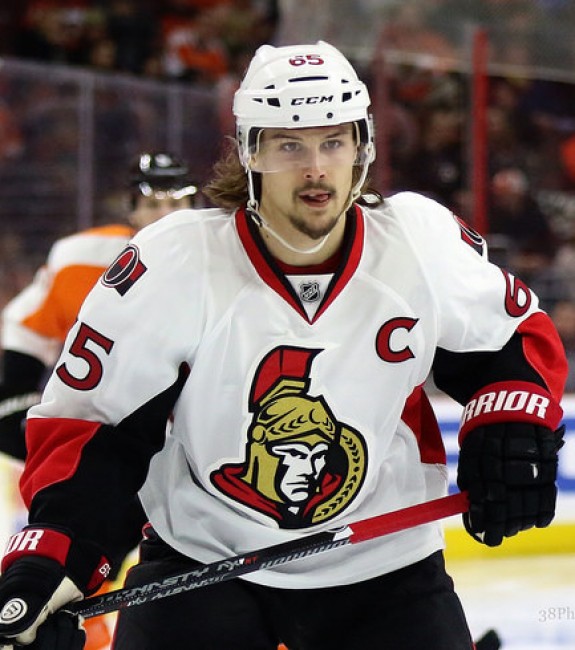 ANSWER: Now that would be a blockbuster! A fair one, in my opinion. Karlsson is off to a bit of a slow start by his standards — still without a goal this season — but he should catch up to Subban and become slightly more valuable than him as the season progresses. Karlsson has led the league in defence scoring in each of the last three full seasons — by six, 13 and 25 points, respectively. That gap is gradually closing, but Karlsson is currently tied for second among defence scoring leaders with 11 points, just one point behind the Montreal pairing of Andrei Markov and Subban, the latter of whom led the league during the lockout-shortened 2012-13 season with 38 points in 42 games. Switching to the proposed forward swap, I would give Stamkos the edge on Hall, but that gap isn't as wide for me as it might be for others. I feel many would consider the defencemen a near wash and consider Stamkos a far superior asset to Hall. Therefore, I think the majority would make that deal if you were the team receiving Subban and Stamkos. Personally, I'd be reluctant to part with Karlsson and Hall, but I might be biased there, having owned both of them on my keeper team for the past five-plus seasons. The value is fair, or as close to fair as it gets with a trade of this magnitude. So you can essentially go with your personal preference on the players involved, whether you prefer Hall-Karlsson or Subban-Stamkos. For me, it's Hall-Karlsson, but I'm probably in the minority there. Go with your gut or follow your heart, and you should be fine either way.
Kris also asked: Would you trade Sean Monahan straight up for John Klingberg?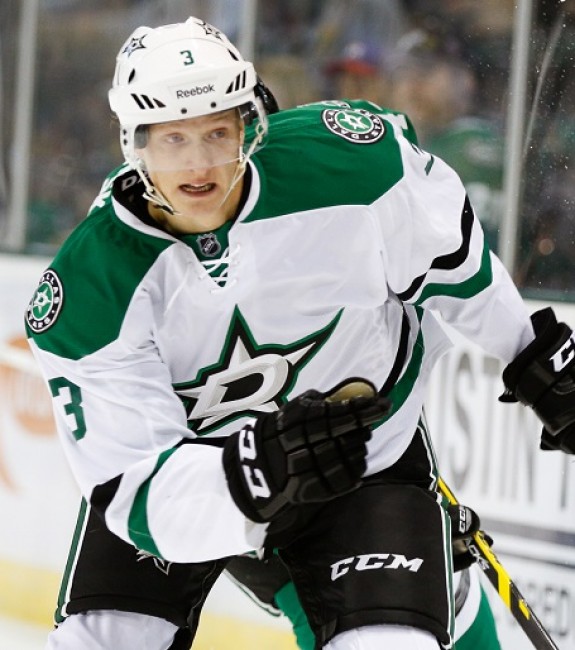 ANSWER: It would depend on the make-up of my roster and my league's scoring system, but I'd be leaning towards yes. If there are separate categories for defence goals or points, then I would absolutely do the deal for Klingberg. He's a fantasy stud, manning the point on Dallas's top power-play unit with Jamie Benn, Tyler Seguin, Jason Spezza and Patrick Sharp. With a supporting cast like that, Klingberg has managed to avoid the sophomore slump and should continue to be a big contributor. He was tied with Karlsson for second among defence scoring leaders with 11 points, including two goals, as of Monday morning. Monahan is a very consistent player in his own right, seemingly a lock for 30 goals and 60 points year in and year out for the Flames. So you know what you're getting — or what you've got — with him. If it's a points-only league, rotisserie style without separating positions, then their value is much closer and Monahan might be worth keeping. Forwards still tend to outscore defencemen — Monahan had 31 goals and 62 points to Klingberg's 11 goals and 40 points last season. Granted, Monahan was a sophomore and Klingberg a rookie. Monahan put up 22 goals and 34 points as a rookie in 75 games, and Klingberg was limited to 65 games last season. Klingberg is actually on pace for 60-plus points as a sophomore this season. The deciding factor here may come down to your roster strengths and needs. If you are loaded up front but weaker on the back end, then moving Monahan for Klingberg makes perfect sense. It's a no-brainer in that case. On the flip side, if you already have Karlsson and a few other big-name blue-liners but Monahan is among your best forwards, then perhaps you should hang onto him and pass on a deal like this. Too much of a good thing can be a bad thing, especially if you're forced to bench one of your top defencemen on the busy nights to make room for Klingberg. All things equal, I'd want Klingberg on my fantasy team over Monahan. Why? From my experience, elite defencemen are harder to acquire than forwards — in fantasy and, not coincidentally, in real life too. Reason being, there are fewer elite defencemen to go around, so if you have a chance to land one, I'd say go for it.
---
My Fantasy World
Keeper 1
Linus Ullmark, you are my hero. The Buffalo Sabres rookie goaltender rallied my team to victory on the weekend, turning a 7-2-1 deficit into a 5-3-2 triumph over our defending regular-season champion. That result was thanks in large part to stealing both goalie categories on the strength of Ullmark's wins over the Flyers and Islanders, and aided by Sergei Bobrovsky sieving out for my opponent on Saturday. Ullmark allowed only two goals — one in each game — and posted save percentages of .964 and .967. Not bad for a kid I claimed off waivers on Thursday, assuming he might get his second career start on Friday after a mediocre 4-3 loss to the Devils in his NHL debut back on Oct. 24.
With Robin Lehner nowhere near returning — still expected to miss another month or more — and with Chad Johnson a below-average backup, the ball is suddenly in Ullmark's hands and he's running with it so far. Unfortunately for me, the Sabres only have two games this week, at home to Tampa Bay on Thursday and Vancouver on Saturday. I'm assuming Ullmark will get to start against the Lightning, but that'll be his biggest challenge to date, especially considering the Islanders were without John Tavares on Sunday.
I'll need a big effort out of Ullmark because he's my go-to goalie this week with Carey Price joining Jacob Markstrom on my Injured Reserve. My only other active netminder is Curtis McElhinney, the seldom-used backup for Columbus who actually replaced Bobrovsky and stopped all 16 shots he faced against Winnipeg. Was that enough to earn McElhinney the start tonight in San Jose? Here's hoping because I need a minimum of two starts as per league rules.
Either way, it would take a miracle to even split the goaltending categories this week against an opponent running Frederik Andersen, Semyon Varlamov and Joni Ortio. Then again, he's shocking only got three wins from that trio in 21 combined games. Andersen won on Sunday and I'm fully expecting them to break out against my team this week.
This is another big matchup — he's tied for third in our standings, with 50 points through four head-to-head weeks of 10 scoring categories, while I'm sitting fifth, with 47 points. Wish me luck, because I'm going to need it — especially without Price, who had been my key to success prior to getting lit up and hurt in the process last week.
My handful of Oilers have been great — with the exception of pointless Anton Lander — but Sidney Crosby continues to disappoint. He's been limited to only one goal and five points on the season and has been held off the scoresheet in nine of 11 games to date. I really need him to pick up the pace this week with the Penguins on a Western Canadian road trip, facing off against the Canucks, Oilers and Flames. Light them all up for all I care. Here's hoping for a high-scoring barnburner in Edmonton, with Taylor Hall, Ryan Nugent-Hopkins, Nail Yakupov, Benoit Pouliot and even Lander finding the scoresheet on Friday night.
I'm also hopeful that my other waiver claim from last week — Detroit forward Tomas Jurco — can get it going offensively, or at least find a way to stay in the lineup. He's been a healthy scratch more often than not this season and was consequently dropped earlier in the week by the team that drafted him in our league. Jurco's got mad skills (as you can see below) and I'm still feeling good about adding him for Philadelphia defenceman Brandon Manning.
In other news, our first seller has emerged, but he's been getting great value in exchange for his top talents. He's in last place in our 20-team league — six points back of 19th and 39 points behind the standings leader — so his focus has understandably shifted to future seasons. He's been our most active GM, with seven total trades, including five from a seller's approach. Here's his body of work so far:
INCOMING = Cam Ward and Karri Ramo
OUTGOING = Craig Anderson and James Reimer
---
INCOMING = Henrik Lundqvist and Nicolas Roy (Carolina fourth-rounder in 2015)
OUTGOING = Cam Ward, Dougie Hamilton and Sean Couturier
---
INCOMING = Rick Nash, Aleksander Barkov and a 2016 third-round pick
OUTGOING = Patrick Kane
---
INCOMING = Jaden Schwartz, Scott Darling and a 2016 second-round pick
OUTGOING = Rick Nash and Mikko Koivu
---
INCOMING = Valeri Nichushkin, Calle Jarnkrok, Travis Sanheim (Philadelphia first-rounder in 2014) and Malcolm Subban (Boston first-rounder in 2012, goalie)
OUTGOING = Phil Kessel
---
INCOMING = David Jones, Colin White (Ottawa first-rounder in 2015) and Zane McIntyre (another Boston goalie prospect)
OUTGOING = Patric Hornqvist
---
INCOMING = Jake Virtanen
OUTGOING = Zdeno Chara, Beau Bennett and Nicolas Roy (Carolina fourth-rounder in 2015)
ANALYSIS: He gave up a lot — shipping out the likes of Kane, Nash, Kessel, Hornqvist, Koivu and Chara — but he got impressive returns for the most part. The future is bright for this team, building around Jack Eichel as its franchise player. The supporting cast now includes Barkov, Schwartz, Nichushkin, Virtanen, Malcolm Subban, Sanheim, White and a couple picks, among others. This team will be fun to watch next season, and the rebuild may not be complete yet with the potential to still move Lundqvist as his last remaining big fish unless somebody bites on a guy like Alex Semin.
Parity still prevalent
The rest of the league remains competitive, by far the most parity we've ever seen in this our sixth season. The teams from fifth to 17th in the standings are all separated by one point, with the exception of two points between 13th and 14th. Still, there are only 14 points — or seven category wins — between fifth and 17th, which is incredible after four weeks. There are 24 points between first and 17th, so even that spread isn't insurmountable. It's still wide open and a big win or a big loss really impacts your place in the standings.
Here are a couple more trades that went down in this league over the last week:
INCOMING = Steven Stamkos, Al Montoya, Zack Phillips and Petri Kontiola
OUTGOING = Ryan Getzlaf, Jeremy Bracco, 2016 second-round pick and 2016 third-round pick
ANALYSIS: This was a cool blockbuster too, with Stamkos the best player in the deal — especially since we switched to shots on goal as a category (replacing plus-minus) for this season — but that return is full of quality. Getzlaf is going to be productive once he gets back, which could be this week, while Bracco is looking really good since arriving in the OHL. That GM, who is currently in 17th place and could become a seller, is a big Leafs fan and adds Bracco to a long list of Toronto prospects on his roster, including Mitch Marner, Connor Brown, Nikita Soshnikov, Frederik Gauthier and Zach Hyman, plus active players Jake Gardiner, Leo Komarov, Peter Holland and James Reimer. For those keeping count, that's 10 Leafs and the potential for a couple more with those picks. The other GM has Roberto Luongo, so it also made sense to get Montoya for the Florida tandem in goal. Phillips and Kontiola, who busted in Toronto last season before returning to the KHL, will be lucky to ever play another NHL game, but they could serve as throw-in assets for future deals.
INCOMING = Nick Leddy
OUTGOING = David Perron, Artturi Lehkonen and Mattias Backman
ANALYSIS: Defencemen are difficult to acquire in this league, so that's the price you have to pay. That was actually our standings leader who parted with Leddy, a bit surprising, but he does have Brent Burns, T.J. Brodie, Dion Phaneuf and Anton Stralman as his top-four, so he was dealing from a position of strength. Chances are, he plans to flip those prospects for an upgrade somewhere else.
---
Keeper 2
I managed to squeak out a victory here too, but it wasn't nearly as fulfilling. After two strong weeks statistically to start the season, my team has been struggling as of late. Fortunately, this slump has come in an easier stretch of my schedule against the two bottom feeders from my seven-team division in this 28-team league.
Granted, last week was a "battle" of teams with identical 1-2 records, my roster was quite a bit stronger on paper with that opponent still in a rebuilding stage. His trio of Bruins forwards — Matt Beleskey, Jimmy Hayes and Brett Connolly — kept it close by combining for 51.2 fantasy points, but I managed to prevail 124.2-114.2 to get back to .500 on the season. Now, I'm getting to play a winless (0-4) opponent, albeit one that is underachieving in my opinion, with a dangerous up-and-coming roster.
Nobody on my roster cracked 20 points last week — my top point-producers was Cody Franson, at 19.4 — and I posted the eighth-worst total. Ironically, I was ranked as the eighth-worst team in our pre-season power rankings, but I'm still planning to exceed those insulting expectations.
That said, I'm not a buyer at this point in the season and rejected a couple of trade offers as a result. I turned down Nick Holden and Mattias Janmark for Gustav Forsling, and also passed on Lee Stempniak for a 2016 third-round pick. I'm still trying to figure out what I've got with this team, and I don't want to mortgage the future for marginal upgrades — especially if I really am the eighth-worst team. So I'm staying the course for the time being, hoping for a better effort from my boys this week — I believe they are capable of 150-plus points week in and week out, so hopefully they start proving me right sooner than later.
As per usual, I'll leave you with a few trades from this league over the past week:
INCOMING = James van Riemsdyk
OUTGOING = Matt Duchene
---
INCOMING = Luke Schenn
OUTGOING = Ben Lovejoy
---
INCOMING = Brandon Davidson
OUTGOING = 2016 third-round pick
---
Do you have a question for the Fantasy Hockey Mailbag? Ask it in the comments below.
Larry Fisher is a sports reporter at The Daily Courier in Kelowna, British Columbia, Canada, and an at-large contributor for The Hockey Writers. Follow him on Twitter: @LarryFisher_KDC.
Larry Fisher is a senior writer and head scout for The Hockey Writers, having been an at-large contributor for THW since August 2014. Fisher covers both the NHL and the WHL, specializing in prospects and NHL draft content, including his annual mock drafts that date back to 2012. Fisher has also been a beat writer for the WHL's Kelowna Rockets since 2008, formerly working as a sports reporter/editor for The Daily Courier in Kelowna, British Columbia, Canada from 2008-2019. Follow him on Twitter: @LarryFisher_KDC.