This is the fifth edition of weekly roundup. In this article we take a look at the last seven days of hockey in the NHL. The article will focus on players who might not be a franchise star, but have been lighting the lamp. We also look at the stars of the game who aren't getting on the score sheet for their team.
Worth a Look
Valeri Nichushkin – Owned in 17% of Yahoo leagues
Val Nichushkin with a FILTHY drop pass for Tyler Seguin, and the #Stars take a 2-1 lead.#WFAAStars #Canucks #NHL pic.twitter.com/meEzLM1Iw3

— Mike Leslie (@MikeLeslieWFAA) December 4, 2015
The Stars forward had a solid rookie season in 2013 scoring 34 points in 79 games. The following year he only played eight games before opting to have hip surgery. Many people had high expectations for Nichushkin coming into this season, expecting him to improve on his numbers from two years ago. That was not the case at the beginning of the season as Nichushkin only managed five points in his first twenty games. Nichushkin is now on a bit of a streak managing four points in his last five games, putting him at nine on the year. While his numbers are still very underwhelming, the 10th overall draft pick has been promoted to the top line and is now playing with fantasy assets Tyler Seguin and Jamie Benn. Nichushkin has earned the praise of Dallas coach Lindy Ruff who said that "he just keeps getting better and better." Nichushkin is a talented player who may have finally hit his stride, albeit a little later than people were hoping. He is likely to continue to produce solid numbers if he stays on the top line and keeps playing like he has been over the past week.
Jamie McGinn – Owned in 2% of Yahoo leagues
Check out this #CarubbaCollision from Jamie McGinn! 💥 RT for a chance to win tickets.

Rules https://t.co/Q3QnMnnFuvhttps://t.co/g0rFRwXNJQ

— Buffalo Sabres (@BuffaloSabres) December 2, 2015
McGinn is on a role right now. The Sabres forward tied the longest point streak of his career (five games) on Sunday and has six points over that span, putting him at 12 points in 27 games on the year. McGinn is by no means known for his goal scoring or point production but has been very solid as of late. He has been playing on the first power play unit alongside Ryan O'Reilly and Evander Kane and is playing even strength with Jack Eichel. He may not be a necessary option for pick up in your keeper league, however he might be a smart sleeper pick in weekly pools as the Sabres have four games this week.
Justin Abdelkader – Owned in 44% of Yahoo leagues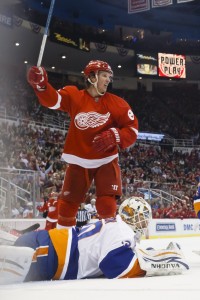 Abdelkader has been very streaky this year for the Red Wings. He started out hot, managing five points in his first two games. He then cooled right down, going nine games without a point. Due to injuries Abdelkader has been placed on the top line alongside a healthy Pavel Datsyuk and Henrik Zetterberg. The injuries come to Drew Miller, who is out with a broken jaw, and Teemu Pulkkinen, out with a dislocated shoulder. Playing with big name players have helped Abdelkader's production, as he has five points in his last three games. The winger now has 17 points in 27 games and his numbers will continue to improve as long as he is on the first line, which should be the foreseeable future as Miller and Pulkkinen are both expected to be out for over a month. As long as he is playing on the first unit, Abdelkader is worth a pick up in keeper and weekly pools.
Not Producing
Brandon Saad
Brandon Saad played on the fourth line in Columbus' 4-1 win on Saturday. The forward only has one point in his last six games. Saad recorded 52 points in 82 games a year ago on a loaded Blackhawks roster and everyone expected his production to decrease somewhat after being traded to the less offensively talented Columbus Blue Jackets. Saad has decent numbers, with 16 points in 27 games this year, but has been struggling as of late. Saad is currently on pace for 48 points, which is still respectable, but is not a reliable option for the time being.
Joe Thornton
The veteran centre's production has tailed off a bit this year in comparison to others. He has 15 points in 26 games this year for the Sharks, only 3 of which are goals. In his last eight games Thornton has only managed one assist and is a minus one rating. Thornton may not be the point per game player that he used to be, as he is currently on pace for 47 points. He is still a solid option in keeper leagues however with his knack for getting assists and playing alongside Joe Pavelski.
Tyler Johnson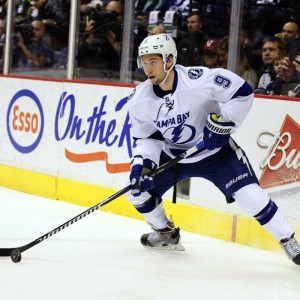 The speedy Lightning forward has struggled this season with injuries missing six games. He has 11 points in 22 games, on pace for much lower than his 72 points in 77 games last year. Tampa Bay has had a difficult year so far and is currently in eleventh place in the Eastern Conference. Superstar Steven Stamkos' production is also off this year, as he leads the team with 20 points in 28 games. Johnson is bound to pick it up and owners, despite frustration, should hold onto him in keeper leagues. However, until he gets out of this funk, is not a reliable option in weekly pools.
Tune in next week as we look at the who's who in NHL fantasy hockey.