It must be the offseason, a vocal minority of North Dakota hockey fans are once again calling for the ouster of head coach Dave Hakstol.  This time, some of those same fans want Hakstol to take the whole coaching staff with him.
Fire Hakstol, not likely.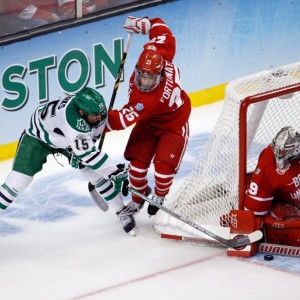 I can predict with great confidence that the Hakstol haters aren't going to be very happy.  First, Hakstol isn't going anywhere, unless he takes another job (which could happen) or his team has a couple of losing seasons and they miss the NCAA tourney. Then maybe, he gets fired.
Second, UND Athletic Director Brian Faison isn't going to fire a head coach that's led his team to the NCAA tourney every season that he's been the head coach at UND. Also, his team has made the Frozen Four on a regular basis ( seven of ll seasons he's been the head coach).
Firing him would defy logic. It makes no sense what-so-ever. It's not going to happen, and if UND was silly enough to fire Hakstol, he would be picked up almost immediately.
The Hakstol file
UND hockey has a passionate, loyal following. The UND hockey team has been stuck on seven titles for 15 years. The fan base is getting antsy and wants to see their team win a national title. That's not an unreasonable expectation.
During his 11-year coaching career at UND, Hakstol's teams have amassed a 289-142-43 (.655) record.
Under coach Hakstol, UND is 54-23 (.701) combined in the conference and NCAA tourney.  For those that are keeping track at home, that's 19 more wins than any other NCHC school.
Making the NCAA tourney is no easy task. Under coach Hakstol, UND has made the NCAA tournament 11 consecutive years.  That's the third-longest streak of any coach in NCAA tournament history. Only Michigan's Red Berenson (22, 1991-2012) and Minnesota's Gophers former head coach Doug Woog (12, 1986-97) have had longer streaks.
During Hakstol's tenure as head coach, his teams are 17-11 in the NCAA Tournament, that's second only to Boston College's Jerry York (21). During  that period, UND has gone to the regional final nine of 11 seasons and has a 7-2 record in regional finals.
Conference credentials: Hakstol resume includes four Final Five Championships (WCHA), two MacNaughton Cup Championships (WCHA), one Penrose Cup (NCHC).
Hakstol's Frozen Four file
Hakstol's record in the Frozen Four is well documented. After losing 5-3 to the Boston University Terriers in the semifinals, coach Hakstol now has a 1-7 record in the Frozen Four. Hakstol's teams have lost 6 semifinal games in a row. Again, this is the only blemish on coach Hakstol coaching legacy.  Many teams never get a chance to go to the Frozen Four or make the NCAA tourney.
In conclusion, while I don't agree with him all that often, I do think Ryan Lambert of Puck Daddy has a point.
"As always, the question you have to ask yourself when you want to fire your coach is, Who's going to do better? The answer in this particular case is, No one. So shut up."
Eric is a 1996, 1999 graduate of the University of North Dakota. Eric covers the University of North Dakota Hockey and Division I college hockey. Eric is the Contributing Editor for Inside Hockey.