The Philadelphia Flyers currently hold two third round picks and two fourth round picks in the 2015 NHL Draft. Over the years, Flyers fans have become accustomed to seeing those picks thrown away as "pot sweeteners" in trade deadline deals (see Grossmann, MacDonald, etc.). However, this year was different. The Flyers stockpiled picks and now hold quite a few.
With the emergence of players like Tyler Johnson and Nikita Kucherov, more and more hockey fans are seeing the value in having highly skilled, yet undersized players in their line-up. Everyone is aware of the high profile undersized players like Patrick Kane and Martin St. Louis, but more and more quality players seem to be below 6'0″. With the emergence of undersized players who either went undrafted (Johnson) or fell in their draft year (Kucherov), it may be a good strategy for the Flyers to target some of these players in the later rounds.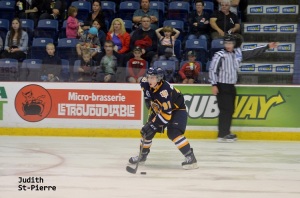 1. Anthony Beauvillier – C – 5'10" – 173lbs
League: QMJHL
Team: Shawinigan Cataractes
Regular Season Stats: 67GP – 42G, 52A – 94pts
Playoff Stats: 7GP – 2G, 5A – 7pts
There are no guarantees that Beauvillier is available in the third round, much less the fourth round. He jumped for 49th at the mid-terms to 33rd in Central Scoutings Rankings, while finishing in the top 10 in QMJHL scoring (8th). He has a wide array of talents and according to Curtis Joe (Eliteprospects.com) he is an "equally efficient a passer as he is a goal scorer."
These factors lead me to believe that he may go somewhere in the 2nd round. He is not an unknown commodity.
His incredible speed, skating, and shot can be seen in the video highlights below.
2. Sebastian Aho – D – 5'9″ – 165lbs
League: SHL
Team: Skelleftea
Regular Season Stats: 41GP – 1G, 8A – 9pts
Playoff Stats: 10GP – 1G, 4A – 5pts
Aho was actually eligible for the 2014 NHL Draft because his birthday falls in February of 1996, but he was not selected. After the full body of work that Aho put into the 2014-2015 season, there is little doubt that he will be selected this year.
Over the course of the last three seasons Aho has played a total of 63 games in the SHL, scoring two goals and adding 12 assists. Therefore, Aho may be an undersized defenseman, but he has been playing against grown men since he was 17 years old. He has now proven that he can play against adults and that would make him well prepared for the physicality of the NHL.
It should also be noted that Aho was a stalwart for Sweden at the World Junior Championships this past year. He earned a goal and three assists in seven games for Sweden, making him the second highest scoring defenseman in the tournament. He attempted 15 shots on goal during the tournament and was a vital to the Swedish squad.
3. Kirill Kaprizov – LW – 5'9″ – 185lbs
League: KHL
Team: Novokuznetsk
Regular Season Stats: 31GP – 4G, 4G – 8pts
Like Aho, Kaprizov has played against grown men all season. He may be small in stature, but he is used to playing against adults who are much bigger than him. The vast majority of draft-eligible Russians spent the 2014-2015 season playing in the MHL (The Russian junior league) or in North America for a CHL team. Other than Kaprizov, the only other draft eligible Russian prospects that played a majority of the season in the KHL are draft re-entry candidates (i.e., they were passed up last year, but have since broken into the KHL. Therefore they are a year or two older the Kaprizov).
Prospect experts and scouts have praised his hockey IQ and creativity (paywall in link) and his jump from 61st to 29th in CSS European Skaters rankings shows that he has been raising his game throughout the season. If available, Kaprizov would be a fantastic under-the-radar pick in the 3rd or 4th round.
4. Connor Garland – RW – 5'8″ – 163lbs
League: QMJHL
Team: Moncton Wildcats
Regular Season Stats: 67 GP – 35G, 94A – 129pts
Playoff Stats: 16GP – 3Gm 22A – 25pts
It is hard to believe that the leading scorer in the QMJHL would be an "under-the-radar" player or that he would be relegated to a 3rd or 4th round pick. However, Garland is tiny (Tyler Johnson size!) and drastically improved from last season. Like Aho, Garland was eligible for the 2014 draft and is a year older than many players who will be picked in 2015.
Connor Garland is known for his skill and skating. They are both, along with a willingness to "take a hit to make a play" and his anticipation, on display in the shift below.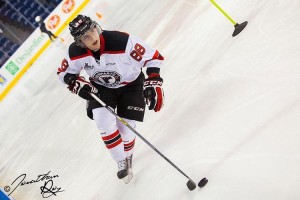 5.
Dmytro Timashov
– LW – 5'9″ – 192lbs
League: QMJHL
Team: Quebec Remparts
Regular Season Stats: 66GP – 19G, 41A – 90pts
Playoff Stats: 22GP – 3G, 15A – 18pts
Dmytro Timashov had a splendid first season in North America. After spending the past few years in the MODO system in his homeland of Sweden, even playing three games in the SHL during the 2013-2014 season, Timashov came over to the QMJHL this past season.
He was consistently in the top-10 in QMJHL scoring this season, although due to a slow second half he finished 12th overall in scoring. His points per game average did dip in the second half of the season, but even so, he averaged 1.18 points per game over his final 33 contests. Beyond his point totals, Timshov is fantastic at exiting the defensive zone with possession and can be an effective player even when starting a majority of his shifts in the defensive zone.
When all is said and done, the Flyers need to pick the best available player with each and every pick. However, with the general bias towards big, bruising forwards, there is a good chance that one of these highly skilled gems will make it to the 3rd or 4th round. If so, the Flyers would be wise to take advantage.
I am 23 years old and I've been a Flyers fan since I was six years old. I love to break down the game and take a look at prospects. I always appreciate your thoughts and feedback, so feel free to use the comment section or interact with me on Twitter.