Per St. Louis Blues rinkside reporter Andy Strickland, the Calgary Flames have re-signed right winger Buddy Robinson to a one-year, one-way deal worth $700,000. The re-signing comes on the opening day of NHL free agency, a time where many NHL general managers, including Calgary's own Brad Treliving, are hard at work. Robinson was originally signed in March of 2013 by the Ottawa Senators as an undrafted free agent, and had only played seven NHL games before the Flames originally signed him to a two-year, two-way contract in July of 2018.
In 2019-20, he played 45 regular season games for the AHL Stockton Heat where he earned 18 goals and 14 assists. With the Flames, Robinson played just five games, but he did score his first goal as a Flame against provincial rival, the Edmonton Oilers. Despite feeling like maybe we haven't seen a big enough sample size of Robinson in the NHL, size certainly isn't an issue for him.
Who Is Buddy Robinson?
Clocked in at 6-foot-6, and 231 pounds, Robinson has the ability to create space for his linemates, as well as making them feel protected. Aside from scoring one goal with the Flames last season, he also had one fight against Oiler's forward Jujhar Khaira, as well as one minor penalty during his five games with the Flames last season, so standing up for his teammates while remaining fairly disciplined is also something Robinson can provide.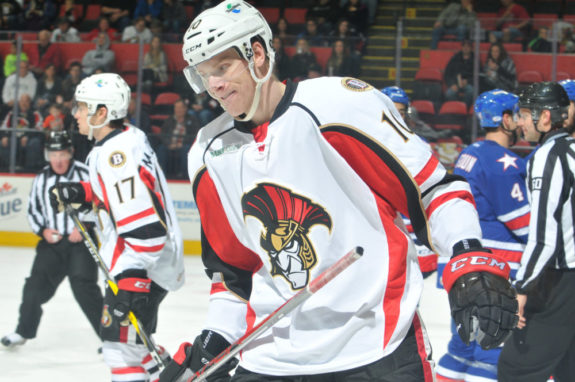 I feel that Robinson will have to prove himself early if he wants to stay, as the Flames don't have a lot of room for error next year. This re-signing is a very low risk move judging by the price tag, because at league minimum, you can't really go wrong. Robinson just needs to come out and play with the fire and passion that he displayed during his five games with the big club last season.
New Jersey Connection
Growing up in New Jersey, Robinson actually grew up in close proximity to Flames star forward, Johnny Gaudreau. Robinson and Gaudreau were coached by Johnny's dad, Guy Gaudreau at the Gloucester Catholic High School hockey team. Not only were they teammates, but they were also linemates, and that is a future line combination I would like to see Flames coach Geoff Ward toy with a little more next season.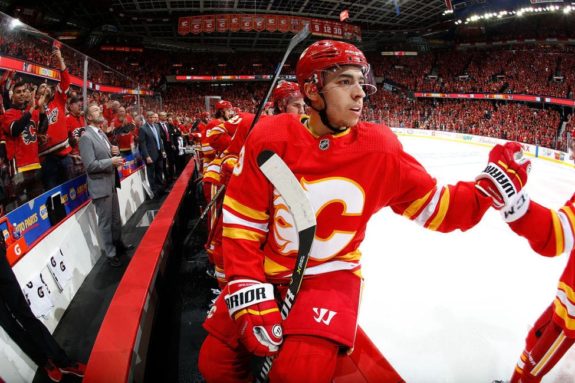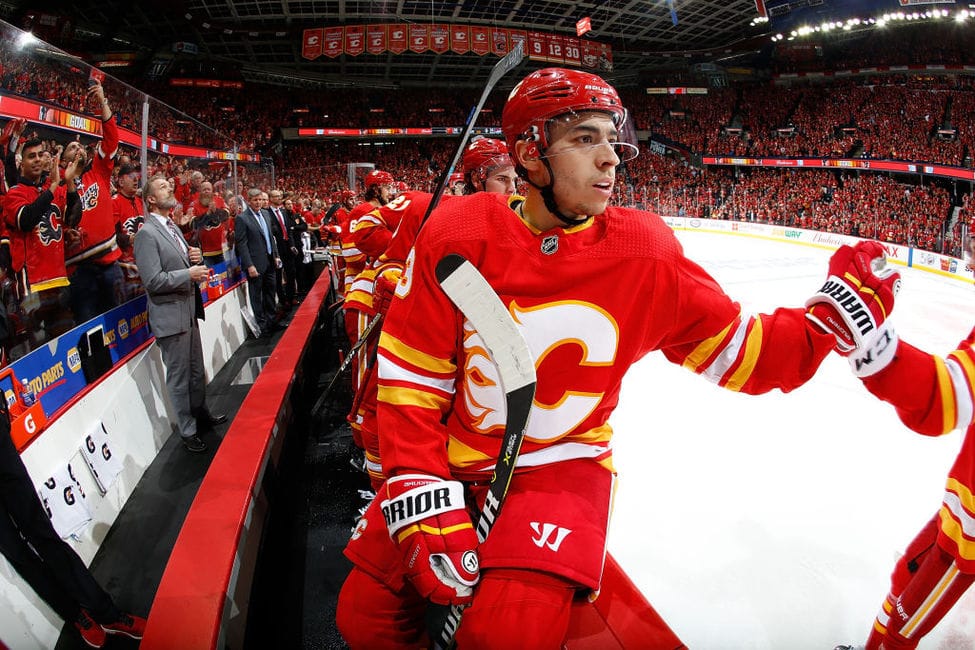 The reason why a line combination of Gaudreau, Monahan, and Robinson could work out if the option of Lindholm on the right side ever runs dry, is mainly because with Gaudreau at 5-foot-9, Robinson comes in and adds some serious size and strength.
Not only that, but if Gaudreau and Robinson were to play on a line, a lot of that previous playing experience together also improves their chances of having good line chemistry. Gaudreau set up Robinson on his only goal with the Flames, so I'd expect more to come if the opportunity is given.
Changes Open Doors
The Flames have lost forwards Alan Quine, Mark Jankowski, and Tobias Rieder so far due to not coming to terms and re-signing with the Flames. These three played bottom-six roles, so it is likely that Robinson could slot in on the right side of the fourth line to replace Rieder. If that is the case, it could be a smooth transition from the AHL to the NHL while receiving moderate ice time.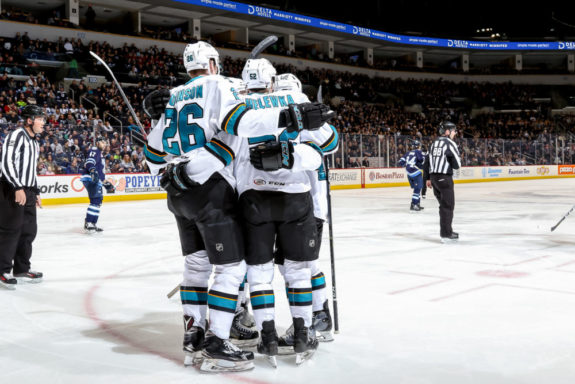 Robinson also has experience killing penalties, and claims its something he wants to do more of, (from 'Q&A: Buddy Robinson on his name, his heroes, his NHL debut, his brother and his Flames call-up,' The Athletic, 02/06/20) so he could be a really nice replacement for Rieder or Jankowski when it comes to special teams. Regardless of the changes to Calgary's lineup, I expect Robinson to be able to fill in up and down the lineup when called upon.
Wait and See
The last report we heard is that the NHL looks to begin the 2020-21 regular season on Jan. 1, 2021. That is plenty of time for players to train and get back into game shape, and for Buddy Robinson, that is likely his only focus from now until the drop of the puck on next season. This will be his first shot at the Flames' full-time roster, so he will want to make a pivotal impact early.
Luckily for Robinson, the Flames are giving him a prime opportunity to showcase himself. At 29 years old, Robinson has clearly found an organization who wants to see him succeed.
---
---