They say "familiarity breeds contempt". 
The old adage could ring especially true if the NHL implements a much-hyped all-Canadian division when the league returns to action in the new year. It's no secret that sports rivalries intensify exponentially when the same two teams square off against each other multiple times in a season, and especially in the playoffs.  
A Pre-1967 NHL Saw the Original Six Teams Play Each Other 14 Times a Year
In the early 1980s, there were eight games scheduled between divisional rivals per season. And now, depending on the length of the season, the possibility of a seven-team all-Canadian division could see each franchise face off against each other eight, ten, or even twelve times. The Calgary Flames haven't experienced anything close to that kind of repetitive schedule since they played in the old Smythe division. 
This newfound familiarity with a whole whack of new divisional opponents could really kick start some new rivalries, or even reboot some old ones that have faded away over the years. Let's dive into this theoretical all-Canadian division to see which match-up has the best odds of igniting a passionate new feud with the Calgary Flames.
Flames vs. Oilers
Last season saw the undeniable resurrection of the beloved Battle of Alberta, so the Edmonton Oilers could hardly be considered a new rival. But, that doesn't mean the two Alberta NHL squads can't continue to ramp up their long-standing provincial rivalry.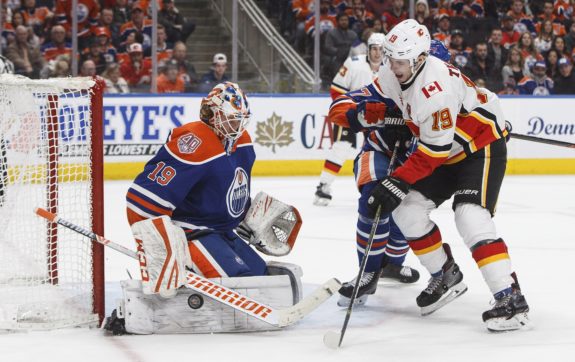 Matthew Tkachuk's multi-game beef with Zack Kassian, David Rittich's victorious post-shootout stick-toss celebration, and even that incredibly lopsided goalie fight between Mike Smith and Cam Talbot has all but ensured the intensity of this rivalry will go off the charts when the new season begins. Odds of rivalry increasing: 100%.
Flames vs. Canucks
It's safe to say that before the Battle of Alberta was reignited, the Flames' biggest rival over the past two decades has been the Vancouver Canucks. A lot of the recent bad blood can be chalked up to playoff match-ups in 2015, 2004, 1994 and 1989 as well as that surreal line brawl in 2014 two seconds into the game.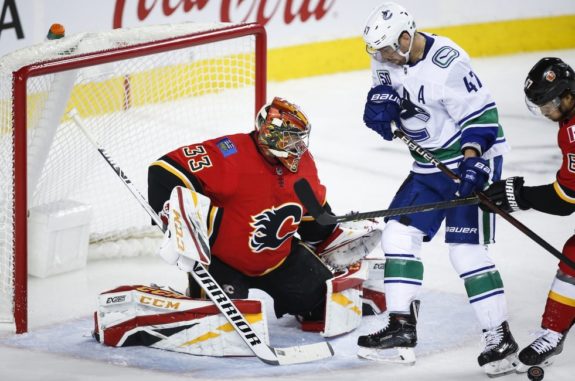 Adding fuel to the fire is the recent roster raid that saw the Flames welcome former Canucks Jacob Markstrom, Chris Tanev, Josh Leivo and Louis Domingue into the fold. Odds of rivalry increasing: 90%.
Flames vs. Jets
For much of the 1980s, the Flames, Jets and Oilers were all great teams. All three former Smyth division rivals faced off against each other in multiple playoff series and that cemented a very acrimonious legacy that was a lot of fun to watch. Unfortunately, that connection was severed when the Winnipeg Jets franchise moved to Phoenix in 1996. When Winnipeg finally rejoined the league almost a decade ago, the Jets were no longer in a division with their old western Canadian counterparts, and the traditional rivalry never rematerialized.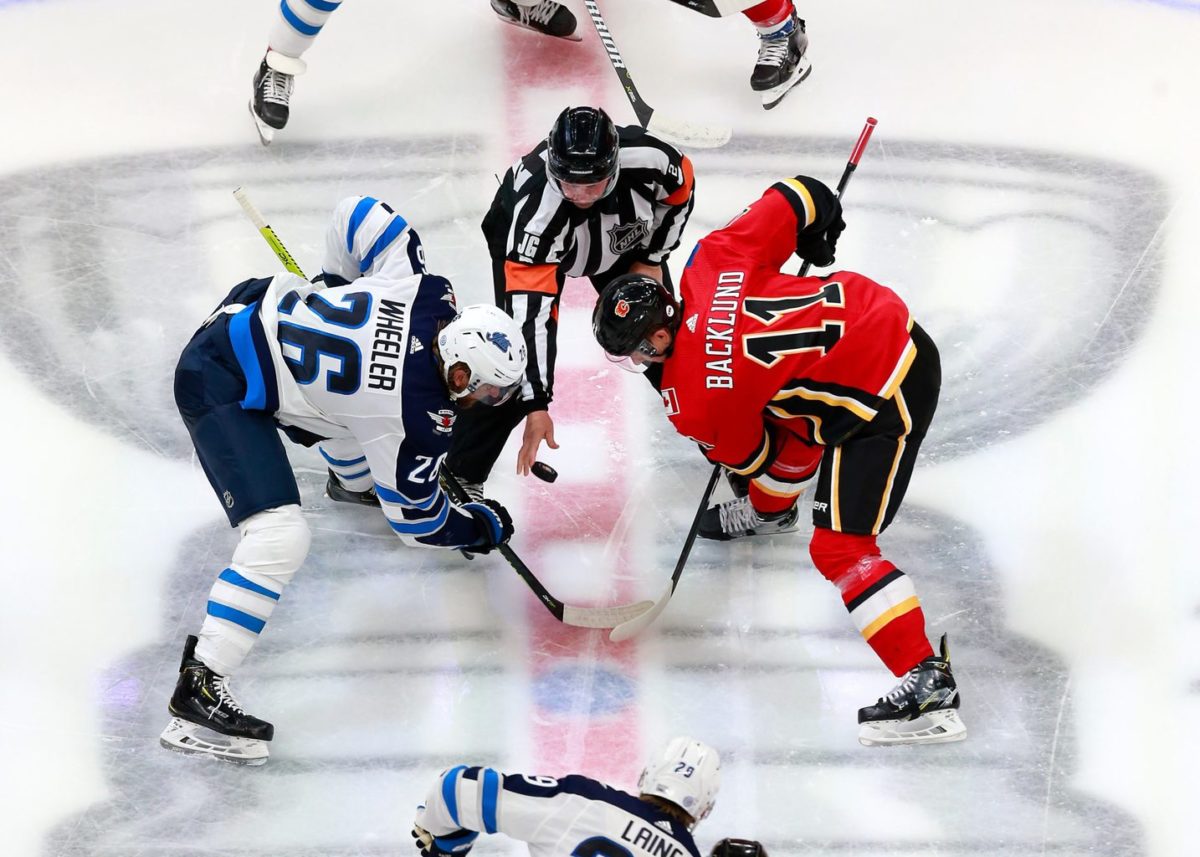 However, an incident that occurred early in the Flames/Jets play-in round this past summer could be the spark this once great rivalry needs to reignite. Tkachuk's hit on Mark Scheifele knocked the Jets star out of the post-season and head coach Paul Maurice made headlines for calling it dirty and reckless. Could butting heads ten times in a single season finally reboot this historic feud? Odds of rivalry increasing: 85%.
Flames vs. Senators
It's no surprise that Tkachuk's name has popped up a couple of times in this article, as the Flames star winger seems to find himself smack dab in the middle of most disputes with other NHL teams. While the brother vs. brother angle with the Ottawa Senators isn't exactly a controversy, it does create an appealing connection worth watching.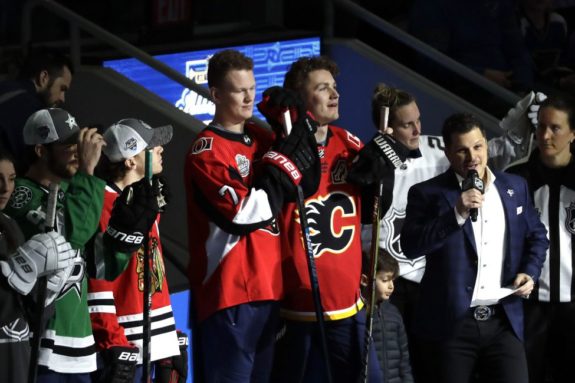 While mom has made Matthew and Brady promise not to fight one another, I think many Flames fans will want to see how the two will interact when they play each other more than twice a season. Let's hope the Tkachuk brothers ratchet up the intensity on the ice a bit more than they do in their recent "nerf battle" social media campaign. Odds of rivalry increasing: 70%.
Flames vs. Canadiens
Outside of western Canada, the Flames' most historic rival has to be the Montreal Canadiens. The two teams met in the 1986 and 1989 Stanley Cup finals, and more recently, Calgary hosted the Habs in the Heritage Classic outdoor game in 2011.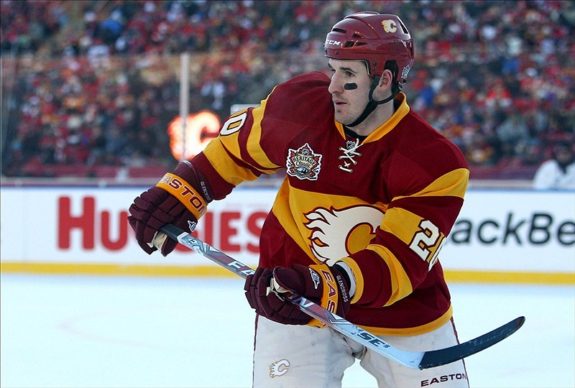 Along with their star netminder Carey Price, Montreal has always been a huge draw at the Scotiabank Saddledome, but in recent years, there hasn't been a whole lot of fire when the two clubs have gone head-to-head. Call me crazy, but I don't think adding multiple meetings will do much to turn up the heat in this classic match-up. Odds of rivalry increasing: 10%.
Flames vs. Maple Leafs
If you've ever been to the Dome when the Toronto Maple Leafs are in town, you may be scratching your head as to why I've placed the Buds so far down this list. A legion of true-blue Leafs fans always makes for a circus-like atmosphere wherever they play in Canada, so why wouldn't multiple meetings take this classic Canadian rivalry to the next level?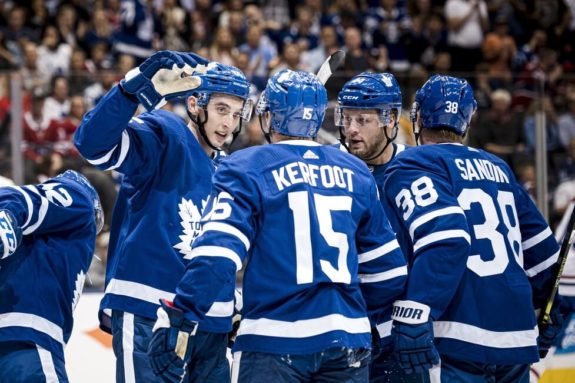 That's easy. No Leafs fans in the seats equals no fun. We don't know if or when spectators will be allowed back into NHL arenas, but until that happens, this rivalry will stagnate. Even the addition of longtime Flames defenceman T.J. Brodie to the Maple Leafs lineup will do little to move the needle. Odds of rivalry increasing: 5%.
Debate Over How Many Games the Next NHL Season Will Be
At this point, a 48, 60 and even a full 82 game slate are all still on the table. Regardless of what the number is, a potential all-Canadian division would produce an NHL season like we haven't seen since 1966, and I can't wait to see if it leads the Flames into a new era of heated, long-lasting and extremely fun to watch Canadian rivalries.
---
---