After seeing some serious improvement in the play of the Calgary Flames' blue line over the past couple of months—highlighted by the acquisitions of Michael Stone and Matt Bartkowski—it's easy to forget just how inconsistent the defensive unit had been for months.
The struggles of TJ Brodie, Dennis Wideman, Jyrki Jokipakka and others were a major contributing factor to the Flames' up-and-down play through the first half of the season.
Despite the troubles in the second and third pairings, though, from game one until now the team's top pairing of Mark Giordano and Dougie Hamilton has been carrying the back end, playing as well as any unit in the game.
Which Canadian team has the best defense pairing?https://t.co/s00zVxjvbN pic.twitter.com/N8JGZ1XVEQ

— Andrew Berkshire (@AndrewBerkshire) March 27, 2017
While Flames fans are used to Giordano leading the way as the team's best defenseman, and he's still playing at a top level, it looks as though this is the year the torch has been passed on. Hamilton has not only emerged as the best defenseman on this team, but he's quietly staking his claim as one of the league's best.
Back in December, we took a first look at how Mikael Backlund was a dark horse candidate for the Selke trophy, and he's only done more to cement his case since then. With the seasons that the likes of Brent Burns, Victor Hedman and Erik Karlsson are putting together, it's hard to make a similar case for Hamilton to take home the Norris trophy, but the 23-year-old's play is putting him closer and closer to that conversation.
Dialing up the Offense
With five games still to go, Hamilton has established new career highs in goals (13), assists (36) and points (49), and his production has him among the league's elite.
Sitting in the top 10 in both goals and points is impressive, but it's the way he's done it that stands out.  While the bulk of the league's elite offensive defensemen rely heavily on power-play production, the Flames lean heavily on funneling the puck down low to create scoring chances on the man advantage, leaving Hamilton to rely more on even strength production.
Hamilton's 11 even strength goals and 35 even strength points place him in the NHL's top five in both categories, and no defenseman in the top 15 in scoring has relied as heavily on producing five-on-five as he has.
While he's no Karlsson in this department, Hamilton's ability to create offense in all situations and make smart, savvy decisions with the puck are abilities that set him apart. This talent makes him not only dangerous with the puck in the offensive zone, but in any area of the ice.
Underlying Dominance
In recent years, one of the greatest criticisms of how the Norris trophy has been awarded is that it focuses too heavily on a player's offensive production.
With that in mind, while Hamilton's offensive production has taken a step forward, it's his dominance in terms of puck possession and underlying numbers that truly show the jump he's made this season.
Relative Corsi-for percentage (CF% Rel) is widely regarded as the most telling sign of a player's true possession impact. It measures the difference in shots for/against when a player is on and off the ice.  Players with a strong Relative Corsi stand out among their teammates as true drivers of possession, creating offense and stifling defense.
Hamilton's CF% Rel of +6.7 is tops among all NHL defensemen, and significantly higher than the three likely Norris trophy nominees–Burns (+5.1), Hedman (+3.7) and Karlsson (+2.7). His overall Corsi rating is also fourth in the league, and still ahead of each of those three candidates.
Also, like his teammate Backlund, Hamilton is not put into favourable matchups or situations by coach Glen Gulutzan, but is instead given the toughest minutes on the team and expected to impact the game from there. Of the league's top 10 possession defensemen, only two start less than half of their shifts in the offensive zone: Hamilton and the Montreal Canadiens' Jeff Petry.
What's Next?
So, with Hamilton playing at this level at just 23, what can we expect from the Flames' rearguard as he heads into his prime? Can he take his game to another level?
Comparing Hamilton's current season with what the consensus elite defensemen in the NHL were able to do at 23 years old, he slots in comfortably among the group: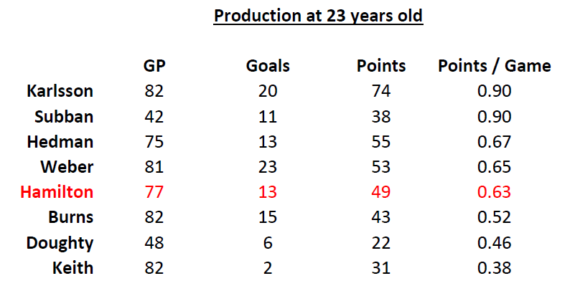 It's worth noting that both PK Subban and Drew Doughty were 23 during the 2012-13 lockout-shortened season, where Subban took home the Norris trophy.
Moving forward, if Hamilton continues to produce at this level, he'll be doing enough to get into the Norris conversation, and more than earning his $5.75 million annual salary. That being said, Hedman and Burns have both taken their offensive games to another level as their careers progress, so it wouldn't be out of the realm of possibility to see Hamilton do the same.
Additionally, at 23, players like Karlsson and Subban were widely criticized for having some serious deficiencies in their defensive games (Karlsson still does, but that's for a whole other article). Despite not quite producing at the same level as those two, it's hard to point out any similar holes in Hamilton's all-around game.
Ultimately, in Hamilton, the Flames were looking for an eventual number-one to replace Mark Giordano.  On a team-friendly deal for the next four seasons, it looks like the Flames have hit a home run. If he continues to develop his game, we could be seeing Hamilton take home some hardware in the future.