Florida Panthers defenseman Mike Matheson will be entering his third professional season in 2018-19. He established himself as a top-four d-man with a career-high average of 21 minutes and 20 seconds of ice time last season but the Panthers need him to take the next step and prove he's top-four on any blue line, not just theirs. It is a lot to ask of a young player, but he looks ready.
A Great Start to a Career
Matheson had an interesting start to his NHL career. When multiple Panthers went down with injuries right before the 2015-16 playoffs, their 2012 first round pick joined the team from Boston College to play in three regular-season and five playoff games. He impressed in their first-round matchup against the New York Islanders with an assist and a plus-1 rating while averaging nearly 22 minutes per game.
Incredibly, Matheson's short stint was so well received that he earned a spot on Team Canada at the IIHF World Championship after Florida was eliminated from the playoffs. He helped Canada win gold and was named the top defenseman of the tournament, beating out more experienced NHL defensemen in the process.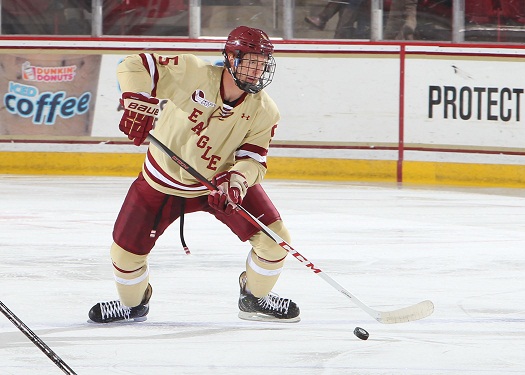 In his first full season in 2016-17, Matheson averaged just over 21 minutes per game. He netted seven goals and added 10 assists along with a minus-5 rating. He did not look comfortable and instantly showcased his skating and offensive aptitude, making it look easy to skate the puck in and out of the neutral zone and lead the rush.
Matheson was not perfect, however. He made his fair share of mistakes with bad reads and poor judgment calls like any rookie. The speed and strength of the NHL were, at times, too much for him but overall, it was a strong start for his career.
His role continued to expand last year in his second full season. He averaged 21 minutes and 20 seconds playing alongside Mark Pysyk and earned more minutes on both special teams units, which led to 10 goals, 27 points and a minus-1 rating, all career-highs.
The mental lapses and bad judgment of his rookie season persisted early in his second campaign as he and Pysyk struggled. However, his strength, speed, and decision making improved. By the end of the season, the pair were instrumental in helping the Panthers claw their way back into playoff contention.
After two strong seasons, it is obvious that Matheson has not yet reached his ceiling. Panthers management realized this and paid him accordingly.
Skills of a Top-Four Defenseman
Matheson has all of the assets to be a successful offensive defenseman, including speed, intelligence, and great vision. He is also an elite skater and possesses great straight-line speed and lateral movement. His speed allows him to get involved in the rush, a dimension of a defenseman's game that has become more commonplace but is still not the norm. He is unafraid to jump into the play and retreat back to position and has been rewarded for it with goals and assists.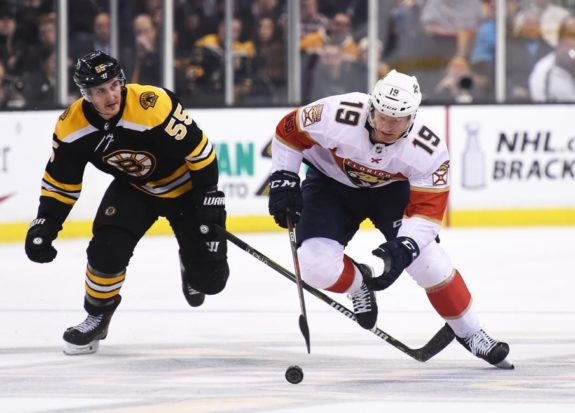 In the offensive zone, Matheson shows the same aggressive nature. He often skates below the faceoff circle to provide another option for his teammates.
He is not afraid to shoot, either. Though power is not one of his assets, he is equipped with a quick, hard shot that he uses to get the puck on net for tips, rebounds, or to beat a goaltender clean with above average accuracy. Already with 10 goals as his personal best, reaching the 15-goal mark should be achievable if his shot further develops.
His offensive ability is valuable to a power play that generally ranks near the bottom of the league. Matheson is able to quarterback a power play, which he did on the second unit last year.
He is equipped with accurate passing and good vision, which enables him to transition the puck out the defensive zone and start the rush. When he's unable to pass the puck, he can rely on his skating and puckhandling to move the puck forward by himself. He is shifty and is able to beat attackers and efficiently carry the puck through the neutral zone. For many defensemen, a lack of high-end skating ability forces them to rely on passing to transition effectively.
Room for Improvement
Matheson turns the puck over in his own end too often. It is a mistake that nearly every player makes and one that is difficult to remedy. But in his case, it is the location of these turnovers that is the issue. Far too often Matheson loses the puck in high-quality scoring areas for his opponents. Careless passes and overconfidence in his skating have led to costly lapses where he tries to beat multiple players.
Strength is another weakness. He has the size but still gets out-muscled. One-on-one, he is prone to allowing players to force their way through or around him, leading to quality scoring chances against. Along the boards and in front of the net, his strength is also an issue. Matheson loses the puck battle behind the net far too often. He struggles to clear his crease which has also resulted in scoring chances and goals against.
Jumping into the play or rush is a double-edged sword. On one hand, it provides the team with additional scoring options and enhances the quality of them. On the other hand, the player is often out of position. Last season, Matheson was often caught too deep in the offensive zone after stepping up in the play. When the play broke down, he was too far out to help his defense partner.
Why His Weaknesses Can Become Strengths
Fortunately for the Panthers, he makes the same mistakes as any young player, it's part of the learning process. At 24-years-old, Matheson has time to grow out of bad habits. Experience and maturity will make his mistakes less frequent and easier to recover from and they should be ironed out in upcoming seasons.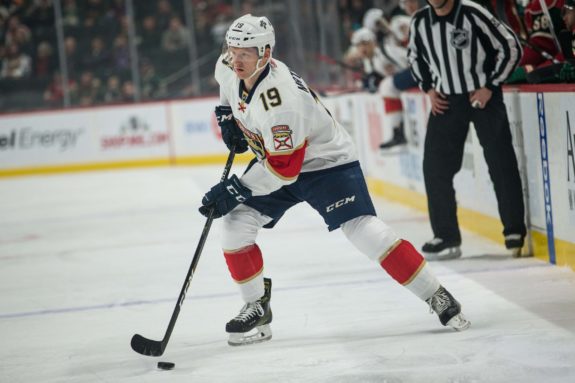 There is a reason why players hit their peaks in their mid-to-late 20s. That is when they reach their mental and physical primes. They have years of experience and also NHL-caliber training and conditioning. Going forward, Matheson has work to do to clean up his defensive game and to be more patient on the attack.
What to Expect in Year Three
The 2018-19 season could be Matheson's breakout year. He will be another year smarter, stronger, and more experienced. He will earn more playing time, including special teams minutes, and continue to improve his offensive skills. He is already playing a top-four role and has performed admirably in it. He has a strong foundation on which to grow.
Worst case scenario, excluding the possibility of an injury-riddled season, Matheson will have a season similar to last year. But that is expecting too little. If he continues to clean up his game, make smarter reads, and be more cognizant of picking and choosing when to jump into the play, he will have a successful season.
Throw in some new offensive pieces and a more experienced cast than last season and Matheson could set new career highs offensively, especially on the man advantage. It's not implausible that he will lead the Panthers' defense in points, even with Keith Yandle on the roster, and provide some depth scoring that has been missing in the last couple of seasons.
All told, year three should be exciting for Matheson and we could be looking at the emergence of a true top-four defenseman.
Western New Yorker with a love for the Florida Panthers, NHL, and sport as a whole. I began playing at age three, played up through club in college, and have since coached, refereed, and now am writing. I write opinion and analysis pieces in hopes of Dale Tallon one day calling me up, but until then I will continue following the Cats as avid fan