So it turns out the Penguins aren't the only team under a Flyers circumstantial hex. The Detroit Red Wings entered the Wells Fargo Center on Saturday losers of their last eight straight in the City of Brotherly Love. In fact, the last time Detroit left Philadelphia winners, Eric Lindros was skating for the Flyers. Or as Red Wings coach Mike Babcock recalls, "since Christ was a kid." And when Nicklas Grossmann scores against you, it's a sign that things aren't about to change.
Saturday's 4-2 loss to the Flyers not only extended that winless streak to nine, it was done in a manner that defied logic all together. Sounds about right with these Flyers.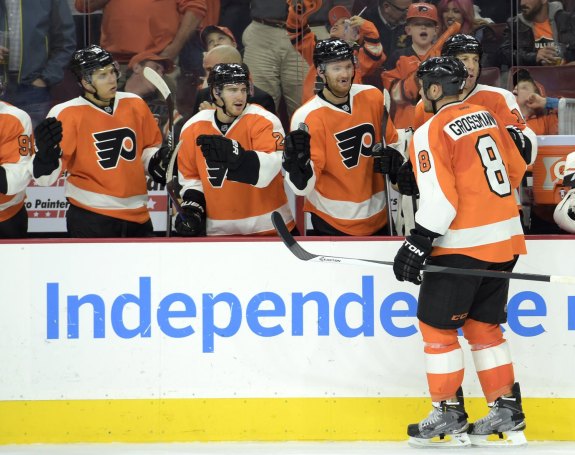 Grossmann the Goal Scorer
In 469 games prior to Saturday's tilt against Detroit, Nicklas Grossmann had scored a career total of four goals. Move over, Ovechkin.
While the Red Wings completely manhandled a Flyers team who struggled just to push the puck into the neutral zone in the early going, Philadelphia limited the first period damage to just a single goal deficit through nearly the first two periods. Detroit massively outshot the Flyers throughout the first 40 minutes of play by an outrageous margin of 24-8, while keeping the shot advantage to the end (37-17).
That stat and a buck fifty, however, will get you a cup of coffee. At least in regard to this game, that is. With under two minutes to play in the second period, the Red Wings got caught cheating sending reinforcement into the corner to trap Chris VandeVelde. The fourth line forward spotted a wide open Grossmann and dished it to the defender known more for his shot blocking than scoring for the equalizer. Grossmann's mark evened the score and sent the haunted Red Wings to the dressing room in disbelief.
"I was just trying to sneak in the back door. I saw their forward and he didn't really look at me," said Grossmann. "So I snuck down there and all of a sudden the puck got loose and Vandy saw me at the last second with a great pass so I just had to put it in."
Can you really blame Tomas Tatar for gliding toward the action, leaving Grossmann all alone? As it turns out, yes. Tatar fell asleep, and Nicklas Grossmann (I can't repeat that enough) made him pay.
Grossmann became the first NHL skater to score on Detroit backup goalie Jonas Gustavsson this season. The 30-year-old Swede had previously shutout the Toronto Maple Leafs on Oct. 18th before yielding his first goal to Grossmann on Saturday.
A Ghost Sighting at Wells Fargo
Despite another matchup against a playoff team from the season before, the spotlight heading into Philadelphia's contest with Detroit was on 21-year-old defenseman Shayne Gostisbehere.
Gostisbehere, who's in his first full season of professional hockey, made his NHL debut after being called up from Lehigh Valley following the injury to Andrew MacDonald. With MacDonald out for the next four weeks, and Braydon Coburn's return pushed back, Flyers GM Ron Hextall was forced to make a call up and Gostisbehere was his man.
"I didn't want to do this," said Hextall. "Trust me."
With only five AHL games between this season and last under Gostisbehere's belt, calling up the 170-pound defenseman meant going against everything Hextall has stood for. And even if Gostisbehere's first cup of coffee in the NHL is but a sip, the initial taste was pleasing to the palate.
The offensive defenseman looked comfortable in his debut, playing a part in drawing three of the five penalties called on Detroit. That's not to say he didn't have his rookie moments. His early third period turnover led to Pavel Datsyuk's game-tying goal, which earned him his minus-one rating for the night.
#Flyers are 1-0 during the Shayne Gostisbehere era.

— Flyers Nation (@FlyersNation) October 26, 2014
"I thought he was fine," said Flyers coach Craig Berube. "Took him a few shifts to get out with the power play, but when he got out there and settled down, he did some good things. He moved the puck well, got up the ice, was aggressive when he had to be. I thought he looked fine to me."
In all, Gostisbehere saw 12:27 of playing time, 2:47 in which came on the power play. He was used quite sparingly, however, in the third period, seeing just 1:49 of ice time. But Gostisbehere's NHL debut is now correlated with a Flyers win, with many more to come in the near future if projections are accurate.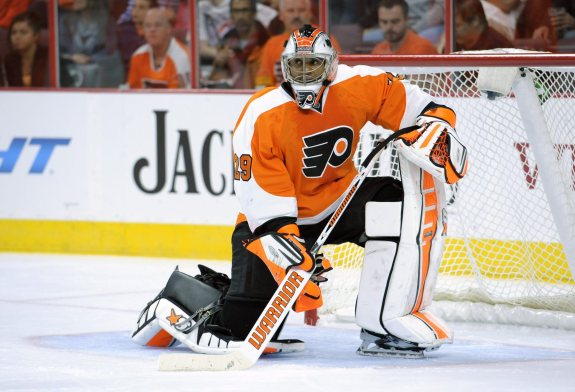 Ray Emery's Thievery
The inconceivability of the Flyers winning a game in which they were outshot by a margin of 20 can be quickly clarified in the performance of Ray Emery. The Flyers backup netminder halted 35 of Detroit's 37 shots en route to thieving the Red Wings of a victory, as well as improving his record to 3-0-1 on the young season.
With Steve Mason off to a rugged 0-3-1 start to the season, Emery has been terrific for a Flyers team who's faced a monstrous October schedule. With his 35 save performance on Saturday, Emery now has a 2.60 goals against average, which is currently better than the goals against averages of Tuukka Rask, Henrik Lundqvist, Carey Price, and Kari Lehtonen.
Consensus in #Flyers' locker room: Ray Emery stole us 2 pts.

— Sam Carchidi (@BroadStBull) October 26, 2014
Will it last? Who's to say it's not possible? After all, it's the same Ray Emery that returned in 2013 from yet another hip operation to go 17-1-0 for the Chicago Blackhawks.
"The whole game was a lot of defensive play and Ray held the fort for us the entire game," said Grossmann. "He had a heckuva game. A lot of things we have to clean up. Ray had a great game. We didn't shoot the puck, we didn't have the jump we wanted."
While Emery found himself busy in net, he did get some relief in Philadelphia's 31 blocked shots. Nick Schultz, Michael Del Zotto, Matt Read and Grossmann (the man of the hour) combined for 16 of them. But the single factor in making the Flyers comeback even possible was the 11-year veteran's consistent play.
Tim Panaccio of CSN Philly put it this way:
Ray Emery saved the Flyers from themselves, start to finish. Kept them in the game. Gave them a chance.
Emery's upper echelon play appeared to even get under the skin of Red Wings head coach Mike Babcock.
"I don't think they had any momentum ever," said Babcock, who is still winless in Philadelphia as Detroit's head coach. "They're living right tonight, let's be honest.
With the Flyers not yet out of the woods in regard to the October schedule, Emery is making a strong case to remain in net at least for Tuesday's home game against the Los Angeles Kings. It'd be hard to imagine Steve Mason playing the role of Drew Bledsoe, though, since he's not as bad as his record indicates. And now that the forwards are upping their overall backchecking, Mason will certainly return to his winning ways. Answering the "when" question, though, is a horse of a different color.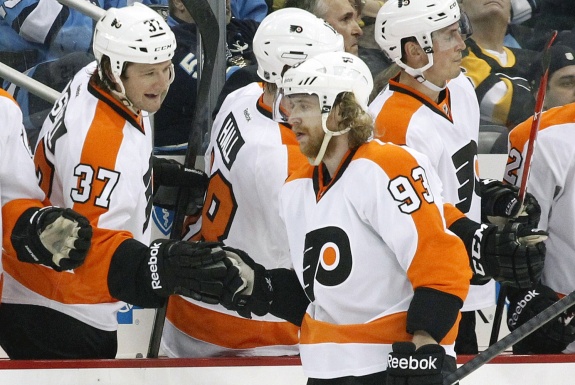 Top Line Questions?
Remember fretting over filling the void Scott Hartnell left behind on the front line? The Brayden Schenn experiment may have been short-lived, but the featured line of Michael Raffl, Claude Giroux, and Jakub Voracek have more than made up for that since.
In six full games together, Philly's current top line has combined for 22 points. Jakub Voracek has recorded at least one point in every game but one, the 4-0 shutout in Chicago, and Claude Giroux has four multi-point games already. A night and day spectacle for the captain in comparison to this time last season.
https://twitter.com/DStrehleTFP/status/526195922641100803
Against Detroit on Saturday, the terrorizing trio combined for six points, with Raffl skating away with two goals and an assist. It was Raffl's first career multi-goal game, which was in addition to Brayden Schenn's first goal of the season.
In fact, it was Voracek's assist to Schenn that snapped Detroit's penalty kill streak of 22 in the third period, the NHL's longest successful PK streak of the season to date.
Sam Carchidi of philly.com illustrates it here:
Schenn redirected Jake Voracek's shot past goalie Jonas Gustavsson, giving the Flyers a 3-2 lead with 8 minutes, 55 seconds remaining. Before Schenn's goal, Detroit had been successful on all 25 penalty kills, its longest streak to start a season in 59 years.
Of course, it wouldn't be a Flyers win without Claude Giroux's fingerprints all over the evidence. The captain added an assist to go along with five shots, a pair of blocked shots, and a rare two minute stint in the sin bin.
Giroux, who led all forwards in ice time with 22:31, also won 70 percent of his faceoffs. With yet another assist on Saturday, Giroux begins another point streak, having his previous point streak of four snapped in Chicago on Oct. 21st.
With the L.A. Kings and Tampa Bay Lightning on tap for this week, this habit of winning may lead to belief in the Flyers being an actual playoff team. A far cry from the uninspiring 0-2-2 start to the season.
Stranger things have happened. How do you explain Nicklas Grossmann and R.J. Umberger scoring in consecutive games? Luke Schenn, you're next.
Andy is a contributor for The Hockey Writers, covering the Philadelphia Flyers. He holds a Bachelor's Degree in Communications from Walsh University. He enjoys spending time with his family, golfing, and reading. He is married with a daughter. You can follow Andy on Twitter @ADudones.