This winning thing is fun. Especially when it means knocking off the defending Stanley Cup Champions. Tuesday night's overtime win over the Los Angeles Kings lifted the Flyers above the .500 mark for the first time this season, which is anything but predictable. It's another victory edition of Flyers Backcheck, and in no way is that depressing.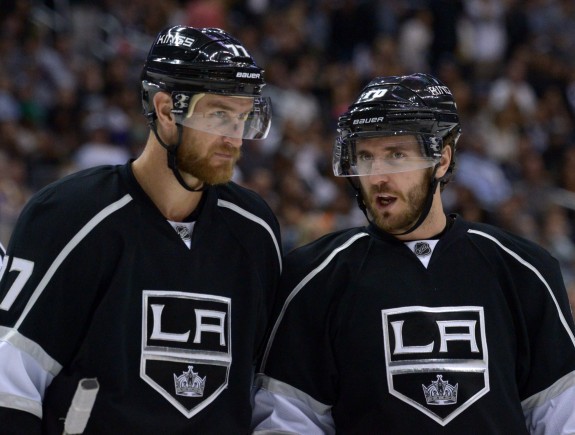 Those Richards & Carter Guys
The appeal of Mike Richards and Jeff Carter visiting their former stomping ground appears to have lost its luster. A three-game Flyers winning streak will have that effect. But when Richards, the former Flyers captain, notched his first career goal against his former employer, the feeling of Murphy's Law in Philadelphia was back – at least for a short while.
The plot thickened before the puck ever dropped in the opening period. With Anze Kopitar out of the lineup due to injury, the former Flyers captain stood to be the beneficiary of increased ice time. Richards skated for a total time of 17:51, finishing the tilt with a goal on two shots, and a minus-one rating.
"I have a lot of memories in here and you can't help but think about it a little bit," said Richards.
In four games against the Flyers, Richards has been held in check to a quiet goal and an assist. And aside from an increase in ice time as a result of Kopitar's absence, Richards' dip in ice time from his first meeting with the Flyers reflects his fall from stardom as a member of the Kings. Richards went from competing for Selke Trophy's in Philadelphia, finishing in the top 10 in voting four times, to a minus-13 rating in 213 games with the Kings.
https://twitter.com/NightmareOnHelm/status/526500578093182977
Richards' dip in production even stirred up rumors of a compliance buyout last season. After all, his $5.75 cap hit is not only a hefty one, but a long one to boot (running through the 2019-20 season). Kings GM Dean Lombardi opted to hold onto Richards after he and Jeff Carter helped the Kings win their second Stanley Cup in three years. That didn't make Lombardi's decision any easier, however.
"Everyone knows what this guy brings. He's very hard to find," said Lombardi back in June. "I just think he's at a stage in his career where he has to change the way he prepares in the offseason. You can't prepare the same way at 29 you did at 22. That's what it comes down to."
While Richards' conditioning was determined to be the main factor in his plunge on the stat sheet, Jeff Carter has flourished in L.A. The 6-4 forward is coming off of a 50 point campaign, his highest total since his final season with the Flyers. This year, Carter has picked up right where he left off with 12 points in the Kings' first nine games.
"He's just gotten better and matured as a hockey player," Richards said Tuesday morning. "He's always had the talent and skill. It's just coming on a more consistent basis.
"He's gotten better with age, one of the top five players in the league. … It's fun watching their line out there with the two young guys and how he pulls them along and demands the best out of them.
"I don't know if it's the leadership role or being put in that position where you have two young guys playing with you, but it's fun to watch that line (Tyler Toffoli, Jeff Carter, and Tanner Pearson."
Although it was Richards who found the back of the net against the Flyers on Tuesday night, Carter does have a goal against Philadelphia in only three meetings. The Flyers stymied Carter on Tuesday, however, keeping him scoreless on three shots. But it's not like the pair of former fan favorites in Philly are now divisional rivals. In fact, they're not even conference foes. And when the fact that the two were traded away are taken into consideration, as opposed to voluntarily walking, the booing they do hear at the Wells Fargo Center pales in comparison to other opponents who are truly disliked.
They're happy now, but they were baffled then.

The move stung them both and stunned the hockey world. They were entering their prime. In the 2010 playoffs, Richards was the soul of the franchise.

Then, they were gone: Richards to Los Angeles, Carter to Columbus, then, later that season, to LA as well. — Marcus Hayes, philly.com
The Flyers have since gotten younger, as well as highly talented themselves. And despite their latest salary cap struggles, it's a foregone conclusion that the organization is quite pleased with their current captain, Claude Giroux, as well as other (younger) pieces, such as Jakub Voracek, Wayne Simmonds, and Sean Couturier.
Richards and Carter got their Stanley Cup, and then another. Good for them. In the here and now, though, everyone's moved on – and for the better.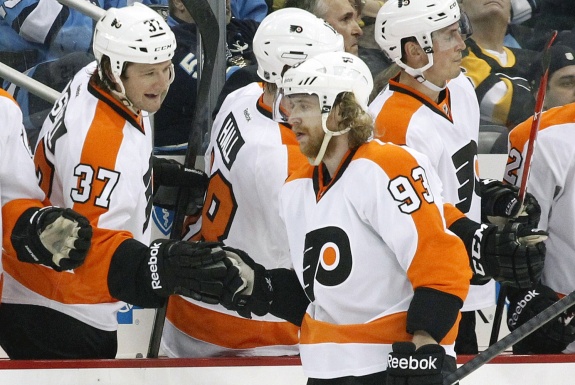 Streaking Scorers
Through the first nine games of the season, the Flyers haven't found difficulty in scoring goals. With Tuesday's 3-2 overtime win, Craig Berube's squad has now scored three or more goals in seven of their first nine games. Philadelphia's 3.22 goals per game leave them seventh in the league heading into Wednesday night's action, and their 29 goals to this point are 16 more goals than they scored through nine games last season.
The Flyers now have four different forwards on current point streak in Jakub Voracek, Claude Giroux, Michael Raffl, and Brayden Schenn. Three of the four, all skating on the team's top line, have been electric.
Jakub Voracek has played a superstar's game tonight.

— Bill Meltzer (@billmeltzer) October 29, 2014
Voracek's point streak hit three with his pair of assists against the Kings, which also gives the emerging Czech multiple points in four of Philly's last five games. Voracek's explosive start has left his name on the stat sheet in every game this season with the exception of Chicago's 4-0 shutout on Oct. 22nd. With his efforts in Tuesday's tilt, the 25-year-old star now has 200 career NHL assists.
Opposite of Voracek on the left side, Michael Raffl has been infected with the first line scoring touch. Raffl's first period goal not only marked just the second time this season the Flyers have scored first, but counted as his third in two games. The newest beneficiary of skating with Voracek and Giroux is now tied with Wayne Simmonds for the team lead in goals with five.
"He's more experienced," said Voracek of his linemate.  "He's in his second year and he is learning a lot.  He's hanging out in front of the net, where all the pucks are.  He's got a very good shot and …like I said before, I don't see a reason why he shouldn't score 30 goals."
While Raffl has added his size and skill to plug the void left behind by Scott Hartnell, he finds himself in a rather advantageous situation. Along with Voracek's incredible pace out of the gate, the Flyers have received the production they've come to expect from their most valuable asset, Claude Giroux.
Giroux's 11 points through nine games are a far cry from where the captain was last season. Giroux, who has a pair of goals and nine assists this season, had just three points exclusively off of assists through nine games last season.
"I'm trying to get pucks on net," said Giroux on Monday.
"I didn't know I was having a lot of shots. If you are getting shots, you are doing something right."
No player on the Flyers roster is close to Giroux's 43 shots on goal through nine games. Wayne Simmonds' 31 shots on goal leave him 12 shots behind, despite being second on the team in that category.
Even Brayden Schenn, who failed to remain with Giroux and Voracek on the top line, is enjoying a two-game point streak. Schenn's overtime game-winner on Tuesday was his second game-winning goal of the young season, and his eighth dating back to last season.
Perhaps the timeliness of Schenn's goal scoring was lost in his reaction to his overtime goal against the Kings.
As seen above, Schenn's reaction reflected that of a child on Christmas morning, only to be told that the gifts under the tree belonged to his sibling. Schenn's animation wouldn't have been as hysterical had it not been for Drew Doughty, who trolled Schenn with the officials' initial ruling on the ice. The on-ice call was reversed, making the documentation of this moment special.
Don't lie – you can't just watch it once.
Jonathan Quick Doesn't Like Losing
With Ray Emery finding himself in the mode of his tenure with the Chicago Blackhawks, Kings goalie Jonathan Quick was even more terrific on Tuesday night. Quick, who marched into Philadelphia with a 5-1-1 record on the year, halted 40 shots that were fired his way en route to the single point for his team. His outstanding play was upstaged, though, with his reaction to Schenn's game-winner.
The former Conn Smythe winner argued violently, swinging and breaking his stick across the cross bar before tossing it in the vicinity of the officials, after Schenn's "no-goal" was reversed. Quick was adamant he was "pushed" into the net by Schenn, continuing his protest to the ruling even after his WWE-like actions on the ice.
"I know I was," declared Quick in the dressing room. "I didn't feel. I know. That should be no goal. I don't know how it goes upstairs. Still they get it wrong. I don't know the exact ruling on that because they seem to change it every year. Usually you're not allowed to push a goalie into the net. Maybe they changed it again on us."
Quick's displeasure shouldn't come as a surprise to anyone. The backstop of two Stanley Cup Championship teams carries a reputation as a fierce competitor who doesn't shy away from confrontation. But even with a calm (and happy) Ray Emery out of the equation, Quick's burning desire to win clearly obstructed his judgement, assuming he had the luxury of watching the replay before commenting.
Jonathan Quick appeared to throw his stick at the ref on his way off the ice.

— Frank Seravalli (@frank_seravalli) October 29, 2014
Jonathan Quick, you mad bro?

— Flyers Nation (@FlyersNation) October 29, 2014
Quick's antics not only left him wide open to laughing and gloating from fans on social media, but could also land him in hot water with the league. Remember the stick toss? Throwing equipment at officials is frowned upon. And for a team that's already shorthanded with the absences of Anze Kopitar (injury) and Slava Voynov (suspension), a potential punishment from the league could really handcuff the Kings moving forward.
The Flyers, on the other hand, are not only riding a three-game winning streak, they've also collected at least one point in six of their last seven. That feels even better now that they're only a pair of points behind the Metropolitan-leading New York Islanders. And let's be honest, none of us anticipated this much fun this early.
Andy is a contributor for The Hockey Writers, covering the Philadelphia Flyers. He holds a Bachelor's Degree in Communications from Walsh University. He enjoys spending time with his family, golfing, and reading. He is married with a daughter. You can follow Andy on Twitter @ADudones.