The Philadelphia Flyers were the top seed in the Eastern Conference and the New York Islanders were the sixth, but you wouldn't know it from watching Game 7 last Saturday night. The veteran Islanders worked for everything they got in the series but the Flyers had nothing left. New York earned a dominant 4-0 win to advance to the final four.
In what was an important bounce-back season for Philadelphia, they didn't play to their potential when it counted. They looked like world-beaters coming out of the seeding round-robin, where they defeated the Boston Bruins, Washington Capitals and Tampa Bay Lightning. Then they faced two plucky squads in the Montreal Canadiens and the Islanders. They didn't always look good against the Habs, who they beat in six games, and I'm not sure you can point to a single game against New York when the Flyers were clearly the better team.
Related: Flyers' 2014 Draft Revisited
A number of factors went awry for Philadelphia, particularly on the scoring front, where Claude Giroux, Travis Konecny and Sean Couturier combined for just three goals in 16 postseason games. Much of their sputtering offense can be tied directly to their woeful power play, which scored just four times on 52 opportunities, and didn't break through once against the Islanders. That's a 7.7 percent success rate.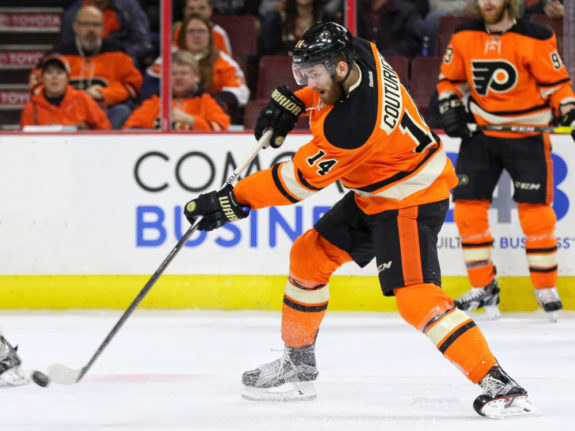 Only four teams drew more penalties, yet only the swept New York Rangers did worse. You would have to be incredibly lucky, or demigods at 5-on-5, to overcome a horrible power play in the playoffs. The Flyers were neither.
Underdog Islanders Dominated Series
This series could easily have been over much sooner. All three Philadelphia wins were in overtime, and they were outplayed through most of the series. It felt like they were always chasing the Islanders in possession and control. Even when the Flyers scored first and built a solid lead, which was fairly often, it felt like a matter of time before the Islanders mounted a comeback.
New York outscored Philadelphia 10-4 in the third period. Had a few bounces gone the other way, the Flyers might have been swept. Philippe Myers' overtime winner in Game 2, for example, became a bouncing knuckleball after it deflected off Anders Lee's stick.
New York showed the depth of their lineup, getting plenty of offense from their bottom two lines and their defenders. Their top-six was also potent. Josh Bailey has 15 assists in these playoffs. Anthony Beauvillier has eight goals. Lee, Brock Nelson and Jean-Gabriel Pageau have seven apiece. Mathew Barzal was, of course, the linchpin of their attack, feeding Lee for goals seemingly every night, despite that his face was a punching bag for sticks and pucks late in the series. Jordan Eberle was remarkably snake-bitten but contributed greatly as a playmaker.
But the Islanders' unsung defense corps deserves a lot of credit for the outcome of this series. Along with producing a great deal of scoring, the crew of Ryan Pulock, Adam Pelech, Devon Toews, Scott Mayfield, Nick Leddy and Andy Greene frustrated the Flyers when they did get offensive zone time. (from 'Andy Greene has quickly become an Islanders lineup staple,' New York Post, 09/07/2020) New York's defenders beat the Flyers' forwards to a lot of loose pucks and didn't allow them to create sustained attacking pressure very often.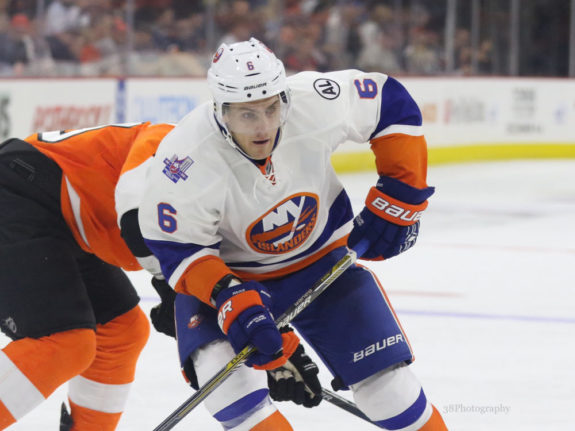 At the opposite end, the Isles used a strong forecheck, physical play and a good cycle game to force turnovers and maintain possession. They kept working to get second and third opportunities, which is paramount in tight playoff games when netminders are stopping everything they can see.
Recognition for an Encouraging Season
Of course, there was one inspiring storyline for the Flyers: the return of left-winger Oskar Lindblom in Game 6, barely two months after finishing chemotherapy for bone cancer. He was relied upon quite significantly, too, playing 17:30 that night and 16:42 in Game 7. Lindblom will be ready to go for the Flyers whenever the 2020-21 season starts, and that's incredible given that he didn't know last fall if he'd survive, let alone play again.
The 2019-20 season was a big step in the right direction for Philadelphia, and they have three award nominations to show for it. After missing the playoffs every second year from 2012-19 and the embarrassment of last season, particularly the first half, they had a stellar 41-21-7 record this year to sit fourth in the Eastern Conference.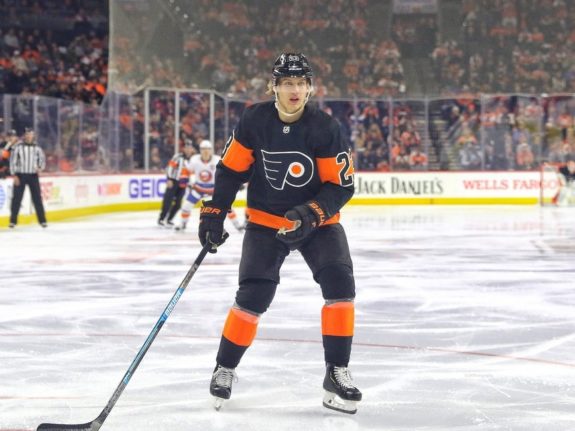 Although winning is a team effort, the Flyers' three nominees are recognition of what they achieved this season. Head coach Alain Vigneault is up for the Jack Adams Award for coach of the year, and Couturier earned his second nomination for the Selke Trophy as the league's best defensive forward. Lindblom, too, was a finalist for the Bill Masterton Memorial Trophy for perseverance, sportsmanship and dedication to the game. He lost to the Ottawa Senators' Bobby Ryan, but voting took place before the playoffs and Lindblom's return to the ice, so he may well win it next season.
Related: Islanders' 50-Goal Scorers
It's also significant that Philadelphia won their first playoff series since 2012 when they dispatched the Canadiens in the first round. There's no substitute for playoff experience in player development, particularly winning, which boosts confidence and sometimes shows young players they're capable of much more than they may have thought.
General manager Chuck Fletcher will now turn his attention to next year's roster, with the 2020 NHL Draft and the start of unrestricted free agency both coming up in early October.
---
---
Josh Lewis may have grown up in Canada's smallest province, but his impeccable writing skills and passion for hockey have turned heads on much bigger stages. He pursued his sports writing dreams in Western Canada, either winning or nominated for a slew of awards while covering junior hockey and many other sports. In roughly a decade in the industry, his work has drawn raves from colleagues, coaches and fans.
Josh is excited to join the THW team, covering the Philadelphia Flyers!