One of the perks of being a team trapped in hockey limbo is avoiding the drama that's paired with the NHL trade deadline. Sure, the idea of getting a shiny new toy is exciting, but how often is that toy associated with false advertisement? Especially if you're the Flyers.
It's not the actual trading, though, that alleviates the turmoil. After all, what's done is done. Right, Hartnell? So why exactly should we be so thrilled to stay out of the annual flea market?
Rumors
If you were annoyed by an ongoing narrative that the Flyers were trading for Shea Weber, you're in luck. There will be none of that this season. And although Bobby Ryan could certainly be had for a lesser asking price, Cherry Hill's own won't be wearing orange and black either.
All kidding aside, Philadelphia's 23-22-9 record is thee definition of purgatory – in regard to being buyers or sellers, that is. In other words, they're too good to blow the whole thing up, but not good enough to garner legitimate whispers about bombarding the headlines before or at the deadline.
The closest they'll come, as of now anyway, is dealing 39-year-old Kimmo Timonen upon his return from a blood clotting ailment suffered back in September. But given what the Flyers would receive from a suitor, it'd be a good-will gesture, allowing the 16-year veteran one final chance at riding off into the sunset with a Stanley Cup.
The return for the Flyers, however, could be a lower-round draft pick … perhaps a fourth-rounder that's a conditional third instead of a third-rounder that could become a second-rounder. — Randy Miller, NJ.com
As I touched on in a previous piece on why the Flyers should extend defenseman Nick Schultz in lieu of trading him, this year's trade market is likely to be a tighter one in comparison to past years. Especially in a trade that involves the veteran blue liner.
With this year's upcoming draft projected to be an Olympic-sized pool full of wondrous opportunity, along with Timonen's certainty of retirement at season's end, the Flyers wouldn't be doing themselves any favors (from an organizational standpoint) by living vicariously through their hypothetically departed alternate captain.
it's definitely my favorite time of year. flyers losing, asinine trade rumors and everybody screaming about momentum.

— collin mehalick (@collin) January 16, 2015
But if this is the climax of the trade rumor mill in Philly, there's certainly nothing wrong with kicking back to watch other fan bases fret over the trade off of a first-rounder for a rental. And if anything else, the quiet setting is a change of pace.
The Flyers' approximate $512,547 worth of cap room all but eliminates any anticipation of making one last desperate thrust towards the playoffs, although GM Ron Hextall would obviously like to shed some weight from that cap figure. But just because the rumors aren't as loud as we're accustomed to, it doesn't drown them out in regard to the possibility of other minor deals.
Trade Deadline Sparklers
With only four teams with less financial wiggle room, the Flyers' estimated total cap of $68.142 million could use some trimming. But chalking up the season as lost may not sit well with one of the league's top scoring duos in Claude Giroux and Jakub Voracek.
Especially with the team's 14 points in their last nine games.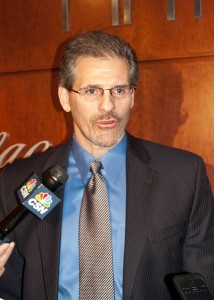 "We had a really bad start last year, and this year we felt this start was a little bit better,"
said defenseman Mark Streit
.
"But we were just very inconsistent.
"We had a few good games, then bad games, just very inconsistent from game to game and within games. We could beat the best team in the League and then we just couldn't keep up the consistency with our play, the way we want to play. We dug ourselves a big hole, and it's tough. We've got to win a lot of hockey games. We have 28 to go, it's a big point [Tuesday], but when you look at it you'd like to have two. At the end of the day, it stings."
Despite the team's recent success, the Flyers will take on Columbus on Friday with a 6.5 percent chance of making the playoffs. And when there's the possibility of shedding fat from the fifth highest cap status, other rumors – as minor as they may be – are bound to pop up.
As for his approach heading into this deadline, one Flyers source indicated Hextall will take a pragmatic, long-term outlook into the frenzied weeks ahead. Though the Flyers must realistically view this deadline as sellers, the belief within the organization is that the team still has a strong core with promising pieces (Jakub) Voracek, Claude Giroux, Wayne Simmonds and defensive prospects Samuel Morin and Shayne Gostisbehere. Hextall will do his best to unload what he can without a total teardown. — Katie Strang, ESPN
The rumor mill, of course, is not shy on names the Flyers could offer up, with Morin and Gostisbehere rightfully absent from the list. After all, the mere thought of dangling Philly's prized pups necessitates a drug test.
Of the reasonable possibilities, Timonen joins Braydon Coburn, Nicklas Grossmann, Luke Schenn, Michael Del Zotto, Nick Schultz, Brayden Schenn, and Matt Read. And considering the liberal nature of the gossip hopper, it's likely other names were omitted.
The #Flyers have made Brayden Schenn, Nicklas Grossmann and Braydon Coburn available.

— Hockey Rumours (@NHL_Trade) February 6, 2015
With interest in re-signing a pair of those names in Schultz and Del Zotto, the odds of Hextall working up a sweat by the trade deadline are about as low as his team's playoff chances. According to Pierre LeBrun of TSN/ESPN, Philly's clean up is likely to come while the golf clubs are broken out.
Not nearly as active as – I mean, I do think they'll make a couple of moves, but I don't think they'll be nearly as active as they planned to be if – well, as they hoped to be, I would say, in the offseason.

They have to revamp their blueline. They do have kids coming. Sam Morin comes to mind. There are prospects coming. But they have got to become a better defensive team. They have two of the top 5 scorers in the league, but yet probably don't produce as much offense as they could team-wide because they spend too much time in their zone. Look for that tonight when you're watching the Habs-Flyers game. They really struggle at transition at times and a lot of it starts with their issues on the blueline.

So I think that'll be an area of emphasis, probably even more so in June than now, but that's where the focus and the work has to be for Philadelphia, is to be a quicker team and a more talented team on the back end. — Pierre LeBrun via Nichols on Hockey
This approach kills two birds with one stone, no pun intended.
"@FlyGoalScoredBy: Did the Flyers trade for any ostriches yet?" Live look. pic.twitter.com/Kxa3UOLjPu

— Matt (@MattMoo4) February 12, 2015
A refusal to get trigger happy would give Hextall more time to assess how and where Del Zotto and Schultz fit in past this year, while monitoring the progression of his maturing prospects in the AHL. Furthermore, turning off the cell phone would give the current core the green light to chase a playoff spot to their heart's delight, keeping just about everyone imaginable happy.
Hextall has stayed disciplined to this point. What makes anyone think the trade deadline will be any different?