The idea of re-upping Nick Schultz may be an unpopular one, but that doesn't mean it's wrong. While the 32-year-old veteran is far from the shutdown defenseman that's roadblocked the Flyers since losing Chris Pronger, holding onto the journeyman second-round pick from 2000 makes more sense than trading him.
More than Added Offense
For a team that's nearing mathematical elimination from playoff contention, it appears the Flyers are on the verge of becoming sellers for this year's trade deadline. The practice of moving pieces to open cap space and roster spots for others who are part of a long-term plan is nothing new. So why not sell on Nick Schultz since his value has never been higher?
In his 13th season, the 6-1, 203-pound Schultz has quietly exceeded expectations this season, surpassing the projected role as a seventh defenseman. His one-year, $1.25 million contract makes him an even lower risk to a buyer at the deadline, with more to gain than lose.
"He's been in the league forever, veteran guy, really great in the locker room," said teammate Mark Streit. "Everybody really loves him. We had a lot of injuries at the beginning of the year, and he got the opportunity, and he took advantage of it."
Nick Schultz has been a huge surprise this season.

— Flyers Nation (@FlyersNation) October 31, 2014
Schultz's steady play has led to an increase in minutes, which in turn, has resulted in an unexpected upturn in offensive production. Four of his 12 points on the season have come in Philadelphia's last 11 games, including his first multi-point game in orange in black on Jan. 8 against Washington.
But it's not his sudden surge in offensive production that increases his value, although the recently added points undeniably help.
Schultz has become an everyday defenseman again and the bottom line is, he's also been the Flyers' most consistently dependable defenseman this season, averaging 19:00 minutes in ice time.

That's five minutes more a game than he did all of last year with Edmonton and Columbus, and the most time he's averaged since the 2011-12 season spent with Minnesota and Edmonton, when he averaged 19:42. — Tim Panaccio, CSN Philly
While the ice time can be attributed to Philly's shorthanded blue line, it's what Schultz has done with the added responsibility. Aside from posting more points since his 17-point year in the 2010-11 season with Minnesota, the left-handed skater has thrived in some of the team's toughest minutes.
"I have seen Nick Schultz play since he was 19," Flyers GM Ron Hextall said back in November. "I was scouting all those years. He's a good player. A solid player, a competitor.
He settles things down. When I say that, I don't mean poise with the puck necessarily, but in terms of positioning. He almost always is in the right position. He has one of the better sticks, an aggressive stitck, and that is huge. I am not surprised, I am happy though. A lot of people thought he was done after last year, and I felt he had an off year."
Only Braydon Coburn has consistently seen more five-on-five defensive zone starts than Schultz's minus-7.4 percent fraction of offensive vs. defensive zone starts, relative to team. The Strasbourg, Saskatchewan native also trails only Mark Streit in five-on-five on-ice scoring chances differential among defensive teammates with at least 200 minutes with a plus-eight differential.
This isn't a manifesto to twist Schultz's unfavorable minus-1.1 percent Relative Corsi-for percentage, which trails all defensive teammates with at least 200 minutes except Nicklas Grossmann. But given Schultz's cap hit, along with deployment, his Corsi totals hardly depict his entire value.
True Value
We get it, Nick Schultz has turned into a usable bargaining chip for the upcoming trade deadline. As the organization sets their eyes on the future, that turns out to be a good thing, right? Not exactly.
While accumulating draft picks stocks the kitchen cupboard on the farm, there's one key factor that makes trading the experienced defender not so much of a no-brainer: the upcoming NHL Entry Draft.
What makes the 2015 NHL draft special is the combination of quality and quantity. It's one of the deepest drafts in recent memory, but not devoid of star power either. — Andreas Matsoukas, Fansided
In other words, the incoming talent is likely to depreciate the value of current gains when the return is in the form of a draft pick.
Note to all #Flyers fans: B.Schenn's value is nowhere near being the centerpiece of a blockbuster trade. He's a throw-in. Get over it.

— Mikey D, O&BP 🤙🏼🏴‍☠️ (@MikeyD_OandBP) February 3, 2015
If Brayden Schenn, a 23-year-old 20-goal scorer, is an added incentive to a possible deal, what does that make Nick Schultz? Schenn's inconsistency make him just that, the icing on the cake to achieve an ulterior motive. And even though Schultz's stable play this season make him a desirable asset for a contender, the compensation wouldn't come close to matching that of Schenn's.
"I think the league has changed a lot," said Schultz back in January. "If teams have a chance now, they're going to go with a younger guy for less money. You see older guys getting pushed out all the time. You've got to take care of yourself that much more and try to take advantage of every opportunity. Your career is so short, you've got to try to make it last as long as you can. I'd definitely like to stick around."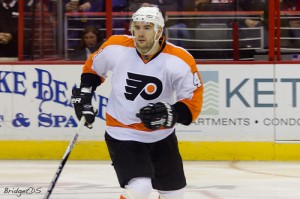 Last year, former GM Paul Holmgren unloaded defenseman Andrej Meszaros to Boston for a conditional third-round pick in last year's draft. And although the Meszaros trade was a salary dump – clearing his $4 million cap hit for lack of usage – moving Schultz will presumably garner the same type of return, while clearing only $1.25 million of current cap space.
Meszaros joined the Bruins at next to no cost after tallying five goals and 12 assists in 38 games with the Flyers. And regardless of style and role, Schultz's age will almost certainly drive his value down as well.
Cost-Effective Moderation
Given Schultz's age and past body of work, an endorsement for a contract extension comes with caution. Let's not forget, he was signed last summer as a safety net, not a possession-dominating cannonball statement.
Bringing back the older defenseman should be done from a conservative approach – one that doesn't jeopardize the future cap space of the team, while ideally placing him with the right partner on the blue line.
In order to be passable, Schultz really needs to be paired with a guy who is capable of defending the blue line. Even in such a pairing, he limits his partner's defensive ability. Players like that should not be targeted for multi-year extensions. — Scott T., Pattison Ave.
While the length of a potential extension has yet to be determined, Schultz has certainly displayed comfort in his current surroundings.
"What I've learned over the last couple of years is you've got to fit in somewhere," said Schultz. "You see guys that maybe wait for it and sign for big money somewhere and it doesn't work out. And sometimes it does.
"Obviously, it's worked out for me coming here on a one-year deal trying to prove myself again after not a great year last year. I've played a long time and I think it's more important to fit in and play in a good role. I've enjoyed my time here and it would be nice to stay."
With the likelihood of one or more defensive prospects joining the lineup next season, a one-year deal seems appropriate for one of the bright spots on Philly's back end. Along with Mark Streit, having veteran mentors to help youngsters adjust to the NHL makes more sense than making a low-percentage trade.
Besides, haven't the Flyers been burnt enough from past trades?
Andy is a contributor for The Hockey Writers, covering the Philadelphia Flyers. He holds a Bachelor's Degree in Communications from Walsh University. He enjoys spending time with his family, golfing, and reading. He is married with a daughter. You can follow Andy on Twitter @ADudones.