The Vancouver Canucks will be going into the 2023-24 season with a very different roster from what they started 2022-23 off with. Almost the entire defence has gone through a makeover with only Quinn Hughes remaining from the six that suited up against the Edmonton Oilers on Oct. 12 (Tyler Myers was scratched due to injury). Throughout the season and in the offseason, a total of 10 players were either traded, claimed on waivers, or allowed to sign with other teams. With that, let's take a look at where these familiar faces have ended up and what jerseys they will be sporting in 2023-24.
Bo Horvat, New York Islanders
The first and most significant name that won't be donning the Orca in 2023-24 is former captain Bo Horvat. Since Nov. 4, 2014, he has played a total of 621 games in a Canucks uniform and was a fixture on the roster for nine seasons. Handed the "C" at the beginning of the 2019-20 season, he was also the de facto leader of the team until he was traded to the New York Islanders on Feb. 5, 2023, for a package including a 2023 first-round pick and Aatu Raty.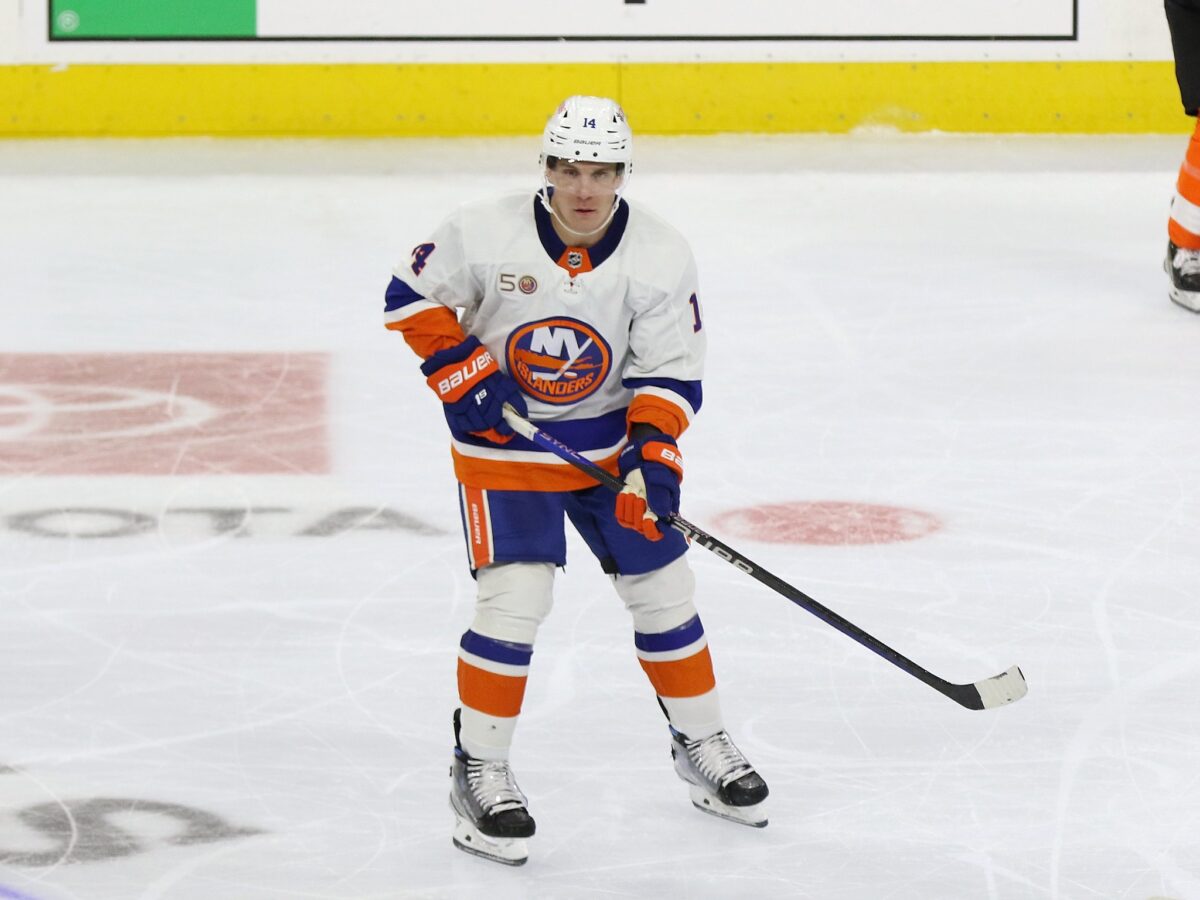 Regardless of how fans feel about Horvat after his now-infamous comments to the media before the Islanders' first-round series against the Carolina Hurricanes last season, he was still a huge part of the Canucks franchise for nine seasons. While he only led them to the playoffs once as captain, he made an impact on the ice with his two-way play, faceoff skills, and proficiency on the power play. The former ninth-overall pick from 2013 currently sits eighth on both the all-time goals and power play goals lists with 201 and 67 respectively. He also took an insane amount of faceoffs during his time with the team, finishing with 12,477 and winning 53.8 percent of them. In fact, as of this writing, he is ranked 26th all-time in NHL history with 7,044 faceoffs taken.
Related: Canucks' 5 Burning Questions Heading Into 2023-24 Season
Horvat finished his Canucks career with 201 goals and 420 points in 621 games, highlighted by his monster performance during the 2020 Bubble Playoffs when he scored 10 goals and 12 points in 17 games. He was a consistent 20-goal scorer as well, posting six 20-plus goal campaigns and a career-high 31 goals in both 2021-22 and 2022-23. Ultimately, it's going to be weird not to see his name on the opening night roster when they are finalized in October, given how many games he played in Vancouver.
First Meeting in 2023-24: Nov. 15 @ Rogers Arena
The Canucks have already met their former captain in his new threads, but it was in New York at UBS Arena on Feb. 9, 2023. They won that contest 6-5 with Horvat scoring his 33rd of the season and adding an assist. This season, he will return to Vancouver for the first time in a different jersey on Nov. 15. It remains to be seen if he will get a pleasant reception or be greeted with boos (even though he apologized for his comments).
Oliver Ekman-Larsson, Florida Panthers
I think it's safe to say that Oliver Ekman-Larsson's time in Vancouver was rocky, to say the least. Acquired in a blockbuster trade with the Arizona Coyotes that included a total of seven pieces, he was supposed to stabilize the Canucks' defence corps and bring them closer to the playoffs. Unfortunately, that's not what happened as they missed the postseason every season he was with the team. Riddled with injuries and inconsistent play, the albatross that was his eight-year $66 million ($8.25 million average annual value – AAV) contract weighed down the team and ultimately led to his departure on June 16 via a buyout.
Related: Vancouver Canucks' Best Trades With the San Jose Sharks
---
Latest News & Highlight
---
The aforementioned trade will probably go down as one of the worst in franchise history as it cost the Canucks a chance at drafting a top prospect like Dylan Guenther, Cole Sillinger, Matthew Coronato, or Fabian Lysell. With the only pieces remaining from that transaction being Conor Garland and a bunch of dead cap until the 2029-30 season, it's pretty clear the Canucks lost big time.
While Ekman-Larsson was a serviceable defenceman during his time with the Canucks, he was far from the impact top-pairing defender Coyotes' fans saw over his 11 seasons in the desert. He finished his tenure in Vancouver with only seven goals and 51 points in 133 games and spent the majority of his second season on injured reserve. Compared to his 128 goals and 388 points in 769 games with the Arizona/Phoenix Coyotes, he was a shell of his former self.
First Meeting in 2023-24: Oct. 21 @ FLA Live Arena
After signing a one-year deal in the offseason, Ekman-Larsson is now a member of the 2023 Stanley Cup finalist Florida Panthers. He will probably assume a pretty big role to start the season as top defenders Aaron Ekblad and Brandon Montour are slated to start the campaign on injured reserve. The Canucks will meet their former teammate early on at FLA Live Arena on Oct. 21 during their first five-game road trip of the season before he potentially makes his return to Rogers Arena on Dec. 14 (barring injury/healthy scratch) as part of a five-game homestand. He has had a lot of success against the Canucks in his career scoring five goals and 18 points in 36 games.
Luke Schenn, Nashville Predators
Luke Schenn first suited up with the Canucks in the 2018-19 season after being acquired from the Anaheim Ducks. He was supposed to just play in the minors with the Utica Comets but ended up playing 18 games in the NHL to finish the season. He also meshed well with then-fresh-faced rookie and future superstar Quinn Hughes. Unfortunately, he departed in the offseason to join the Tampa Bay Lightning, a franchise he secured two Stanley Cup rings in 2020 and 2021.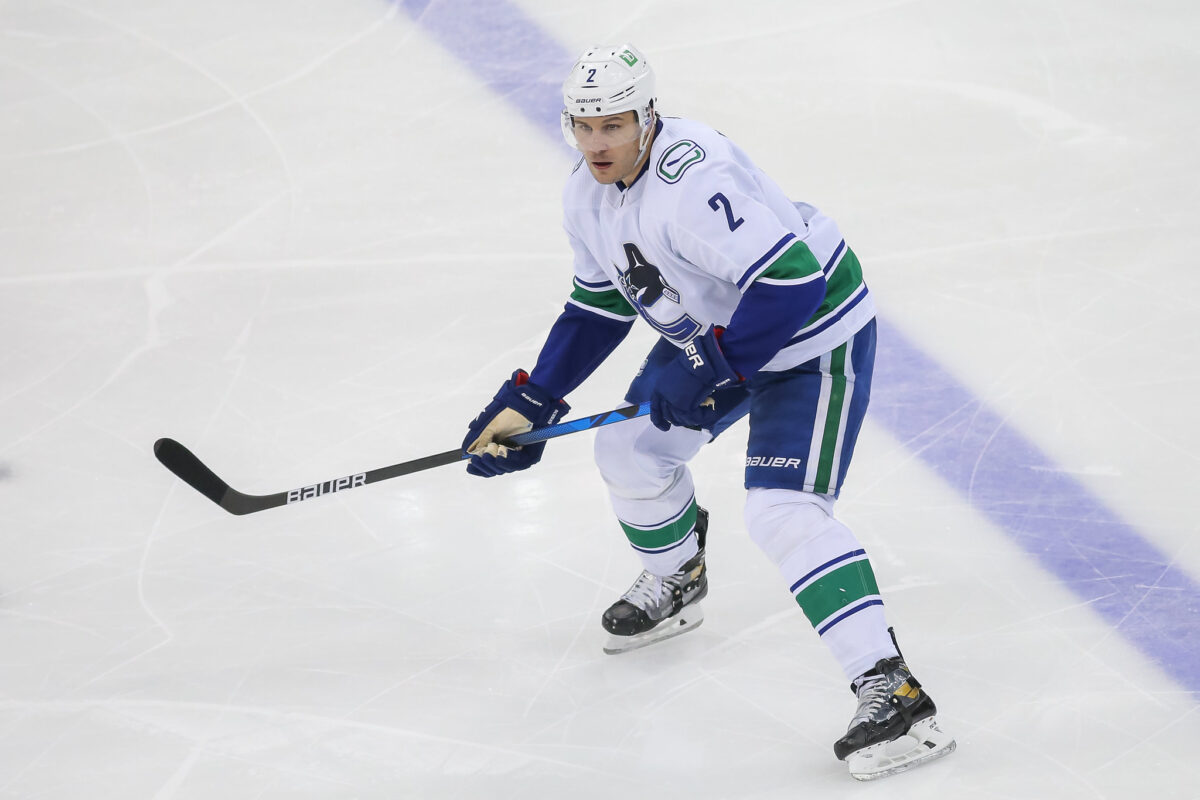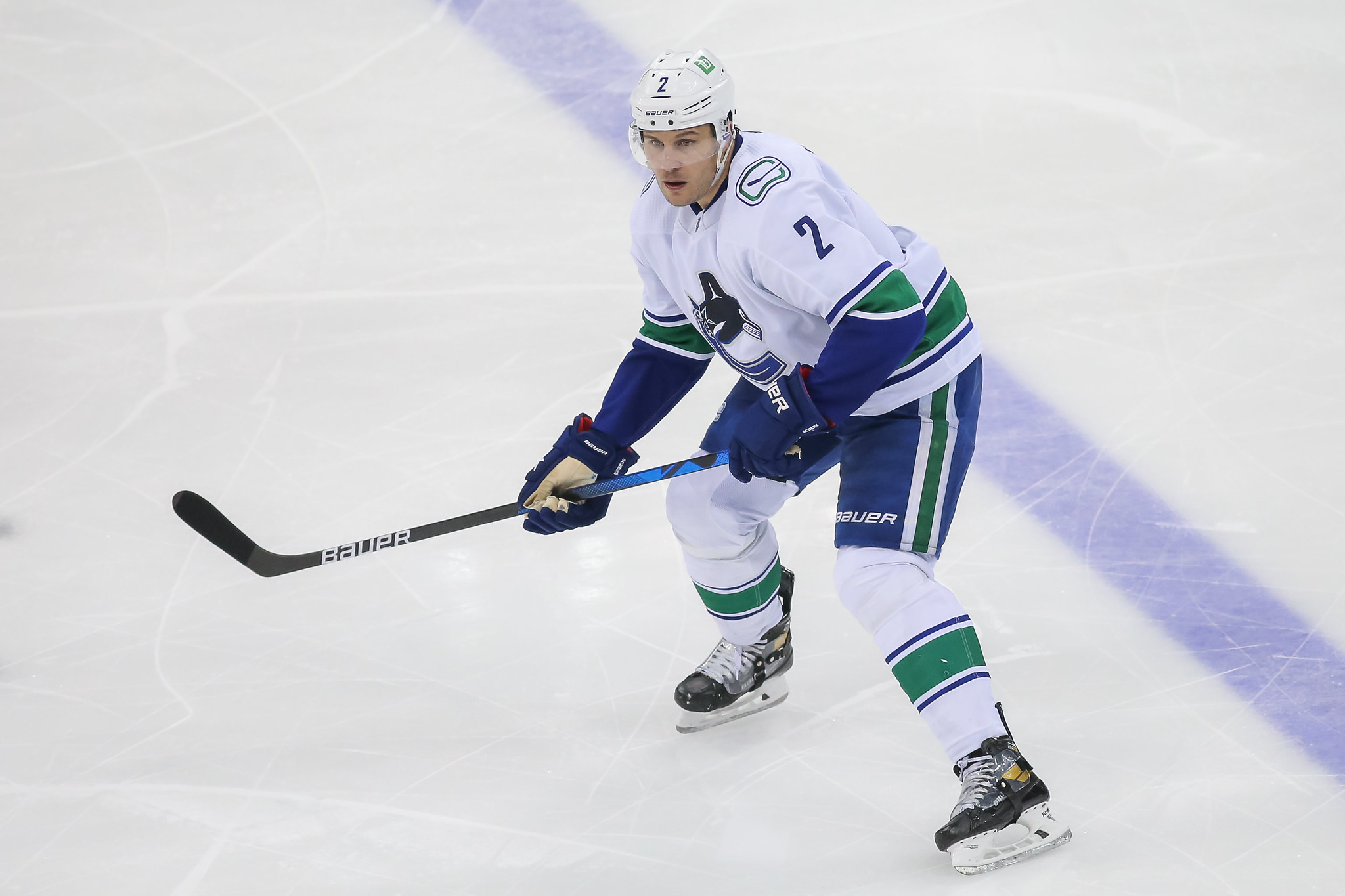 Schenn returned to the Canucks on a two-year deal during the 2021 offseason and although he was signed as depth at the time, became an integral part of the defence core. He joined forces with the aforementioned Hughes and arguably was the heart and soul of the defence. He not only complemented Hughes' free-wheeling style but brought intense physicality (612 hits in 139 games) and penalty-killing prowess and was a leader in the dressing room.
With the Canucks out of the playoff race, Allvin decided to trade the fan favourite to the Toronto Maple Leafs for a 2023 third-round pick. Many people thought Schenn would return in the offseason, but he decided to join the Nashville Predators on a lucrative three-year deal worth $2.75 million AAV.
First Meeting in 2023-24: Oct. 24 @ Bridgestone Arena
After a career resurgence with the Canucks and Maple Leafs, Schenn will probably live up to that contract in Smashville and continue to bring that physical style to the rink. The Canucks will see a lot of their former bruiser early on as they play the Predators three times before the calendar flips to 2024; the first being on Oct. 24 in Nashville. He has played 21 games against his former team, recording a goal and five points in that span.
Curtis Lazar, New Jersey Devils
Curtis Lazar's time with the Canucks was short as he only played a total of 45 games after signing a three-year contract last offseason. Before the first year was complete, the Salmon Arm, British Columbia native was traded at the deadline to the New Jersey Devils for a 2024 third-round pick. He is now part of an up-and-coming roster in New Jersey led by Jack Hughes and Nico Hischier, and will likely play the role of fourth-line center or extra forward this season.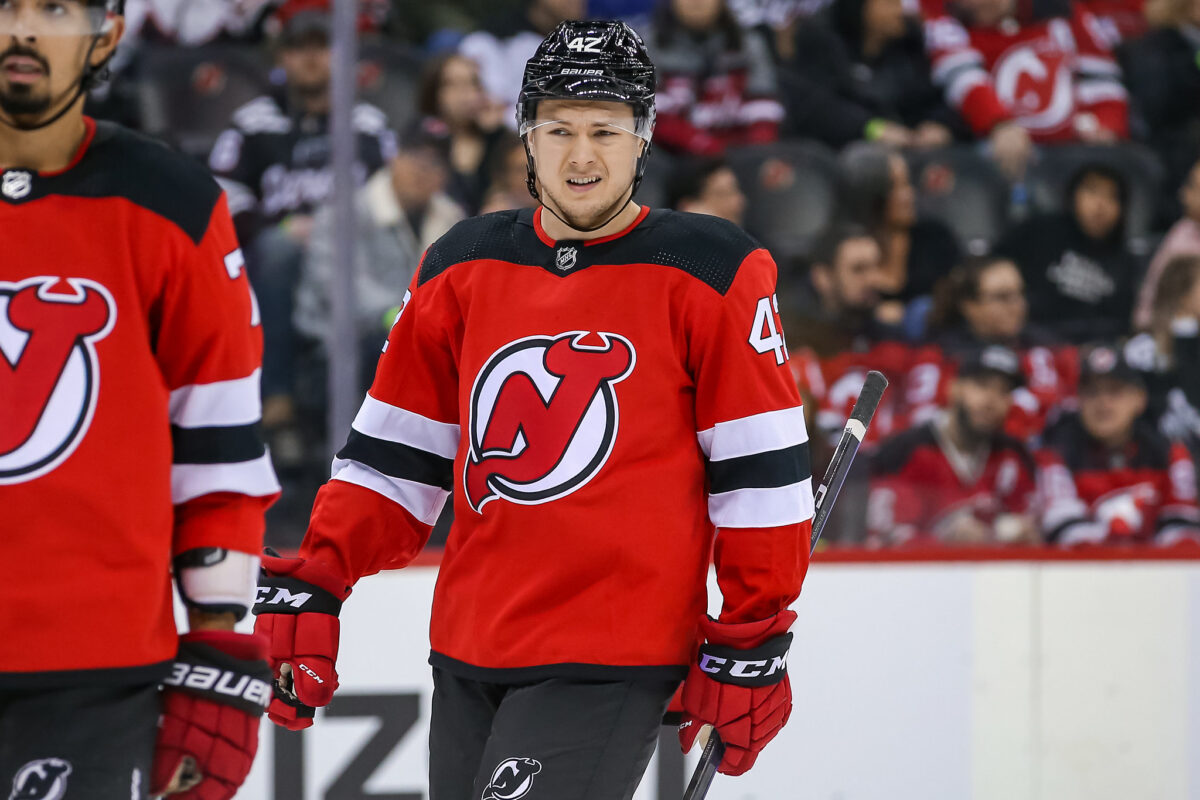 Lazar was an adequate bottom-six forward with the Canucks, but ultimately was bested by the cheaper Nils Aman. While his physicality (124 hits) and faceoff ability (51.9 percent) were welcomed additions to the lineup, he didn't have the desired effect of improving the penalty kill, which finished last in the league.
First Meeting in 2023-24: Dec. 5 @ Rogers Arena
The Canucks will potentially play against Lazar for the first time in a Devils jersey on Dec. 5 at the beginning of a four-game homestand. He has yet to score in 10 games against the Canucks, but he does have two assists.
Travis Dermott, Arizona Coyotes
One of the first trades Patrik Allvin made as general manager of the Canucks, Travis Dermott could have been part of the solution on defence; if not for injuries. He showed promise in the 17 games he played after being acquired from the Maple Leafs at the 2022 Trade Deadline but ended up dressing for only 11 games this past season. After suffering a concussion in a preseason practice, his debut was delayed until December. Then, post-concussion symptoms reared their ugly head and he was shut down for good after a Jan. 25 game against the Seattle Kraken.
First Meeting in 2023-24: Jan. 18 @ Rogers Arena
Since then, Dermott has battled back to full health and is now looking to make a return to full-time NHL duty with the Coyotes. The former Erie Otter star signed a one-year deal in the offseason and could appear in his first game at Rogers Arena on Jan. 18 when the Coyotes travel to Vancouver at the end of their three-game road trip. He hasn't scored against his old team, but he does have five assists in 11 games.
Lane Pederson, Edmonton Oilers
Lane Pederson was a very brief member of the Canucks last season but made a pretty big impression on the fans – both in Vancouver and Abbotsford. Before his call-up at the beginning of last December, he had scored 17 goals in 18 games for the Abbotsford Canucks and was a literal machine when it came to offence. Then after traveling down the freeway to Vancouver, he meshed well with Andrei Kuzmenko and Elias Pettersson and scored his first goal after only two games. While he couldn't sustain that chemistry, he was an exciting story to follow during a tough season for the fans.
Unfortunately, Pederson's time with the Canucks came to an end when the Columbus Blue Jackets claimed him off waivers in January. He finished with a goal and three points and ended the season with the Blue Jackets where he scored two goals and three points in 16 games.
First Meeting in 2023-24: Oct. 11 @ Rogers Arena
In the offseason, Pederson signed a one-year contract with the Edmonton Oilers and will be battling a few forwards – including former Canucks Brandon Sutter and Sam Gagner – for a spot in the bottom-six. It remains to be seen whether he will be in the lineup for the season opener on Oct. 11 at Rogers Arena. As for how he's faired against his former team, he has a single assist in two games.
Kyle Burroughs, San Jose Sharks
Similar to Schenn, Kyle Burroughs was signed in free agency as depth for the organization. However, he turned out to be much more than that. The homegrown product from Langley, British Columbia actually became somewhat of a regular in the lineup playing a total of 90 games over two seasons. He averaged 15:18 of ice time and was probably the only other consistent physical presence on the blue line apart from Schenn.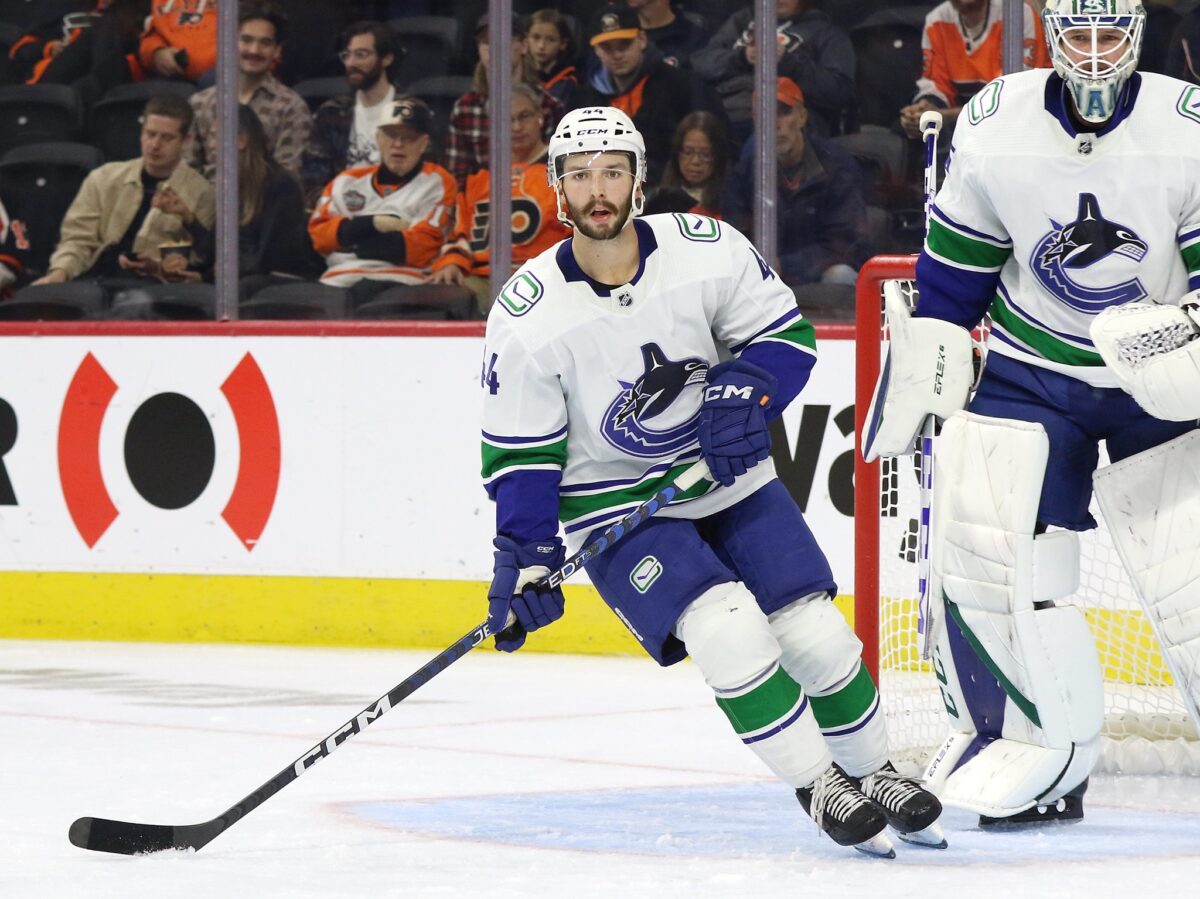 Burroughs eclipsed the century mark in hits in both the 2021-22 and 2022-23 seasons and finished with 287 in 90 games, which averages out to about three per game. He also was a staple on the penalty kill and filled in admirably when injuries struck the defence.
First Meeting in 2023-24: Nov. 2 @ SAP Center
Again, like Schenn, the Canucks decided not to pursue Burroughs in free agency. He ultimately signed with the San Jose Sharks and everyone will have to keep their heads on a swivel when they meet him for the first time on Nov. 2 at SAP Center. He will likely have a big role on a depleted defence corps as minute-muncher Erik Karlsson was traded to the Pittsburgh Penguins in the offseason. That game will be the first of his career against the Canucks as they are one of only four teams he's never played against.
Riley Stillman, Buffalo Sabres
In an effort to rid themselves of Jason Dickinson's contract, the Canucks acquired Riley Stillman from the Chicago Blackhawks just before the 2022-23 season began. While a one-for-one deal was preferable, then-GM Jim Benning decided to throw in a 2024 second-round pick for good measure. Stillman didn't pan out in Vancouver and was arguably one of the Canucks' worst defencemen in the 32 games he played. Fortunately, he was dealt to the Buffalo Sabres just before the 2023 Deadline for Josh Bloom – a prospect that could actually turn into an NHL player and recoup that second-round pick they lost.
First Meeting in 2023-24: Jan. 13 @ KeyBank Center
Stillman played pretty well in Buffalo and finished with a goal and three points in 18 games. The most notable stat was his plus/minus, though, as, after a minus-14 in Vancouver, he finished with a plus-1 in Buffalo. He will get a chance to face his former team on Jan. 13 in game three of a six-game homestand.
Canucks Nation Will See A lot of Familiar Faces in 2023-24
In addition to the eight names mentioned above, the Canucks could also see the likes of former prospect Will Lockwood, who was part of the Vitali Kravtsov trade with the New York Rangers, and goaltender Collin Delia, who started 18 games last season.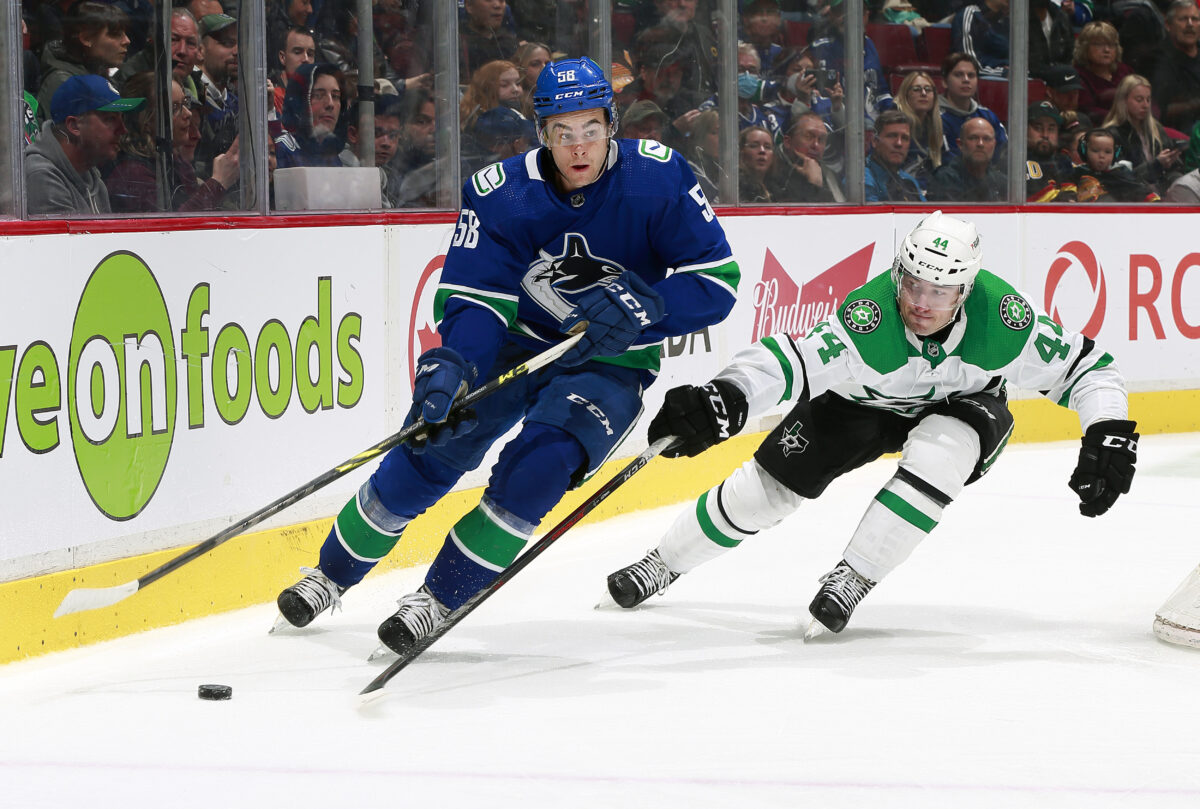 Lockwood played 28 games for the Canucks over two seasons where he recorded an assist and 92 hits. The speedy winger still has the ceiling of a physical energy forward who can play in the bottom-six and on the penalty kill. He might not get a chance to face his former team as he will probably play the entire season with the Hartford Wolf Pack in the American Hockey League (AHL) unless a lot of injuries hit the big club.
As for Delia, he will start the season as the third goaltender in Winnipeg behind Connor Hellebuyck and Laurent Brossoit; basically in the same position as last season behind Thatcher Demko and Spencer Martin. Again, the Canucks probably won't see him unless injuries hit either goaltender.
Related: 3 Canucks Under the Microscope For 2023-24
It remains to be seen whether the Canucks will miss any of the players that they have traded away or were allowed to leave via free agency/waivers. Horvat's absence will be particularly difficult, as they haven't added anyone who is as good as him in the faceoff circle. Right now J.T. Miller is the only consistent 53-plus percent centerman and he can't play all 60 minutes. We will find out soon enough, though, as the season is only a little over a month away.
---

---