written by Ian C McLaren
At the one month point of the NHL lockout, both parties involved appear to become even more rooted in their respective strongholds with each passing day, and among the fans, there appears to be a growing sense of apathy and/or a casting of blame upon either the players or the owners for the current state of affairs.
But while it's easy to make blanket statements about the situation- "I blame the players, they just don't want to get embarrassed again", or "I blame the owners, they threw around money they never intended to pay" – one should be careful not to lump together each member of a particular group; for surely among both the players and the owners, there are some who may not fully be on board with the mandated course of action.
Case in point: Terry Pegula, owner of the Buffalo Sabres.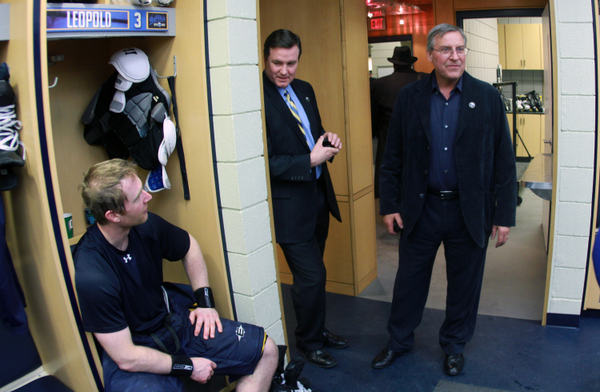 Let's take it back to February of 2011, when Mr. Pergula first assumed ownership of the team. A long time fan of the franchise and a multi-billionaire to boot, Pegula clearly stated his commitment to bringing a winner to the city of Buffalo, no matter what the cost.
In his own words:
Starting today, there will be no financial mandates on the Buffalo Sabres hockey department.

Starting today the Buffalo Sabres' reason for existence will be to win a Stanley Cup. (via ESPN)
At the time, even Gary Bettman seemed quite tickled about having Pegula on board: "He loves the game and this is a dream come true for him. It's also a dream come true for the league because we know this franchise is in great hands." (via ESPN)
And Pegula didn't waste any time in backing up those statements; while he hasn't been able to build that winning squad quite yet, he sure has spent some serious coin en route to that desired end. During the summer of 2011, GM Darcy Regier signed Christian Ehrhoff and Ville Leino to big contracts, and traded for Robyn Regehr, who also came with a hefty contract in tow. Then, just prior to last season, Tyler Myers inked a $38.5 million extension, which came along with a $10 million signing bonus. Heading in to what would have been the 2012-13 season, the Sabres had $75,300,000 committed in total salary, good for tops on the league, $4 million ahead of the second spot Wild. (via Capgeek)
All of this information begs the following question: if Pegula's sole focus as owner of the Sabres is to bring a Stanley Cup to the city of Buffalo, how does he feel about the possibility of having an entire season wiped out, just 18 months after acquiring the team?
At the time of the purchase, Pegula (now 61) had an estimated worth of $3 billion and ranked 110th on Forbes magazine's list of wealthiest Americans. With that in mind, Pegula was asked at that initial press conference whether he viewed his purchase of the team as a business venture. His response?
If I want to make some money, I'll go drill a gas well.

I don't know if it's wise to spend to the cap every year. But we're not in this to save money, that's for sure. (via ESPN)
Put it all together and it's hard to imagine that Pegula is all that thrilled with having to temporarily mothball the operation so early on in his tenure. It would be like owning a 1961 Ferrari GT California and being told to keep it on blocks in the garage instead of taking out on the road and experiencing the kind of joy and satisfaction that 80s teenage movies are made of.
Having said that, there may be some who would argue that the money he so exuberantly tossed at the likes of Leino & Ehrhoff only contributed to the deeper issues at work in these negotiations (or lack thereof). Pegula, of course, was only working within the system at hand, taking his 'car' out for a well-intentioned spin and seeing where it led him, like so many of his brethren now crying poor as a result.
The reality is that we can't and won't get a glimpse inside of Pegula's brain on these matters. As but 1 of 30 NHL owners (and a new addition at that), he's bound by their collective will and quite simply must tow the line. Based on the above statements, however, it's safe to assume that Pegula isn't too concerned with grabbing a bigger slice of the HRR pie, and will continue to try to use his considerable wealth in an attempt to put the best possible product on the ice at the First Niagara Center. This bodes well for Sabres fans, who can rest assured that Pegula & Co. will be off and running once the NHL schedule resumes.
In the meantime, and in light the news that Tyler Myers has signed with Klagenfurt AC of the Austrian league (put another shrimp on the lockout barbie), be reminded that there is at least one owner out there who's more concerned with winning on the ice than in the boardroom.