Originally published in 2014, THW takes a look at The Last Gladiators, a seminal film on fighting in hockey. All you want to know about guys like Chris Nilan, Bob Probert, the real enforcers of the NHL.
While fighting has been an ongoing debate throughout the NHL, the art of dropping the gloves is not for everyone. NHL enforcers are some of the toughest men in the world, and only the strong survive long enough to make a career out of being a fighter. Only these players, who play the role of enforcer, are depended upon to fight every time they are penciled into the line-up. There is no other job comparable to being an NHL enforcer in any sport in the world.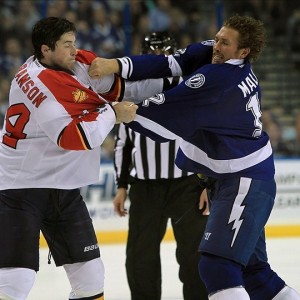 The Last Gladiators, a documentary film which is being released in Canada this week, portrays the life of an NHL enforcer from every angle. The documentary focuses on the life of Chris "Knuckles" Nilan, a former enforcer for the Montreal Canadiens. At the same time, the film also gives a nod to many other prominent fighters who made a living in the NHL as full-time fighters.
Award-winning director, Alex Gibney, takes a look from an enforcer's perspective at what the unspoken code of fighting means in the NHL while protecting your teammates at all cost. Gibney uses this film to express the views and opinions of enforcers who have personally lived this life.
Although, Nilan's life is the focus of this documentary, Gibney dives into the origin of fighting and why fighting has such a large impact on the NHL. The film also discusses legendary enforcers such as Bob Probert, Marty McSorley, Tony Twist and Donald Brashear.
The Last Gladiators and Chris Nilan
By taking the opinions of these enforcers, their coaches, and following the life of Chris Nilan, the film delivers a chilling truth. These fighters are facing life-threatening issues on and off the ice on a daily basis.
Chris Nilan played his entire career insecurely thinking that his next game might be his last. His hockey skill alone wasn't good enough to keep him employed as an NHL player. Nilan hypnotized himself into a thought process which influenced him to fight as much as possible. "Knuckles" was willing to go over the edge to protect his teammates, and intimidate anyone stupid enough to pick on one of them.
Nilan grew up a Boston Bruins fan and witnessed Bruins' enforcers at a young age. Watching as a fan he realized that as soon as these Bruins enforcers stopped fighting that they stopped dressing for games. "Knuckles" Nilan went to great lengths to be in the line-up every night. He was willing to play through agonizing pain and took steep measures to make sure he was never left off the line-up card like those Bruins enforcers who stopped fighting. Nilan's mentality and fighting role brought him from fighting on the ice to fighting for his life off the ice after his playing days were over.
Nilan tried to develop a second career after he retired from the league in 1991-92. He was given an assistant coaching position under Jacques Lemaire going into the 1995-96 season with the New Jersey Devils. Nilan stated in the film that most NHL assistant coaches are on the bench to help guide players along and provide them with a pat on the back. This was not the style of the ex-NHL enforcer. Nilan's clash with normal assistant coaching methods saw him let go by the Devils after one season.
Life After Hockey for an Enforcer
Nilan tried to make a quality living with other jobs after his assistant coaching stint. After failed attempts at other occupations, he states in the film that he did not feel comfortable doing anything else besides playing hockey. This dilemma led Nilan to an addiction to painkillers, heroin and a stint in drug rehab and visit to a doctor in Hawaii. The end of the film shows that Nilan has confronted his demons and has been clean from drug use for an extended period of time while continually working to live a better life.
Bob Probert
McSorley and Brashear are some of the noted fighters who give their opinions about the struggle of being an NHL enforcer. In addition, there is no opinion in the film more notable than that of the player known for being the fiercest fighter of his generation, Bob Probert. After Probert made a cameo in The Last Gladiators, he later died of heart failure. His autopsy revealed that he had chronic traumatic encephalopathy (CTE). This is a progressive degenerative disease that is only discovered postmortem and something caused by multiple concussions and repetitive blows to one's head.
In addition to Probert,  three NHL fighters lost their lives in 2011 due to their roles as enforcers. Derek Boogaard, Rick Rypien and Wade Belak tragically died from what is believed to be from their fighting and the result of taking too many blows to the head.
Even with the tragic deaths of the three aforementioned fighters taking place last year, The Last Gladiator does not take a particular stance one way or the other on fighting. The film's main focus is to present the stories of these enforcers and the type of lives they live.
The Pressures of an NHL Enforcer
The Last Gladiators plainly shows us that being an enforcer is by far the most difficult role for any player in the NHL. The constant pressure of knowing that you are going to have to go toe-to-toe with another fearless man messes with an enforcer both physically and mentally. The stories told by the fighters in this documentary provide us with that proof.
This is why every hockey fan should see this film and learn how difficult life is as an enforcer in the NHL. The tales told by all of the players, coaches and media members cast in this documentary need to be heard by hockey fans worldwide.
After viewing The Last Gladiators and seeing the negative effect fighting has these toughest of tough guys, and the fact that fighting is the sole job of a select few players, NHL teams should simply stop employing them. Let fighting take place when a player, who possesses typical NHL hockey skills, loses their cool with an opponent.
Enforcers know that for each game they play, everyone is expecting them to fight, and at the very least, fight their opponent's enforcer. This type of fighting is forecasted and is planned well before a game even starts. Fighting can and will happen but should not be planned. For this reason, the NHL needs to address fighting. The league needs to keep teams from signing players who are only on a team only to fight and would not otherwise play if not for being an enforcer. Issues such as employing an enforcer strictly for fighting should be brought to the forefront of the NHL agenda after what we learn from The Last Gladiators.
Justin Glock has covered the Pittsburgh Penguins for The Hockey Writers since 2011. As a lead writer, his Penguins knowledge traces back over two decades. For any requests, please feel free to contact Justin via email: JGlock10@gmail.com.