On Wednesday, December 9th, 2015, Vancouver Canucks defenseman Dan Hamhuis was struck in the jaw by a Dan Boyle slap shot. The shot, and the horrific injury which ensued, forced Hamhuis to not only leave the game, but be admitted to local hospital with a facial fracture, trauma which required surgery the following day.
Hamhuis' injury however is not the first of its kind, as players have long been suffering devastating facial injuries throughout NHL history. Sure, a lost tooth here or there has come to be known as the mark of a true hockey player, however, for numerous other unfortunate individuals, much more traumatic injuries, and as a result, permanent, life altering damages, have been suffered during play.
The NHL – A Long Past of Facial Injuries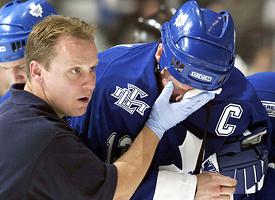 The NHL has witnessed more than its fair share of facial injuries, many of which have altered the careers, and more importantly, the lives of its players. In the year 2015 alone, there were a incredible number of injuries suffered from pucks, sticks, or even skate blades to the face.
In short: Cody Goloubef of the Columbus Blue Jackets was struck by a wrist shot, suffering a facial fracture in November. Brent Seabrook, Blake Wheeler, Zemgus Girgensons, Brandon Saad, J.T Brown and Dan Girardi were all struck by pucks to the face, with each player missing varied amounts of time.
More dangerously, Drew Miller was hit by the skate blade of Mark Stone in March, suffering a cut which required 60 (!) stitches to seal the wound. Further, in December of 2015, Erik Johnson was hit by the skate of Rick Nash, suffering a cut yet later returned to the game.
Despite the amount of time missed by these players, such injuries are simply putting players at too great of a risk on the ice.
A Horrific History
Looking back in recent NHL history, there is a history of frequent facial injuries.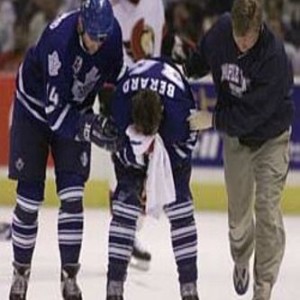 In 2014, Anaheim Ducks captain Ryan Getzlaf was hit in the face by a Tyler Seguin slap shot, while in 2013, New York Rangers defenseman Marc Staal suffered a scary injury, as he was struck in the eye by a puck. After missing 38 games, Stall returned with a visor for the first time, yet was still troubled by eye sight issues for a prolonged period of time.
Further back, in 2011, now Hall of Fame defenseman Chris Pronger had his career effectively ended, when the follow-through of then Toronto Maple Leaf Mikhail Grabovski struck Pronger in the face. Suffering a concussion on the play, Pronger played just five more games in his NHL career, as his injury was simply insurmountable, struggling to live a normal, everyday life for a considerable period of time.
Dating back to March 2000, Bryan Berard suffered arguably the most significant and life altering eye injury in League history, which surely could have been prevented. Struck in the right eye by the stick of Marian Hossa, Berard required seven separate eye surgeries, yet was still left essentially blind in his eye with an eyesight of 20/400. Berard returned to the NHL for the 2001-02 season, playing parts of an additional six seasons in his career, although his vision will never be the same.
Seeking Consistency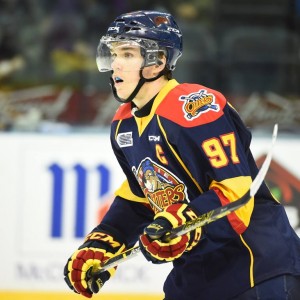 Throughout the vast majority of hockey in the world, players wear full face shields. Young children growing up wear full shields without question, sporting the masks into their late teenage years.
In reality, it is not until a given player reaches the Canadian Hockey League, or subsequent level of junior hockey sanctioned by Hockey Canada, in which players are no longer required to wear a full shield. In the NCAA however, all players, who range from the age of 18 to their mid-twenties, are still required to wear full shields, so why does this change in the NHL?
If players have grown up playing the game, and succeeding while wearing a full face shield, why does this need to change in the NHL, where it is quite arguably more dangerous to do so?
Considering the Benefits
There are an incredible number of benefits associated with the potential implementation of full face shields for players, as the massive change would indirectly improve additional areas of the NHL game.
Whether you support or oppose fighting in the NHL, the introduction of player shields would undoubtedly change the frequency of fighting in the League. In recent years, the number of fighting majors in the NHL has endured a consistent reduction, so too has the number of 'fighters' on League rosters. As a result, those willing to drop the gloves on an occasional basis can quite easily be identified, as they are the select few who sport no facial protection. Implementing full shields would effectively curb fighting.
In addition to curbing fighting, full face shields or cages, have long been known for their ability to help reduce and prevent the possibility of concussions. A built in chin guard prevents a players jaw from sudden, damaging movements, such as receiving a body check from an opponent. After all, the head is the most important part of the body, so why not fully protect it?
Elimination of Facial Injuries
Lastly, the adaption of a full face shield would remove the numerous facial injuries suffered by players on a yearly basis. No longer will errant high sticks, wide or deflected shots, or even skate blades pose a realistic threat to a players face, most importantly their eyes. In addition, everyone gets to keep their teeth!
Weighing the Negatives
One of the biggest issues of implementing full facial protection would surely be the general opposition of the NHL's players. When visors began to be grandfathered in in 2013, there was initial criticism by some of the League's existing players, yet a mere two years later, the rule change has become distant history. Such could become the case if full shields were applied, however, they would simply become the norm a few years from now.
Another potential issue could be a subsequent decrease in offense, an issue which has become prominent in the NHL in recent history. Full face shields arguably decrease the visibility of players, and as a result, their ability to control the puck, especially close to their body. Although this would be difficult to prove, it is certainly worth taking into consideration.
One issue of such a change would be the inability to recognize players on the ice. Although this seems like a relatively small issue on the ice, it is of greater importance to the NHL's fans, those who truly make the game great.
Time to Consider Full Face Shields
Now, don't get me wrong, I'm not calling for the immediate implementation of said shields, but simply a well thought-out and thorough consideration of the idea.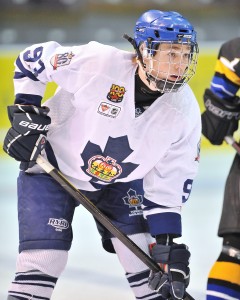 Quite clearly, as we have seen throughout NHL history, facial injuries caused by pucks, sticks or errant skate blades to the face are highly dangerous and increasingly prevalent, retaining the ability to not only end one's career, but to also impair a player for life. Unfortunately, the occurrence of these injuries is seemingly increasing and shows no signs of slowing down.
Added to this issue is the ever evolving nature of the NHL game. Players in today's NHL shoot much harder thanks to lightweight, technically advanced sticks, while players themselves are increasingly stronger, thus, the potential for significant facial injuries are ever present.
Grandfathering in this new rule could be an option, similar to the NHL's policy with visors and new players entering the League circa 2013. This would give current players the option to wear a full masks, while requiring new players to do so without choice. Yet, in reality, it is likely that the vast majority of existing players would vehemently decline this option.
Although full face shields may not come to the NHL anytime soon, it is certainly a worthy conversation to have. Not only would full face shields change the NHL game in a number of positive ways, but it would also provide an instant reduction in facial injuries, removing the many cringe worthy scenes of blood on the ice following a given injury while effectively reducing numerous man games lost to such injuries throughout the years.
Whether you find it interesting, or completely ridiculous, the topic of full face shields is one which must be discussed, whether an impactful decision is made or not.
Sure, they may look funky, but if it means saving an eye, or preventing a concussion in the future, why not?
---
What is your opinion? Let us know in the comments below!