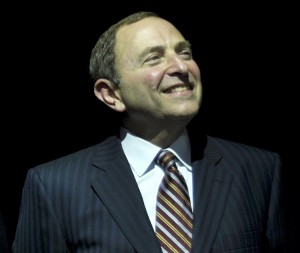 Recently, Gary Bettman made a statement regarding the New York Islanders and a possible move to Brooklyn. Bettman stated that it would be hard for the fan base in Long Island and Queens to reach the team at the Barclays Center in Brooklyn.
That couldn't be further from the truth.
Living in Brooklyn and Queens could have its many downfalls. Traffic, sparse parking, and tightly packed spaces can make for some testy moments, but the MTA is just one perk that the five boroughs have to offer. For those that despise traveling by car for the aforementioned reasons, the MTA provides its services for $2.25 and one could literally reach most points in the five boroughs if they take the right combination of trains.
On the other hand, Long Island does not have an overly developed public transportation system that can be found in Brooklyn, Queens, Staten Island, Manhattan, or the Bronx. Instead, commuters and residents resort to the LIRR. While it may be a tad expensive to travel using the LIRR, the train departure and arrival times are on point for the most part and the ride is very comfortable.
If Gary Bettman truly believes that it will be hard for the Long Island and Queens natives to access the Isles in Brooklyn, then this article will attempt to dissuade that notion. Here are a couple of reasons as to why Brooklyn can be a viable option to reach in terms of transportation: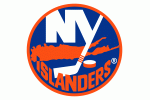 2.) MTA (Metro Transit Authority) – Ah, the MTA. For $2.25, you can get delays due to train traffic, rail-work, and other things. Even though the MTA has its bad moments (Blizzard of 2010), it also serves as a major source of transportation in the five boroughs. People use the buses and trains around them to get to work each day and the MTA would be a good source of transportation for fans in Queens that don't want to shell out the extra cash for the LIRR.
The area around the Barclays Center is located near one of New York's major MTA hubs. There are several different trains that can get one from Queens to Brooklyn (Atlantic-Pacific Avenue) in about an hour. Some trains would arguably take a bit longer, but one would simply have to plan ahead if they wanted to make it to the game on time. Countless Rangers fans take the MTA from Brooklyn, Queens, Bronx, and Staten Island to get to Madison Square Garden and few complain about travel time as they are already used to the routine.
Downtown Brooklyn is not as hard to reach as Bettman might make it seem. As previously mentioned, fans would just have to plan ahead of time in order to make it to the game in a timely fashion. Even though the MTA might have many downfalls, it has been servicing countless people for decades and is a fairly inexpensive way to travel around the five boroughs.
There are currently 9 lines (2, 3, 4, 5, B, D, N, Q, & R) that will arrive at the stop nearest to the Barclays Center. The Q, R, and N all run through various parts of Queens and could be used to get to the downtown Brooklyn/arena area without transfer. The F line is also available in Queens and will get an individual to downtown Brooklyn, but the F-train does not stop near the arena. Taking the F-train could save a traveler a bit of time as the line runs express through Queens, but the walk from the train-stop in Brooklyn to the arena could take several minutes.
Altogether, there are 4 different lines that run from Queens to the arena area in Brooklyn and the MTA would save Queens' travelers about $4.25 ($8.75 Round-trip on LIRR, $4.50 Round-trip on MTA) for those that don't want to spend their money on a LIRR ticket. Those that want to save their the money will realize that they are giving up certain services and will experience longer travel times when taking the MTA, but the mode of transportation will get people to the arena nonetheless.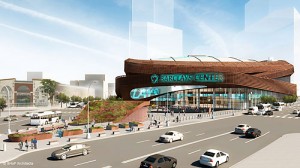 2.) LIRR (Long Island Rail Road) – As a Stony Brook University undergrad, I quickly had to learn the ropes of the LIRR. Commuting from Brooklyn (Southern tip) to Long Island was arduous to say the least, but the location of the Barclays Center makes it extremely accessible to commuters. Traveling from Stony Brook to Jamaica would take about 1.5 hours and another additional 20 minutes from Jamaica to the Atlantic-Pacific Avenue stop near East New York. In total, it would take about 2 hours (possibly more) for Suffolk residents to make the trip to Brooklyn to see their beloved team.
Traveling two hours by train in one direction to see your favorite team would be the ultimate demonstration of support and quite inconvenient for some, but the LIRR would offer people a chance to relax and not have to worry about driving long distances after the game is completed. Gas money and parking fees would be neutralized by the amount that one would have to spend on a round-trip LIRR ticket (close to $20 if traveling from parts of Suffolk) and one would not have to worry about having a few drinks at the venue and then driving home after the game.
Yes, it would be inconvenient for some to devote that much time to traveling by train, but it wouldn't be hard for fans in Long Island to reach the Barclays Center. Time management would definitely factor into fans' decisions, but the LIRR has a plethora of stations and locations that can get travelers from their point in Long Island (Nassau or Suffolk) to downtown Brooklyn. If Rangers fans from Nassau and Suffolk have been doing it, then Islanders fans will probably follow in that same fashion. It would take an individual the same amount of time to get to MSG from Long Island as it would to get to the Barclays Center from the same point of departure. One might save some time if they find a train that leaves to their destination (MSG or Barclays Center) directly, but the difference in the time of arrival would be minuscule.
Would it take a while to get to the Barclays Center from certain points in Long Island/Queens? Yes. However, it would not be hard to reach as there are loads of LIRR stations throughout Nassau and Suffolk County that can bring fans to the arena in about 2 hours. If Rangers fans have been taking the commute to MSG from Long Island, so can Islanders fans as the commute would be virtually the same.
Should Brooklyn Still Be An Option?
In short, yes, Brooklyn should still be an option for the New York Islanders if they cannot find a suitor in Nassau or Suffolk County. The Barclays Center will be a state of the art arena and will be located on top of one of New York's major transit hubs. The area around the arena has plenty of shopping outlets, restaurants, fast food services, and other forms of entertainment.
The only question mark that is attached to the arena is its sight-lines for hockey. Nassau Coliseum has some very good sight-lines for hockey, but an arena that was originally built for a basketball team might not be optimal for hockey games.
The Islanders will play the New Jersey Devils in an exhibition game at the Barclays Center before the 2012-2013 NHL season begins and many questions about the arena's ability to host hockey games will be answered. Even if the arena has a small capacity for hockey games (14,000), the venue could always be changed to cater to a bigger crowd.
If Bettman is concerned that the Islanders will lose their fans if they move to Brooklyn, then that is fair game, but the old saying of "if you build it, they will come" rings true in this situation. The Islanders could gain some new fans in Brooklyn just like the Nets could gain new fans when they move to the Barclays Center. There are many Rangers, Devils, and Sabres fans in the greater New York area, but the Barclays center would be a perfect location for a sports franchise as it is located in the heart of a center of commerce.