Amid the flurry of major changes made in Edmonton this off-season by new General Manager Peter Chiarelli, two new goaltenders were added to the existing roster.
One well-known acquisition is Cam Talbot, who was added in a draft day trade with the New York Rangers. The other, more subtle addition is that of Anders Nilsson, who arrives on a one year contract from the KHL.
On the other hand, there is also 2014-15 starter Ben Scrivens, who over the past two Oilers seasons has become known for his high compete level and determination despite playing in front of one of, if not the weakest defensive core in the NHL.
However, one aspect heading into 2015-16 that many may be unaware of is the fact that all three of these Oilers goaltenders have one single season remaining on their NHL contracts.
As a result, despite the starting role being Cam Talbot's to lose, the contract, and general roster situation in Edmonton should spur an intense, heated goaltending battle at not only the start of training camp, but also the regular season once underway.
Cam Talbot
As previously mentioned, the starting goaltending job for the Oilers in 2015-16 is Talbot's to lose. He will enter training camp expected to play not only the majority of the Oilers' games, but to also provide the Oilers with strong, quality goaltending, something which the Oilers have long lacked.
However, could these expectations placed upon Talbot be too high? Although he does retain a career Goals Against Average (GAA) of 2.00 and a Save Percentage (SVP%) of .932%, these numbers are the result of a relatively small sample size, as Talbot has played in only 57 career games. Further, in his time with the New York Rangers, Talbot was privileged to play behind one of the NHL's strongest defensive squads.
Although the Oilers defense is upgraded when compared to the 2014-15 season, it remains nowhere near as skilled, or as deep as that of the Rangers this past season, meaning Talbot will have to prove his abilities as a number one goaltender in a much tougher situation.
Ben Scrivens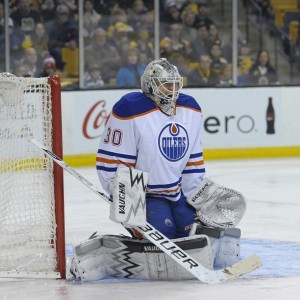 As the Oilers' starting goaltender in 2014-15, Scrivens had the worst statistical season of his NHL career, and given the Oilers' defense, it is not surprisingly so. However, what is often lost when looking at Scrivens' individual statistics in 2014-15; an 890% SVP and 3.16 GAA, is that fact that he provided the Oilers with his best effort every single time he took the ice, despite the outcome.
Due to the arrival of Talbot, Scrivens will undoubtedly see considerably less playing time this season, yet should not be counted out as an impact player for the Oilers in 2015-16. Scrivens, whose compete level and determination is off the charts, will certainly welcome a goaltending battle this coming season, especially one which will provide him the opportunity to establish himself as a full-time, quality NHL goaltender.
Anders Nilsson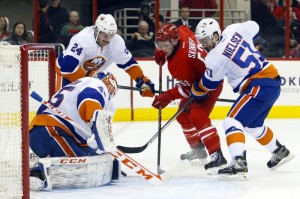 Signed to a one-year, $1 million contract in 2015-16, Nilsson is a true wild card in the Oilers crease this coming season.
The youngest of the three Oilers goaltenders at the age of 25, Nilsson is coming off a tremendous season in the KHL with Kazan Ak-Bars, where he recorded a 1.71 GAA and a .936% SVP in 38 games played, alongside a 20-9-8 record. Returning to North America for the first time since 2013-14, Nilsson does have prior AHL and NHL experience with the New York Islanders organization.
With the Islanders from 2011-14, Nilsson played in a total of 23 games, of which he started 20, recording a respectable 9-9 record, 3.05 GAA and .898% SVP. Further, Nilsson spent a greater amount of time with the Islanders' AHL affiliate, the Bridgeport Sound Tigers, where he played 46 games, posting a 2.67 GAA and .911% SVP from 2011-13.
The main challenge for Nilsson this season will be ousting one of Talbot or Scrivens for a position on the Oilers roster, a task which will not be an easy one. Nilsson does have his great KHL season working for him, however he will first have to prove he can play to a similar standard at the NHL level, perhaps Nilsson's greatest challenge yet.
Realistically, Nilsson appears at the moment to be on the outside looking in, and it will take a tremendous training camp or an unforeseen change to the Oilers roster to change Nilsson's current situation. However, if Nilsson is afforded the opportunity to see considerable playing time with the Oilers, both his high potential and raw skill could allow Anders to enjoy considerable success at the NHL level.
Brett Slawson is a four-year veteran of The Hockey Writers who covers the Toronto Maple Leafs, NHL prospects, and the OHL's Mississauga Steelheads.
Contact Brett on Twitter @brettslawson92, or by email at brett_slawson@hotmail.com.