The 2006-07 season is an interesting one to look back on. The Buffalo Sabres, led by Danny Briere and Chris Drury, won the President's Trophy, Sidney Crosby played his second year in the NHL and led the league in points, the Atlanta Thrashers won the Southeast Division and the Detroit Red Wings had newcomers like Robert Lang and Todd Bertuzzi aid in Detroit's team making it to the Western Final, before losing to the eventual Stanley Cup winners, the Anaheim Ducks.
Heading into that offseason, the Wings looked to retool at the draft for the future. Eight years later, we look back at that draft, and how those picks have played out.
Round 1
The Red Wings had a fair amount of success during the season, so they picked at 27th overall. With their first round pick, they chose Brendan Smith from the OPJHL. This was an interesting pick, as not many players get drafted from Junior-A leagues in Canada, unless it's the BCHL. The OPJHL (now the OJHL) even mentions on their website that if you're playing in their league "your goal of playing in the NHL may never happen." Brendan Smith bucked that trend, along with the likes of Brent Burns, Kevin Bieksa, Brian Elliott and others, of whom boasted some solid NHL careers.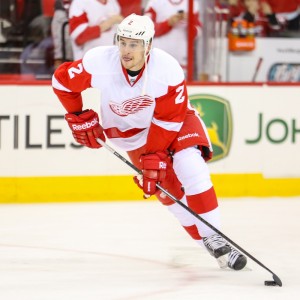 Smith had 36 points in 39 games in his draft year, but the Wings liked his physical side, which included 90 penalty minutes that season. Smith then moved to the University of Wisconsin to take the NCAA route of polishing his game. In his first season, he was at nearly at a point-per-game pace before injuries took him out of the lineup, limiting him to 22 games. His sophomore year was also hampered by injuries, keeping him to only 31 games, where he bettered his point total to 23. Smith's junior year is where he really shined. He played 42 games, put up 52 points while still keeping his physical edge with  76 penalty minutes. His performance landed him in the top 10 in the running for the Hobey Baker Award.
Deciding to forego his fourth year of college, Smith jumped to the Grand Rapids Griffins and picked up right where he left off in the NCAA. Moving up to pro hockey can be tough for some, but Smith managed to register 32 points in 63 games, while still spending most of his time in the penalty box; in his first AHL season, Smith had 124 penalty minutes. He was named to the All-Rookie Team and would have played had it not been for a shoulder injury.
Smith then bounced between the Griffins and the Red Wings two more seasons, putting up solid numbers for both teams, never once being a minus player until the 2013-14 season (and he was only a minus-2). Smith has played 195 NHL games, and is a regular in the Red Wings lineup until late this past season when he struggled. Scratched for a few games of the playoffs, when given his opportunity to play, Smith did just that. He played very solidly in his five playoff games and regained the trust of then-coach Mike Babcock.
Round 3
With the Red Wings' second round pick going to Florida in the Todd Bertuzzi trade, the Wings didn't pick again until 88th overall, at which point they took Joakim Andersson.
Andersson's offensive numbers were never anything to be amazed by. He bounced around five different leagues within Sweden, his best time coming with Frolunda's under-20 team, where he had 46 points in 41 games. When loaned to lower leagues, Andersson could shine offensively, but what impressed Red Wings brass was his play in the WJHC. In his last two WJHC tournaments, he had 12 points in 12 games; when you play against the best of your age in the world, that's when you are truly tested.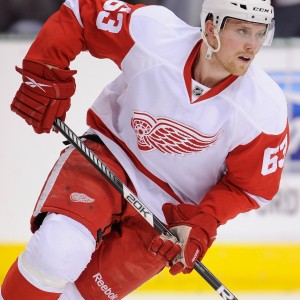 Andersson's jump to North American hockey started off slowly. In his first season with the Griffins, he had 22 points in 79 games, but was counted on in defensive situations. His next season in the AHL, he found success with fellow Swede Gustav Nyquist, and registered 51 points in 73 games, including 21 goals. In his final half-season in Grand Rapids, he looked ready to make the NHL jump. His 27 points in only 36 games merited a call-up, but only resulted in eight points in 38 NHL games.
Never having found that same offensive touch, the Red Wings' coaching staff have locked onto Andersson finding his defensive game again. He has been playing shutdown roles on the third and fourth line more often than not, but is still only 26-years old. Unless he finds that previous offensive outburst next season, he is likely going to be used in defensive roles for his career.
Round 5
With no picks in the fourth round, the Red Wings selected Randy Cameron with the 148th overall pick. The Prince Edward Island native posted back-to-back 39-point campaigns in his draft year and the year after. He was thrust into the Wildcats' first-line center role, which wasn't something he was ready for, nor had the potential for. His career high in the QMJHL came in 2009-10 where he had 68 points in 68 games, but it wasn't enough for the Red Wings to offer him a contract.
Having never played in the AHL, and currently playing in the SPHL, it's safe to say that Cameron won't be making the Red Wings' roster any time soon.
Round 6
In the sixth round, the Red Wings took a chance on a player who dropped down in the draft. With the 178th overall pick, the Red Wings selected Zack Torquato from the Erie Otters.
Torquato is an interesting story. Early in the season, after posting 23 points in 22 games with the Saginaw Spirit (a team pushing for the Memorial Cup that season), he was traded to the basement of the league in Erie. He finished the season with 46 points in 43 games for Erie, for a season total of 69 points in 66 games, which is just over a point per game. This is where the story gets interesting.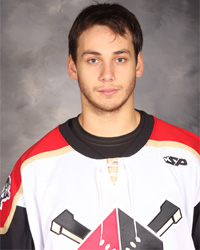 At mid-season, Torquato was playing with two other highly rated draft eligible players in Josh Kidd and Nick Palmieri. All three players were expected to go within the first two rounds, and in fact, Torquato was ranked as the 36th best skater in the 2007 draft at the midseason rankings, and by the end of the season, dropped to 61st overall. There must have been something going on within that Erie dressing room, or on the ice, that scared people off of these three players. Palmieri, who was ranked 66th overall, was drafted at No. 79. Torquato, of course, dropped from 61st to 178th. Josh Kidd, who finished the season ranked at No. 79, was drafted 184th by the Los Angeles Kings.
Right before the 2007 draft, Torquato and three of his teammates plead guilty to the sexual assault of a 15-year-old girl. Corrente was the only player to ever get a sniff at NHL ice, while the other players have moved onto playing hockey elsewhere. Torquato split last season between the Wilkes-Barrie/Scranton Penguins of the AHL, and the Wheeling Nailers of the ECHL.
Round 7
Moving from one uncomfortable prospect discussion to another, in the last round of the 2007 draft, the Red Wings drafted Bryan Rufenach at 208th overall.
Drafting again from the OPJHL, the same league they plucked Brendan Smith, the Red Wings selected a 6-foot defenceman who put up a point-per-game in his draft year. Unfortunately for Rufenach, his offensive game took a hit when he made the transition to ECAC hockey, playing four years at Clarkson University. However, his game was steadily rising. Eventually, Rufenach made his way to the ECHL, and eventually the Grand Rapids Griffins. Rufenach had promise, especially for someone drafted so late, and the Red Wings were seeing significant growth in the young defenceman.
Sadly, on a backpacking trip to Switzerland in 2012, Rufenach came in contact with an overhead power line and passed away. He was 23-years old.
Grade: C+
Eight years have passed since the 2007 draft, and the Red Wings now have two NHL players come through the system and play regular minutes for them. In a sense, this draft is a win. However, on the other hand, Andersson has struggled to hold a steady top-six role, and play most of last season on the fourth line. For someone taken in the third round, this is a disappointment. With none of the other draft picks even having contracts with the Red Wings at this point, the grade lies with Smith's steady-ish play last season, and the potential for Andersson to blossom. Until Smith can be a top-four defenseman, and Andersson can be a top-six forward, this grade will remain.