To this day, fans from around the league lament how successful the Vegas Golden Knights were in their expansion draft. To a certain extent, can you blame them? The Golden Knights, led by then-general manager George McPhee, were able to exploit other teams by adding players that weren't getting a fair shake with their original clubs (William Karlsson, Shea Theodore, Marc-Andre Fleury, etc.) as well as adding plenty of draft capital along the way. The success of that expansion draft is a key reason why this team has consistently been one of the top teams in the league since their inaugural season.
This summer, another team is joining the NHL: the Seattle Kraken. Set to embark on their own expansion draft using the same rules as the Golden Knights had, Kraken GM Ron Francis will more than likely look to take a page out of McPhee's book in how to use the expansion draft to his team's advantage. Just like in 2017, there are plenty of teams out there that are in a precarious position heading into the expansion draft.
Luckily for the Golden Knights, they are exempt from this expansion draft, meaning that they will not lose a player to the Kraken. For all intents and purposes, Vegas GM Kelly McCrimmon could easily just take a long, well-deserved nap during the expansion festivities. However, there is a huge opportunity here for McCrimmon and his team to take advantage of the situation and find ways to improve an already impressive roster.
We here at The Hockey Writers conducted a mock expansion draft where each team had a writer that acted as the team's GM. I was lucky enough to be named the Golden Knights' GM for this exercise, and I refused to go into this with the idea of doing absolutely nothing. Lo and behold, in talking with my fellow GM's, I found many different opportunities, some of which were just too good to pass up. Here's how I used the Seattle expansion draft to improve the Golden Knights.
Shed A Goalie for Cap Space
The Trade: Robin Lehner to the Pittsburgh Penguins for (G) Tristan Jarry, (D) Pierre-Olivier Joseph, 2021 Second Round Pick (PIT), 2023 Second Round Pick (PIT)
I know what you're thinking: if any Vegas goaltender is getting traded to the Penguins, it's Marc-Andre Fleury. While I agree in the practical sense, when "Pittsburgh GM" Panagiotis Mavridis approached me about acquiring one of my goaltenders, I couldn't justify trading away the reigning Vezina-winner, as well as a player that many regard as the face of the franchise. Due to the term remaining on Lehner's deal, I also felt like I could get a bigger return for him than "Flower", so I worked out this deal that includes one piece for the present and three for the future.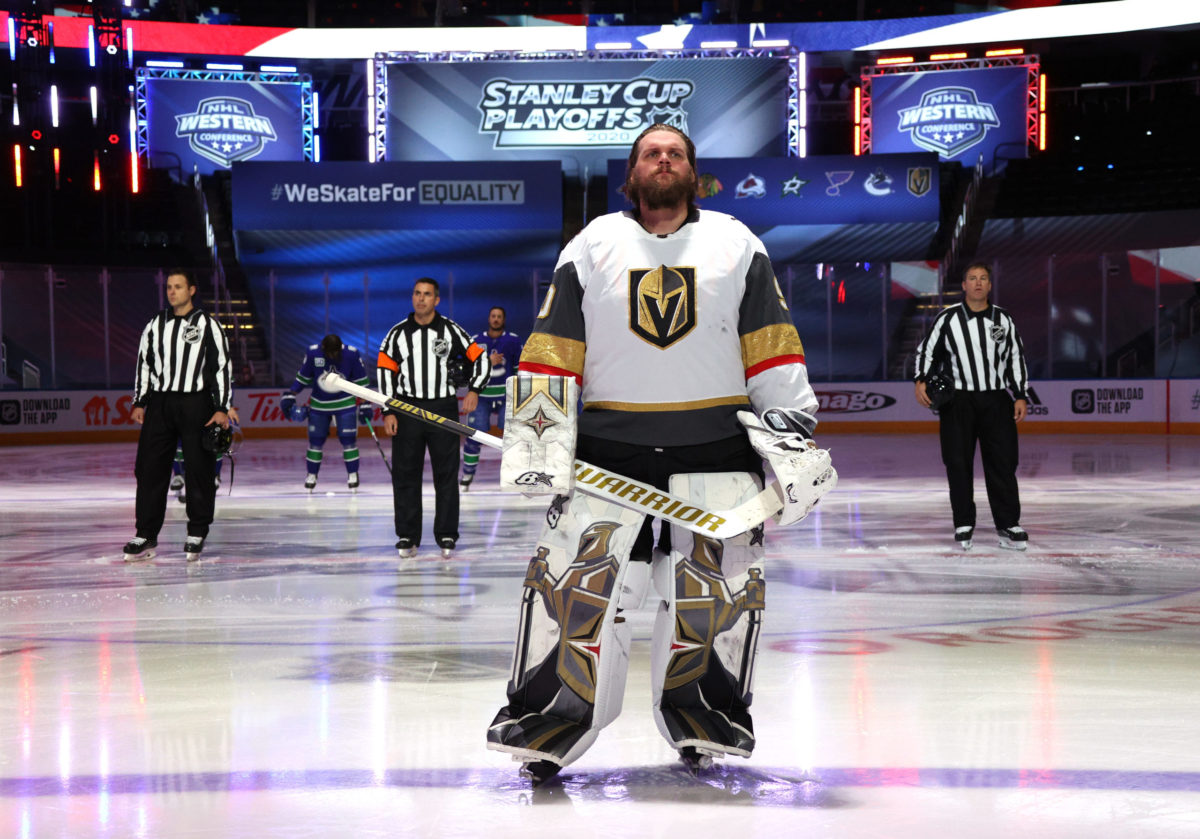 It's no secret that shelling out $12 million for goaltending in a flat cap environment is not the most ideal situation, especially for a team that needs to supplement their lineup elsewhere. The move Mavridis and I discussed that involved Fleury would have seen Vegas retain salary, essentially nullifying the one of the best perks of trading him rather than Lehner: extra cap space. By swapping Lehner for Jarry (who despite his embarrassing effort in the playoffs this year, still has the goods to be a legitimate starter in the NHL, especially for a strong defensive team like the Golden Knights) Vegas gained $1.5 million in cap space, raising their available cap space to just over $6.7 million.
Real World Application
By no means is this move a projection of what to expect around the expansion draft. The main reason I pulled it off in our mock expansion draft is that it freed up cap space and gave me additional future assets to either use or include in future deals (spoiler: I dealt some one of the picks.) Instead, what this deal shows is that the opportunity is there to finally address the elephant in the room presented by the Fleury/Lehner situation. Making a move like this would free GM McCrimmon up to take advantage of teams that are in a tougher spot than the Penguins.
Add Some Center Depth
The Trade: 2022 Third Round Pick (VAN), 2022 Fifth Round Pick (CHI) to the Dallas Stars for (C) Radek Faksa
I think a big area of need for the Golden Knights this season is down the middle. Their lack of depth down the middle was exposed in the playoffs when Chandler Stephenson went down with an injury, and despite his heroics and fit alongside Max Pacioretty and Mark Stone, I'm not even sure that I would classify Stephenson as a true top line center. With this in mind, I was on the prowl to make a big move to boost the Golden Knights' center depth.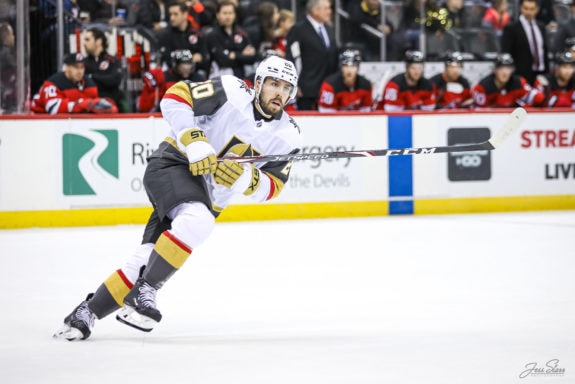 I asked the Washington Capitals about Evgeny Kuznetsov and couldn't find a fit I was comfortable with. Then I asked the Nashville Predators about Ryan Johansen before the Kraken took him as their pick from Nashville. Predators GM Alex MacLean and I actually came to an agreement on a deal that would have sent both Johansen and defenseman Dante Fabbro to Vegas, but we pulled the plug on it because we felt like the deal was a little too EA Sports for this exercise. Needless to say, I definitely tried to land a top line center in Sin City.
Shortly after the Johansen deal fell through, Stars GM Adeen Rao made it known that center Faksa was on the trade block and could be had for relatively cheap. While he wasn't the home run swing I was looking for, he's a player that fits the mold of what the Golden Knights like to do. He would provide center depth for Vegas while also being able to fill a role on the third line and on the penalty kill. With plenty of term left on his deal, he's a prime-aged player that would help now and into the future. If you can acquire something like that and the biggest thing you give up is a third round pick, I think you're doing alright.
Real World Application
In a perfect world, not only would McCrimmon acquire a center capable of playing in the top six/top line, but that player would also provide a boost to the team's power play, which was a key reason the Golden Knights fell short against the Montreal Canadiens in the playoffs. Faksa is not that player, but he does represent the type of move that is available. Guys like him and Johansen may very well be on the trade block in real life because their teams won't be able to protect them from the Kraken. Look at the return for Predators forward Viktor Arvidsson as proof of this. If Vegas wants to acquire a high-end center at a discounted price, this is the time to do it.
Replace Alec Martinez
The Trade: Vegas Acquires (D) Nick Leddy (50 Percent Retained); New York Islanders Acquires Nicolas Roy, 2021 Second Round Pick (PIT); New Jersey Devils Acquire 2021 Second Round Pick (NJ)
Unless he is keen on re-signing with the Golden Knights at a discounted price, it seems like a safe bet that defenseman Alec Martinez is going to test free agency and ultimately leave the team. While Vegas has some internal options that they can test in his place (including Joseph, acquired in the Lehner deal), the opportunity to pluck one of the Islanders' top defensemen for a reasonable price was too good to pass up. Due to salary cap constraints, some creativity was needed to make it all work.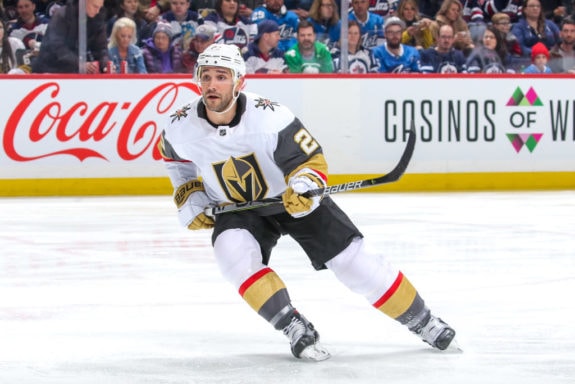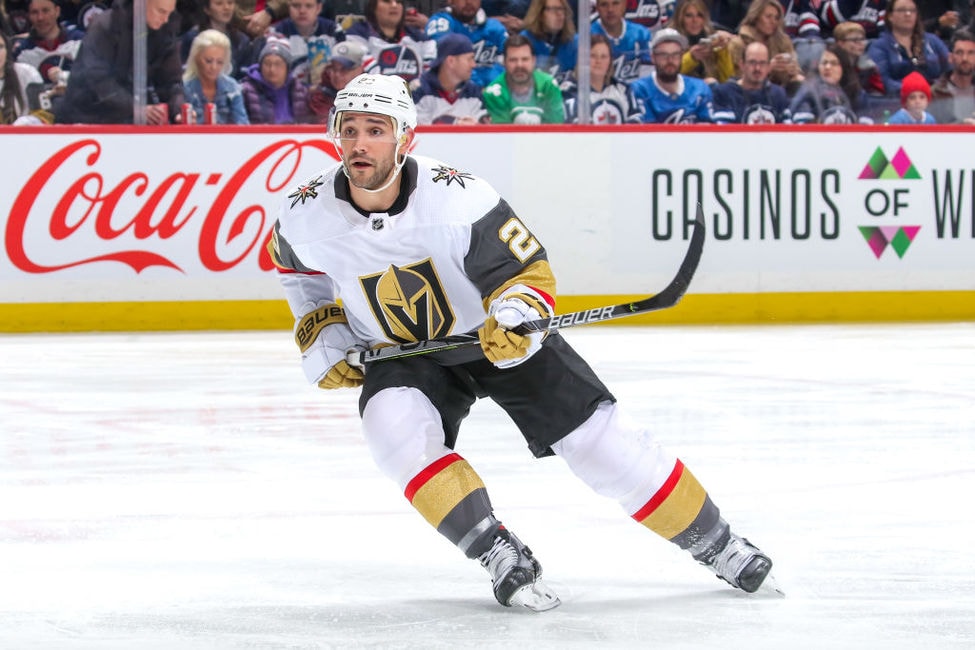 In this deal, the Islanders acquire an absolute spark plug of a player in Roy while also adding the Penguins' second round pick that was acquired in the Lehner deal. The Devils, in exchange for retaining half of Leddy's salary, received their own second round pick, previously acquired for Nikita Gusev's signing rights. Finally, the Golden Knights acquire an offensive defenseman that had 31 points in 56 games this season (while playing in a defensive-minded system), and has a championship ring on his finger.
With Roy essentially being replaced by Faksa, he was a piece I felt comfortable with including in a deal, especially considering the return. Adding Leddy is one thing, but to add him at just $2.75 million is a steal, even if it leaves Vegas without a second round pick in this year's draft. He is three years younger and has a bit more offense to his game than Martinez does, and the Golden Knights aren't going to miss out on a ton of championship experience as the Stanley Cup has Leddy's name on it just like Martinez. Golden Knights head coach Pete DeBoer would be able to have one of Shea Theodore, Alex Pietrangelo and Leddy on the ice at all times – quite the enviable position to be in.
Real World Application
This move is both an example of how moving a goaltender can lead to a big acquisition elsewhere, as well as an example of how Vegas can exploit a team to fill a need. Once again, this is a not a projection so much as an example or option. The Islanders aren't the only team with issues regarding who they can and can't protect on defense (that's part of the reason Fabbro was on the table in our proposed Vegas/Nashville deal) and the Golden Knights would be wise to poke around and see if they can acquire help on the blue line at a discounted price.
Final Results
After wheeling and dealing, the Vegas Golden Knights escaped the Seattle Expansion Draft with the following roster:
| | | |
| --- | --- | --- |
| Max Pacioretty | Chandler Stephenson | Mark Stone |
| Rielly Smith | William Karlsson | Jonathan Marchesseault |
| Peyton Krebs | Radek Faksa | Alex Tuch |
| William Carrier | Keegan Kolesar | Ryan Reeves |
| | Cody Glass | |
| | |
| --- | --- |
| Nick Leddy | Alex Pietrangelo |
| Brayden McNabb | Shea Theodore |
| Nic Hague | Zach Whitecloud |
Marc-Andre Fleury
Tristan Jarry
This roster leaves the Golden Knights with just $12,500 in cap space, though additional maneuvers can be made to open up space to re-sign a player like Tomas Nosek, or look elsewhere in free agency. They also have an extra second round pick in the 2023 draft. Despite making three trades leading up to our mock expansion draft, there are still options available to make changes in the weeks after the Kraken make their picks.
As I mentioned in the beginning, I very well could have done nothing during this exercise. In taking an aggressive approach, I feel like I best mimicked McCrimmon's approach to being a GM, and I also embodied the spirit of what the Golden Knights should do with this opportunity. The Kraken are undoubtedly going to be the big winners of the expansion draft – they better be, anyways – but there's no reason why the Golden Knights can't parlay their exemption from the expansion draft into making improvements to their roster.
There may never be an opportunity like this again, and the teams that come out of it looking the best will be the ones that seized the opportunity and found a way to capitalize on the teams that are in big trouble. An aggressive and creative GM like McCrimmon will undoubtedly do his best to do just that.
---
---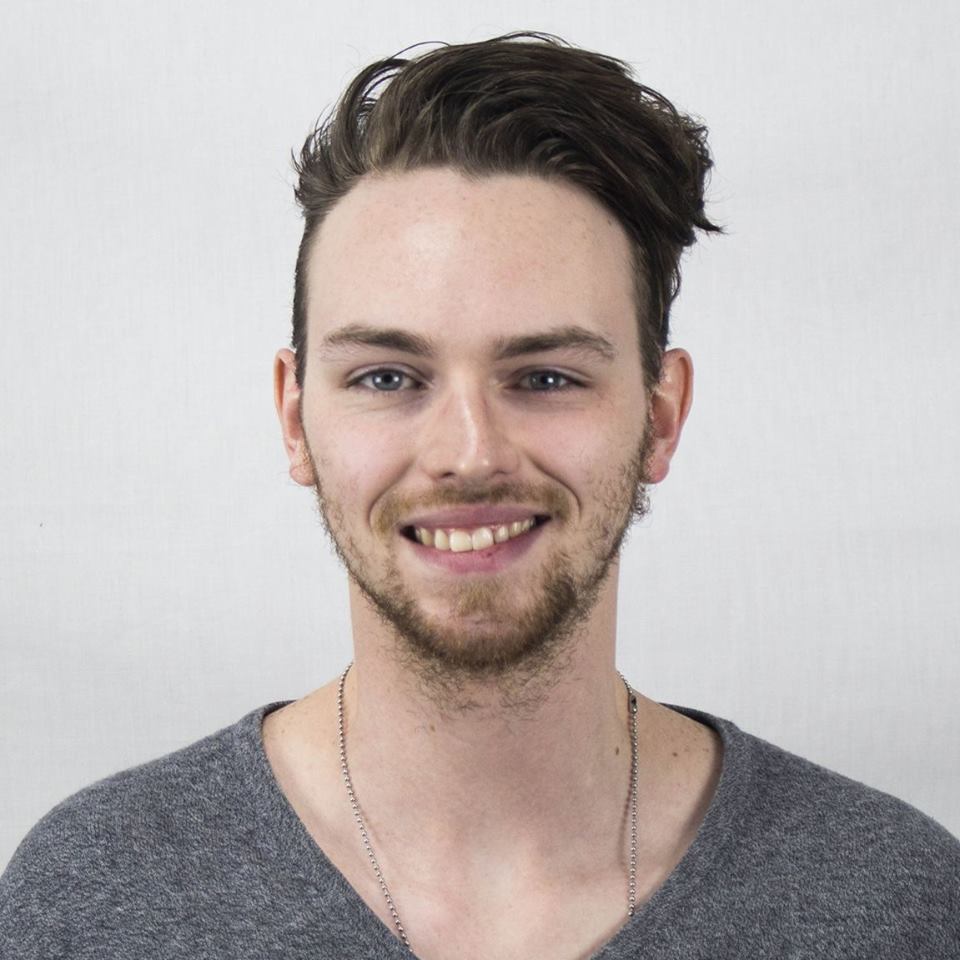 I am a Western Michigan University alum whose passion for hockey knows no limits. Dr. Pepper enthusiast. Catch me and my fellow Red Wings writers' YouTube show "The Hockey Writers Grind Line" which drops every Saturday.